Wayne Jones didn't start his career in foodservice equipment and supplies as a manufacturer's representative. In fact, he spent the first half of his 29 years in the sector in customer service and sales on the dealer/distributor side of the business.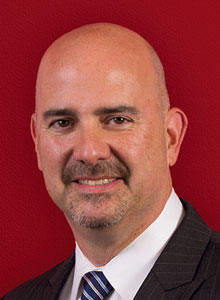 Wayne Jones, Partner, The Hansen GroupAlthough he prospered during that time, it wasn't until Jones became a rep that he found his true calling — and his greatest successes. Thanks to these successes, Jones, today a partner with Atlanta-based The Hansen Group, has been named FE&S' Top Achiever — Manufacturer's Representative for 2015.
His switch from distributor to rep was not just a happy accident. For years, Jones had been drawn to the rep model. "It was an attraction to the rep side and how they interacted with dealers and distribution and all different types of end-users, plus the fact that they had such a concentration of expertise amongst all the manufacturers they represented," he says.
In dealing with reps, The Hansen Group in particular stood out to Jones. Its leaders, Cris Hansen and Phil Kenny, both of whom remain partners with the firm, had built the company on the guiding principles of knowledge, integrity and professionalism. "I liked the fact that they had so much integrity and they were so well known and known for being class acts. That's who I wanted to associate myself with," Jones said.
It was Jones who first brought up the idea of joining The Hansen Group. After some discussions, he was brought on board in 2001. From the beginning, it was clear Jones was a good fit in the rep world, and he quickly became one of the company's top salespeople and most respected voices. A few years later, Hansen and Kenny approached Jones with a huge opportunity: They were thinking of succession planning and asked Jones if he was interested in being part of the next buyout of the business.
"I jumped at the opportunity," Jones recalls. "I respected those guys for so long. I was just honored to be considered to own part of it."
"Part of it" is key. To make the transaction work both financially and operationally, he needed a partner, someone Jones felt comfortable with because in essence they were to make a lifetime commitment. He found such a person in Dave Schwefler, a former colleague on the distributor side. Schwefler's professionalism, knowledge and high energy, Jones says, aligned perfectly with The Hansen Group's culture and made him an ideal partner.
The ongoing buyout represents but one of the big changes The Hansen Group has recently undertaken. Last year the company merged with RepSouth, a manufacturer's rep firm based just outside Nashville, Tenn. The merger is a good fit on every level, says Jones, the most obvious being markets covered. "You always look at your strengths and weaknesses," he says. "We said, 'Well, we're extremely strong in Georgia, we've got tons of sales coverage in Georgia. We don't have the same total coverage in Alabama and Tennessee, yet there's this other group out there that we know very well and they're heavily concentrated in those areas.'"
What's more, there was significant overlap in the lines the two companies represented. This made transitioning into a single company much easier, both in terms of getting buy-in from their manufacturers and educating sales reps on the merged company's portfolio.
Just as important, though, was the cultural fit. The then-head of RepSouth and now partner in The Hansen Group is Dennis Elliott, who previously served as a vice president of sales on the manufacturer side. Both Jones and Schwefler knew and greatly respected Elliott from this time. And like The Hansen Group, RepSouth stressed professionalism, knowledge and trustworthiness in all its dealings. "You've got so much experience over there and so many guys that are very well thought of and ethical," Jones says. "It fits in with the traits we hold near and dear in The Hansen Group. So it was a perfect blend of experienced sales people that know the products, sales and culture."
Not only has The Hansen Group gotten stronger geographically in recent months, it has also grown its product coverage. Starting late last summer, the firm began representing tabletop lines. Jones says he was "all gung ho" in partner meetings that led to the expansion and "so far, I've been lucky to be right." Not only is the firm's new tabletop division thriving under the direction of Dimple Ingalls, The Hansen Group sees benefits from this addition in other product categories.
"It gets you in on the front end of a lot of projects and it also brings you in on the back end of a lot of projects. Let's face it: A lot of people like to do business with those they already know and [tabletop] keeps us in front of people with more products to sell."
As a complement to this addition, The Hansen Group will likely look to expand the limited line of smallwares that it currently represents, Jones added. With the firm now representing tabletop china, glassware and flatware, it's a natural transition to selling their back-of-the-house counterparts.
All this change — the merger, the buyout, the addition of product lines — has led to a major jump in the company's headcount. A year ago, The Hansen Group had 14 employees. Today, it has 28 and is continually looking for ways to grow even more.
This growth has undoubtedly sped Jones' transition from sales to partner in his day-to-day work. He spends more of his time as a sales manager helping oversee the training and development of six younger employees the company has brought on board in recent years. These administrative duties will likely grow as the buyout moves forward. While Cris Hansen serves as the firm's managing partner, Jones says he is being groomed for that role — a post he'd hand to one of his partners "in a heartbeat" in favor of sales, he notes, though one he will gladly fill. Still, the post will put him in good position to shape the culture of The Hansen Group for decades to come.
"A lot of people say they want to have the top sales organization," he says. "I think I'd step back and say I'd be the most respected and trusted rep firm first of all and maintain a high level of sales and respectability with all our manufacturers."
Jones has a full life away from The Hansen Group. He and his wife, Julia ("the main reason Cris and Phil hired me," Jones said), have two daughters, Alexis, 25, and Isabella, 12. In his spare time, he enjoys going to sporting events and coaching Isabella's basketball teams in various leagues.
Fun Facts
Age: 50
Hometown: Atlanta
Hobbies: Fishing, Sports, Coaching Youth Basketball
Favorite Food: Mexican
Favorite Social Media Platform: LinkedIn
Favorite Professional Accomplishment: Becoming a partner at The Hansen Group
First Client: At The Hansen Group, Restaurant Solutions. First ever, Biltmore Estates.
First Job: Dishwasher at Red Lobster
Industry Involvement: MAFSI Region 12 President, Current Board Member of MAFSI
Personal Info: Wife, Julia; Daughters Alexis (25) and Isabella (12)