Restaurants with a Per Person Check Average of More Than $30
First Place: Dominick's Steakhouse, Scottsdale, Ariz.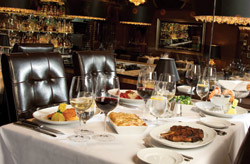 Specifying Team: Michael Mastro, owner, Dominick's Steakhouse; Oliver Badgio, vice president, Dominick's; Chef Marc Lupino, Dominick's; Pam Bernardi, sales manager, The Wasserstrom Company; Steve Drerup, dealer sales rep, Wasserstrom; Jeffrey Heaney, president, Bauscher China; Glenn Sheehan, director of national accounts, Libbey Glass
China: Bauscher (Bonn Steak House and Com4Table), Vertex, Diversified, Cac, Oneida (Oval Fusion) and World (Basics)
Flatware: World (Classic Rim II) and Oneida (Lonian steak knife)
Glassware: Libbey-Luigi Bormioli (Reserve, Ricco, Atelier, Inverness, Van Gough, Prism and Palace) and Cardinal (Cabernet)
Accessories: Vollrath (double-wall wine bucket and stand), Oneida (Noblesse wine coaster and Jazz sauce boat), Anchor (Stolzle decanter), Trudeau (Sonoma bar shaker) and Table Décor Intl. (table lamp)
Why it Won: Our judges feel each of the individual items works well together to create a tabletop that's refreshing for a steakhouse and ties together well with the entire room. The food is not crowded on the plate because the plates are well proportioned, lending a look of authenticity. The shape of the light's base and the salt and pepper shakers are uniform which gives the tabletop a classy look.
---
2012 Tabletop Performance Awards
Restaurants with a Per Person Check Average of More Than $30: First Place
Restaurants with a Per Person Check Average of More Than $30: Honorable Mention
Restaurants with a Per Person Check Average of More Than $30: Honorable Mention
Restaurants with a Per Person Check Average of Less Than $30: First Place
Restaurants with a Per Person Check Average of Less Than $30: Honorable Mention
Restaurants with a Per Person Check Average of Less Than $30: Honorable Mention
Clubs and Resorts: First Place
Clubs and Resorts: Honorable Mention
Clubs and Resorts: Honorable Mention
Banquet and Catering: First Place