Specifying Team: Kristine Bozovich, sales consultant, RZ Marketing; Carl Chambers, corporate executive chef, Union 50; Roddy Kirschenmaw, general manager, Union 50; Glen Sheehan, district manager, Libbey; Layton Roberts, executive chef, Union 50; and Scott Springer, dealer sales rep, Edward Don & Co.
Dinnerware: Cardinal, Front of the House, IMCO, Vetex
Glassware: Libbey (Embassy, Excalibur and Perfection)
Flatware: Bauscher/Hepp, Oneida (Barcelona) and Walco
Accessories: American Metalcraft, Fox Run, Myco, Revol, Sterno/Candlelamp and Tablecraft
Why it Won: This tabletop installation highlights the eclectic nature of this restaurant's menu and allows the sharable plates of food to really pop. The craft cocktail presentation adds color and visual intrigue to the tabletop. This tabletop overlooks no detail, as evidenced by the way the black napkin ties in so nicely with the small black bowls.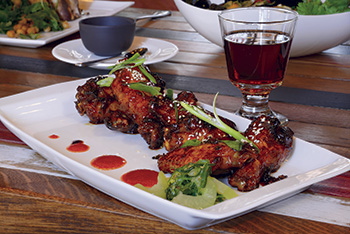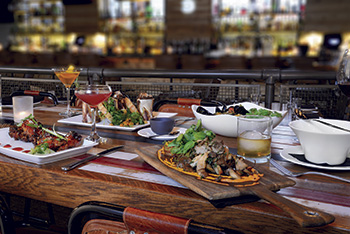 Photographs courtesy of Stella Lorens, Edward Don & Co.