Independent Restaurant with a Per Person Check Average of More than $30, First Place: Cartwright's Sonoran Ranch House, Cave Creek, Ariz.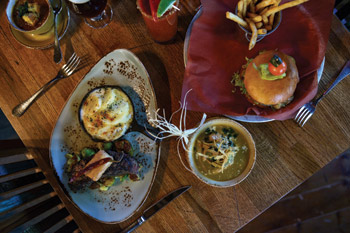 Photos by Patrick Corley, patrickcorley.comSpecifying Team: Steve Drerup, DSR, The Wasserstrom Company; Eric Flatt, co-owner, Cartwright's; John Malcolm, co-owner, Cartwright's; Montez Crane, chef, Cartwright's
Dinnerware: Steelite (Essence, Performance and Tera Mesa)
Flatware: Walco (Ironstone)
Glassware: Bauscher, Cardinal (Cabernet and Excaliber), Libbey and Oneida (Stolze)
Accessories: American Metalcraft, Churchill, Lodge, Olde Thompson, Orion Trading & Design, Steelite, Vollrath
Why it Won: This tabletop looks warm and inviting and it perfectly fits the restaurant's theme and décor. The presentation and plate selection is good and it almost seems like the china was custom made for this restaurant. The food looks fantastic on this china and fits the plate perfectly. The colors fit in with the décor. It's a rustic looking room and the tabletop supports that. Even the design of the chairs supports the theme. They do a good job of using the entire plate to present the food.