Independent Restaurant with a Per Person Average of More than $30, Honorable Mention: Hunt Club Steakhouse at Geneva National, Lake Geneva, Wis.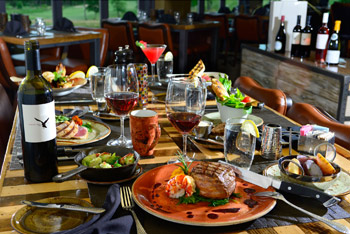 Specifying Team: Dennis Cassidy, president, Cassidy's Pro Line; Howard Cohen, VP sales, Miller & Stryker; John Havlis, executive chef, Hunt Club Steakhouse; Drew Madden, sales rep, Edward Don & Co.; Martha Militello, general manager, Hunt Club; and Dennis Semro, principal, Page Semro & Associates
Dinnerware: Steelite (Craft)
Flatware: Walco (Ironstone)
Glassware: Cardinal (Bola and Cabernet)
Accessories: American Metalcraft (Balti) and Myco
Worth Mentioning: This is another instance where the china fits perfectly inside the restaurant's décor. The food portions fit well on the plate and the presentation coordinates well with the overall restaurant. The placemats help tie together the presentation. Terra cotta is a primary color throughout the room and the specifying team did a good job tying it together with the plate. They brought in a lot of different elements and each one supports the rustic décor.