Independent Restaurant with a Per Person Check Average of Less than $30, First Place: Salty Sow, Phoenix, Ariz.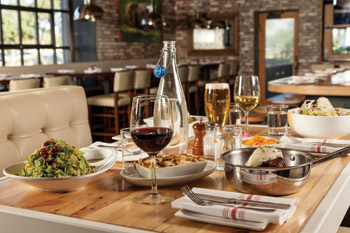 Photo by William McKellar, mckellarphoto.comSpecifying Team: Kyle Alford, DSR, The Wasserstrom Company; Pam Bernardi, sales manager, The Wasserstrom Company; Harold Marmulstein, chef partner, The Salty Sow
Dinnerware: Front of the House (Ellipse, Harmony, Kyoto and Mod) and Vertex (Catalina, Market Buffet Collection and Signature Collection)
Flatware: World Tableware (Baguette and Slim Radiant)
Glassware: Libbey (Puebla, Finedge, Safedge and Vina)
Accessories: Chef Specialties, Chilewich, Hall China, Franmara, Libbey and Steelite (Bormioli and Fido)
Why it Won: The restaurant has several different dining areas and the tabletop fits well in each one. Good use of a variety of pieces serves as the basis for interesting and engaging food presentations. The white china ties in extremely well with the overall decor and works well with the trim around some of the tables and the earth tones present in the various spaces.