Not many can say they have been working in the foodservice industry for a half a century — or more if you count childhood activities. Harry Schildkraut can. But most of you knew that already.
Considered a legendary figure among foodservice consultants and some manufacturers, Schildkraut was one of the earliest graduates of Cornell University's famed School of Hotel Administration. This program was once known as the main recruiting ground for consulting firm Cini-Little, where Schildkraut spent a large portion of his career.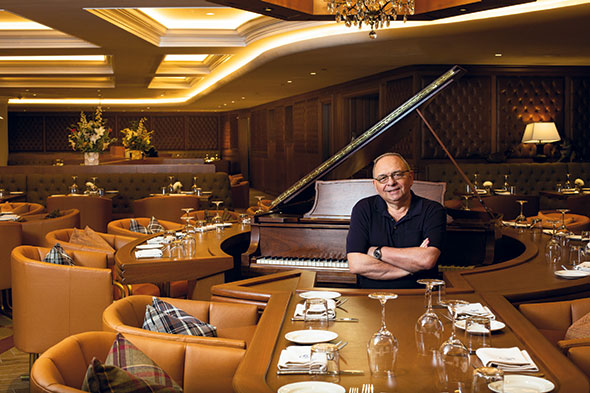 Harry Schildkraut, FCSI, pictured at Queenie's Supper Club & Cocktails in the United Center arena in Chicago. Photo by Grant Kessler
"Harry is a legend to all who have worked with him," says Carl Boutilier, principal of PB&J Commercial Agents, a Chicago-area independent manufacturers' rep firm. "In the rep and factory world, he is a 'one-name' celebrity: Harry — kind of like Madonna or Elvis."
Of course, Schildkraut wouldn't define himself like that, preferring to lead off with "I'm just a little Jewish kid who grew up working at his family's resort in the Catskills of upstate New York."
It's well known in the industry, however, that Schildkraut is much more than that; he has led and worked on hundreds of high-profile projects, mostly in the sports segment. S2O Consultants' impressive roster includes, most recently, Chase Center, home to the Golden State Warriors, the Milwaukee Bucks' Fiserv Forum and Chicago's United Center, among countless others.
For these and many other reasons we will get into, FE&S named Schildkraut, principal and owner at S2O Consultants Inc., its 2020 Hall of Fame award winner.
Let's first back up with a little history. Schildkraut grew up in his parents' hotel, so it's not a total surprise that he chose a career in hospitality. He also has many other family members in the hospitality business. "I have been in the hospitality industry all my life, so when I got out of high school, I knew I wanted to go into the hotel business, and that's why I went to Cornell," says Schildkraut, who graduated in 1969.
After graduation, he was recruited by the likes of Marriot and McDonald's, but it was the then-consulting firm Cini-Grissom, now known as Cini-Little, that snagged him. "I liked the idea of designing kitchens, and it looked like there would be more variety in terms of projects over the long term, and that was true," Schildkraut says. "When I started with them in '69, I worked on corporate dining cafeterias for the U.S. government and IBM corporate dining facilities all over the country, with the occasional restaurant and hotel project."
Harry Schildkraut stands outside Chicago's United Center. He's worked on a variety of high-profile projects like this one along with his partner, Kristin Sedej. Stadium foodservice has become a cornerstone for S20 Consultants. Photo by Grant KesslerOne of the most exciting projects from his early years, Schildkraut says, was renovating the kitchen in the White House in the early '70s under Richard Nixon's presidency. The basement space proved to be a true challenge, complete with beams and support walls and pipes, with Schildkraut weaving in elements of the kitchen in between. At that time, he also worked on kitchen renovations at the U.S. Supreme Court. "It was really interesting work," Schildkraut recalls.
In the middle of 1979, John Cini the president of Cini-Grissom at the time, asked Schildkraut if he wanted to relocate and take over the direction of the office in Chicago. Schildkraut accepted Cini's offer and held that position until 2003 (note: Cini-Grissom, Inc. and LFL Consulting Group merged to form Cini-Little International Inc. in 1985). It was during this time that Schildkraut's industry connections and projects spiked. While he oversaw and worked on projects in all segments of the industry, including hotel work for Hyatt, corporate dining and even some international work in Australia, it was during this time that Schildkraut's work in the sporting segment began to grow.
"Around 1992 or 1993, I got involved in Cini-Little's first sports facility project, which was at that time known as the TWA Dome in St. Louis," says Schildkraut. "From there, the work just grew. We worked on a new stadium for the Cleveland Browns, Gillette Stadium for the New England Patriots, Heinz Field for the Pittsburgh Steelers, and the former Giants Stadium in New Jersey, which has since been torn down. Gradually, sports became my area of expertise."
Venturing Ahead
In the summer of 2003, Schildkraut felt the time was right for a change. His children were just beginning high school, and his dream of one day owning his own consultancy was growing stronger.
Schildkraut knew he needed a business partner to make his dream come true. He didn't have to look too far: Kristin Sedej, now the majority owner of S2O, had come on board with Cini-Little in the Chicago office two years earlier and was a close colleague on many projects.
Sedej, who came to Cini-Little from the operations side after managing restaurants, says she learned everything about design from Schildkraut and has continued to learn from him as they build their own company. It's more than a partnership; Sedej considers Schildkraut both a mentor and a friend. "I wouldn't be where I am if it wasn't for Harry," she says. "The partnership between the two of us is extremely special; all of the elements of a successful relationship are embedded in our business partnership, including trust, common goals, respect and friendship."
Sedej wasn't the only mentee of Schildkraut. He had many, including Richard "Dick" Eisenbarth, who now serves as Cini-Little's CEO and president. "Harry hired me in 1977 and was my mentor and friend for many years through both good and not-so-good times," Eisenbarth says. "Because of his mentorship, I rose in the company from a draftsman to now president and CEO. I thank him for his confidence in me during our early years."
Ryan Rongo, Kristin Sedej and Harry Schildkraut confer in the kitchen for Queenie's, a fine-dining restaurant in Chicago's United Center. S2O helped design and update a variety of foodservice venues in the building that houses the Chicago Blackhawks and Bulls. Photo by Grant Kessler
When S2O started out, Schildkraut says they began lean, agreeing to work out of their homes for the first few months until they could grow enough cash flow for office space. Well, that never happened. "To this day, we all still work out of our homes, even though we meet up often," says Schildkraut.
Working at home also meant that he could spend more time with his wife and family — oh, and his trains. Schildkraut is a model train enthusiast. This is not a secret or little-known fact; it's been a passion since he was six years old. "In my office, there is a branch line around three walls. It comes through a hole in the wall from the main line, which occupies the rest of my 1,500-square-foot basement," says Schildkraut. "Every month I have about 15 people over, and we run trains."
He's also a life member of the National Model Railroad Association and has attended conventions and other meetups. "I have been doing this longer than foodservice," Schildkraut says.
S2O Today
S2O has seen major growth over the last decade, expanding in terms of industry presence, projects and, most recently, people. The team now consists of Sedej; Schildkraut; Peg Galie and Ryan Rongo, project managers; Tracy Taraski, a veteran foodservice designer specializing in sports; Amber Kennedy, a BIM specialist; and Thomas Fribley, who is training to become a BIM technician. S2O also has a part-time administrative assistant, Katie Harmeier.
"Even though Kristin owns the majority of shares in our company, which makes us a woman-owned business, I don't have plans to retire immediately," says Schildkraut, who admits he still enjoys sitting at his desk developing designs from scratch using a felt-tip pen and paper. Often, this is the first sketch — heavy notes included — that his clients will see, and they like it that way."
"What I adore about Harry is I can explain what we need, and he will send me a hand sketch within a half hour," says Denise Gaffney, senior vice president of Design and Construction for Levy Restaurants. "He makes everything go by so quickly. He's so knowledgeable that there's an unspoken language with him, and I don't have to overexplain myself."
This approach proves incredibly important because of the complexity, high-speed and high-profile nature of the projects. "With projects this big, there are always conversations happening, so it's great to know that if he is having separate conversations with architects and others, I know he has our back. He is very trustworthy and always wants to do the right thing," Gaffney adds.
Rick Hoagland, a former kitchen equipment contractor at Stafford-Smith, who has worked with Schildkraut for 30 years and currently assists S2O with bid work, punch lists and other duties, also points out Schildkraut's speed and precision when it comes to traditional drafting work. "I heard a story once that Harry literally drew a design — freehand — on a bar napkin, and after the client plugged it into their program to put it to a ¼-inch scale, it was virtually dead-on," says Hogland. "That's true talent."
Though Schildkraut says he still prefers to hand-draw designs, once approved by the client, all sketches are entered into a building information modeling format so the team can easily walk through a project and other players can understand the function of the kitchens.
The S20 Consultants team at Mad West, a foodservice venue in Chicago's United Center. Pictured here are (left to right): : Amber Kennedy, Thomas Fribley, Peg Galie, Tracy Taraski, Kristin Sedej, Harry Schildkraut and Ryan Rongo.
On Sports
Outside of sports, S2O dabbles in all industry segments except healthcare, Schildkraut says. What he enjoys most about sports, though, is that every project is different.
"One day, you could be working on a football stadium and the next a hockey arena. I also enjoy working with the architects who specialize in sports venues as well as working with the concessionaires," Schildkraut says. "I get a great deal of satisfaction in taking a blank page or empty space off of an architect's plan and designing it so it functions as a kitchen pantry concession stand or bar and is able to allow the concessionaire to make the kind of money they need to make and also provide a variety of food and beverages that the owner wants to offer guests. I also enjoy working with difficult spaces; in sports, you don't always get that perfect rectangle."
One memorable, if not heartbreaking, project that was not "a perfect rectangle" was walking through the New Orleans Superdome in boots, breathing masks and gloves five weeks after the devastation of Hurricane Katrina. "There was no power and mold was everywhere; we had to come out every hour and be decontaminated," Schildkraut recalls.
S2O was part of the team that helped with the complete renovation of the entire stadium in 2005, which took four years, done in phases. Since then, Sedej has led multiple upgrades and is currently working on another total building renovation and expansion planned for the next six years. "The regeneration of the Superdome was the catalyst for the resurgence of the city of New Orleans, and to be a part of something so impactful will resonate forever," she says. After the initial complete overhaul of the dining facilities in 2005, S2O has been a part of reoccurring design projects at the stadium.
These days, the sports segment is seeing explosive growth as developers and team owners are throwing more money into food and beverage as a value-add for fans. "We are not doing typical concession stands anymore; we are working on different grab-and-go concepts, markets, combination designs," Schildkraut says. "Our challenge is to improve speed of service while increasing check averages and reducing labor costs." There's also been a growth in in-seat dining as well as smartphone ordering for pickup, he notes.
Design Style
Schildkraut notes he has no "design ego" and will make any changes to a sketch necessary in order to create the best product for the client.
Along those lines, Schildkraut also has no personality ego — everyone quoted in this article echoed that. "Harry has always been a very professional, does it by the books and will take as long as he needs to — be it 1 hour or 10, 3 days straight — to get a project done right and professionally and
serve his clients," says William Caruso, who recently semi-retired from
WC & Partners. He's currently working with S2O on some projects. The friendship between Caruso and Schildkraut dates back to the 1960s when they were in the same class at Cornell. "Harry has worked tirelessly for years," Caruso says. "Not once has a client come back and said, 'You haven't worked hard enough.' "
Working in restaurants and the hospitality industry for many years helps fuel Schildkraut's designs, so much so that it's almost become second nature or muscle memory at this point in his career. "When I sit down to start sketching a space, the first thing I look at is how people are entering the space," he says. "Are staff coming in to get a cart of ice to resupply the bar? And if so, I don't want that all the way at the back of the pantry. Maybe I will put the bag-and-box for soda toward the back because they don't need to be changed frequently. It really just comes down to common sense."
These days, Schildkraut has cut back on travel and does some of the cost estimating, but not much, as S2O has such a strong team. "I find the best use of my time is to develop the designs because we have enough people now if someone needs to travel to a meeting or do a punch inspection, it doesn't need to be me," he says.
Team Player
Schildkraut maintains strong relationships with all players in the industry, including other consultants, architects and manufacturers' reps.
"I try not to get in a rut of specifying the same things over and over, which is easy to do," Schildkraut says. "I remain open to many potential pieces of equipment." Rather than spend days at a time at factories, he prefers to meet with manufacturers' reps and others over 8 a.m. breakfast meetings at a local restaurant.
"Harry is the epitome of what you look for in a design consultant — someone who is respected throughout their industry, enjoyable to work with and who delivers a product that meets the design and budget expectations of his clients," says Steve Duethman, principal of AECOM, a Los Angeles-based multinational engineering firm.
Schildkraut also focuses on educating himself and his clients on new equipment. "I have been a rep working with Harry for over 20 years," says Les Magid, PRF Marketing, a manufacturers' rep firm based in Elmhurst, Ill. "Harry would always spend time to learn about new equipment and how it may pertain to current or future projects he is working on.
"Harry has a great understanding for the scope of the projects he works on and would engage reps to help him achieve that end," Magid says. "He is one of the most knowledgeable people in equipment and design layout that I have had the pleasure to work with on different projects."
Schildkraut remains extremely client-driven, something that's not lost on other members of the supply chain. "Harry's focus on any project is to always do what is in the best interest of the client, period," says Pete Stryker, sustainability engineer at Culinary Equipment Group, a manufacturers' rep firm based in Addison, Ill. "If anyone was to offer an alternate for his review and only if he thought it would fit, he would be blunt in requiring that if there was a cost saving with the alternate, the saving should go to the client and not anywhere else along the way."
In fact, Stryker adds, "Harry would require that whoever was presenting a product to him, they had to have done their homework prior to this presentation. If Harry was working on a project and asked if a specific product that I represented would be a fit for the need he had, he expected an honest answer. If I thought it would not match his needs, I should say so. While my product might not get specified for this project, the plus was respect for being honest and fair to his client. There was never a 'wing it' allowed. If you did not have an answer to a question, he would like you to get this answer back to him the same day. He pushes you to do your job professionally."
Talk the Talk
That's the thing: Schildkraut is, for all intents and purposes, rather direct. He doesn't pepper his sentences with "um" and "uh" or frilly, frivolous words.
"Harry likes to cut to the chase," says James Carr, principal of Culinary Equipment Group, who is a long-time friend and colleague of Schildkraut's. "The first time I met Harry, I was in my mid-twenties and just starting out in our industry. We were at a party, and a group of us was waiting to say goodbye to the host. Awkwardly trying to fill the silence of that moment, I turned to Harry and said, 'Long night. I'm tired.' He simply replied, 'Go home.' " But seriously, Carr adds, "I have always respected Harry's talent and stature in the industry, and what I have learned is what a real,
down-to-earth person he really is."
Sedej notes Schildkraut's directness as well. "There is no B.S. at all; he doesn't have time for it," she says.
Those who don't know Schildkraut might — and have — mistake his quiet demeanor and direct speech as gruff or harsh, Sedej says. But in reality, "he's extremely kindhearted and a total softy and cares deeply about his family, colleagues and clients. I'm happy to take his extra words."
Those who know him also say Schildkraut's a riot. "He has a funny, dry wit," says Galie. "Not everybody gets to see that. He can be hilarious."
The Future
While Schildkraut notes he does not have any immediate plans to retire, he knows Sedej will continue to collect shares in the business and eventually buy him out. "Overall, the hospitality industry has been very good to me,"
he says. "We continue to train others in the firm to step up and take a bigger role in the future. When I do retire, I hope the company will continue to provide the same livelihood for everyone as it has all of these years."
When it comes to what he's most proud of, Schildkraut says his family is number one. It's no secret to his friends and colleagues that he always puts his family first. "I am proud of my daughter, who is rising the ranks at a Japan-based company, and my son, who has a successful business of his own," Schildkraut says. "But I owe the most to my wife, Kathy, for her love and dedication over the years. She works hard as a nurse and yet finds time to volunteer as part of our local Community Emergency Response Team. I thank her for her support of my business and my trains hobby all these years."
Secondary, however, is the legacy of projects that S2O has successfully completed. "It's amazing to sit and watch football games in stadiums that I helped design," Schildkraut says.
And, of course, Schildkraut says he's extremely proud of his team. "The quality of people we have developed in our firm is outstanding. We have never had to 'steal' anyone else — anybody and everybody that has come to us has approached us."
In sports speak, that's code for winning.
---
Pro Bono Work
An important part of Schildkraut's legacy is his pro bono work, helping churches and synagogues, the Salvation Army and other organizations with their kitchens. Most notably, S2O designed the kitchen at the Ronald McDonald house in Chicago three years ago. Recently, an architect reached out to Schildkraut about another Ronald McDonald House to be built in Miami after seeing the work done in Chicago.
"When my kids were small, they went to a YMCA camp in Sheboygan, Wis., for many years," says Schildkraut, who ended up collecting donated ranges, reach-in refrigerators and more to replace worn-out, nonfunctional pieces over the years.
Of course, Schildkraut doesn't offer up many quotes about why he does so much pro bono work, simply saying, "It's part of giving back." S2O also donates each year to every employee's charity of choice.
In addition to his pro bono work, Schildkraut spent 40 years representing Foodservice Consultants Society International as a code writer for the National Fire Protection Association's standard for ventilation control and fire protection of commercial cooking operations. "I started in 1978 and just resigned last year," he says, noting he remained on the board all those years because of the complex nature of the code writing, so heavy turnover would be burdensome to the committee. Schildkraut first learned code writing when he represented FCSI for NSF, writing code for food equipment many years ago.