When it comes to how Julaine Kiehn, RD, approaches things, it's all about the team.
People often say that, in the foodservice industry and others, but Julaine Kiehn, RD, truly embodies it. She's reluctant to talk about herself, choosing to focus more on her long-time colleagues, friends and mentors and how they — together — completed the multiple award-winning renovation and building projects that have arguably helped transform the dining services at the University of Missouri-Columbia (Mizzou). She retired from her position as director of Campus Dining Services in September 2018 after 31 years on the job.
Photo by Annika Miller/Silverbox Photographers
"Julaine is very humble and always credits her team," says Mona Milius, who worked with Kiehn at the University of Northern Iowa and remains a close friend. Milius, who is a vice president and senior principal for Michigan-based foodservice consulting firm Bakergroup, points to Kiehn's long-term staff as proof of their loyalty, trust and respect. "She sets them up for success as a team and is truly collaborative and a great role model."
Kiehn doesn't like to take the credit for the multiple, award-winning renovation projects she facilitated over the course of her tenure at Mizzou. "For me, our projects are all about teamwork and collegiality," she says. "It's not one person. It is the whole group. We have also had incredible support from the leadership to do the things we wanted to do."
Credit to the team still points directly back to Kiehn, who set that team up in the first place. It took years for her to select the right team members and align them in the right positions, provide the training, set the standards and implement the systems. She essentially led Campus Dining Services "like a CEO" before she could "steer the boat," Kiehn says. She views herself more as a coach than a dictator or micromanager. "It's all about the people. I want to help them develop and grow as much as possible so they can reach their full potential."
The operations and support staff of Mizzou Dining at Plaza 900. Photo by Annika Miller/Silverbox Photographers
That drive to develop others may come from the teacher in Kiehn, who started her career in education. After earning her bachelor's degree from Iowa State University (ISU), she taught home economics to high school and junior high school students. At one point, something changed. "I woke up and just felt that I couldn't go back to teaching," says Kiehn. When the call came from the department head at ISU regarding a graduate assistant role at the Joan Bice Underwood Tearoom, a restaurant classroom and teaching operation, she took it as a sign and accepted the position. Kiehn graduated with a master's degree in institution management two years later.
That led to a role as foodservice director for the Davenport, Iowa, school district, where Kiehn oversaw 32 schools and 11 production kitchens. Then, in 1981, she became manager of dining services at the University of Northern Iowa. Kiehn remained there for five years and recalls the time as a key period for her in learning about high-volume foodservice. "There's never a boring day in college and university dining, and I instantly loved the work," she says.
Enter the University of Missouri
Julain Kiehn's mentor and former Campus Dining Services Director, Jim Korner. In 1987, Kiehn joined the Mizzou team as assistant dining director, hired by Jim Korner, then the director. He would become her mentor and coach. "Jim really helped me learn how to think through options and make decisions myself and how to work with people and navigate what can be the bureaucracy of a college campus," she says.
The next big jump in Kiehn's career came in 1993 when Korner left Mizzou. Kiehn then became director of campus foodservice operations, overseeing six residential dining facilities, three convenience stores, eight restaurants and cafes and three coffeehouses, as well as the dining support areas. Catering responsibilities shifted on and off her plate throughout her time at Mizzou.
When colleges and universities were just beginning to reconceptualize residential dining in the early '90s, Kiehn was part of the team ready to take things a step further. That meant an overhaul of all operations and the intense process of creating a strategic plan to outline the necessary renovations, conversions and construction. "We wanted our residential dining locations to each have their own identities and resemble actual restaurants," she says.
The first project was Eva J's residential dining facility, along with Mizzou Market - Hitt Street, which converted a residential dining location into a convenience store. Kiehn recalls the time as a bit crazy. This was right when Korner left Mizzou and there were also five manager vacancies. As if that were not enough, Mizzou was in the process of opening two new operations. It was a "what doesn't kill us only makes us stronger" period, without a doubt. That everything-at-once period also served Kiehn well. It showcased her penchant for getting things done both quickly and efficiently, as well as her leadership strengths.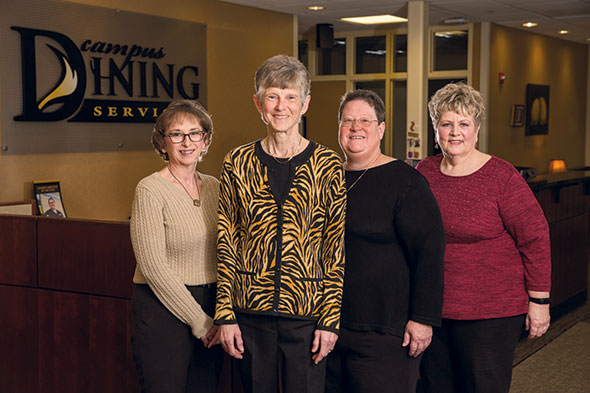 Debbie Laupp, Julaine Kiehn, Susan Dayton and Sandy Perley in the Campus Dining Services office at Plaza 900. Photo by Annika Miller/Silverbox Photographers

The next evolution in Mizzou campus dining, which started in the mid-1990s, came with national brands such as Chick-fil-A and Burger King hitting campus. "That introduced new systems and requirements," says Kiehn. She stepped up training in all areas and established new standards and best practices.
New technology came into play right along with dining program updates. Computerized food production systems and other technologies were added to maintain consistency, track inventory, collect recipes with accurate nutrition and cost information, and store data for ongoing training and analysis. "When we implemented the brands, it reinforced our strong need for systems," says Kiehn. "The information you get out is only as good as what you put in, so we really tried to set those systems up for success over the long term."
Dozens more renovation and construction projects followed, including the development of a Mizzou Market convenience store and six restaurants inside the renovated Mizzou Student Center in 2010-2011. One of those restaurants, burger concept Mort's, won the 2013 Loyal E. Horton Dining Award from The National Association of College & University Food Services.
Eric Cartwright, executive chef of Mizzou's Campus Dining Services, recalls working on some form of renovation or addition, small or large, every year with Kiehn over the last 14 years. He points to her positive attitude and extreme attention to detail as reasons behind all the successes. "When we were developing a new menu or restaurant, she would sit with me and ask about all the step-by-step processes involved in how a product gets off the truck to the customer, to the extent that if we were in a deli and I was developing a new sandwich with a wrapper, she would ask, 'Where are you going to store those?'" he says.
Julaine Kiehn with Executive Chef Eric Cartwright and Registered Dietitian Kristen Hasan in the Culinary Development Kitchen. Photo by Annika Miller/Silverbox Photographers.

That kind of calculated, well-researched, well-thought-out thinking guided Kiehn and her team through the largest renovation of all.
The Grand Finale Project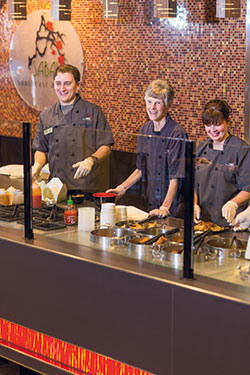 Mizzou's southeast Asian cuisine concept, Sabai, opened in 2013 as part of a major renovation. Photo by Annika Miller/Silverbox Photographers It took four years of hard work before the grand opening of the nearly 30,000-square-foot dining facility The Restaurants at Southwest in 2017, which earned recognition as a FE&S Facility Design Project of the Month in February 2018. The project was part of the university's $15 million Residential Life master plan. It includes 581 seats and totals about 1,650 transactions daily, bringing in more than $2 million annually.
"Even though we opened all six restaurants at once, we developed each one individually and in sequence," says Kiehn. "We took it a step at a time and started with the restaurant identities and then developed the vision for each with the names, logos, menus, uniforms, packaging/dishware, storefronts, layout and design. We methodically selected the food items and entered all the menus and data into the computerized food production and POS systems for each new restaurant one after another. We had a timeline, working in reverse from our opening date — and the team made it happen.
"When we completed the project in 2017, I was so proud of our team," Kiehn continues. "We had the same group of people over the course of those four years, and we worked closely together from day one. My goal was to be more of a coach for the project and let the team be the drivers for this project. I just tried to make sure we were communicating on a regular basis to make sure we were all on the same page and stayed on schedule." She credits the entire team for the smooth opening of the facility: the manager and assistant managers, facilities manager, graphic designer, marketing manager, and support staff. She additionally gives a big nod to associate director Nancy Monteer, who has since taken on the role of director following Kiehn's retirement.
"When I joined Campus Dining in 1999, Julaine and I automatically clicked because we were both home economics teachers in our former lives," Monteer says. "To have her mentorship was everything for me. A lot of times in different industries, people can keep everything close to the vest because they're worried about other people taking their jobs, and Julaine was the exact opposite. For her to want to see others succeed is a true reflection of all she had to give to our industry."
Julaine Kiehn with Nancy Monteer, current director Campus Dining Services. Photo by Annika Miller/Silverbox Photographers
Both Kiehn and Monteer were instrumental in bridging the long-term silos between dining services and the university's club and catering operation. Those silos are common in the college and university foodservice segment. Eventually, the University Club/University Catering staff became a part of the Campus Dining Services team. "Thank goodness we already had The Restaurants at Southwest opened when that change happened," she says.
The support of all the new programs and facilities comes with some additional bouquets of gratitude tossed by Kiehn to colleagues Dr. Charles Schroeder and Dr. Cathy Scroggs, both former Mizzou vice chancellors for student affairs. "It was only possible for us to create those new programs and facilities because we had the support of the administration," Kiehn says.
The gratitude and adoration are mutual. "I've known Julaine for as long as she has been at the university, and she is not one to toot her own horn at all," says Scroggs. "I will tell you that she was always trying to figure out what the next big thing was before it became the next big thing. I had a supervisor once tell me to hire people better than you are, and in terms of foodservice, let's just say she's way better than me, and I felt it was my job to just get out of her way." She adds that she's never known anyone else to honor the people they work with as much as Kiehn.
So much so, apparently, that well before her retirement, Kiehn made sure she had a clear succession plan in place to support her long-term colleagues and also recognize their hard work. That included a professional development program based on a training pyramid as well as a document detailing succession planning.
"I was hired as manager of a large residential unit in 1999 and then oversaw both residential and retail operations as a way to help with my professional development," Monteer says. "But when I shared with Julaine that I was interested in more growth, she actively supported me completing my master's degree in higher education so that I could be poised for the position of associate director when that opened up in 2013. Once Julaine saw I had more growth potential, she actively started mentoring me to prepare me for my current role as director." He could see how hard it was for Kiehn as she approached the decision to retire from a job and an industry to which she truly gave her all.
Keihn's legacy will extend beyond retirement. Her instincts to constantly look for ways to grow, learn and then teach others how to do the same have been imbedded in her team. They will, in turn, keep raising the bar.
---
C&U Industry Association Involvement
Julaine Kiehn has a career history of involvement in The National Association of College & University Food Services and served as president in 1998-1999. Over the years, she served as chairman for national and regional conferences, served as co-chair for the education review project team and developed a series of educational institutes with Dean Wright, director of dining services at Brigham Young University. She continues to teach, coach and mentor participants of NACUFS' Foodservice Management Institute and its Customer Service Institute.
"NACUFS was an integral part of my career, and I can't imagine being able to do my job without it," Kiehn says.
---
Mizzou's Culinary Development Kitchen
When Kiehn's team converted what was Eva J's to Sabai, a southeast Asian restaurant, in 2013, Executive Chef Eric Cartwright says he was thrilled to have more space than they needed for the restaurant and wasn't about to give it up. That led to the idea of turning the extra kitchen space into what is now the Culinary Development Kitchen where Cartwright tests new menu items, conducts training and teaching demos, and regularly hosts tasting dinners for groups of about 32 students at a time.
Although Kiehn's team would regularly sends out surveys to our students to get feedback, the Culinary Development Series has offered students an even better opportunity to taste test menu items in consideration and be able to communicate what's important to them and what they would like to see.
The tasting series has also since parlayed into the Culinary Nutrition Series, for which Campus Dining Services' Registered Dietitian Kristen Hasan and Executive Chef Cartwright conduct healthy cooking demo and tasting sessions for students.
---
Recognition for Mizzou Dining and Julaine Kiehn, Rd
NACUFS Loyal E. Horton Dining Award, grand prize (Mort's at Mizzou's Student Center), 2013
University of Missouri Barbara S. Uehling Award, 2006
Restaurants & Institutions Ivy Award, 2005
NACUFS Theodore W. Minah Distinguished Service Award, 2003
IFMA Silver Plate Award for Colleges and Universities, 2001
Miller Lecturer, Iowa State University, 2000
Honor Tap for LSV Honorary, University of Missouri, 2000
Doctorate of Food Service Award, NAFEM, 1999
---
I knew I needed a transformational leader who could shift dining services from business as usual to engaging in new business, and I immediately found that individual in Julaine Kiehn. From the day of her appointment as director until her retirement, she displayed transformational leadership. She was at the forefront of creating best practices, including such innovations as a Dining Services' service excellence strategy and a mystery shopper program to systematically assess unit performance and reward excellence.
Long before it was popular, she created food courts with highly valued brands such as Taco Bell and Chick-fil-A. Perhaps most significantly, she led the most ambitious and expensive capital plan for transforming dining facilities for the residence halls, Missouri Union and the Mizzou Student Center.
Throughout my 51-year career in higher education, I have been extremely fortunate to hire many outstanding leaders. Among this group, Julaine ranks at the top for dedication, integrity, work ethic and professionalism.
—Dr. Charles Schroeder, former chief student affairs officer at Mizzou, currently senior associate consultant, Ruffalo Noel Levitz, Cedar Rapids, Iowa
---
Julaine Kiehn with Mona Milius. "Her career reflects a commitment to fair treatment and nurturing individuals for personal and professional growth through education. She is a coach, mentor and cheerleader to many professionals (both young and experienced) and never, ever forgoes an opportunity to connect with people. And she is fully present for these conversations, remembering things you said and the special events in your life. She sends notes of congratulations when you are quoted or mentioned in an industry article or receive recognition. She lets you know she is as invested in and excited by what you are doing as you are.
—Mona Milius, Bakergroup Foodservice Consulting & Design