It takes a visit to Microsoft's three-square-mile campus in Redmond, Wash., to fully appreciate the enormous effect Mark Freeman has had on the quality of life there and, by extension, the broader on-site foodservice industry. Throughout his 37-year career, but especially during his 11-year tenure as senior manager of global dining services at Microsoft — where he's been empowered to lead a virtual dining revolution — Freeman has quietly risen to icon status.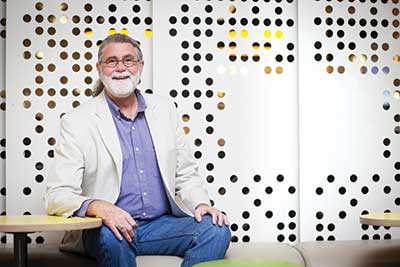 Mark FreemanThe FE&S 2017 Hall of Fame Award winner may not look the part of a revolutionary. Tall, mild-mannered, ponytailed and graying, the 64-year-old seems more psychology professor in demeanor than game-changing industry juggernaut. You might say he's a dreamer, and he is. But by listening, collaborating and pushing boundaries, and with a constant itch to challenge the status quo, he's also adept at bringing dreams to life. In the process, he has radically changed the game.
His latest passion, hydroponic farming, is a case in point: Like many of the innovations that he's led, it started as a random spark of an idea. This one hit after attending a flower show and seeing hydroponic towers on display, which led to a "Wouldn't it be great if we could ... " thought that wouldn't let go. That led to research into revolutionary new vertical farming techniques, pitching the idea for support, collaborating with vendors and Microsoft's tech wizards, customizing, testing, refining and ultimately launching the industry's first on-site, high-tech hydroponic farming operation.
Instagrammable Farming
Microsoft's urban farming specialists now grow lettuces, herbs and microgreens in towers, urban cultivators and customized pyramids under sunlight-mimicking plasma lights that ensure fast, beautiful and flavorful results. The produce is 100 percent naturally grown, pesticide free, produced using minimal water and incomparably fresh when consumed.
The growing units automatically measure and monitor nutrients, temperature, water and growth levels, with all data continuously uploaded to the cloud so that the farm specialists have anywhere-anytime information, control and visual access. Want to watch the lettuce grow? An app on your phone gives you a bird's-eye view from your desk. Want to know when the staff will harvest and serve the lettuce growing in Café 121? The app will tell you.
Freeman's latest passion, on-site hydroponic farming, provides a dramatic visual testament to freshness and sustainability. Photo by Lisi WolfFreeman made sure that several of the growing installations — now 72 campus-wide — were positioned as centerpieces within cafes, office buildings and retail spaces. They immediately became Instagrammable design features and, more importantly, provide a visual testament to freshness, innovation and sustainability. And they underscore the potential for the creative application of technology to deliver bold new food production solutions.
To date, the company has the capacity to grow all the lettuce used by one cafe (more than 14,000 pounds annually) and all the microgreens used campus-wide. With a planting-to-harvest cycle of just 28 days, Freeman foresees the day when Microsoft will be able to produce more lettuce than it needs, providing opportunities to donate excess produce to feed the hungry in the community or, perhaps, to begin offering nontraditional benefits to the company's workforce.
That kind of thinking represents a stellar example of Freeman's commitment to serving fresh, sustainable, hyper-local foods at Microsoft, while also helping solve big problems and move the industry forward. In typical Freeman fashion, he's eager to share the possibilities, frequently welcoming tours ranging from industry peers to visiting dignitaries.
Transformation Abroad
On-site hydroponics is among the newest and buzziest Microsoft dining innovations, but Freeman's outside-the-box thinking has led to many more that over the years have transformed what was once a relatively stodgy, traditional on-site dining program into a peerless trendsetter.
Size alone makes the program notable. Nearly 80 percent of the company's global workforce calls Microsoft's main corporate campus home. Each day, more than 40,000 people eat in 90-plus dining destinations located throughout the campus, which is like a city within a city with a population totaling nearly 60,000.
In Redmond, as well as at four other Microsoft campuses in the U.S., contract foodservice partner Compass Group provides the dining operations. Compass also services some of Microsoft's international subsidiaries, which were added to Freeman's management portfolio in 2012.
The largest international location, in Hyderabad, India, is home to some 7,000 employees and is in growth mode. Currently at three buildings, it's about to expand to four, and Freeman plans to bring many of the concepts and innovations that he's implemented in the U.S. to India. Hyderabad's recently remodeled main dining operation now features a marche-style, multi-concept, cashier-less cafeteria. Staff prepare fresh, local ingredients in front of customers, and local chefs are invited to show off their talents.
While Compass Group provides foodservice for most Microsoft locations, Freeman also works with a handful of other contract management firms globally, from Sodexo in Paris to smaller boutique firms in countries like Ireland and Denmark.
"I get to participate in the design and construction of buildings globally," Freeman says. "We have a building going up in Ireland right now where, again, we're bringing in local restaurant fare, preparing it in front of the customers, showing off the talents of the chefs. We're putting in a full bakery there, doing some stuff with coffee, maybe doing some coffee roasting within the cafe. So, it's been a fun expansion of the things that we've done here."
He hopes to make a difference in Microsoft's performance. Some of his greatest hits stem from the notion that providing on-trend, convenient, comfortable foodservice options on campus helps increase employee productivity. He also believes that by providing spaces where employees can gather over good food, a cup of coffee or maybe, as of this year, a local craft beer or two, the dining program doesn't just feed bodies but also nurtures collaboration.
"By providing great hospitality spaces, we create great opportunities for diverse groups of people to collide and collaborate," Freeman says. "There's a lot of power in collaboration. We get people out of their silos and I love playing an indirect role in that. You never know when an idea sparked over a lunchtime conversation might lead to the next big advancement in software."
The First Foray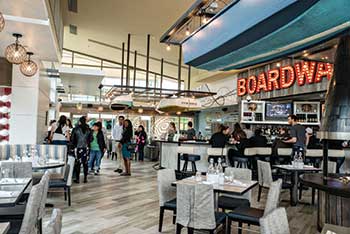 Boardwalk, developed in 2016 in partnership with James Beard Award-winning chef Maria Hines, marks the first on-campus restaurant with a liquor license. Photo courtesy of Dining at MicrosoftFreeman's first major foray into creating such productivity-boosting campus environments was in 2009, with the opening of The Commons. A three-building complex that's akin to a mini mall on Microsoft's West Campus, it consists of a carefully curated mix of retail, service and dining concepts. Employees can knock off a few errands, play games, grab espresso, sushi, burgers, burritos, salads, pastries or noodle bowls. They can visit the bike shop, pick up an eyeglass prescription or get their phone serviced — even take in occasional live music performances or informative lectures — all without having to leave campus.
"The concept has proven itself," Freeman says. "Our participation rates overall are running more than 72 percent. The more we can keep people on campus, the more productive they're going to be."
The Commons was a groundbreaking corporate dining concept in part because Freeman saw the bigger picture. Over time, his position at Microsoft evolved and expanded to include facility design and construction and retail initiatives beyond food. His mindset shifted to taking the city-within-a-city notion quite literally and he began to develop Microsoft's breadth of offerings accordingly.
Specifically, Freeman began to look at how food is distributed across a city like Seattle: how people access and move in the food space. "That influences how we think and what we do here," he says.
The approach led to a diverse portfolio of offerings spread throughout Microsoft's campus. Under Freeman's watch, it has become what even the most serious foodies would call a great food "town."
Dining concept branding rivals that of best-in-class commercial operations. Commitment to authenticity shines through in the details, such as fresh ingredients displayed. Photo courtesy of Dining at MicrosoftEmployees have access to dining destinations that range from sprawling marche-style markets with concepts that span from fresh bakery to bibimbap, permanent and pop-up restaurants featuring both signature and Seattle-area chefs' concepts, food trucks, espresso kiosks, 24-hour Market@ Stores, and, more recently, full-service restaurants. They include in.gredients, an upscale, three-course, fixed-price spot by local chef and multi-concept operator John Howie, as well as Boardwalk, a new gastropub by James Beard Award-winning chef Maria Hines. Boardwalk, the first on-campus operation to hold a liquor license, serves up local wines, microbrews and craft cocktails.
All told, nearly half of the foodservice venues at Microsoft today have ties to local chefs and restaurants. Nearly all preparation occurs in view of customers from scratch using fresh ingredients, many sourced from more than 100 local farm partners through a program launched by Freeman in 2011.
While the company's Lifecycle Remodel Program is currently on a two-year hiatus, remodels and refreshes have been done at an average rate of three concepts per year.
Laying the Groundwork
Freeman's focus on bringing local flavors and personalities into the mix at Microsoft began to sharpen not long after he joined the organization. But first, he had to lay the groundwork for instituting a culture of change and innovation in a program in need of a shake-up.
"To be honest, I didn't have a big vision of where we were going to take this when I started," Freeman says. "I had no clue it would end up where it is now. I thought Microsoft was the dream job and that I'd come in, put my feet up on the desk and things would be great. It is the dream job — I'm absolutely living the dream — but that wasn't quite the case right off the bat. Initially, I had to focus on bringing some management and processes into the space. After we got through the first readjustment period and new people were brought on board, including and especially Tod Nissle, senior vice president, and Tom Teves, who is now president of national accounts, it's been a skyrocket of innovation and constant improvement."
Around the time Freeman started at Microsoft, the company was growing fast. The dining program, likewise, expanded rapidly. Within his first three years, the program turned around from a management standpoint, and Freeman helped usher in a new era in which quality food and beverages — starting with great coffee — became a priority benefit for employees.
Six new cafes were brought online between 2007 and 2008, plans for The Commons took shape and the idea of bringing in local restaurants was developed. Freeman says inspiration for The Commons came from a visit he paid to Duke University in 2004 while working for H. David Porter Consultants. Jim Wulfhorst, who was director of Duke Dining at the time, had implemented a local restaurants program and the idea stuck with Freeman. He saw The Commons as a great opportunity to try it at Microsoft.
It was. Employees love it and participation rates continued to rise, putting wind in Freeman's sails and making it easier for him to push — and receive funding — for the types of broader change and innovation he recognized that Microsoft, and corporate dining in general, was hungry for.
His first overarching initiative, and one that set the course for many to follow, was what he calls the Culinary Revolution, formally launched in 2011.
"It was all about getting back to scratch cooking and having a structure within our cafes similar to that at hotels, a brigade structure with an executive chef, a sous chef, etc.," Freeman says. "It supports making food from scratch instead of doing what the industry had pretty much always done, which was keep kitchens out of site, open up bags, dump out the contents, heat, hold and serve prepared foods."
The transition, Freeman notes, was challenging from both a facilities and a personnel standpoint. Spaces needed to be redesigned to enable openness, transparency and cooking out front, and employees — who previously hadn't needed any real culinary skills — had to be trained or hired.
Sustainability also became an increasingly important focus and in 2009 the company earned Green Restaurant Association certification. That focus would only continue to sharpen.
In 2011, Freeman spearheaded a campus-wide initiative that culminated in Microsoft being awarded Gold Level Zero Waste Certification from the U.S. Zero Waste Business Council in 2016. It was the first technology company to achieve that benchmark.
As the dining program has continued to evolve, so has Freeman's big-picture thinking and his focus on providing a program that's not only sustainability focused but health and wellness driven, as well. The infused water program, for instance, eliminates a lot of waste by cutting down on bottled water usage. It also speaks to Freeman's goal of making it easy and appealing for employees to access healthy choices.
Close Connections
Much of what Freeman has accomplished has been driven by his passion for staying closely connected to his customer base and understanding their needs and wants. That customer base, often thought of in a monolithic way as simply Millennials, is actually very diverse, he says. But they do share common interests when it comes to food, and striving to meet their expectations continually takes him down new paths.
"The young people here are pretty cool, innovative and smart. As an old guy, they keep me young," Freeman says. "They challenge me, encourage me and help me, and there's so much innovation going on around here that you really are nourished in a creative way by that environment. As for food, Millennials are demanding. They want high-quality, healthful foods and complete transparency into the food — not just where it's from, but how it's grown, handled, processed and prepared."
Such expectations led Freeman to launch his second overarching Microsoft dining initiative in 2011, the Ingredient Revolution. It's a movement specifically designed to deliver on demands for transparency and fuel growing interest among customers in seed-to-fork-style operations.
"We've really played to the idea of where your food comes from," Freeman says. "Who the farmers are, how they take care of their land, if it's monoculture or polyculture, etc. We forged partnerships with local farmers and fisheries. And we launched a program called The Misfit Produce Rescue, which uses the 40 percent of crops that farmers routinely discard because they don't look good. We chop up misfit produce and use it in soups or stir-fries, which keeps it from being wasted. Our customers really care that we operate according to these kinds of values."
The Ingredient Revolution has also brought chefs at Microsoft closer to the products with which they work. Rather than simply receive and prepare fresh, locally raised salmon, for instance, chefs visit the local fishery, where they experience the thrill of catching their own. Freeman says such field trips create a stronger connection to the foods they serve and gives them great stories to tell.
Freeman is now taking a similar approach with on-site hydroponic farming. To date, the towers and pyramids have been managed and monitored by the company's team of urban farming specialists. Having tested one of the towers at his own home to assess how to simplify setup and operation at other Microsoft locations, he experienced firsthand the satisfaction that comes with growing your own food. He wants his chefs to have that same experience and now plans to train them to manage much of the hydroponic gardening efforts.
Tapping Technology
This latest revolution extends to educating customers about the origins of foods served at Microsoft and tapping the company's technological capabilities to do so. "As with pretty much everything we're doing now, we're focused on phones to communicate and engage with our customers," Freeman says. "Millennials are always connected to their phones, so our approach is mobile first. We went to online mobile ordering a couple of years ago. Customers can get lots of information about product origin, nutrition, even videos of farming operations. Whatever we can do to engage with them using a mobile platform is where we've been headed."
Freeman, of course, is surrounded by technology, and has been at some level for much of the past two decades. But it's only recently that he's begun to understand and get excited about the impact that technology can have on his own work. Beginning with the transition to cashless/cashier-less operations in 2013 — employees simply swipe a card or their phone to pay — and facilitated by new Microsoft CEO Satya Nadella's focus on intra-organizational collaboration, he's become an advocate for innovative tech solutions.
"In the past, Microsoft was very compartmentalized. You had your silo and you'd stick to it and get your things done," Freeman says. "Satya, who came on about three years ago, has changed all of that to what he calls One Microsoft. We're crossing barriers and silos that we never used to cross. The hydroponically grown plants actually have been my connection to the developer world, which I've never had any clue about. I had no idea that they were working on stuff like this and didn't even pay attention to many of the tech products or development activities before. But for the plants, I worked alongside and talked face-to-face with these guys who do magic with software. We're also now using a lot of big data in new ways thanks to Power BI, which I'd never known about before. So, I'm starting to get more of an understanding of technology and a broad-spectrum feel for what Microsoft actually does and can do. Because of that, the tech piece of my job has increased."
Freeman is already thinking big as to how technology might impact future dining program enhancements. The Commons, in operation for eight years now, is due for a refresh and redesign. He's thinking about adding enclosed walkways between the three buildings and lining them with hydroponic growing towers. And work is underway to begin engaging customers in the growing and harvesting of the greens through mobile apps, voice recognition and augmented reality technologies, with plants taking on names, personalities and even voices.
Nutritional, allergen and product origin information — already available with the scan of a QR code — is being transitioned to a higher-tech system. "QR codes are already so 2014," Freeman laughs. "We're moving to beacons that will automatically provide the information on your phone. ... If you opt in through your phone, it opens up a whole other world in which you can experience our place. To me, that's the future."
Another pilot program uses technology to help Freeman and Compass Group better understand how customers feel about their dining experience. Exiting guests can touch a smiling face or frowning face image on a surface tablet that sits near the entrance. But the program goes further to try to ascertain guests' feelings.
"All the first step tells us is if you had a good or bad experience; it doesn't tell us how you feel," Freeman says. "So when you hit smiley face, it immediately takes you to another screen that gives you words to explain your smiley face. Then, you hit that button and it shows you how everyone else was feeling compared to how you were feeling."
Freeman hopes that the technological innovations that he's implementing will help him to achieve his next big goal: turning the dining program from a cost center to a profit center. "The more I bring technology into our space, the more we're able to bring salespeople and potential customers in and show them that the software actually works," he says.
In the process, he's learning more about technology than ever and is excited about the power of collaboration to solve problems and create innovative solutions.
"We're on the forefront of exciting times in the world and there's so much going on with technology. It just blows my mind," Freeman says. "There's this energy around innovation and offering our employees a great opportunity to be productive and have some great food and enjoy their experience while they're dining here at Microsoft. It's just way cool."
The Freeman Era: Microsoft Milestones