The complex addition of a 23,000-square-foot kitchen and cafeteria at 17-year-old Banner Thunderbird Medical Center in Glendale, Ariz., was part of a $290 million expansion project that included a 200-bed patient tower.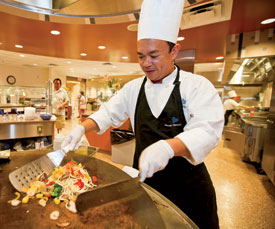 Completed in August 2010, the foodservice operation features a 12,000-square-foot, full-service kitchen that made possible a new room service system for all patients, catering for medical center events, galley services for 35-plus areas in the hospital, vending services, the ability to support Café 5555's 3,500-square-foot servery, and a 5,000-square-foot dining room with 250 seats, 125 of which are inside. A 2,000-square-foot physicians' lounge was also built as part of the project.
The judges were notably impressed with the way the complex project was handled and the very challenging task of setting up temporary facilities while moving forward with the implementation. They also applaud the project for meeting its goals of increasing revenue (by more than 20 percent), increasing participation and reducing energy consumption.
The logistics of designing the foodservice were challenging for the architects, the staff led by Julie Spelman, MBA, RD, director of Culinary and Nutrition Services at Banner Thunderbird, and the project's foodservice design consultant, Richard Dieli, FCSI, principal of Dieli Murawka Howe, who was brought in to the project by NTD Architects. The kitchen and servery renovation followed the main lobby project.
A number of project highlights impressed the judges:
An effective expansion of refrigeration and dry storage makes the operation more efficient.
Specialty equipment allows cooks more versatility. One of Chef Jaime Palenque's favorite pieces of equipment is a pressure braiser, which he says gives a very tender product in minimal cooking time.
The production of all foods in the production area goes from east to west and out the door via room service tothe patients.
Expansion of the cooklines accommodates cafeteria counts, production schedules and menu requirements.
A new room service program has support from an à la carte production line and modified tray line that allows line cooking and bulk product service. Judges noted a tight and efficient tray-makeup area. They liked that the bulk-cooking area doesn't interfere with the tray makeup.
A multiplatform cafeteria features Café Ole, a gourmet coffee bar with a southwestern twist; Retro-Grill, offering self-service and staff-assisted menu items; Creations, featuring weekly rotating offerings prepared on a Mongolian grill; Fusions, with a wood-burning-style brick oven that cooks pizza, casseroles, calzones, naan and pasta dishes; a salad bar; beverages; and desserts.
Specialty equipment includes a pizza oven, Mongolian grill, panini grill and pasta cookers. Many pieces of equipment have multiple functions.
A system in which the water is automatically measured as it fills the kettles, adds to the overall efficiency of the facility.
The hood system in the prep area, as well as in the servery, requires the staff to clean the exterior only because there are no filters.
The judges noted that the dishroom is very well laid out and tray breakdown is efficient. The tray drop-off is set up so the dirty dishes and trays come in directly where the staff works. The cart wash area is nearby. Extreme care is taken to keep soiled zones separate from clean zones.
Keeping labor costs down was a serious consideration throughout the design process. Self-service is offered at all the stations, while staff are involved in display cooking at three stations.
Project accomplishments:
Increased traffic by 20 percent
Increased revenue by $333,000 the first year
Reduced bagged waste by 75 percent due to pulper installation
Delivery of patient trays in less than 45 minutes
High employee satisfaction, demonstrated by low turnover
Achieved staff productivity goals for 2011
Owner: Banner Health (a nonprofit healthcare system), headquartered in Phoenix, Ariz.; 22 hospitals in Alaska, Arizona, California, Colorado, Nebraska, Nevada and Wyoming
Banner Health CEO: Peter S. Fine
Banner Health's Arizona West Region President: Kathy Bollinger
Banner Thunderbird Medical Center CEO: Tom Dickson, FACHE
Director, Culinary and Nutrition Services: Julie Spelman, MBA, RD
Executive Chef: Jaime Palenque
Director of Design and Construction, Banner Thunderbird: Jim Lucas
Senior Project Manager, Banner Thunderbird: Pradeep Dugar
Architect: NTD Architecture, Phoenix; Russell Combs, AIA, senior associate/senior project designer
Interior Design: NTD Architecture
Foodservice Consultant:Dieli Murawka Howe (DMH) Foodservice Designers, San Diego; Richard Dieli, FCSI, MA, MBA, principal
Equipment Dealer: R.W. Smith & Co., Costa Mesa, Calif.; Scott Roczey, service manager
2012 Facility Design Project of the Year Metropolitan State Hospital's Central Kitchen and SatelliteRethermalization Kitchens in Norwalk, Calif.

2012 Facility Design Project of the Year, Honorable Mention: Q on the Riverwalk at Hyatt Regency,San Antonio