The all-you-care-to-eat central dining facility at the University of California, Merced, serves as a critical link between old and new campus buildings. The functional, productivity-driven space almost resembles a kitchen turned inside out, maximizing student connections with the food experience.
Natural lighting brightens the dining area and contributes to energy efficiency. Photo by Bruce Damonte PhotographyDue to COVID-19, the Pavilion Dining Center is functioning under a reduced level of service. "Since the situation in California is dynamic, current service levels may change at any time," says Kathleen Lassle, P.E., LEED AP BD+C, senior program compliance manager for contractor Webcor Builders in San Francisco.
UC Merced plans to return to primarily in-person instruction starting with the fall 2021 semester.
FE&S appreciates the following professionals for generously contributing their time to judge this year's competition.
Editor's Note: Facility Design projects featured each month become eligible for the Facility Design Project of the Year competition. If you would like to submit a project for consideration, please contact Joe Carbonara at This email address is being protected from spambots. You need JavaScript enabled to view it..
"The design allows enough flexibility for the operation to change and evolve in the years to come. It will be easier to change food or service style at various stations as customers' tastes and needs evolve."
---
"The use of so many hard surfaces made sense in that they contribute to the operation's identity and remain easy to maintain. The use of these surfaces really suited the application."
---
"The geometric nature of the counters gives this facility a unique visual identity."
---
"The light, bright colors are inviting."
---
"The front of the house's slanted roof allows customers to focus on the kitchen."
---
"The use of a glass partition allows customers to see the culinary action without actually being a part of it."
---
"The back-of-the-house layout works well within the space and is crisp and efficient."
---
"The use of pressure tilting skillets in the back of the house is really on point for an operation of this kind."
---
"The separate dish drop works well."
---
"Overall, the money allocated and the return on investment are well aligned."
---
Different types of seating offer customers choices when they dine. Photo courtesy of UC Merced
About the Project
Opened: August 2018
Scope of project: A new build of an all-you-care-to-eat dining center, including a central production kitchen, four hybrid theater cooking platform stations, a grab-and-go convenience station, a staffed coffee/espresso bar, two self-service soup and salad bars, a warewashing area, storage areas (refrigerated, frozen, paper), a waste room, and a staff break room
Total size: 37,000 sq. ft.
Foodservice area: 7,840 sq. ft.
Seats: 600
Hours: 7 a.m. to 11 p.m., Monday through Thursday; 7 a.m. to 9 p.m., Friday; 9 a.m. to 9 p.m., weekends
Daily transactions/covers: 4,500 to 6,500
Average check for paying guests:

Breakfast — $8.95
Lunch — $11.95
Dinner — $12.95

Yearly catering events: 2,800
Platforms:

Lake Wok — Asian-influenced dishes
Rufus Grill — veggie and meat burgers
Cascabel — select proteins to build Mexican dishes
Ciao — pizza and Italian dishes
Field of Greens — build-your-own salads and sandwiches
Common Grounds — beverages

Staff: 30 cooks and chefs; 240 students
Total project cost: $28.04 million
Equipment investment: $2.34 million for kitchen equipment; $600,000 for furnishings
Website: dining.ucmerced.edu
Pavilion Dining Center Team
Owner: University of California, Merced
Auxiliaries services director (interim): Mark Cunningham, associate vice chancellor
Associate director: Sean Murray
Executive chef: Mitch Vanagten
UC Merced culinary staff: Buntha John Oung, executive sous chef; Matthew Perez, evening sous chef; Nicole Fleming, catering chef; Jorge Wario, quality assurance; Esther Adams, baker; Katrina Trexler, dining center manager; Mario Trujillo Espinoza, dining center assistant manager; Randy Rogge, dining center lead
Architects: Skidmore, Owings & Merrill LLP, San Francisco: Michael Duncan, FAIA, design partner; Sean Ragasa, design director; Aaron William Baumbach, senior architectural professional; Grant Cogan, associate; Karen Drozda, AIA, LEED Green Associate, associate; Mark Sarkisian, PE, LEED AP, structural and seismic engineering partner
Interior design: Skidmore, Owings & Merrill LLP
Foodservice design consultants: Cini•Little International Inc., Germantown, Md.: Keith W. Short, director of design, West Coast and project manager, San Francisco; Michael Perigard, director of BIM/CAD
Preconstruction: Webcor Builders, San Francisco: Craig Blinston, preconstruction director
Construction and design build firm: Webcor Builders: Matt Rossie, senior vice president; Brad Shambaugh, project manager; Thomas Silva, design manager
Project developer and equity provider: Plenary Group, Los Angeles: Joshua Coulter, vice president; Rehan Khan, project manager
Operations and maintenance: Johnson Controls Inc., Milwaukee
Equipment dealer: Boelter, Sacramento, Calif.: Max Barrera, project manager
Project Objectives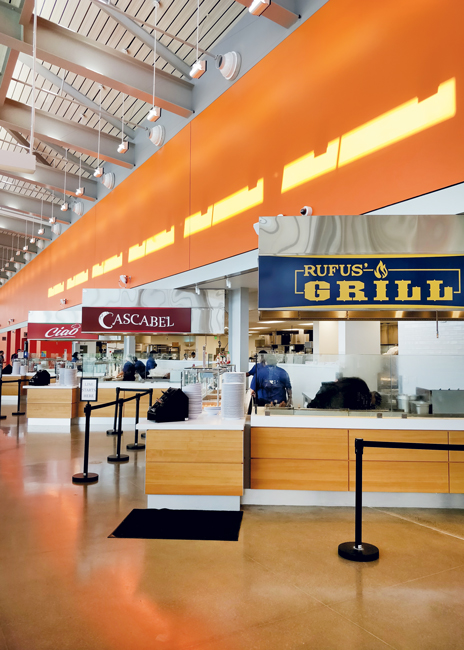 Customers can see food preparation at all the platforms and in the central production kitchen behind. Photo courtesy of UC MercedThe primary objective of the Pavilion Dining Center project at the University of California, Merced (UC Merced) was to address how to best serve 5,000-plus meals per day. In addition, the design team was tasked to create a central production kitchen and catering facility to support the dining commons as well as the conference center and academic enrollment building.
Beyond foodservice goals, the full scope of the project involved an aggressive construction schedule that included new academic space for teaching and research, as well as space for housing, dining, student life, athletics and campus operations.
Another objective included a focus on sustainability to achieve LEED Gold certification. Incorporating private-sector expertise in design, construction and management was also a priority.
The baseline was to implement a project plan that expanded capacity appropriately across all building and facility categories necessary for enrollment growth. The intent with the central dining commons, commonly referred to as the Pavilion, was always for it to be built with flexibility and adaptability for future needs. The Pavilion's construction marked the first phase of the larger campus expansion plan.
The project team that created the dining commons succeeded in its goals to offer unique seasonal foods, showcase transparency in cooking, create excitement for the students and staff, and establish an adaptable foodservice facility utilizing flexible components.
Design Challenges and Resolutions
There were a number of difficulties specific to this project. Here, Keith W. Short, FCSI, CFSP, Cini•Little International, addresses some of the obstacles the project team faced and shares how they were resolved.
Challenge: Source flexible equipment with a vast product range to capture different menus offered.
Resolution: Utilized a hybrid-style cooking platform at each station, thereby ensuring menu flexibility to guarantee staff can cook an assortment of changing seasonal foods and use different cooking styles. Flexible cooking equipment can easily be adapted for other cooking uses when appropriate. These platforms enable students to watch foods being prepared in front of them.
Challenge: Direct the traffic for choosing a meal, dining and vacating the facility in a natural flow.
Lake Wok Photo courtesy of UC MercedResolution: Improved accessibility to each platform while creating seating arrangements that did not conflict with the traffic flow.
Challenge: Provide foodservice support for other buildings, plus a range of campus events and sporting events from this kitchen.
Resolution: Created a vision for future foodservice requirements and integrated it into the rest of the master planning.
Challenge: The kitchen's back of the house needed to provide support for seasonal, fixed and flexible menu offerings.
Resolution: The front-of-the-house servery's design features theme stations that support the intended dining experience. Bulk food preparation occurs prior to service in the kitchen, and final preparation, cooking and service occurs at the servery platforms. The four primary platforms are equipped for full service, cooking and production and are laid out to allow for seamless employee flow and service between each platform and the kitchen during peak hours.
Challenge: Synchronize the queue time to cater to crowds during peak periods.
Resolution: The servery layout follows the natural user flow of service from consumption to drop-off to alleviate congestion and cross-circulation. The platforms embrace a theatrical display of food. Students in line can watch the preparation, cooking and assembly of food both at the platform and in the kitchen beyond. Students have a large selection of diverse menu options during operation.
Challenge: Ensure no mechanical, electrical and plumbing (MEP) connections show or obstruct the view into the back of the house.
Resolution: The facility's transparent design allows customers to see into the back of the house from each platform. In addition, the back-of-the-house's primary cooking area sits adjacent to a wall of windows, offering views to the outside pedestrian walkway as well as giving passersby the opportunity to see the kitchen in action.
Best of the Best in Foodservice Facility Design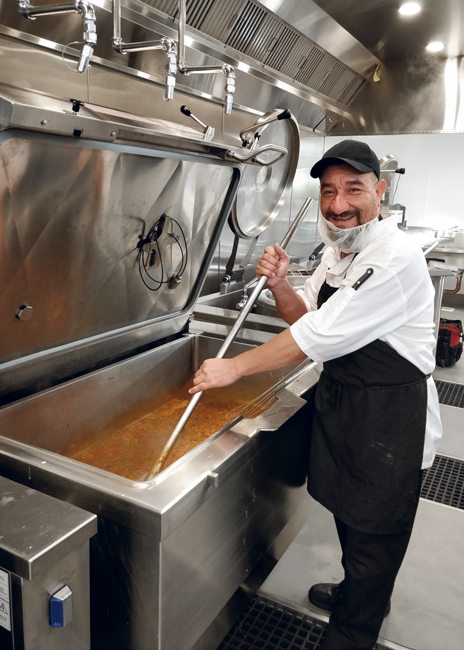 A staff member prepares menu items for a catered event. Photo by Bruce Damonte PhotographyOne of the most notable aspects of this project is the extreme flexibility in the design; it can adapt to current and future trends.
This facility design was woven together into a cohesive plan with additional foodservice facility designs within other buildings. The goal was to equalize the whole campus' foodservice and technical requirements to achieve the university's current and future needs in a holistic, sustainable and environmentally friendly way.
The design of the central production kitchen allows it to function as an open and flexible space with views of the quadrangle green space and the central dining area and servery for students in line. It accomplishes this without compromising clear zones of production for day-to-day operation and management. The back-of-the-house program accommodates off-site catering needs, thereby reducing costs for the university by eliminating the need to develop another catering kitchen on-site or within the master plan for the larger UC Merced 2020 project. The other foodservice facilities designed were satellite/pantry kitchens.
Some of the servery's stations can close when demand is low or to conform to current pandemic distancing constraints without compromising menu options. The mix-and-match menu strategies maximize operator flexibility and allow visibility of menu items both at a distance and at each platform. Because flexible, energy-
efficient equipment was specified, equipment can accommodate emerging trends without sacrificing flexibility in menu options or operations while minimizing the need and associated costs for potential redesign.
Heat lamps keep menu items warm. Wide aisles enable staff to move easily through the kitchen. Photo by Bruce Damonte Photography
Preparation/Cooking/Holding Area Design
Stainless-steel benches support counter foodservice equipment and provide a threshold between front-of-the-house and back-of-the-house spaces. This allows the catering staff to see the front-of-the-house activity and communicate support when necessary. Four island benches with sinks align with each front-of-the-house theme-style platform. This allows the catering staff to manage, support and label prepared consumable items. Flanked on either side of the benches, and in close proximity to the servery, spaces contain hot carts and mobile upright refrigeration units that support all servery platforms and stations.
Cooking Equipment Lineup
The stainless-steel benches with adjustable heat lamps provide two functions: first, to support the front-of-the-house stations, and second, to support functions conducted in the enclosed dining rooms and/or kitchens within the campus.
The kitchen contains a designated area for baking and pizza making. A dry area specifies and houses all relevant equipment to ensure the methods of cookery are not disrupted by excess moisture and/or operational movements.
The bulk cooking lineup promotes speed and efficiency. Staff use the two kettles for soups, stocks, sauces and stews. Three pressurized braising pans accommodate all types of menu items in a timely fashion. Finally, a trio of 40-tray combi ovens can serve up to 400 meals per unit.
Two 40-tray blast chillers allow staff to keep up with production and keep within the principles of food safety. The combi oven and blast chillers are a complete system that safeguards against poor temperatures and poor product quality.
Additional hot carts remain positioned in sequence for current and future catering. This includes the mobile stainless-steel benches to suit operational flow in preparation and cooking.
A double sink preparation bench sits to the left of the kettles to assist in preparation. A designated 3-compartment sink and adjustable shelving may be added in close proximity for the cleaning and housing of food pans and utensils. Ice machines and a hot water dispensing unit provide support for all related foodservice requirements within the facility. A designated 2-compartment sink sits in close proximity for preparation adjacent to the bulk cooking area.
Storage and Warewash Rooms
Configuration of adjustable shelving at 24 inches in depth allows storage of crates, pallets and consumable goods and allows preparation trolleys to be stored and readily accessible. The storage and warewash rooms sit adjacent to the lift for receiving goods from the basement and are in immediate proximity to the central production kitchen.
The warewash room contains a dish-drop zone designed to mitigate congestion, which allows staff to separate utensils, plates and cups and provides ease of service for student drop-off. A water trough for scrapping purposes leads to a perforated sink basket capturing all leftover food. This food is trashed and bagged and taken to the refrigerated waste room in the basement level.
A rack conveyor dishwasher prewashes, washes, sanitizes and dries each warewash rack. A 3-compartment sink allows for additional washing and provides support if the dishwasher breaks down.
A staff member prepares menu items for a catered event. Photo by Bruce Damonte Photography
Sustainable and Green Initiatives
The entire UC Merced campus demonstrates leadership in sustainability and environmental excellence. Every campus building is LEED certified. A top initiative for the UC Merced 2020 project, which was the larger project that the Pavilion was a part of, was to attain LEED Gold certification. In January 2021, 11 eligible buildings, including the Student Center Pavilion, achieved LEED Platinum certification.
With energy efficiency in mind, designers called for a hybrid approach so that when the servery is not busy, one or two of the stations can be closed without jeopardizing a varied menu selection since there is modular equipment in play at the remaining open stations.
Another aspect of the project uniquely designed around kitchen staff is the incorporation of a wall of windows in the kitchen. The windows offer environmentally friendly lighting for the kitchen staff and contribute to an open, productive environment.