Rebuilding patient and retail foodservice at Shirley Ryan AbilityLab in Chicago offers patients and guests a dining experience that contributes to patients' rehabilitation and sense of well-being.
Facts of Note
AbilityLab: Owns 40 sites in Illinois and Indiana
Shirley Ryan AbilityLab: 242 patient beds with potential to expand to 350. Multiple research and therapeutic labs specialize in recovery issues surrounding traumas, strokes, sports injuries and more. Morrison Healthcare, part of Compass Group, serves as the foodservice provider.
Opened: March 25, 2017
Scope of project: A kitchen, servery, dining room on the 12th floor and a licensed Argo Tea on the 10th floor
Size: Shirley Ryan AbilityLab, 1.2 million sq. ft., 27 stories; kitchen,
including toilets and lockers, 8,000 sq. ft.; retail, including large storage room, 4,375 sq. ft.; dining area, 3,940 sq. ft.; catering pantry, 215 sq. ft.
Seats: 162
Hours: Patient foodservice, 6 a.m. to 8 p.m.; retail cafe, 7 a.m. to 7 p.m., Monday through Friday; 24 hours a day at Argo Tea
Menu specialties: Grilled selections, global entrees, pizza, made-to-order deli sandwiches, salad bar, sweets and desserts, to-go salads and yogurt
Staff: 66 full-time equivalents (FTE) and 4 FTEs at Argo Tea
Total project cost: $550 million
Website: sralab.org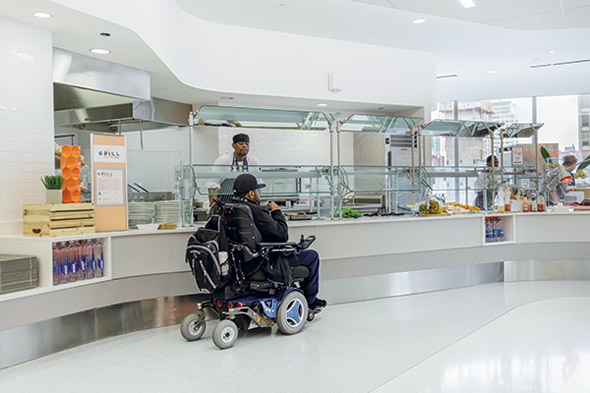 Wheelchair patients can help themselves because serving counter heights are 32 inches above finished floors.
Shirley Ryan Ability Lab Team
President and CEO, Shirley Ryan AbilityLab: Joanne C. Smith, MD
Senior Vice President, Chief Administrative Officer, Shirley Ryan AbilityLab: Nancy Paridy
Regional Vice President, Morrison Healthcare: Avi Pinto
Regional Director, Morrison Healthcare: Laurel Schutter, MBA
Director, Food and Nutrition Services, Morrison Healthcare: Katie Hartoin, RD, LDN
Retail Manager, Morrison Healthcare: Elizabeth Barry
Patient Service Manager, Morrison Healthcare: Prescilla Malayter
Clinical Nutrition Manager and Assistant Director, Morrison Healthcare:
Sabrina Sitkoski, RD, LDN, CSG
Executive Chef, Morrison Healthcare: Armando Serrano
Architect: HDR and Gensler, both in Chicago: R. Todd Eicken, AIA, senior vice president, HDR; Grant Uhlir, AIA, LEED AP BD+C, managing director, principal, Gensler; Brian Vitale, AIA, LEED AP, creative director, principal, Gensler
Interior Design: HDR and Gensler, both in Chicago: Anne Gibson, IIDA, NCIDQ, LEED AP, design director, principal, GenslerFoodservice
Foodservice Design Consultants: Rippe Associates, Minneapolis: Connie Dickson, FCSI, design principal; Christine Guyott, RD, FCSI, principal; Amy Fick, senior project manager
Equipment Dealer: Stafford-Smith Inc., Elkhorn, Wis.: Rick Hoagland, regional manager
Construction: Arcardis U.S. Inc.,Chicago: Michael Vergamini, PE, LEED AP, senior program manager; and Power Construction, Chicago; Austin Pritchard, project engineer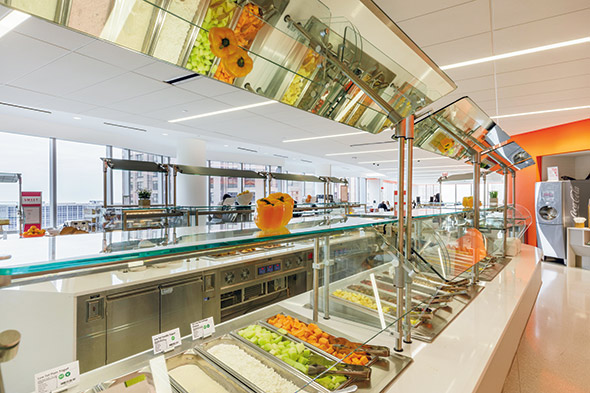 A mirrored plexiglass panel above the food shield provides a view of menu items for cafe guests in wheelchairs.
Worth Mentioning: The Judges' Comments
This project provides a twist on designs we've seen before through its many unique features. This design project respects the wheelchair occupant by adjusting counter heights and the space underneath the counters.
A mirror on the food shield allows people in wheelchairs to see the food they will eat. This is one example of the great attention given to detail.
The design supports the service model well.
A dine-in cafe allows customers to progress through their rehabilitation toward independent eating.
The project features a good selection and placement of stations, done with an eye toward growth in the future.
Positive results were reported: The new dining operation resulted in increased sales across the board.
The dining operation is visually beautiful. One can see outside in both the back of the house and the front of the house. The decor and views create a nice ambience.
The project team did their homework, which translated into the design.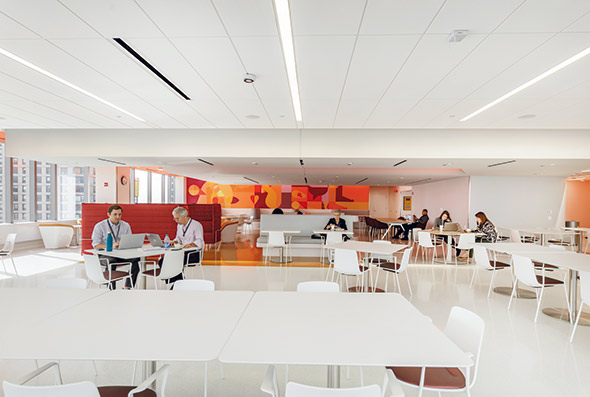 Cafe seating features options for groups and single customers. Natural light streams in through high windows. Photo by Chicago Commercial Photography
Project Objectives and Goals
The Rehabilitation Institute of Chicago's goal for its new Shirley Ryan AbilityLab facility was to integrate its medical and research experts, and improve patient recovery. When the facility opened in 2017, an emphasis was placed on ability, not disability.
Foodservice design goals built upon that facility goal to create a beautiful, uplifting environment for patients and staff. The 12th-floor foodservice department's expansive windows reveal views of Chicago from the kitchen and to Lake Michigan from the public spaces.
The goal of the retail serving area was to meet the needs of patients, staff and visitors. The culinary team's menu concepts include an emphasis on wellness and a connection with local and seasonal ingredients.
The deli features made-to-order and to-go sandwiches.
Design Features
The contrast between foodservice at the former Rehabilitation Institute of Chicago and the new operation is significant. The former foodservice had one little kitchen with a two-burner range. The new operation contains about 300 percent more equipment.
Deliveries arrive on the ground floor. Staff transport the food items to the kitchen on the12th floor in service elevators. Storage includes four walk-in coolers and a walk-in freezer designated for patient foodservice production, plus another walk-in cooler and walk-in freezer for catering and cafe production. In addition, a blast chiller allows staff to quickly reduce the temperature of menu items and increase the variety of menu items offered.
Designers organized work centers so food moves logically from ingredients to prep cooking to service to sanitation. In addition, the design minimizes steps staff must take while working.
The kitchen was designed to produce additional meals when the facility adds beds in the future. Necessary equipment for the higher meal volume include a two-burner range, a second beverage station, a third patient trayline station and a convection oven. The equipment and utilities were installed during construction. To minimize operational disruptions, one exhaust hood and the duct work were also installed to meet future needs.
Most inpatients have demanding therapy schedules so a hybrid meal service was set up to support their needs. During the day, trays are efficiently assembled in pods for scheduled meal service around therapy times. In the evening, a room service work center can produce trays on demand to accommodate patients.
Patient tray assembly occupies a central position between production and warewashing with easy access to the department exit for tray carts. Tray assembly takes place at two pods that contain hot and cold food wells and racks of condiments that enable four assemblers (two at each pod) to prepare trays quickly. Staff cover meal plates with a dome lid and place them in a plate warmer that sits on a heated base. The hot plate, a frozen plate holding cold foods and beverages from a centrally located station near the pods are placed into insulated carts and taken up to the patient rooms. On the floors, nourishment rooms contain supplements, snacks and floor stocks.
Some patients dine in the cafe using patient vouchers issued by doctors as part of their transition from AbilityLab to their homes.
In the retail dining area, the design team worked with a manufacturer to develop a mirrored panel above the food shield that projects food displays for guests in wheelchairs. The interior finishes, natural light and emphasis on food results in a dining experience that promotes healing and community.
The foodservice consultants worked with the design team to showcase and preserve unobstructed views, even developing special construction details to protect plumbing along the exterior walls from winter temperatures.
The servery design offers accessible serving counters at a height that accommodates wheelchair service and includes generous circulation aisles.
The design team also considered how customers in wheelchairs approach counters and reach food. The lower front serving counter angles back to the toe kick to improve the reach for wheelchair customers to menu items. A plastic laminate on the counter backings helps maintain consistent color.
Retail serving counters feature organic shapes and curves consistent with the building's interiors. Their location directs the flow of customers from the entrance into the dining room. The retail area includes a generous circulation factor to account for the high proportion of customers in wheelchairs.
The cafe features seven stations with more than half of the menu preparation visible to customers. Stations include a grill area, comfort-food entrees, pizza, made-to-order sandwiches, a salad bar and a dessert station. An on-the-go station rounds out the offerings.
The equipment arrangement minimizes the steps staff must take in the kitchen.
Kitchen equipment includes combi ovens, a range, a charbroiler, boilerless steamers, a tilting fry pan and kettles.
Since the Renovation
Patient satisfaction year-over-year scores are up 5 percent.
Overall department year-over-year growth is 3.3 percent; 41 percent since 2017.
The check average has increased 7.7 percent.
Outside catering sales have grown 575 percent year over year and internal catering has grown 105 percent since the move into the new operation, which translates to 28 percent year-over-year growth.
Argo Tea sales have doubled.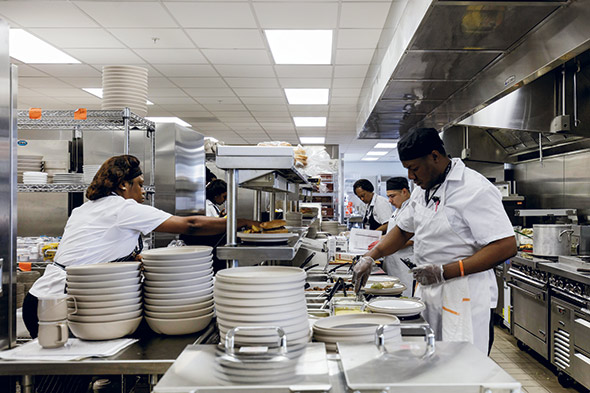 A staff member prepares hot food while the other staff member assembles the cold food for patient trays.