Menu authenticity and unconventional brand identity support Microsoft's core goal of enhancing the employee experience.
Ownership: Microsoft, Redmond, Wash.
Senior Manager of Global Dining Services, Microsoft: Mark Freeman
Senior Project Program Director, Compass Group: Richard Nettle
Culinary Director, Dining at Microsoft, Compass Group: Craig Tarrant
Architect and Interior Design: MG2, Seattle; Peter Stocker, PSAMA, associate principal
Consultants: Compass Group and CBRE managing consulting team, both international companies with dedicated teams on the Microsoft campus
Equipment Dealer: TriMark Gill Group, Seattle
Construction: Howard S. Wright Construction, Seattle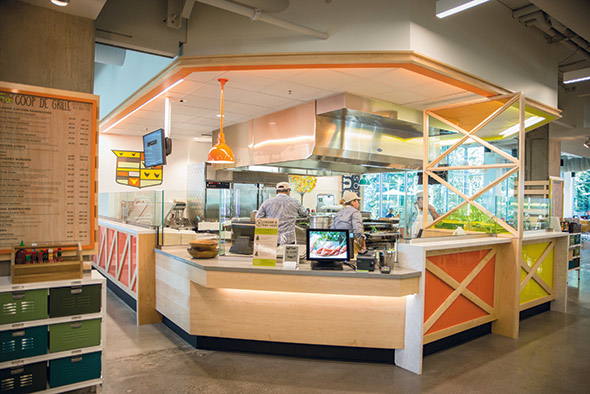 Why It Won: The Judges' Comments
This project reflects the Microsoft culture and takes out-of-the-box thinking a step further than the other projects in this year's competition. The solid blend of design, menu and operation strike the right balance to support production and profitability.
Flexibility is built into the stations for future needs.
Platforms interact well with the back kitchen.
The small back of the house supports prep work and cooking in front of customers.
The division of the salad bar is intriguing and innovating.
The 24-hour market is a cut above other similar types of operations in corporate and on-site foodservice operations.
Many projects fall short on their ability to allow proper space for storage, warewashing and dirty dish intake and storage of clean dishes. This project delivers on all of these key efficiency drivers.
This project delivered on its goals of enhancing speed of service, improving associate productivity and participation.
Many operations strive to be 100 percent local, but this one achieves it in the salad bar. The hydroponic and aquaponic elements of the operation contribute to this setup.
Objectives and Goals Set and Met
Café 36, one of 33 cafes on thes prawling Microsoft campus, originally opened in 2004 and was showing declining performance metrics. Driving participation at this cafe topped the list of goals and objectives set forth by Mark Freeman, senior manager of Global Dining Services at Microsoft, and his colleagues Richard Nettle and Craig Tarrant from Compass Group, Microsoft's foodservice provider. This remodel is one of Microsoft's several Café Lifecycle remodels that continuously improve and enhance the Microsoft employee experience. The Café Lifecycle program focuses on bringing culinary advancement, technology integration, innovative brands and improved ambience to the cafes and other foodservice venues. This allows Microsoft to drive guest satisfaction and employee participation. Higher employee participation, the company believes, enhances Microsoft employees' productivity. In addition, compelling cafes support Microsoft's mission to attract, develop and keep the tech industry sector's most sought-after talent.
Since the remodel, Café 36's participation has increased 38 percent; queue times have decreased 3.5 minutes; and overall customer satisfaction has improved.
What Makes Café 36 Unique?
Café 36 quickly became a customer favorite on campus due to its unique design, bright atmosphere, delicious food offerings and value-added services. These include:
Exhibition cooking suites that integrate into the seating area.
Venues feature authenticity, transparency of the cooking process and information about food derivation and handling. For example, Himalaya features a spice grinder one might see in India to enhance the aroma and freshness of the food. Dekotora features handmade noodles.
Versatile soft, regular, high-top and lounge seating, and outlet access.
100 percent cashless and cashierless touch-screen ordering/payment solution.
24/7 Market@36 convenience store features snacks, grab-and-go items, beverages and bulk foods.
A robust, free beverage program includes soda machines, infused waters, canned beverages and milks.
Customer ambassadors at each station assist customers with ordering and questions.
Landfill-recycle-compost stations with bus tubs for durables/silverware.
Updated lighting and sound system (music).
Light-filled windows and outdoor seating surrounded by trees.
Open design, hydroponics and urban cultivators.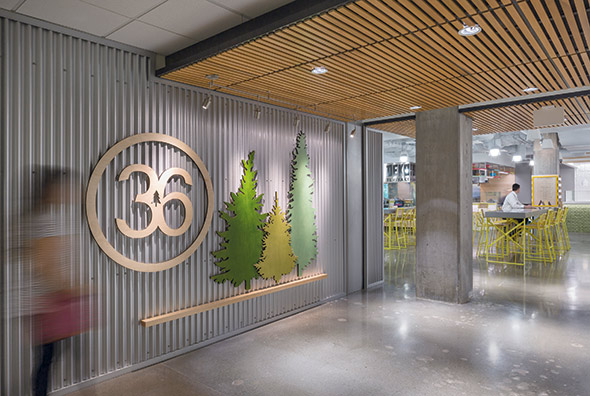 Project Challenges and Solutions
Increasing seating size and the number of stations to accommodate the population was challenging because the overall size and footprint of the cafe did not change.
Customers get in and out more quickly than before the renovation. Additional seats were added and some modifications made to the building so people can also take food to other spaces and eat there as well. Kitchenettes offer free beverages and infused water.
Right-sizing and improving speed of service were possible due to the cashless and cashierless touch screen ordering/payment solution.
The architects incorporated unique seating solutions throughout the cafe with a variety of high, low and counter seating and by blending seating/servery areas to create a marketplace ambiance.
Additional station areas help increase throughput, including innovative solutions such as dual-sided stations at Dekotora.
Bringing the outdoors indoors presented challenges because the cafe has relatively low ceilings and not a huge amount of natural light. The design features light and bright colors and finishes, as well as the integration of hydroponic grow towers to liven up the salad bar area.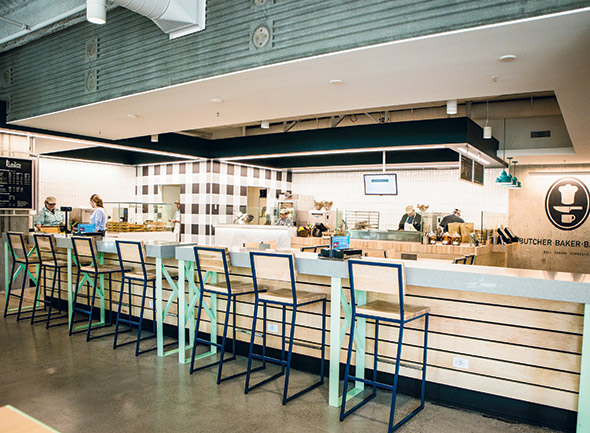 Butcher•Baker•Barista features comfortable wood-and-metal seating and counters.
Project's Answer to Classic Design Principles
The efficiency of design allows for limited inventory, a very small back-of-the-house kitchen and just-in-time processes for exhibition-style cooking of fresh ingredients. While staff can access the back of the house from most platforms, they don't make frequent trips to the kitchen because so much preparation takes place at the stations in front of the customers. The culinary team stocks these one time during the day.
The ordering and production format allows a flow of fresh product prepared as ordered for immediate delivery to customers.
The design of each station's ordering and drop-off points maximize efficiency and the customer's journey throughout the cafe.
Scullery and refrigerated storage were enlarged, along with the mechanical
system, to accommodate the increased visit frequency and meal service.
Flexibility is built into the stations for future needs.
Touch-screen kiosks can be added if traffic grows at any station.
Colors, materials, art and the brand logo give Dekotora a fun and dynamic backdrop for the creativity of the food, which includes ramen and teriyaki.
Green Initiatives
Reduce waste by monitoring, weighing and determining trim waste in the back of the house.
Integrating daytime/nighttime/after-hours energy usage into building controls saves energy.
Demand control ventilation allows Microsoft to regulate and efficiently control the use of electricity in ventilation systems.
Hydroponic grow towers and urban cultivators produce fresh greens/microgreens for use in this operation and throughout campus. The nearly 15,000 pounds of lettuce grown annually still does not quite meet the demand. Dining at Microsoft continues to look into reducing the carbon footprint of the food used on campus.
The Evergreen Plate station features 100 percent local food only.
Reusable dishware and compostable-ware are available at all stations.
Efficiency Initiatives
At each cafe station, 100 percent cashless/cashierless touch-screen ordering reduces queue times.
A cashless touch-screen ordering market (Market@36) sits adjacent to the cafe, which is open 24/7 for convenience.
The stations were designed to process the menu items in the allocated square footage with front- and back-of-the-house considerations. Quick-service options such as Dekotora and Veloce Pizza (cut to order) increase throughput.
The project team reviewed the traditional salad bar concept, rethinking how the customer shops and selects salad bar fixings. Completely revising how the concept works, the design elements use fixtures and separate presentation wells to assist customers in selecting their desired items without having to go down a traditional salad bar line.
Placement of Functional Areas
Five feature/anchor stations include: Coop De Grille, with luxurious chicken and ranch fare combined with grill items; Dekotora, offering teriyaki bowls, kebabs and entrees; Himalaya, featuring authentic Indian cuisine; Veloce Pizza, offering cut-to-order Roman-style pizza; and Bosque Burrito, with build-your-own burritos, bowls, tacos or salads.
Café 36 features urban cultivators that grow 100 percent GMO-free microgreens and hydroponic towers that grow fresh, organic greens for the cafe. The architect wove this theme into the finishes, art, seating and decor, while the Dining at Microsoft team created compelling menus and stations that highlight food quality, variety and exhibition cooking.
The Café 36 deli operation, Butcher•Baker•Barista, features open-faced and build-your-own sandwiches; Tetrix, with fresh greens, scratch-made dressings and hot toppings; The Evergreen Plate, featuring items sourced from Washington state; and Espresso, offering locally produced coffee and teas.
Progress Since the Facility Opened, Success and Observations
At Himalaya, adjustments to the touch-screen ordering system allow customers to order the plate size on screen, then move through the line and order as they see the menu options available, which helped speed up queue times.
Because the two-sided grill operation attracts so many customers, the number of breakfast menus were reduced slightly so the culinary team can keep up with speed of service and maintain the high quality of food.
The 1,692 daily transactions result in 106 percent participation.
"At Microsoft, we are always trying to offer innovative foodservice to keep in step with the company's emphasis on offering the latest and greatest software products," says Freeman. "We're very pleased that since reopening, customer feedback on the new Café 36 has been overwhelmingly positive."