With an emphasis on healthful menu items, this all-you-care-to-eat, renovated dining hall features micro-restaurants offering display cooking and self-service.
The District on West Green in Boyd Hall Facts
Opened: Aug. 22, 2015
Size: Hall, 112,506 sq. ft.; dining, 23,000 sq. ft.
Seats: 460
Average Check: All-you-care-to-eat. But for paying customers, breakfast, $7.80; lunch, $10.85; dinner, $13
Transactions: Dining hall, 500,000; market, 1.2 million
Hours: Dining hall: hot breakfast, Monday through Friday, 7 a.m. to 9:15 a.m.; continental breakfast, Monday through Friday, 9:15 a.m. to 10:30 a.m.; continental breakfast, Saturday, 8:30 a.m. to 10 a.m.; lunch, Monday through Friday, 11:30 a.m. to 2 p.m.; lunch, Saturday and Sunday, 11 a.m. to 2 p.m.; dinner, Sunday through Saturday, 5 p.m. to 8 p.m.
Boyd Market Hours: Sunday, noon to midnight; Monday through Thursday, 8 a.m. to midnight; Friday, 8 a.m. to 9 p.m.; Saturday, noon to 9 p.m.
Menu Specialties: Baked and roasted meats, vegetables and vegetarian entree at Carver's Cut; soups and sandwiches at Between the Bread; international cuisine and four to six types of hummus and toppings at Destinations; baked pasta, pasta and sauces at Noodled; gluten- and allergy-friendly options at Margaret's; packaged menu items at Boyd Market in addition to smoothies at Smooth Moves.
Staff: Dining hall, 28 full-time hourly, 4 managers, 1 intern and 400 student employees; Boyd Market, 1 manager and 150 student employees
Total Project Cost: $12 million
Equipment Investment: $2.3 million
Website: www.ohio.edu/food
Between the Bread, a New York City–inspired deli station, features homemade soups, make-your-own salads, premium sandwiches and paninis. A centrally located hearth oven entices students to take freshly baked breads. Students can customize their orders here using electronic kiosk ordering systems.
The District on West Green in Boyd Hall Team
Owner: Ohio University
Associate Vice President, Auxiliaries: Gwyn Scott
Director, Culinary Services/Asst. Professor: Rich Neumann, MS, FMP
Associate Director, Auxiliaries Operations: Kent Scott
General Manager, The District on West Green: Dennis Washington
Executive Chef, Culinary Services: Jeffrey Arthur
Architect of Record: Davis Wince Ltd. Architecture, Powell, Ohio; Rebecca Fox, AIA, LEED AP BD+C, project architect
Interior Design: Davis Wince Ltd. Architecture, Powell, Ohio; Tom Davis, AIA; and Lynette Bush Clouse, NCIDQ, LEED AP BD+C, director of interiors and renovations, Ohio University
Foodservice Design Consultants: Ricca Design Studios, Greenwood Village, Colo.; Leonard D. Condenzio, FCSI, partner-in-charge of design; Phillip Landgraf, principal, Charlotte, N.C.
Equipment Dealer: TriMark SS Kemp, Cleveland; Heather Boden
General Contractor: Setterlin Building Co., Columbus, Ohio
Structural Engineer: Kabil Associates, Columbus, Ohio
MEP Engineer: Korda/Nemeth Engineering, Columbus, Ohio; Jim Demsky, PE, LEED AP, partner
Lighting Designer: Tec Studio, Columbus, Ohio; Ardra Zinkon
Landscape Architect: Vivian Llambi & Associates, Cincinnati
Seating at Noodled takes on an earthy, green hue.
Why It Won: The Judges' Comments
The project created a dynamic foodservice experience for an all-you-care-to-eat dining hall.
This project executes the concept of micro-restaurants extremely well.
The flow from receiving to service is great.
The ability to offer menu flexibility is excellent, and menu choices can surprise guests and keep them interested. The stations featuring food for students with allergies and desiring gluten-free options fit in with current trends.
The attention to detail takes this college foodservice from a basic operation to one that is "all grown up."
Despite using some unique and funky angles, the design is clean.
Obtaining LEED Gold certification is a significant milestone for this project.
The project takes teamwork to a higher level, which is particularly evident in the development of the programming. It also brought together a multifaceted team that did good field research.
The increase in faculty and staff participation was massive.
The $12 million expenditure led to $1 million in additional sales.
The use of plug-and-play equipment provides flexibility.
The use of kiosk ordering is a plus.
The project puts the grab-and-go in the front of the space and brings an entirely different level of excellence to this facet of the project.
The space is well lit and makes excellent use of natural light.
The interior design utilizes sustainable materials and
highlights the space's emphasis on healthy foods.
A retail marketplace provides more options for students without meal plans and little or no time to sit and eat. Photography by Scott Pease Photography
Objectives and Goals Set and Met
Carver's Cut features two rotisseries, stacked steamers, a churrasco grill and a flattop griddle. Seating at Carver's Cut, seen above, adds an upscale touch to the ambiance. Photos by Mark Brunton, assistant director auxiliaries, marketing and communications, Ohio UniversityOver the past nine years, Ohio University (OU) has worked to improve, elevate and expand its on-campus dining experience. As the phased planning continued to move along, Boyd Hall, a 1960s-era building on the west side of campus, was due for an upgrade. Campus dining leaders wanted to transform Boyd Hall from an outdated operation to a wildly different, state-of-the-art, nontraditional, lively student hub.
From the start, the project team set large goals for Boyd Hall.
For design inspiration, the team looked beyond what was being done in other educational facilities' dining operations. To conceptualize a new dining hall, the team, which included members of the school's culinary services team, a few students, architects and foodservice design consultant Lenny Condenzio of Ricca Design Studios, visited six Columbus-area restaurants. After scouting the local area, the team headed to New York City, one of the world's most renowned restaurant destinations, for a metamorphic benchmarking tour. The group visited more than 30 of the hottest restaurants, food halls and foodie favorites including Chelsea Market, Dean and Deluca, Eataly, Gotham West Market, Hudson Eats, Mercer Kitchen, Sarabeth's Bakery, Todd English Food Hall and Tortaria.
At Noodled, an upscale pasta station, staff saute combinations of herb gnocchi, fagioli and cacio e pepe with daily prepared sauces and vegetables. Induction cookers, with their rapid heating component, keep lines of students moving quickly without sacrificing fresh and made-to-order options. Photos (top) by Mark Brunton, assistant director auxiliaries, marketing and communications, Ohio University and (above) by Scott Pease Photography.After benchmarking food markets, exhibition kitchens and trendy concepts, the team defined three main goals for the space: create a wildly different experience that set a new precedent for college dining, focus on sustainability, and emphasize fresh and healthy foods.
For the dining hall, the team wanted to showcase something beyond a traditional servery so the group introduced micro-restaurant concepts. With 6 micro-restaurants and 11 platforms, students can explore and discover a variety of food offerings. Micro-restaurants include Carver's Cut, Between the Bread, Destinations, West Greens, Noodled and Margaret's.
Project Challenges and Solutions
The project team received the most inspiration for The District from New York City's Eataly and other food halls. Food halls feature large open spaces that allow guests to roam. Creating this type of hall from a space that had a pre-existing back-of-the-house area and infrastructure required the team to work around columns, ceiling heights and exhaust parameters.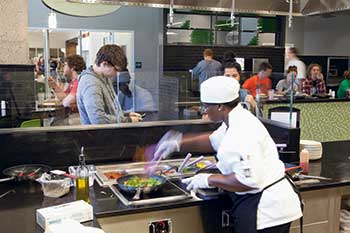 Another hallmark of food halls is that every restaurant has a sense of arrival, which helps lead and weave people through the space. Boyd's design team worked to captivate and move students and guests by stimulating all five senses. This resulted in bright and welcoming micro-restaurants and physically interactive food stations with create-your-own options and live-action cooking.
Offering a food hall experience while still meeting the demands of large waves of students was also a tricky task. Therefore, the design team provided ample storage space and carefully chosen equipment, such as induction cookers, at each station.
Project's Answer to Classic Design Principles
The university has a pre-existing central kitchen, so this project's design is not classical. Maximum space is designated for front-of-the-house purposes. As a result, the designers expanded the size of the retail marketplace, which exposes concepts like the veggie butcher and contributes to their success.
Since each platform features display cooking, the flow of product has the shortest route from door to plate. This highly visible path further exemplifies the food hall concept while placing a large emphasis on freshness and transparency.
Green Initiatives
In February 2017, OU Boyd received LEED Gold certification from the United States Green Building Council. Assisting the certification, the team selected and installed Energy Star–rated equipment when applicable. In fact, the Energy and Atmosphere credit related to Optimization of Energy Performance for Equipment and Appliances was one aspect of the LEED certification process that exceeded expectations — receiving four out of four points.
Local sourcing was also a priority. The school's supply chain model was completely restructured to accommodate fresher, hyper-local foods — and the response from the community was outstanding. Currently, approximately 18.1 percent of all the food served on campus is sourced within a 250-mile radius. At The District and the other two dining halls, 23.7 percent of all food is sourced within a 250-mile radius.
The design also uses reclaimed wood, and the original concrete floors were polished and saved.
Placement of Functional Areas
A tilt skillet and two steam kettles assist staff in producing large quantitites for just-in-time service. Photography by Mark Brunton, assistant director auxiliaries, marketing and communications, Ohio UniversityThis project focused on kitchen "erase-ment," relocating the traditional back-of-the-house area into the platforms for an optimal exhibition kitchen experience. In order to achieve an open and unified space while still defining micro-restaurants, each station contains functional and appealing equipment.
Two drop-off stations were added at opposite ends of the dish room to accommodate all guests as they exit the dining area.
Since the dish room placement took precedence, refrigeration placement became difficult. Ideally, each platform would have walk-in refrigeration. However, due to the long, narrow architecture of the building, walk-ins were made larger and scattered as closely as possible to the stations.
Efficiency Drivers and Financial Aspects
The central kitchen played a large factor in programming and allowed for efficient and maximum space usage within Boyd Hall. Designing a cold prep and salad concept at one station allows for an efficient use of both space and labor while allowing for maximum usage of equipment and work counters. Use of plug-and-play equipment under the action stations' exhaust hoods allows staff to change equipment and maximize menu flexibility.
The District on West Green in Boyd Hall has become a lively campus hub, a highlight of campus recruitment tours and an epicenter of student and facility gatherings. Since The District opened, student attendance increased 29.8 percent, sales of off-campus meals increased 4.7 percent, and the number of staff/faculty meal plans increased 387 percent. Food costs have remained the same, despite the increase in offerings and fresh foods.
Progress Since the Facility Opened, Success and Observations
The District's floor stamp at the entrance was inspired by the team's visit to Chelsea Market in NYC.In addition to contributing to the university's cultural emphasis to offer more locally sourced and healthier foods, the hall's staff also educates younger generations about the importance of making healthy choices and the importance and integrity behind scratch cooking.
Another interesting and often overshadowed benefit of the renovation is the complete shift with the dining hall staff. They've moved from behind the scenes to the front of the house, where they focus on interaction and displaying the art of cooking.
"The number-one response I hear from customers, parents, potential students and guests on admissions tours is 'This place is awesome!' and 'This is world-class food,' "says Rich Neumann, MS, FMP, director of culinary services and assistant professor at Ohio University. "An alum recently said, 'This place is light years ahead of what it was when I went to school.' "