Connected to the Aloft Hotel in Chicago's River North Neighborhood, the bustling Beatrix is one of many concepts owned and operated by Lettuce Entertain You Enterprises (LEYE). The restaurant includes a wine bar, coffee bar and small yet highly efficient partially open display kitchen. The kitchen also provides Zoom Service for Aloft's 272 rooms, as well as 400-plus rooms in the adjacent Hyatt Place and Fairfield Suites.
Original article: Facilty Design Project of the Month for February 2014: Restaurant Beatrix in Chicago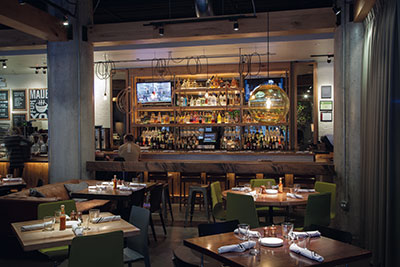 A full-service bar holds bottles in temperature-controlled refrigerators. To the left is the coffee and juice bar. The diverse seating invites customers to stop into the restaurant for a quick bite or sit-down experience. The decor features exposed wood beams and ductwork and large concrete pillars rising 11 feet to unfinished ceilings that complement the interior design of Aloft Hotel. The name "Beatrix" holds sentimental meaning for legendary Chicago restaurateur Richard Melman, LEYE's founder and chairman, and his wife, Martha, who both called their mothers "Bea." "Beatrix" in Latin means voyager or traveler, which refers to the guests the restaurant serves, including visitors staying at the Aloft Hotel, as well as neighborhood residents.
Beatrix Facts
Size: 4,400 sq. ft. upstairs, including a 1,400-sq.-ft. display kitchen and a 900-sq.-ft. downstairs area with storage and staff space
Seats: 196 (includes 160 in the dining room and 35 at the wine bar)
Average Check: Editors estimate breakfast at less than $10; lunch at $14 to $18; and dinner at $33 to $35
Staff: Just shy of 100; approximately 2 managers and 40 to 50 persons per shift, including front and back of house
Equipment Investment: $415,000 (includes kitchen and bar equipment only and tax)
Current Beatrix Team
Owner: Lettuce Entertain You Enterprises Inc.
Founder and Chairman, Lettuce Entertain You Enterprises: Richard Melman
Executive Vice President and Partner: Marc Jacobs (also managing partner of Antico Posto, Foodease, Foodlife, L. Woods, and Mity Nice Bar & Grill)
Partner: Steve Hofferth
Chef Partners for Beatrix: John Chiakulas, Rita Dever and Susan Weaver
Pastry Chef: Yasmin Gutierrez
Architect of Record: G2 Design Group, Chicago
Interior Designer: Internal LEYE design team in coordination with Simeone Deary Design Group, Chicago; Lisa Simeone, owner
Kitchen Designer: Equipment Dynamics Inc., Chicago; Beth Kuczera, president
Construction: Kern Konstruction, Tinley Park, Ill.
Why It Won: The Judges Comments
Excellent use of 4,400 square feet for multiple functions, including restaurant dayparts, carryout, hotel room service and event catering.
Clearly a lot of thought went into organizing the space and making it work efficiently with an ambitious menu.
Interesting approach to use the zone system and label each station based on function.
Solid, detailed assessment to determine the usage of each piece of equipment.
Impressed by a $415,000 package price for kitchen and bar equipment that includes hoods and ansul, walk-ins and remote compressors, and early-morning deliveries for the city location with no dock, union labor and tax.
Lovely design and especially impressive given its position adjacent to the hotel lobby.
Interior design feels like home away from home — warm and comfortable.
Well-designed open kitchen and relationship to adjacent scullery.
Good flow from entrances to the various bars.
Appropriate attention to energy-saving equipment and fixtures.
PROJECT BACKGROUND
Coffee from two commercial roasting companies, organic hot tea, fresh-squeezed juice and house-made pastries compel customers to return repeatedly. Equipment includes blenders, refrigerators, coffee grinders and brewers. LEYE became involved with this property when the Aloft Hotel's owner approached Richard Melman, the multiconcept founder and chairman, about operating a restaurant at the corner of Grand and Illinois. "We thought about what a hotel guest wants when travelling and what the neighborhood needs," says Marc Jacobs, executive vice president and partner with LEYE. "Combining this equation with the talents of our chefs, we created something new and different — a neighborhood concept with a warm, comfortable atmosphere, reminiscent of an old coffeehouse, and a menu that is not only delicious but also healthier than what one would expect to find in this setting. The focused menu of slightly more than 20 items is deceiving, as each dish contains ingredients and sides unique to that dish. This is most challenging with regards to finding and organizing space in the coolers and on the line."
THE OBJECTIVE AND GOALS SET AND MET
The project's objective was to create a combination meeting place, coffeehouse and restaurant that caters to both the neighborhood and the hotel guest. The operators and design team knew there would be a challenge with the limited 4,400-square-foot space, which includes the 900 square feet downstairs. The goals were to cater to multiple meal parts, including breakfast, lunch, dinner, snack and late-night, and service both the neighborhood and hotel guests. Beatrix now serves breakfast, brunch, lunch, dinner, room service known as "Zoom Service" and carryout, and caters for private hotel events. To achieve the goals, the restaurant also features two bars, a wine bar with climate-controlled reds and whites, and a coffee bar with a bakery counter. In addition, the restaurant showcases a fresh-squeezed juice and juice cocktail program.
Beatrix has well exceeded initial goals and has doubled cover count expectations for breakfast and bar business. It also successfully created a neighborhood specialty coffee bar and bakery business. Though the initial plans didn't call for catering to the hotel party spaces, Beatrix now does this too.
PROJECT CHALLENGES AND SOLUTIONS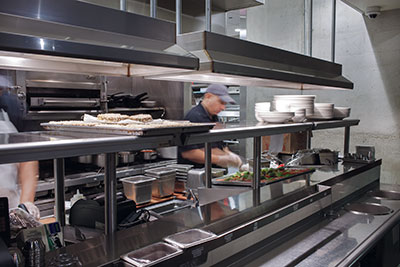 Staff receive and expedite orders before servers deliver the food to customers. Unpolished stainless steel, with its rustic and weathered design, gives the counter an aged look. This material also shrouds the hanging heat lamps. The main challenge was the very tight space, not conceptually intended for a restaurant of this type or volume. "This was a game of inches and centimeters, and every bit of space is used," says kitchen designer Beth Kuczera, president of Equipment Dynamics. Incorporating multiuse spaces supported the ambitious project. For example, the pastry prep also serves as an afternoon prep station, and counter seating doubles as a brunch buffet. The open kitchen crosses over into the dining room, giving guests a view of the culinary staff's preparation. The pastry production is on display as well.
Studying aisle sight lines, designers made sure there were no dead ends. Sink bowl covers expand prep and packaging space. An extra-deep table with a sink on the line matches the cooking equipment depth, and the area expands into a prep zone. In addition, a window cut into the wall behind the coffee bar allows for dining room service without affecting the coffee queue.
Taking full advantage of the space's height, all coolers and storage rooms extend to the ceiling. Extra shelves give even more storage space. For cooking, a double-stacked combi oven offers more flexibility. A blast chiller allows for limited cooling space and extends fresh food life. To emphasize the fresh food focus, Beatrix has no walk-in freezer, and culinary staff order strategically and continually review storage. What's more, both bars feature service wells.
Due to the limited hotel duct shaft, designers had to engage in a City of Chicago exceptions review, which involved tenacious negotiations to use the back of the building. The hotel elevator's position required designers to create many drafts of the design in search of efficiencies, especially in connection with a hotel dining entrance. In addition, designers had to integrate with the hotel lobby design because they chose not to separate the dining space with walls. Collaboration among many players was essential.
PROJECT'S ANSWER TO CLASSIC DESIGN PRINCIPLES
Due to the first-floor footprint, with almost all deliveries going to the basement, this operation requires split-level storage. Staff bring food up from the basement to the main floor where they prepare it and place it into pastry refrigeration or into the prepared-food walk-in cooler.
During the design process, each station was named, and the station setup for differing meal parts was identified and cross-referenced. "The zoning method gives everything a place, and everything is in its place!" says Jacobs.
GREEN INITIATIVES
The restaurant's design was integrated into a LEED Silver-certified hotel building. Energy savings were considered for all lighting, building materials and equipment. The project specified Energy Star–rated foodservice equipment, where available, or high-efficiency equipment. The roof holds all compressors.
PLACEMENT OF FUNCTIONAL AREAS
"This required great study," Kuczera says. "We had to consider the street entrance for the neighborhood approach as well as the hotel entrance for the guests. We considered the to-go coffee and bakery bar, as well as the host station and restaurant seating. We positioned the two bars to serve as different energy components, added no staff as we split the labor location, and allowed for a sectioning off for private events."
EFFICIENCY DRIVERS
In the pastry and cold prep, spice rack rails at the 11-foot-high windows enhance the organizational structure of the space while adding to the area's aesthetics. A 10-foot-prep table contains a drawer warmer, conveyor toasters, bread storage shelving, undercounter refrigeration, and induction warmer, ingredient bins, a 20-quart mixer and a mixer table with utensil storage.Starting with cardboard mock-ups, key stations were built to scale and for ergonomic feel. Everything selected has a purpose and is functional. Each station's name applies to the work that supports the functions contained within. One person can work core stations at certain times of the day and week, while additional labor can be brought into the stations during peak periods without crossover. Only one staff member is necessary to work the dishroom, which includes a detailed soiled dishtable.
Other design elements include reducing the height on a portion of the main wall to allow for good communication among staff and to introduce an open ambiance. Raised ceilings and natural light contribute to the small kitchen's comfortable feel.
SINCE THE RENOVATION: Q&A with Marc Jacobs, executive vice president and partner, and Beth Kuczera, president, Equipment Dynamics
FE&S: Why does this project represent the best of the best in foodservice facility design?
MJ: We studied flow and function at great length and took into account all sight lines. We had to consider the street entrance for the neighborhood approach as well as the hotel entrance for the hotel guests. There is an energy that transfers between the spaces, because there is no wall separation between the restaurant and hotel lobby. We carefully placed the coffee and bakery bar, as well as the host station and restaurant seating. We positioned the two bars to serve as different energy components — and this resulted in no additional staff as we split the labor allocation. This approach also allows for a sectioning off for private events.
BK: We took the time to study and deliberate over every piece of equipment, its best location in the kitchen and dining room, and have quality equipment to do the job long-term. Additional seats and catering were added post-opening, and exceptional service and unique food offerings have not been sacrificed.
MJ: We thoughtfully reviewed features and pricing and are on track for a fast payback on project investment. We have maximized every inch of the space, made a comfortable environment for staff and guests alike and are built to do more than $7 million dollars in a 4,400-square-foot space. And we are extremely proud of the food! Beatrix has been honored to win the Michelin Bib Gourmand Award [in] fall 2014.
FE&S: Since Beatrix opened, are you meeting the project's goals, such as objectives for revenue, customer traffic and labor usage?
MJ: Beatrix has well exceeded our initial cover-count goals in all meal periods, especially breakfast and brunch. The restaurant has also successfully created a neighborhood specialty coffee bar business and bakery. Though we did not plan on catering to the hotel party spaces, we have been able to do this as well. Weekend brunches began with 150 to 200 guests and have grown to more than 500 covers every weekend.
FE&S: What patterns do you see for customer traffic?
MJ: There is a steady flow of traffic for all meal periods, bringing business in from the neighborhood and capturing the hotel business.
FE&S: Taking a closer look at the financial aspect, how did expenditures strengthen the project's success? And what considerations were given to achieve fiscal responsibility?
MJ: With the goal to build a restaurant that would last 20 years, operators and designers studied every piece of equipment and looked at less and more expensive options and alternatives. They kept hot prep with hot prep and cold with cold. They carefully selected drawers versus doors on the cold line and took advantage of purchasing programs for equipment as well as delivery discounts. They studied cost savings of different gauges and finishes of stainless and tile versus FRP and stainless. They selected top-of-the-line equipment that would perform in high-volume conditions.