Customization brings new flavors and menu variety to the food-concept platforms at this all-you-care-to-eat marketplace.
Goals Set and Met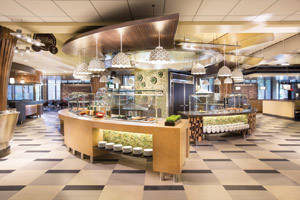 The central venue of the dining room at the salad platform serves as the initial wow factor when visitors enter the space. Formed wood-look and acrylic panels are suspended from a steel ring over a central island wall of glass tile encasing two refrigeration units.
The objective was to modernize an underutilized and aging dining center and programming/meeting space that catered to the needs of 675 students in a pair of adjacent residence halls — Westfall and Durward Halls. The project also sought to accommodate the dining needs of 615 additional students in Laurel Village, a newly built residence complex.
The $9 million renovation was completed in the summer of 2013, a year ahead of the projected opening of the new
Laurel Village, which welcomed its residents in the fall of 2014. This allowed the foodservice staff to work out any kinks in advance of 600-plus new students using the facility.
Another goal was to serve an increasingly food-savvy student body while catering to diverse appetites and nutritional needs. Durrell features seven different interactive culinary venues. Students can customize their meals, and the culinary staff provides "foodtainment" while preparing sandwiches, pizzas and pastas in front of customers. Potential allergens
are clearly and prominently labeled throughout the facility.
A well-stocked special area provides gluten-free options, and a dedicated microwave, toaster oven and countertop warmer prevent cross-contamination.
Durrell Express stays open until 1 a.m. during the week and provides flexible dining for students on the go.
Durrell also serves and engages a growing international student population while being respectful of cultural differences.
Durrell creates an appealing environment and hub for congregating, meeting, enjoying recreation and studying.
Worth Mentioning: The Judges' Comments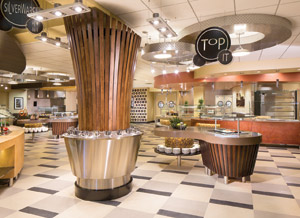 Customers easily find flatware dispensers designed and integrated into the structural columns and accentuated with a stained millwork wrap. Illumination focuses on the silverware display, signage and condiment counter due to the direction of linear suspended rail fixtures with pivoting gimbal ring lights. The pizza station is at right. Photos courtesy of CSU Dining and Ricca Newmark Design; photograph by Paul Brokering Photography
This facility creates great market appeal through the use of soffits and signage and by working around the columns. The extremely interesting counter design features a creative use of tiles and an integration of materials.
This project pushes the limits of scatter-system servery design by blurring the boundaries between previously fixed spaces to create a more efficient, friendly and flexible dining experience that emphasizes ethnic food preparation and gluten-free options. The menu also features an interesting combination of preprepared and made-to-order foods.
Working within an existing building and footprint, this project represents a good use of space, including the outdoor walk-in refrigerator, which provides staff suitable room to break down pallets.
In addition to making sensible use of a temporary facility during construction, this project also features a good mix of form and function and sensible layout and equipment selection.
It was notable how foodservice contributed to the pursuit of making this a LEED Gold-certified facility.
Project Design Features
The upper level includes the 6,400-sq.-ft. marketplace, 6,125-sq.-ft. dining area and 2,300-sq.-ft. late-night retail outlet.
The marketplace features distinct food platforms: international, pizza, grill, breakfast, salad/soup/deli, interactive noodles and pasta, gluten-free zone, dessert bar, waffles, condiment, cereal bar and two beverage stations. A 4,000-sq.-ft. space containing the kitchen, storage and dishroom supports the marketplace.
Seating in the 22,200-sq.-ft. facility includes 390 indoor dining seats, 78 outdoor dining seats, 36 private dining room seats and 43 Durrell Express seats.
This project transformed an old building into a fresh and energetic space; increasing customer capacity and service efficiency required creative, space-conscious design.
Designers opened up the interior by dissolving walls and creating an open-plan, multifunctional space that removes traditional dichotomies between kitchen, service line and dining areas as well as academic, entertainment and recreational spaces. For example, the old straight-line serving cafeteria that was marked by compartmentalized rooms and corridors was replaced with an open marketplace-style space with multiple points of service, thereby decreasing service time while engaging consumers visually.
On the ground floor, mixed-use areas integrate semiprivate study booths with big-screen televisions and pool tables, allowing for varied utilization of a single space.
The flow of food and customers is central to the design concept. Food arrives in pallets on the ground floor, where staff unload it into a specially designed pallet cooler before distributing it to refrigerated units in the main kitchen on the second floor or into refrigerators at the prep stations themselves.
Placement of the dishwashing and drop-off areas adjacent to a single guest exit ensures the effective movement of waste.
Key Players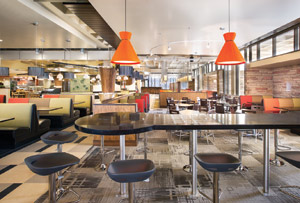 A variety of flexible seating includes booths, four- tops and bistro tables. Multiple layers of lighting and fixture types come together to create great depth within the space. Because of budget constraints, the design team couldn't install new electrical wiring or conceal any new conduit, making an efficient lighting layout tricky. Despite the challenge, natural daylighting embraces the existing architecture.
Director of Residential Dining Services: Deon Lategan (retired)
Associate Director of Residential Dining Services: Mark Petrino
Assistant Director of Support and Culinary Operations: Peter Testory
Project Managers: Cass Beitler and Rick Pott
Procurement Manager: Skyler Thimens
General Manager, Durrell Dining Center: Ben Marks
Production Chef: Jeremy Morgan
Architect: 4240 Architecture Inc., Denver. Colo.; Louis Bieker, principal in charge; Tracy Hart, NCARB, LEED AP, senior associate; Andy McRae, project architect; Sage Case, LEED AP, interior designer, lower level; Benjamin Gray, construction administration
Culinary and Interior Design: Ricca Newmark Design, Denver, Colo.; Thomas D. Ricca, FFSCI, founding partner; Erling "Al" Moller, FCSI, principal; Lona Homersham, project director; Michelle Maestas, project designer; William Rivera Jr., project designer
Equipment Dealer: Johnson-Lancaster and Associates, Clearwater, Fla.; regional office in Greeley, Colo.
Construction: Mark Young Construction, Denver; Garrett Burrell, project engineer; Aaron Phillips, project manager
Q&A with Mark Petrino, Senior Associate Director of Residential Dining
FE&S: Now that you've had time to live with the facility, what are three main highlights that have worked as you'd hoped?
MP: One, traffic flow was a main concern when we were designing. We deliberately did not put stanchions in to get a free flow of customers to each of the counters. The free-flowing traffic patterns have evolved just as expected, and there is no need to explain how to queue up.
Two, the digital menu signage has worked very well for us. We can change menu items and run outs with backups and quickly change the signage from any computer.
Three, the international station was a pleasant surprise. Because of the menu [authentic foods from regions around the world], we did not think this station would be very popular. It has turned out to be the most popular platform we have in Durrell.
FE&S: Is this facility meeting your expectations?
MP: So far, Durrell has exceeded our expectations. The traditional pizza deck oven, gas-flamed sauté station and center island platforms are all popular and visually exciting additions.
FE&S: What advice would you give to design teams as they venture into design projects with ambitious goals?
MP: Take your time and consider everything, from adding more outlets than you think you need, place corner guards everywhere and equipment at each station. You visually need to go through the flow of the cooking and presentation process of every menu item so you leave nothing to chance. Is the dishroom big enough? Do we have enough dry, refrigerated and freezer storage? Does the space look appealing, and can it reinvent itself in 10 years? These are all very important questions.