Eric Harrison is dressed in his standard uniform today. "I always wear black," he says, and I laugh. "No, like every day, all the time." Even while accepting his award for DSR of the Year at the FE&S banquet in May, he was decked out in a black tuxedo. That made sense, as it was a black-tie event, but Harrison paired it with a black shirt, vest and tie.
No, this is not the color of his soul. It would be easy to see how one might think that way given Harrison's love of heavy-metal music, including the band Iron Maiden, and the fact that his cellphone's ringtone plays the theme song from the movie Halloween. In reality, though, his friends and colleagues will tell you that Harrison is extremely relaxed, easygoing and kind. The smile unleashed when talking about or pictured with his son, Dylan, shows a much softer side.
Photos by Ben Rollins
Watching Harrison interact with a variety of people, he shows a warm and inviting personality. And when speaking with longtime friend and client Michael Cohen of Twisted Kitchen, there is a lot of sarcastic banter, smiles and laughs. With Harrison, there's always a deep knowing and understanding, even amidst strangers.
This makes sense, then, why his longtime customers, and even days-old ones trust and value him so much. It's clear that his non-aggressive, non-pushy, trust-laden relationship-building approach has earned him not only repeat and loyal business but also much respect over the two decades in his career.
It's all about starting small and earning trust first.
"Why should I go into a potential new client saying, 'we're going to do this and that and this and that and then the customer feels overwhelmed and doesn't want to do anything?' " Harrison says. Case in point: "I once had a chain — and potential customer — come to me about a replacement microwave, and while I was encouraged to ask about everything else they might need, I thought, let's just start with the microwave."
That one microwave led to 50 pieces of replacement equipment across 34 locations. Harrison's now working with that same chain to fully equip store remodels and open new locations. "I'm getting all that equipment because I walked into the situation, rather than ran into it full-steam," he says.
Harrison's start-small-and-earn-their-trust method shows success in his sales record at Supplies on the Fly over the last few years. In 2015, his sales totaled $6.8 million. In 2016, his sales reached $8.1 million. In 2017, he hit the $12.1 million mark, and this year Harrison is on track to hit $14 million in sales. That's an average increase of about $2.4 million per year, with the highest increase being $4 million. Heavy equipment accounts for 62 percent of his sales, followed by smallwares/tabletop (21 percent), light equipment (11 percent), furniture (4 percent), and janitorial (2 percent).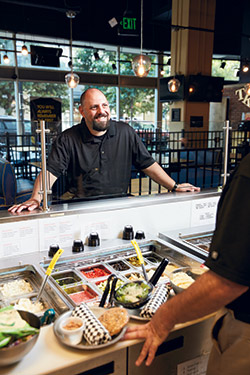 Harrison's relaxed demeanor ensured confidence in the owner of Twisted Kitchen when it was time to open store No. 2.
Harrison has been with Supplies on the Fly for 12 years and developed many long-term customers during that time. The company was purchased by Sysco in 2016 to serve as a partner in equipment/supplies sales, but in looking at his sales history, Harrison already had a well-established track record of retaining and recruiting new customers.
These days, some of the newer leads do come from the broadliner's internal sales team; however, Harrison knows how to draw in those leads and keep them coming back. In fact, he's had to remain steadfast with Sysco regarding his Supplies on the Fly approach to avoid seeking out the lion's share of the business all at once, but rather take a slow and steady approach that builds trust and respect before counting off the number of pieces sold. This goes back to that microwave example.
Restaurant operators don't like pushy people, which is why it's not surprising to hear that 90 percent of Harrison's clients are commercial operators like restaurants, chains, hotels, casinos and more. They like him and trust him. Most likely, this is due to his many years in the restaurant business on the operator side (more on that in a bit).
While some foodservice industry professionals might have grown up working in family restaurants, Harrison grew up around his parents' jewelry business. Growing up in Dunwoody, Ga., about 16 miles north of Atlanta, Harrison often joined his father on sales calls around the area. It was during these times that he learned about the importance of customer trust and a hard work ethic.
"My dad used to say, 'Every customer is equal,' " Harrison says. "I have found some customers might be more equal than others, but I still treat everyone the same way, whether they buy three tongs from me or three refrigerators." Because, he notes, more often than not, those three tongs will lead to three refrigerators and then some. Sadly, Harrison's father passed away almost two years ago. A quietness in his voice on the topic suggests that the grieving process continues.
While learning about his parents' business, Harrison started working at a local pizza restaurant on weekends to earn some extra money. It was at the pizzeria that he would learn every aspect of the business, including prep work, cooking, ordering and more. Although he played football in high school, went to college on a football scholarship and dreamed of opening his own sports bar, Harrison thought twice about that risk and returned home to work full time at the family business selling jewelry to stores throughout northern Georgia and the Carolinas.
"I was walking around with $300,000 to $500,000 worth of jewelry on me and trust me, the bad guys know who you are," Harrison says, recalling a different risk he had to face. Thankfully, he never had a run-in with anyone, although his father had a few scary instances.
At one point, the family business closed, but Harrison already knew he might want to go in a different direction. Foodservice pulled him back in at 22 years of age, this time, for good. "The owner of the pizza restaurant called me up and asked if I was available for work," he says. "When I said I was, he said, 'Good. Here are your keys, you are now the manager and how much do you want to work?' "
From Restaurant to Dealership
After a few years of work at the restaurant, Harrison admits he got burned out by the grind and felt the allure of the sales world calling him back. It happened to be that the sales rep at Atlanta Fixtures, who often called on the restaurant, suddenly left. Harrison called the dealer, now owned by Edward Don & Company, and landed a job in customer service.
"My dad also taught me to learn every aspect of the business you are in, so that's what I did," Harrison says. "In the jewelry business, we were manufacturers so I learned how the ring is cast, how it's assembled, how diamonds are set, polished, and how the jewelry is sold and shipped." At Atlanta Fixtures, Harrison learned about and connected with manufacturers and rep groups. "When I first came to Atlanta Fixtures, it opened me up to so much more that was out there. Before at the restaurant, I sliced all my tomatoes by hand, but then I discovered there was a tomato slicer, a machine, that could do that for you. It was exciting to learn about all the products on the market."
Sysco's Marcus Means, CCC, talks with Harrison at Sysco Atlanta. Sysco purchased Supplies on the Fly in 2016.
After a few years, Harrison fell upon another job opportunity in the equipment and supplies industry, this time at Instawares, then just a startup in the online world. In fact, Harrison came on board in 2006 during a time when online sales in the industry were just blooming. Over the next 12 years, Instawares would become Supplies on the Fly and Harrison would emerge as its top salesperson. While he works primarily from the Supplies on the Fly office in Kennesaw, Ga., Harrison travels from time to time to oversee installations and openings.
Harrison admits that he is extremely competitive. At Supplies on the Fly, everyone is privy to each others' sales figures, and Harrison always pursued the top spot on that list. This drive, yet again another key trait he learned from his father, has led to a $900,000 monthly quota, although Harrison says he can be flexible with this if only his ambition would subside.
Harrison admits he doesn't cope well with stress, but his relaxed demeanor suggests otherwise. In the office at 7 a.m. and out sometimes at 6 p.m., he's one to continue work at night and answer emails, even if they're at 2 a.m. This is the nature of restaurant clientele, after all.
"In all my workings in the foodservice industry since the 1980s, I have never had the pleasure of working with a person who writes the amount of volume that he does on his own without any real support network, other than some coordination of team efforts," says Jan Vergouwen, vice president of sales for Supplies on the Fly and Harrison's direct supervisor. "Eric doesn't have an assistant or someone to enter all of the quotes in AutoQuotes; he does that by himself. He deals with a tremendous number of transactions and is a working machine in my book. I am impressed that he can juggle so many balls in the air, and it's very seldom that one of them drops."
Growth and Logistics
During his tenure at Supplies on the Fly, Harrison has not only helped grow the online sales aspect of the business but has also been a force in building the company's reputation, working with manufacturers and forging many strong bonds with manufacturers' reps to understand this new form of distribution. "Customers — and those especially in small towns across the country — appreciated us because they could order things they needed and get them quickly without having to drive three hours to get to a dealer," Harrison says. "In the early days, we had to work really closely with manufacturers and convince them that they wouldn't lose money by drop-shipping."
Even today, logistics is a huge part of Harrison's work. He works hard to get the best deals on shipping possible, knowing it's a rising cost. And while Supplies on the Fly used to stock more items, the company now leverages Sysco's warehouses throughout the U.S. to drop-ship equipment in the area of the client in a much faster, less costly process.
Harrison's operations background comes in handy in knowing the ins and outs of the business. In fact, it's likely the most important explanation as to why he works so well with his customers. "I know I can't call people between noon and 2 p.m., and I also understand the need for something quickly," he says. Restaurant clients "don't order an ice machine because you think it will break in two weeks. You buy when your ice machine breaks and you're tired of buying ice."
That's why he sources the best quality he can find at the best prices, and why he's had the same chain restaurant customers for more than a decade. "I'm not a used car dealer," Harrison says. "My philosophy is I don't need an order, I need a customer."
Vergouwen points this out as well. "It's easy for salespeople to want to close a deal, even if they know they won't make the lead time," he says. "Eric is different; he is very honest from the beginning and will say, 'This is what I can do and cannot do.' The end user realizes that right away and that is probably one of the main reasons his relationships cement as quickly as they do. Eric is also very personable and has a unique ability to quickly connect with the end user or Sysco marketing assistant on the phone and face-to-face when he has the opportunity, and he can deal with everything from a small hot dog stand to a highly sophisticated client with many, complex needs. He has a natural flare for salesmanship to be able to relate and connect with anyone at whatever stage of the business they are in."
Harrison has even been known to order rugby uniforms for clients. "I work with many overseas customers, mostly oil refineries and camps for fracking, and we also supply boats and cargo ships going across the Atlantic," he says. "Once, an oil refinery customer wanted a bunch of rugby uniforms, a treadmill, and 40 George Foreman grills so they could feel more at home. My supervisor asked me why all of this stuff was on the order, and I said, 'They wanted to have a barbecue and work out!' We supply anything and everything our customers need, not just equipment for the kitchen."
Harrison's longtime customer Cohen, owner of Twisted Kitchen, a build-your-own pasta fast-casual concept with two locations in Georgia, knows this firsthand. "We became friends before we became business associates," he recalls. The duo first met around 2012, when the original location opened.
"He would often come to the restaurant to eat and we got to talking, and I found out what he did," Cohen says. "Obviously, as a friend I'm going to give him a shot to do my next restaurant, and that's what I did in 2016. Opening a restaurant, especially one in a big city, is amazingly stressful, but Eric would always have such a relaxed attitude and demeanor and he would look at me and say, 'Don't stress this, I got it. Even if he knew he didn't got [sic] it you knew he was going to get it.'"
And there were definitely issues with that second location opening. Number one, the architect missed a gap in the floorplan so Harrison had to work with Cohen to redesign and rearrange the storage, prep and dish area. Then, the landlord changed the way they could vent the hood system, causing Harrison to scramble to figure out a way to vent the kitchen.
"I would never have been able to handle that on my own at the time," Cohen admits.
When asked how he figured out what to do, Cohen pointed at Harrison and replied, "My hood guy and I worked with the landlord to figure out what would be the easiest and most cost-effective way at that point to vent the kitchen to everyone's liking."
Timeliness is crucial too, for Cohen and many other clients. After all, the company is called Supplies on the Fly for a reason. "Chains, and any operator, really, can't wait a week for something," Harrison says. "Sometimes they can't wait a day or even hours."
Outside of his core client base, Harrison spends a lot of time getting to know as many manufacturers' reps as possible. "Now that everyone can sell past their state lines, everything is blurring right now," he says. "I have worked hard to get to know the reps outside of my region so that they can help me sell more equipment, but I also help them out and make sure they're getting those credits for the sale."
Harrison also remains active in the company's buying group, Supply and Equipment Foodservice Alliance (SEFA). "SEFA really stuck their necks out for us and were the ones to put us on the map as a dealer," says Harrison, who attends many SEFA training sessions and brings reps into his office to train salespeople. He also leverages the buying group and his contacts through it to learn more about new equipment and technologies, in addition to walking the floors of shows put on by the National Restaurant Association and the North American Association of Food Equipment Manufacturers.
Indeed, the people, including his clients, colleagues and industry partners like manufacturers' reps and others, are truly what keep him going day after day. "I love working with independent restaurateurs especially, knowing I'm helping them fulfill one of their life dreams," Harrison says. "It's a fun industry; Everyone has to eat, and everyone can relate to food. When you're selling jewelry it's being bought with disposable income. No one really needs it like they need food."
A self-described Food Network junkie, Harrison's other TV passion is watching his favorite football team, the Atlanta Falcons. Of course, his favorite thing to do outside of work is to spend time with his wife, Carrin, a therapist and professor, and son Dylan. Some things still come before the customer.
---
Hometown: Dunwoody, Ga.
First Job in Foodservice: cook at a local pizza restaurant; later the general manager
Family Business (and first sales job): jewelry manufacturing and sales
Favorite Sports Team: Atlanta Falcons
Favorite Restaurant: Henry's Louisiana Grill
Favorite Food: Chicken parmesan
Greatest Mentor: his father
Family: the youngest of three siblings; husband to Carrin and father to Dylan, 5 ½ years
Years at Supplies on the Fly: 12
Title: Director of Key Accounts (Supplies on the Fly does not use the term DSR)
2015 Sales: $6.8 million
Forecasted 2018 Sales: $14 million
Notable Projects
Hurricane Harvey
In the months following the devastation of Hurricane Harvey last year, Harrison went with a Sysco team to help restaurant clients in the Keys of Florida, the hardest hit area in the U.S. "We saw just mounds and mounds of trash on the side of the road," he recalls. "A makeshift recycling system was set up just to process all the metal from the destruction."
That included equipment from the many mom-and-pop restaurants, which suffered the most. "At one point, we were standing in one part of a hotel and could see through to the outside," Harrison says. "The entire kitchen was just gone. A lot of people we talked to had no idea if they would reopen at all. There were so many insurance issues, stalls with construction and other problems."
One chef/owner even said he couldn't get back to his restaurant because of public health reasons. Harrison's team did what they could do to partner with contractors and help resupply. "We are continuing to work with these customers to get them back open, and the cleanup and building is still ongoing, but hopefully soon we will see some movement from there," Harrison says.
Building the Ark
One memorable recent project of Harrison's was helping to outfit the foodservice operations at Ark Encounter, a massive, life-size replica of the biblical Noah's Ark in Kentucky. It spans 510 feet in length, 51 feet in height and 85 feet in width (approximately the size of one and a half football fields).
"The owners studied the operations at Disney, so we mimicked a lot of their kitchen setup and operations to be able to put out a lot of food in small spaces," says Harrison. He helped with the back-of-the-house design, making sure that the cooks didn't have to walk too far to perform tasks, and sourcing large walk-in coolers and ample fryers, double-stack convection ovens, hot food wells and other important pieces to fully equip the buffet/banquet-style restaurant, cafe and concession stands.
In addition to helping with some of the design of the restaurant, Harrison worked with his network of installers and warehouses to get the shipments there at a good cost while ensuring that the installation and follow-up went smoothly. To date, the total equipment orders have racked in about $1.2 million.