Page 1 of 2
For some, doing what you say and saying what you do might seem like a quaint trait from bygone days. But, as our editor learned during a fast-paced day with one of the foodservice industry's hardest-working dealer sales reps, this approach can still serve as a foundation for success today.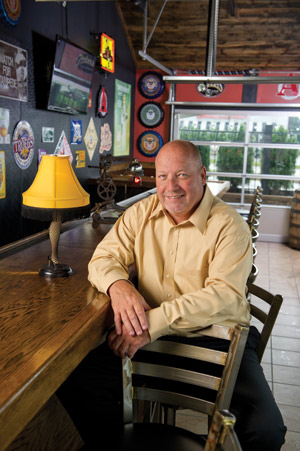 2013 DSR of the Month: Bill Immke, TriMark SS KempFrom warehouse to corner office: That's how a friend described the rise of FE&S' 2013 DSR of the Year award winner Bill Immke at TriMark SS Kemp over the past 34 years.
The corner office reference is technically inaccurate given that Immke's "office" is really his pickup truck, the highways of Cleveland and the construction grounds of new, hot restaurants. But the idea fits. With a zero-to-sixty sales record on a 100 percent commissioned salary, a jump in sales from $4 million annually to $7 million in just 3 years, and a projected sales total of $10 million this year, Immke's story has the ring of a good old-fashioned, rags-to-riches tale.
Still, he's not one to brag. At the end of the day, his friends and clients say, "Bill is still just Bill," an all-around nice guy who gets the job done, and done right, the first time around. People like Bill. And he likes — no, cares — for them.
A charmer without trying, Immke is the type who picks you up from the airport, opens your car door, offers favors without asking for anything in return, does what he says he's going to do, calls his mom and fields daily phone calls from his twentysomething children. Immke admitted to being nervous the night before the interview. Though he was a little quiet at first, overall I didn't see it.
And a look at his resume reveals quite a bit of toughness. A U.S. Army veteran, Bill spent part of his tour of duty in Korea, nearly drowned after jumping out of an airplane, pitched for the Army's baseball team and even had a stint in the minors. Immke rises at 4:30 a.m. every day to hit the gym and says if he hadn't gone into sales he would have sought a career in law enforcement or security.
Life turned out very differently. Still, Immke had a vision.
From Back of House to Front Lines
The classic Horatio Alger tale goes like this: If you work hard, keep your head in the game and dream big, anything can happen — even the American Dream. This is Bill's story.
It started out in a common way: High school grad joins the Army, marries young. Immke had planned on being a military lifer, but life took a different turn: His daughter was born while he was away. Returning home from the Army, Immke decided that family came first, and he enrolled in Cleveland State University and found a job working at night.
The year was 1979, and the 21-year-old Immke landed a driver position at SS Kemp (the name of the company before it merged with TriMark in 2007). Little did he know then that his simple starter job would turn into sales stardom. Early on, Howard Fishman, then president of the dealership, saw greater potential in the young recruit, pushing him to move on from driving and learn the warehouse side of the business.
That he did.
"I learned everything about receiving, shipping, filling orders and the ins and outs of installations," Immke says. "I basically learned every job in that warehouse." To this day, Bill's not above performing installations himself or making minor repairs on site. After a couple of years, he quickly became assistant warehouse manager, staying in that role for almost a decade.
Looking to move up, Immke eventually asked if he could try his hand at selling. When granted his wish in 1986, he spent mornings loading trucks and tidying up the warehouse so he could devote afternoons to following leads and building a customer base. Just as he did when starting out as a driver at SS Kemp, Immke hit the road.
"I spent days knocking on doors," Immke says, admitting he still misses straight cold calling and writing new business every day. "Back then we didn't have the big computer systems we have now. I would look in the customer book and see who wasn't taken and stop by construction sites. Eventually many of the cooks and other people I got to know as a driver became managers and owners of their own places. That's how a few of my first clients started."
It was not long before Immke made the switch to full-time sales. "They said that after a year I could go on commission," he says. "I said I wanted to go on commission right then." For a salesperson with just three months of experience, it was a bold move. But Immke says he was never scared. "I wanted to be driven. I didn't want to be sitting on a salary."
Upon Immke's transition into a sales capacity, Fishman offered him the combination of a pep talk and some sage advice. "I want you to be a millionaire," Immke recalls Fishman saying. He then went on to explain to the rookie salesperson that if the salesperson does well it usually means the company does well, too.
As Immke was beginning his rise in sales, his employer was making significant investments to position the dealership for growth. "When I joined in 1979, the company did $1.5 to $2 million a year," Immke says. "Our biggest client was Stouffer's, and we had 10, maybe 12, salespeople. Eighty percent of our business was smallwares. Later the Fishmans built up the design department, and over the years we just kept getting bigger and bigger."
Immke says he's eternally grateful for two senior salespeople at TriMark SS Kemp who showed him the ropes while taking him around to different clients, including the famous Cleveland deli Corky and Lenny's. "I learned a lot from Sanford Reich and Gene Weider," Immke says of his earliest mentors. "The best advice they gave me was, if you don't know something, tell them honestly. Also, always be on time, and be ready."
To this day, Immke is always on time, if not early. He also makes a point to enter through the back door of a business to see the real goings-on; this includes his own office, where he enters through the warehouse so he can say hi to "my people."
Immke says his career really took off in the early 90s when he met Gary Jeter, the former N.Y. Giants football player, and Owen Stern, co-owners of My Favorite Muffin & Bagel, who were looking to expand. Immke helped them set up shop around the country. The brand was later bought out by Big Apple Bagels.
Today, chain work represents about 70 percent of Immke's business and has led to increased travel around the country. It's not uncommon for him to be gone two weeks at a time each month throughout the year.
It's this combination of strong chain work and long-held relationships with his regional multiunit operator clients that have launched Immke's career to award status. He's done so well that his name and picture show up on plaques around the TriMark SS Kemp office, including one for the company's Hall of Fame, an honor for which he earned a trip to Hawaii.
Years ago he won another company award with the option of a brand-new BMW or cash. Naturally, he took the cash. "Even if I took the BMW I would still drive my pickup around during work," says Immke. Makes sense seeing as he's often hauling around equipment, supplies, even construction
materials for his clients, especially during new build-outs.
"I love solving problems," Immke says about sales. "I love the opportunities and challenges each day presents and helping others grow their business." His least favorite activity? Collections.
Stop 1: Red, The Steakhouse
First stop on the Immke ride-along: Red, the Steakhouse's newest location off Fourth Street, Cleveland's booming restaurant district.
We step gingerly across dust-covered floors and between the cedar planks, exposed beams and piping of new construction to first chat with custom fabricator Dennis O'Brien, another longtime friend and colleague. I can see why Immke chooses to wear jeans and a TriMark SS Kemp shirt most days.
Next, we meet with Jonathan Gross of Red Restaurant Group, which currently operates three (soon to be four) Red, the Steakhouse, restaurants between Cleveland and Miami, as well as Moxie The Restaurant, a more casual Italian eatery.
Gross tells us the trilevel, an 8,000-square-foot restaurant, set in a historically famous downtown building that used to house a 1920s jewelry company, will have a pair of kitchens, a rooftop bar and nearly 300 seats, including 130 in the main dining room, 130 in the banquet area and 22 in private dining. Like the Miami location, this Red, the Steakhouse, will feature the same recognizable, upscale design and decor features as well as prime cuts of beef, homemade breads and pastries and an impressive wine selection in a carefully designed, temperature-controlled first-floor cellar. Immke has sourced nearly all of the china for the company's multiple restaurants, as well as other smallwares, major cooking equipment and hood systems.
Gross, a seasoned restaurateur who clocked time with Chicago's Lettuce Entertain You Enterprises, sees the restaurant opening in September even though construction just started in January. With such a short timetable for its newest location, which is similar to past projects, Immke finds he needs to step up his availability even more by visiting the budding restaurant a couple of times a week just to check on things. For his national chain accounts, he'll hop on a plane just to supervise equipment installation and make sure things go smoothly.
"No order is too big or too small to handle at any time during a build-out," Immke says, adding that he's been known to tear out a kitchen at midnight or field phone calls at 2 or 3 a.m. This deep connection to the operator is no surprise, really.
On one hand, Immke's customers are also his friends. He calls them "buddy" on the phone, spends time with them outside of work and has watched customers' children grow up as they have watched his.
On the other hand, Immke "grew up" in operations. "My mom was in this business for 30 years and was a food and beverage director for a major hotel in Atlanta," he says. "My first job was bussing tables at Fisherman's Cove in Atlanta." Immke also spent many summers working in his mother's restaurants during high school.
Learning the ins and outs of the warehouse side of the business gave Immke the added benefit of knowing not only all about operations, but also how to install equipment and address minor repairs. Gross sees all these factors as the reason why Immke's best quality is being able to do the job right — the first time. "I've been working with Bill for 16 years, and he's like family," Gross says. "But I don't care how close you are as a vendor, if you don't get the job done, you don't get the job done, and I'm not afraid to let anyone go.
"From a business standpoint, Bill really cares," Gross continues. "He'll be the first person here talking equipment and even live here if he needs to. That little bit extra that he puts into every job — you can't pay for that."
Building Businesses
In 2007 the foodservice equipment and supplies dealership formerly known as SS Kemp merged with TriMark USA. With that move, TriMark USA became the second-largest foodservice equipment and supplies dealership in the country at the time, and TriMark SS Kemp became a key operating division.
While individual members of the SS Kemp management team advanced to positions of increased responsibility to help drive TriMark USA forward, Immke, forever the good foot soldier, continued his steady march to increased sales. In fact, Immke's annual sales have surged to a projected $10 million in 2013 from $4 million in 2009. "When I see a new place, I want to sell everything in there, or at least as much as I can," Immke says. "And if I can't be the number-one supplier, I want to be the second supplier."
A whopping 90 percent to 95 percent of Immke's business comes from referrals, and consists of a mix of national chains, regional/emerging chains and multiconcept operators, all of which have opened a slew of new stores in the years since the recession. He met Gross of Red Restaurant Group, for instance, because Gross used to work with Jim Callam of Winking Lizard, another client and longtime friend.
The other secret to his success? Though a sought-out commissioned salesperson, "I'm not a big gambler," Immke says. "I believe in honesty, fairness, and as long as you do what you say you're going to do and you give people the service, you'll get what you're looking for in return."