Quiet Giants
Brad Lancaster is the second generation leader of Johnson-Lancaster and Associates, a Florida-based family business. Photo by Jonathan RidgleyProfessional. Transparent. Partner. Low key. These represent but a few of the terms that members of the foodservice industry will use to describe Johnson-Lancaster and Associates. By pairing those traits with a drive to grow the business, the Clearwater, Fla.-based dealership has seen its revenues grow to $115 million in 2016 from $43 million in 2011, making it the 15th largest foodservice equipment and supplies dealer in the country, according to FE&S' 2017 Distribution Giants study. What's more, none of the company's growth came via acquisitions. It was all organic, which makes Johnson-Lancaster's steady yet speedy growth all the more impressive.
The secret to the company's success? Maintain a corporate culture that rewards hard work and carefully integrate the right people into the mix and support them with training and clearly defined roles, which fosters a certain pride of ownership that shapes everything they do. Combine these ingredients with an unwavering customer focus and a willingness to take some risk and you have the recipe for success that Johnson-Lancaster and Associates applies every day.
Humble Beginnings
The beginning of the business can be traced back to Jerry Lancaster's days as an undergraduate student at Emory University in Atlanta. There he met Donna, also an undergrad, and they were married. Donna supported Jerry while he went back to school to get his MBA. Jerry and Donna then traded places: she stayed home to raise their two sons, Brad and Stephen, while he supported the family working as a CPA for Arthur Anderson. After a few years with Arthur Andersen, Jerry took a job with Fuqua Industries, where he helped with the company's government business and headed up their financials.
In 1979, Jerry left Fuqua Industries to start Johnson- Lancaster and Associates with Donna and David Johnson. For the first two years of the company's existence, Johnson-Lancaster and Associates did mostly government work. Donna and Jerry's ability to write specs and standards that met the precise requirements of the military served the company well. "We were experts in doing that," Jerry says.
Jerry and Donna Lancaster started the dealership in 1979. They remain active in the business, with Jerry serving as the company's CEO and Donna as vice president.While it got off to a good start, things did not go exactly as planned for the fledgling firm. For one, Johnson never sold his other business and, as a result, did not join the Lancasters in their new endeavor. Despite Johnson's decision to not join the business, the Lancasters never bothered to change the company name. "It helped in certain instances. If someone called asking for Mr. Johnson, we knew something was up," Jerry jokes.
Second, the company was supposed to be a manufacturers' rep firm serving government accounts, not a foodservice equipment dealer. Yet within a year, Johnson-Lancaster and Associates was selling complete commercial kitchens. "I knew how to sell to the government. We sold everything from sports equipment to barber's chairs. But what we sold the most was commercial kitchen equipment," Jerry recalls.
Frugal by nature, Donna and Jerry did not take any money from the business during its first four years of operation. And the company has been profitable since the very beginning.
From year five to seven of its existence, Johnson-Lancaster and Associates handled government projects and contract work in the foodservice industry, working in such segments as schools, hospitals and prisons among others. Before long, the company reached $10 million in annual sales. Due to changes in how government entities handled their contracts, though, Johnson-Lancaster and Associates gradually moved away from this type of business. Jerry also followed his entrepreneurial spirit in starting other successful businesses, including a fuel company and a health-food store. He even owned some rental properties.
Brad Lancaster attended Rollins College in Winter Park, Fla., for both his undergraduate and graduate studies. Upon earning his MBA from Rollins in 1999, Brad Lancaster went to work as a CPA for PriceWaterhouseCoopers in Greenville, S.C. He would join Johnson-Lancaster and Associates in the fall of 2011. "We wanted him to work someplace else before he came back here," says Jerry, who serves as the dealer's CEO. "It was important to see how other places operate. That's invaluable."
When Brad Lancaster entered the business, he saw several key opportunities for growing Johnson-Lancaster and Associates. Before that could happen, though, Jerry had some housekeeping to do. "To make this business grow, we had to get out of those other businesses," Jerry says. He jokingly adds, "We are working harder than we ever were since Brad joined the company."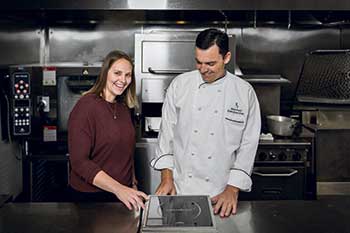 Johnson-Lancaster and Associates' Gina Vitagliano's clients range from in-flight catering companies to chain restaurants to some local customers. A jack of all trades, Vitagliano can handle big jobs or the smallest resupply order. Here she talks induction cooktops with Michael Locker, the executive chef at the Streamsong Resort in Florida.Today the business consists of Johnson-Lancaster and Associates, the dealership that handles contract work, design-build projects and chain business; Kitchenrestock.com, the company's e-commerce platform, and JLA Equipment Distributors, its distribution business. "Our bread and butter is the contract work and we expanded into these other areas," says Brad Lancaster, who serves as the dealership's president. "If we are not growing, we are dying. So we are going to try to do new things and innovate within the marketplace."
In addition, the company has two salespeople, Jimmy Fisher and Gina Vitagliano that report directly to Brad Lancaster. Fisher and Vitagliano have their own books of business that do not fall as neatly into the dealer's chain or contract business segments. There's a lot of resupply work, for example, among their clients, which include some contract feeders. In contrast, the projects tend to drive the contract and chain side of the business.
"Everyone wants the restaurant chain that's growing 25 to 50 stores a year, but those opportunities can come and go," Brad Lancaster says. "Some of these other businesses are consistent. We have developed those relationships and know their expectations."
The company also has eight two-person installation crews that travel the country installing equipment on the company's projects. Stephen Lancaster, Brad's brother, works in this part of the business. "He's very mechanically inclined and knows how to put things together and fix things," Brad Lancaster says of his brother. "It's a tough business. Our installers are on the road 90 percent of the time."
Management Matters
In building the dealer's leadership team, Brad and Jerry Lancaster have aligned themselves with two individuals — David Hammersley, vice president of sales, and Brad Zabel, vice president-project management/construction — that not only share their appetite for hard work and customer service but also have a strong background in the foodservice industry. Their other business leaders, Jeremy Lewis, executive vice president for JLA Equipment Distribution, and Amanda Swain, customer success manager for Kitchenrestock.com, also take a hands-on approach to customer service but came from outside of the foodservice industry.
David Hammersley, vice president of sales for Johnson-Lancaster and Associates (right), reviews plans for a new project with Drew Locher, director of construction for Streamsong Resort.The foodservice industry has been a part of Hammersley's life since the very beginning. His mother was a professional chef and by age 13 Hammersley ran a hot dog cart on the side of the road in New England. He used the money from the cart to help support the family and put a brother and sister through school. Hammersley then went to New York City in pursuit of an architectural degree and eventually returned home to New Hampshire to work for a dealer as a designer/salesman. "I was trained and mentored by Jack Nicholas and Dave Unger," he says of his first foray into the dealer community.
Hammersley then got a job offer from a dealer in Boston. Before long, a New England rep firm sought out Hammersley because of his equipment knowledge. After some time as a rep, Hammersley went back to the Boston-based dealer before joining Outback Steakhouse. Hammersley had previously worked for family run businesses and after two years in a publicly traded company he knew it was time for a change. "I wanted to go to a family run, honest dealer that was large enough that we could purchase well. One name came back consistently from the reps: Johnson-Lancaster and Associates," Hammersley recalls.
In 2008 when Hammersley interviewed with the company, Johnson-Lancaster and Associates had 27 employees and was generating roughly $23 million in sales. At that time, the company was on the precipice of change and Hammersley's experience at Outback Steakhouse was put to good use right away. "The company was primarily a bid house and when I joined the company we started to bring private clients aboard. That was a different way of doing business," he says. "My experience at Outback gave me a good idea as to what a large corporation needs from a dealer."
Today Hammersley works with a team of nine associates on the dealer's growing chain business. This part of Johnson-Lancaster and Associates services well-established and newer multi-unit concepts, helping the designers, corporate development teams and even franchisees roll out location after location. "There are plenty of guys working on chain business out there," Hammersley says. "But there are not that many that have worked inside the chains and in dealers and can combine the knowledge of both. And the proper use of that knowledge is power."
He also works with Johnson-Lancaster's design-build business and it is with these customers where his design chops really show. For example, Hammersley was part of the Johnson-Lancaster team that worked on a high-end Florida resort and helped add a couple of distinctive foodservice features. "There was no rooftop restaurant and we worked with them to add that. We substantially impacted the design that way," Hammersley recalls. "We did the drawings and worked with the operator to evolve the kitchen to meet their unique needs."
Brad Zabel, a vice president, works with eight project managers and five assistant project managers in Johnson-Lancaster and Associates' contract division. Working with construction companies is a key part of Zabel's role. Like Hammersley and Brad Lancaster, Zabel has been around the foodservice industry throughout his entire life. Zabel's father owned a dealership in Ohio where he worked until the family sold the business. Zabel started job hunting right away after the sale and it was not long before he landed at Outback Steakhouse working on, among other things, equipment procurement. Nine years ago he joined Johnson-Lancaster and Associates with a nudge from Hammersley.
The experience of working both for a dealer and an operator gave Zabel some unique insight into his projects and department. "Just knowing how to react and understand the logistics of the whole project is critical. A lot of times we are under contract from the general contractor or the owner's representative," Zabel says. "Knowing the logistics and politics of the project is key."
Despite the company's evolution into e-commerce and chain restaurants, contract business remains a cornerstone of Johnson-Lancaster and Associates' success. What has changed, though, is the pace of the business has increased significantly, as timelines and budgets both seem to get smaller and smaller. "It used to be you had four or five months to get things ready. Those days are over," Zabel says. "We keep up with it by keeping up with the technology and being responsive. We have the internal systems in place that once a project gets turned over to the contract department we can simply execute. And we keep fine-tuning those systems as we keep going, always looking for ways to be more efficient."
Although he's a company vice president, Zabel works alongside eight project managers and five assistant project managers. And as anyone who has ever worked in the contract side of the foodservice industry will tell you, it's not for the faint of heart. "Our project managers are getting beat up by the project managers and construction engineers on the construction side of the job," Zabel says. "The only way I can help them is to be in the trenches with them. I manage my own projects so I understand what they go through."
Even in the face of such a high-stress, high volume environment, the contract division team resists the temptation to become transaction oriented and shows great pride in its work. "We are always up against the schedule. So being able at the end of the job to say we opened it on time and delivered a quality project — that's our goal," Zabel says. "The amount of work we do in our contract department is incredible. Seeing the amount we do and the quality of work we do — there's a tremendous sense of pride in that. It's the work ethic of the people in our division that keeps me going."
The chain and contract parts of the business draw support from Johnson-Lancaster and Associates' purchasing and estimating departments. These areas fall under the leadership of Kristin Horn, director of procurement, and Vildana Sisic, estimating manager. "They know me, think like me and work like me," Brad Lancaster says of Horn and Sisic.
Estimating will forever be a critical part of Johnson-Lancaster and Associates, given that contract work remains a cornerstone of its success. "You have to be able to quickly look at the job to determine if the scope of work, the vendors and the schedule make it right to pursue," Brad Lancaster says. "Then you have to bid it pretty quickly and get it right. Without bidding the projects correctly there is no work for the rest of us."
Purchasing plays an equally important role in Johnson-Lancaster's success. "Like our main competitors, we are good at managing construction jobs," Brad Lancaster says. "So it all comes down to developing good relationships with our vendors to be able to deliver these jobs in an effective and efficient manner."
Johnson-Lancaster and Associates' leadership likes to stay close to the company's associates, customers and vendors and sees this as an aspect that differentiates the firm from some of its competitors. "I like getting out and being involved with the projects," Zabel says. "And when it's a consultant that we may not have worked with in the past, I like to get involved in that project, too, so they get to know us. We want to show them we are a family business and they don't have to call five people to get in touch with someone. In other instances, I don't think the consultants feel they get the attention they deserve."
Being active on job sites can pay dividends in other ways, too. "I keep my eyes and ears open when I am on a job site. The last person we hired, I found him on a job site," Zabel says. "He was a refrigeration tech. Having some of that industry knowledge has been a success for us."
The time Johnson-Lancaster and Associates project managers invest in the company's jobs draws high marks from the independent foodservice design consultants the company works with on occasion. "A lot of dealers today don't have project managers that will go to the site. To get a person that's knowledgeable to visit the site is a real plus. They know the business, the numbers and more," says Tom Galvin, principal of Galvin Design, a Florida-based foodservice consulting firm. Galvin worked with the Johnson-Lancaster and Associates team on Mango's Tropical Café Orlando, a $32 million project that earned an honorable mention in FE&S' 2017 Facility Design Project of the Year competition.
"They know when they are working on a job with me that I will be hands-on and be present at the job site. They take that into consideration when bidding on the job," Galvin adds. "I will know ahead of time if there is a problem because they have the equipment drop-shipped into their warehouse. They provide the necessary information for us to know that it has arrived in the proper condition, etc. They are very good about letting us know about items that might show up damaged or bent and what can be done about it. They are great people to work with on installations."
The fact that the company works on a variety of projects literally all over the world also makes for an engaging work environment. "We're a small dealership from Florida and getting to work on a variety of projects is pretty rewarding," Hammersley says. "Whether it is government projects or worldwide brands, it still comes down to having good people."
The company's relatively flat structure is another key to its success. "I have one boss. I report to Brad Lancaster and he's always available to us," Zabel says. "Having one boss that you can always go to makes a big difference."
People Matter
Despite the company's steady yet swift growth, Johnson-Lancaster has never lost sight of what truly makes the business successful. "Our job is service and if we don't get that, we don't get anything," Hammersley says. "It honestly is about the people because this is a people business. You can have different departments or business models but at the end of the day if you have a relationship with the customer — you know them and they know you — they will be loyal. It's a small industry but people see when honesty and sincerity come through."
The associates' having the ability to take care of their customers starts with the company's willingness to take care of them. "All we really have to sell is our employees. Associates is in our name for a reason," Jerry says. "We take care of our associates. Several of our associates have worked here long enough to be able to retire now."
The reason employees remain so loyal is simple. "It's a place where people work hard and their hard work is rewarded. There's no question about that," Hammersley says. "The Lancasters take care of their people. Once we hook on to someone, we give them a long leash. And if they perform, they are rewarded. We have very few people who have left us because we are so careful about the vetting."
The company spends time researching prospective employees to ensure they are the right fit. For example, when it comes to handling contract foodservice jobs, Johnson-Lancaster looks for enthusiastic and tech savvy project managers. When an associate first comes onboard in the contract division, they spend 18 to 24 months with a senior project manager. "We start them off with smaller jobs before eventually feeding them into the more complicated jobs," Zabel says.
It's a conservative formula that not many companies would apply but in the case of Johnson-Lancaster this approach really works. "Our turnover is minimal. Four of our project managers have been with the company for more than seven years. And not having turnover plays a critical role in the success of our department," Zabel says "They stay because of the company. It's a family owned, small business. And they stay because they see we are a growing company."
Taking such a deliberate approach to finding the right fit creates a tighter bond between the company and its associates. "Our people take ownership in the business," Donna says. "They think of it as their own. We were lucky with the people we started with. It was a family of seven or eight people."
Jerry's straightforward, plain-talking approach helps build an open and honest working environment. "We always highlighted our mistakes. If we made a mistake we owned up to it, saw what caused it and moved on. Don't dwell on it," he says. "When I make a mistake, I admit [it]. And when the team sees that they become open and honest about things."
Leaders at plenty of companies will say they treat their associates like family. Johnson-Lancaster and Associates' leaders, though, demonstrate this through their actions. And it all starts at the top. For example, when one associate could not work for a year due to a bout with cancer, the company took care of this person and is now doing the same with another person who is sick and can only work intermittently. "Our associates are like family. We care for them and their children and they care for us," says Donna, who serves as vice president for the dealership. "You have to know the people and what's going in their lives to create that kind of atmosphere and trust."
The close working relationship among colleagues starts at the top with the father-son duo of Jerry and Brad and it permeates throughout the company. "We meet every day and he allows me to run the business and make decisions. Even if we disagree, he supports me on the decisions I make," Brad Lancaster says. "We have a good business relationship and we communicate all the time. My father and I enjoy it."
Running a successful family business is often easier said than done. In the case of the Lancaster family, it comes down to being open to different perspectives and everyone understanding their role. "Only one person can be the boss and Brad is going to be in charge ultimately," Jerry adds. "It's a very good give and take. He and I discuss every decision. We don't make any decisions unless Donna's involved. Donna's a little more conservative than we are, though. I like to think of her as the canary in the mine. She raises all the good objections as to why we should not do something. So we get a different perspective."
Jerry and Brad spent the better part of their lives laying the foundation that supports their business relationship. In fact, Jerry served as Brad's soccer coach growing up. Like any good coach, Jerry knew how to draw the best from his players. "From the time when I was young, he always provided great advice but never prevented me from doing what I wanted to do," Brad Lancaster says. "At the end of the day they have been very supportive and that's allowed me to do what I wanted to in life and business."
Future Focus
While happy with the company's success to date, Brad Lancaster remains focused on the future. "We realize we have a lot of work ahead of us to be where we want to be," he says. "The opportunities are bright but we have to get there."
One of his goals is to have the company become more of a national player in terms of contract business. Right now, Johnson-Lancaster and Associates works on jobs all over the country but Brad Lancaster would like to see the dealership push farther west. "If we can get the right people in the right marketplaces we can really grow," he says.
For example, in 2013 the dealer opened a regional office in Baltimore, Md., that under the leadership of Charlie Whittaker serves contract feeders. "Based on his experience and unwavering customer focus, Charlie quickly became a driving factor in our growth," Brad Lancaster says.
Earlier this year, Johnson-Lancaster and Associates hired industry veteran Noel Moreira, giving the company a presence in the Boston market. The company also plans to add offices in Denver and California and Brad Lancaster won't rule out the possibility of growing through acquisition down the road.
Further strengthening its working relationships with foodservice design consultants to collaborate on design/build business also remains a growth opportunity for the company. "In lieu of hiring a full design department, we see our best opportunity is to partner with the best foodservice design consultants in the industry," Brad Lancaster says. "If we can combine their knowledge with our purchasing and construction knowledge, we clearly have a winning combination."
For their part, consultants appreciate the straight-forward and responsive approach to partnering Johnson-Lancaster and Associates takes when working on a project. "Their heart and soul is definitely in the right place. They do a good job of making sure the customer gets the project they are looking for in the best way possible," says Lenny Condenzio, a principal at Ricca Design, a Colorado-based foodservice design firm. "They do a good job with the bidding process and put an honest effort forward in terms of answering the bid. Their substitutes and alternates are all above board. I see continuous improvement. They recognize how they can be better at what they do and in every instance. They are very responsive to any changes to enhance the performance while the project is in progress."
Brad Lancaster also remains bullish about the potential of the company's e-commerce arm. "We should be able to double that business year over year for years to come," he says. "We have some people who are smarter than I am working in that business. Because of Google and e-commerce you can really create your own brand in the marketplace more than I had ever envisioned."
In fact, like other dealers, Johnson-Lancaster and Associates has developed its own private label of equipment, which includes fryers and ranges. "I see that expanding both from a distribution and e-commerce standpoint," Brad Lancaster says.
And as factory consolidation continues, Brad Lancaster sees an opportunity to grow Johnson-Lancaster and Associates through acquisition and other means. "The factories want to be manufacturers and not necessarily distribution companies," he says. "They want to pull demand through advertising and marketing."
Of course none of those goals and aspirations will matter unless the entire Johnson-Lancaster and Associates' team is on board. "The end goal is to make sure everyone is passionate about and enjoys what they do. If we can all work together and work hard, this can be a fun environment," Brad Lancaster says. "And they will find it to be rewarding at the end of the day."
Johnson-Lancaster Equipment Distributors
JLA Equipment Distributors is a stocking distributor that sells foodservice equipment and supplies to dealers from Florida to Texas and from Texas to Chicago. The distributor has a warehouse in Clearwater, Fla., and another in Atlanta.
Jeremy Lewis, who joined the company four years ago after a career in law enforcement, leads a team of 10 people as the division's executive vice president.
JLA Equipment Distributors still shares that same customer-first ethos that guides the other aspects of the enterprise. "We want the customer to be able to speak with someone immediately. If I am a customer, I don't want to wait for a return call," Lewis says. "Today's customers want their orders handled swiftly. Even if it is a freight issue, they are still our customer. Everyone gets treated with the same level of respect and courtesy."
And like leaders in other parts of the business, Lewis remains very engaged with all aspects of JLA Equipment Distributors. "If we have an issue in the warehouse, I will be the first one to jump on a forklift. In some companies you would hear someone say 'that's not my job' but that will never be said here," Lewis says. "That strengthens the relationship with our crews. As an executive, you shouldn't ask someone else to do something that you would not do. When you have everyone working on the same page, that's the recipe for success."
Kitchenrestock.com
Amanda Swain (left) serves as customer success manager for Kitchenrestock.com, Johnson-Lancaster's e-commerce division. Despite being an e-commerce platform, Kitchenrestock.com is just as customer service oriented as other aspects of the companyOne growth area for Johnson-Lancaster and Associates is Kitchenrestock.com, the dealer's three-year-old e-commerce division. This part of the business is pure e-commerce and goes to market separately from the contract and design-build parts of the dealership.
"We all live under one roof and have plenty of interaction with other departments but we are our own entity," says Amanda Swain, customer success manager for Kitchenrestock.com. "E-commerce is very different from the contract side of the business."
Kitchenrestock generated $9 million in sales in 2016 and is on track to deliver $18 million in revenues this year. "It's been huge growth since day one," Swain says. "We have everyone from the restaurant and bar owner to the general public. We really service everyone.
"We are being very safe with our growth. You can't grow too quickly. If you take things too fast you make mistakes," Swain adds. "We want to roll things out at a very steady pace and be meticulous in our approach."
The division consists of Swain and six associates, though the company intends to hire a few more people to help manage the anticipated growth.
Some orders come in via the Kitchenrestock.com website, which prominently features a customer service phone number on every page. In fact, 60 percent of the orders come via the phone, according to Swain. "We like to be on the phone talking to our customers," she says. "It becomes more personal that way, too. Some people still are not comfortable placing an order on a website or purchasing large, expensive equipment via a website. So we need to make them comfortable about making that purchase."
The site's chat feature also helps manage customer service both during and after the sale. "People will visit our website and activate the chat feature," Swain says. "Then they provide their order number to check on the status of their order, etc."
The way Kitchenrestock goes to market differs from other parts of Johnson-Lancaster and Associates but one thing that remains the same is the unwavering focus on customer service. "We strive to be very customer-service oriented. That's what we want to set us apart," Swain says.
That customer-centric approach also includes moving with a sense of urgency. "Our customers need these items by a specific time. Often they are stressed when ordering these things," Swain says. "So we need to hold their hand and be respectful to them at all times."
Kitchenrestock.com orders get shipped from Johnson-Lancaster's Clearwater warehouse or, in some instances, from a factory.
Like other successful e-commerce platforms, having a well-trained team is essential at Kitchenrestock.com. "We are always training people. That's a constant in our industry, for sure," Swain says. "The people we hire have to have foodservice experience. And we teach them how to tear apart a spec sheet to understand what the information means. Our rep groups come in for monthly training and we do a lot of webcast training through SEFA, our buying group."
As part of its customer-service philosophy, Kitchenrestock strives to make plenty of product information available to customers visiting its site. This includes videos from the manufacturers, factory spec sheets and even customer reviews. "When they, say, click on that oven, I want them to have all of that information at their fingertips," Swain says.
And if a customer has a difficult question? "Our reply is not 'I don't have that answer' but 'I will find out that information and get back to you,' " Swain says.