During the past seven years, companies from all segments of the foodservice industry have slugged it out with one another trying to keep from losing market share during a sluggish economic period. In contrast, one company from a small town in Central Pennsylvania continues to grow at an accelerated rate. In fact, during the past four years, Clark Associates, Inc. has almost tripled its annual revenues.
Clark Associates' recipe is nothing too mysterious: invest heavily in people and infrastructure, deliver value on the customers' terms, use technology to drive efficiency and lower costs and don't be afraid to learn from mistakes along the way.
The result is a multi-faceted economic juggernaut that has the entire foodservice industry sitting up and taking notice. Well, we at FE&S noticed, too, and we proudly present Clark Associates with the magazine's time-honored Dealer of the Year Award.
One Company, Multiple Businesses
Any discussions in foodservice circles about Clark Associates seem to focus on one aspect of the business. "When people think about us, everyone thinks about the WebstaurantStore because it is our most visible channel of distribution, but people don't realize how robust other aspects of our business are. These are all large businesses in their own right," says Gene Clark, president, Clark Food Service Equipment. "In a lot of cases what we sell are commodity items. It's the solution that we come up with to get you those items that is exciting."
Indeed, there's a lot more to Clark Associates than its e-commerce juggernaut. "We are a distribution company. We are a stocking company," says Rachael Weaver, director of procurement for Clark Associates.
In general, Clark Associates is a family of businesses tied to the foodservice industry. The company has three main distribution channels: The WebstaurantStore (e-commerce), Clark Food Service Equipment and Clark Pro (the more traditional dealership model) and The Restaurant Store (cash and carry). "We have these business models because we feel that's how our customers want to do business," Gene Clark says. "Working within these channels we can be anything to anyone."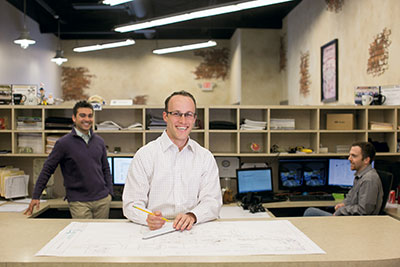 The relationship Clark Food Service Equipment has with its customers ranges from a negotiated one that takes the form of an account manager regularly calling on an operator customer to determine their smallwares needs to a turnkey, architectural relationship that helps a customer design and build a new foodservice operation. Still, technology plays an important role in its success. "We use the best of technology to get the best of the relationship, now and in the future," says Gene Clark, president of Clark Food Service Equipment (middle).And each of these distribution channels continues to thrive. "We have grown because we have customers that value our services and we have been able to zero in on them," Gene Clark says. "People talk about adding value to their customers but maybe what you are providing is not adding value in the customers' eyes. Having three distinctly different channels allows us to deliver different versions of value so that customers can decide the type of purchasing experience they want. "
Understanding the nuances of each business and how to manage them internally also helps pave the way for organizational success. "Each one of the three main distribution channels has a different set of cost structures and has different needs," says Fred Clark, Clark Associates' CEO. "One may need a lot of inventory. One may need a lot of capital for receivables and such. One may need a lot of capital for technology. They are all profitable because we look at each one differently from a P&L standpoint."
Another key piece of the corporate puzzle is 11400. Formed in 2008, 11400 is the part of Clark Associates that handles bid work, namely public money jobs such as school, hospital and military foodservice projects. "We branded this part of the business differently to say this is a different situation and to differentiate the market segment," says Jim Stephens, president of 11400.
Prior to joining Clark Associates, Jim Stephens (left), president of the dealer's 11400 business unit, worked as an electrical contractor. This part of Clark Associates' business has only 10 employees but focuses on bid work, namely public money jobs such as school, hospital and military foodservice projects. The company handles such aspects of the job as scheduling, utilities, understanding how to work within construction practices and more.Prior to joining Clark Associates, Stephens worked as an electrical contractor, so he came to the role with first-hand knowledge of how challenging this type of business can be. "We think of ourselves as a construction company, not a dealer. So we think differently," he says. "We don't play games and are not afraid to say this is our price."
Officially, 11400 has 10 employees spanning offices in Sarasota, Fla.; Charlotte, N.C.; and Lancaster, Pa. But this division draws support from Clark's formidable array of central services (more on them later) to remain lean. And by focusing only on those projects that fall into its scope of services 11400 continues to thrive. "We get the advantages of a big company but can remain small and nimble," Stephens says. "More people fail by going outside what makes them good in the name of growth."
In addition, like a construction business, 11400 carries no real inventory and is mostly a cash business.
Stephens measures the success of 11400 by looking at the number of jobs the division wins and its receivables. "Most construction company failures have nothing to do with profitability. It's how you manage the cash," Stephens says. "You can't get bigger than the market will allow you to grow."
Clark Associates' 11400 business unit follows the cycles of the construction business. And, like the construction industry, the 11400 business can be very aggressive and price sensitive. "To get the job you have to be the low guy," Stephens says. "But I want people to come to us because they know we can handle the construction side of the business."
This includes handling such aspects of the job as scheduling, utilities, understanding how to work within construction practices and more. "We view our customers as being the general managers, contractors or, in a larger sense, the school district," Stephens says.
Central Business Services
Purchasing, led by Rachael Weaver, represents one of Clark Associates' key central business functions. This part of the company procures products for all three of the company's main distribution channels.Serving as pillars of support for those individual business units is a cadre of central business services. "When you look at the common denominator between those three distribution channels, they require basic support services that don't change much from one to another. This includes accounting, payroll and so forth," Fred Clark says. "Consolidating those services keeps the costs down for the individual units. As a result, we can afford to hire some of the best people in their fields because we can spread those costs across those different channels. When you take accounting or even employee benefits off the plates of our unit presidents or managers they have so much more time to focus on their channels."
One key centralized business service is purchasing, which Rachael Weaver leads. Weaver came to Clark eight years ago, right out of college, at nearby Millersville University where she studied supply chain management. Weaver went through seven interviews at Clark Associates, including two with Fred Clark, before finally getting the job. "I had a passion for products and wanted to be in purchasing but I had no idea what I was getting into," she recalls with a laugh.
Weaver started as the countertop equipment buyer. "Fred took me under his wing," she says. "He met with me every Tuesday for two years. I would come with whatever I could to impress him." Her approach worked. Weaver quickly branched out into other areas and within three years was heading the department.
When Weaver started with the company there were seven people in the purchasing department, including Fred Clark. While she and Fred Clark remain in purchasing, today that department has 65-plus people, with another 8 to 10 college students set to join the company after graduation this spring. "Fred loves purchasing and will always be involved in purchasing, and he's pretty savvy when it comes to that," she says.
To help accommodate the company's growth Clark Associates is constructing a new 22,000-square-foot facility on the site of its Lancaster headquarters. This will bring the purchasing department to one campus — right now it is spread out over three different locations.
"We operate as one company and we operate as one unit. Our company has three main channels of distribution, and as buyers we are responsible for buying, pricing and picking the items that are sold in each of those channels," Weaver says. "So we have to understand each channel's service level and the personality of the customer buying whether it be from the website, in the stores or through the traditional distribution model."
Sales growth, gross profit dollars and inventory investment represent three key metrics Weaver uses to measure the progress of her part of the business. "The pricing is different within each channel, but not too far off from each other because all channels need to remain competitive," Weaver says. "Pricing is transparent these days. Thanks to the internet we are able to see competitor flyers, web pricing and even shelf prices online."
Another strong example of how centralized business services can help the company thrive is the IT department, led by Charlie Garber, chief information officer.
Nine years ago, while studying computer science at Millersville University, Garber saw an ad that said Clark Associates was looking for someone to work in the areas of developer and IT help desk. "I already had four part-time jobs at that point and thought why not give this a try? I liked it so much that I quit my other jobs and started here full time," Garber says. "Foodservice was never on my radar. I never worked in a restaurant. For me it was all programming. I thought I could make anything work online and it turns out we can sell restaurant supplies that way."
For David Groff (left), president of The WebstaurantStore, and Charlie Garber, chief information officer, joining the Clark Associates team was appealing because they saw an opportunity to have an impact on the company and grow their careers.When Garber started with Clark, the IT team had all of three members. And the company employed one web designer, who worked in print. Today, Clark Associates has a separate team that handles print projects and the IT department has grown to more than 100 people and counting. "It is amazing how hard it is to get top talent for systems, designers, programmers. They are in demand," Garber says. "So the future here is training more managers and getting more top talent."
For most dealerships, the IT department focuses on making sure the company's email system works properly, and that the accounting systems and maybe even the website stay up and running. For Garber and the IT team at Clark Associates, that's just the beginning. This group works with the other divisions to provide some of the technological support necessary to facilitate better customer experiences and communication among team members — all of which lead to growth and make the company more efficient.
"What the individual businesses want to accomplish in the technology arena, they work with me on," Garber says. "We have a huge team that can be moved from one division to another. We don't just have WebstaurantStore programmers; we have programmers. Some will work on the WebstaurantStore system. Some will work on our internal systems, Clark Pro, etc."
And like all of the other divisions within Clark Associates, the IT department embraces that spirit of continuous evolution and improvement. "We have a lot of things coming up that will be pretty impressive," Garber says. "We give all of our programmers experimental time like Google does and it's really branched out into some areas that we did not expect. So it is going to be interesting to see how our customers respond. Across all of our channels we have so many users that we get so much feedback in a couple days that we know pretty quickly if something is going to work."
Technology Forward
The company's technology-forward stance ties to its relentless pursuit of efficiency. "We are trying to automate and remove man hours," Gene Clark says. "Doing so removes cost from the system and allows us to provide real value. We are an innovative force because we are always looking at things differently."
In fact the company's willingness to embrace technology provides a competitive edge in a tight, price sensitive market. "I have always been about driving efficiencies, and technology helps with that," Fred Clark says. "Efficiencies lower costs and the more you lower costs the more competitive you are in the marketplace."
The company is not afraid to develop its own custom solutions to meet the unique needs of such a diverse enterprise. "You can build something that could replace five or six employees and those sort of efficiencies give us an advantage," Garber says. "Ever since I started here Fred has been technology efficiency focused. The approach has always been, "What systems can we build to be more efficient?" He has never been about throwing more bodies at it. Fred wants us to work more intelligently. He has seen what technology can do for the company."
Across each of Clark Associates' three main distribution channels, relationships and technology play a key role in the company's success. And Clark Food Service Equipment, perhaps the company's most traditional distribution channel, is no exception. "We use the best of technology to get the best of the relationship, now and in the future," Gene Clark says.
In the case of Clark Food Service Equipment it's a negotiated relationship that may take the form of an account manager regularly calling on an operator customer to determine their smallwares needs to a turnkey, architectural relationship that helps a customer design and build a new foodservice operation, such as a retirement community. The typical Clark Food Service Equipment customer tends to be a larger, more sophisticated operator that requires a specific level of service that is something more than The Restaurant Store can provide.
For example, the Clark Food Service Equipment team visited a site managed by a contract feeder and took several pictures while touring the facility. Upon returning to the office, the team developed a report specific to that facility that included recommendations on how to enhance the appearance, customer experience and overall efficiency.
The relationship may start out as project based, as is the case with 11400, but can evolve into something more long-term. As such, Clark Food Service Equipment typically has about 150 to 200 active jobs at any given time, mostly up and down the East Coast, Gene Clark says.
To help keep track of the current projects and those in the pipeline, Clark Associates uses a proprietary system developed in house by the IT team. This system provides quick snapshots of projects and allows managers to dig deep into the details. And Clark Food Service Equipment can handle its customers' ongoing smallwares orders via its online arm — Clark Pro.
The Clark Food Service Equipment team, similar to other parts of the company, also uses lots of web conferencing to coordinate projects internally, with clients and with other members of the project team. In addition, the company makes a lot of information available on its website, including inventory levels, product specs and videos that show how to use specific products.
"People don't realize how much technology impacts other parts of our business," Gene Clark says. "We have been able to grow because of technology and our people. And technology allows us to leverage the talents of
our people."
Technology continues to play a significant role in shaping a customer's experience at The Restaurant Stores, the dealer's cash-and-carry business, which includes seven different locations in three states.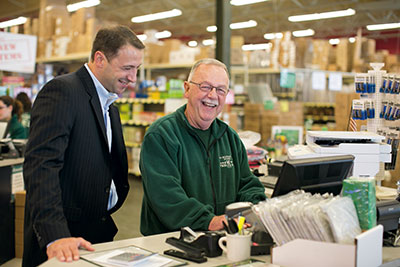 Just because it is a cash-and-carry model does not mean The Restaurant Store does not rely on relationships to drive its business forward. Steve Leaman (left), vice president of The Restaurant Store, says customers look to leverage the insights of longtime employees such as Walt Montgomery.When most people think of a cash-and-carry business, the first thoughts that come to mind is a retail format dominated by lots of hobbyists looking for the latest cutting board or some other kitchen gadget. While The Restaurant Store welcomes those folks, its target customer tends to be independent restaurant operators, churches or firehouses who need to place weekly re-supply orders.
To help make this process more efficient for everyone involved, regular customers can create quick pick lists on The Restaurant Store's website. They can then visit the website, order what they need and receive an email letting them know when it's time to pick up their goods. When they arrive at the store, a staff member greets the customer, asks if they need anything else and then loads the order into their car.
In other words, it may be considered cash and carry but The Restaurant Store is a relationship business, just like all the other aspects of Clark Associates. "We don't want to sell anyone anything they don't need," says Steve Leaman, vice president for The Restaurant Store. "We want to make sure it does not feel like a big box retail environment and we want them to come back to us as long as they are in business."
On average, each Restaurant Store location employs about 15 people according to Leaman. This includes a branch manager, a sales person, merchandiser and others. Each location possesses two distinct characteristics. First the staff has the ability to service the customer, which includes being attentive on the sales floor, via email and on the phone. The second is maintaining a well-organized and merchandised store so the customers have a shoppable experience.
In addition, each Restaurant Store associate is well versed in how to qualify customers to make sure their needs align with the services this part of the business can provide. If a customer is better served by another part of the business, an associate will make an effort to connect them with a different Clark Associates division. "That is something that is instilled in all of us: understanding who is a Restaurant Store customer and who is a Clark Food Service Equipment customer," Leaman adds. "It is all about the level of service you provide."
Overall, this approach continues to work for The Restaurant Store, which posted a 22 percent increase in sales last year, according to Leaman.
Few entities within the foodservice equipment and supplies community generate as much attention as the
WebstaurantStore and that's due mostly to the e-commerce platform's stunning growth. "When I first started it was just one other person and I handling the calls, chats and emails," recalls Dave Groff, president of the WebstaurantStore.
Today, the WebstaurantStore has a team of more than 550 associates to handle the influx of calls and emails and other duties that come with running an industry-leading e-commerce site. And the WebstaurantStore's investment in its people continues to facilitate its growth. "We have really focused on making sure we have top-notch people interacting with our customers," Groff says.
Clark Associates' test kitchen serves as a training venue for associates. And the dealership uses it to build community. For example, once a month the company hosts a birthday lunch. Associates who share the same birthday month come to the test kitchen and work together to prepare lunch for everyone else in the building.To arm those top-notch individuals with the information they require to help customers make informed purchasing decisions, WebstaurantStore associates go through regular product training in the company's test kitchen — just as sales reps for any other dealership might. "We didn't want to be perceived as a minimum wage call center. We want people to know they are working with true industry professionals," Groff says.
Much like their operator customers, speed of service remains a critical component to the success of the WebstaurantStore. "One thing we are obsessed with is instant gratification," Groff says. "So we keep trying to get our customers their orders faster and faster. I think the WebstaurantStore keeps getting better and better every year."
To help get products into customers' hands quicker, Clark Associates continues to add distribution centers throughout the country. Today it operates eight distribution centers with another planned to open later this year. In addition, the company recently added an overnight shift in its Nevada distribution center to keep orders flowing. Overall, the company has more than 1.5 million square feet of warehouse space.
Like other aspects of the business, the WebstaurantStore embraces a constant improvement philosophy by monitoring a series of performance-based metrics including wait time on the phone, email response times, page load times from the website, errors and more. Even at the warehouse, associates who pack orders see a monitor that lets them know what is in their queue, the number of same-day shipments and more.
But the WebstaurantStore does not limit the content necessary to create a good customer experience to the back end. Rather, Clark Associates invests heavily in developing foodservice equipment and supplies-related content that customers can access while visiting the WebstaurantStore's site. Clark Associates has an entire group of people dedicated to shooting photos and videos of the products it inventories and writing text that describes the features, benefits and technical specifications of each item.
"We want to be a resource and to educate the customer about how to buy the product that is the best fit for them," Groff says. "Part of that is having the information or the content that helps customers really understand what they are buying."
What's most ironic about all of the investments Clark Associates makes in the WebstaurantStore, and all of its distribution channels for that matter, is the fact that to the layman running a successful e-commerce business appears to be a low-cost endeavor. "I could not imagine something being farther from the truth," Groff says. "It takes a lot of overhead to make a website successful."
Clark Associates continues to use technology to improve the flow of information between trading partners to better answer such issues as why an item is on backorder, why is it taking so long to ship an order and so forth. "Those are the things we are trying to improve and we are taking it one vendor at a time," Garber adds.
And progress has been slow but steady. "From a stock ordering prospective, in the last three years, the big name vendors have really improved. But some of the smaller vendors are still lagging in the area of electronic data interchange ordering," Weaver says. "We try to sell them on the savings of getting it done. And a lot of vendors are still old school in terms of communication. Sometimes it takes weeks to get information that should take days."
People
By and large, Clark Associates is not a newcomer to the dealer community. The company got its start in 1971 and was a steadily growing regional player for years. So what woke up this sleeping giant? "One of the transformative things has been getting the proper management team that absorbs [Fred's] energy and uses it to get our teams going in the right direction," Gene Clark says.
Indeed, while the various technological solutions Clark Associates uses are impressive, they are only as effective as the employees using them. "It all has to do with our people. We have made some of the best hires over the past five years. And that has been the catalyst of our real growth," Fred Clark says. "These people are ambitious, they are aggressive. They want to do well and they want to grow."
Overall, the company looks for two key traits when hiring new associates: work ethic and intelligence, according to Fred Clark. "If there's anything that bleeds through everyone in this company it is work ethic," Weaver adds.
The typical Clark associate exhibits other key attributes. First, they have a strong entrepreneurial spirit. In other words, the company attracts people that have ideas, will take risks and speak up. "We have ideas coming from everywhere," Garber says.
And, finally, they will do the right thing. "We want people who are honest and ethical," Groff adds.
Because the company continues to grow so fast across a variety of channels, finding other models to emulate is not an option and that impacts the type of person Clark Associates will hire. "I want someone that's determined to be the best," Garber adds. "I want someone that will produce the best solution, no matter what. The more passionate they are the better."
One thing Clark Associates is not hung up on when it comes to recruiting new people is experience in the foodservice industry. The company looks for experts in their respective disciplines and then teaches them the nuances of the foodservice industry.
"The people we want are obsessive about their niche, whether it is online development, system engineers or anything along that scope. We are looking for people that are passionate," Garber adds. "They don't care whether they are making an e-commerce site for muscle cars or foodservice. It's the same. They are making a cool website and working in code to make neat, cool features. Someone that buys from Amazon or the WebstaurantStore — they want a good, online shopping experience."
While its people represent one of Clark Associates' greatest assets, attracting and retaining top talent doubles as a key challenge. One advantage Clark Associates offers prospective employees is the opportunity to advance their careers quickly.
"If you are good and work hard you have the opportunity to get fed additional responsibilities," Leaman points out. "It's one thing to say that but in my time with the company we have had people move up with us and it provides credibility to when we say that to new people joining the company."
Take Groff, for example. Roughly 10 years ago Groff, who was about to graduate from Penn State University with a degree in logistics, crossed paths with Fred Clark by chance. Naturally, when Fred Clark invited him to learn more about the dealership, Groff became intrigued. "I knew a little about the business having known Fred and his family before but really had no idea all this business entailed," Groff says.
After learning more about the burgeoning company and Clark's plans, Groff saw a fast-track opportunity for growth and development and seized it. "The internship I had in college was a great experience but I also realized how long it was going to take me to get where I wanted," Groff recalls. "I don't think I have ever had a day in this job that is boring."
While others in the foodservice industry bemoan the lack of young people in their business, Clark Associates takes a more proactive approach to recruiting them. "Working with young people is a challenge because they are so smart and use technology so much," Fred Clark says. "So working with them means staying on top of it as much as I can."
Clark Associates looks for people via colleges and, naturally, the company uses job-oriented web sites. "Dave, Steve and myself — we have all worked job fairs," Gene Clark says. "I am more than happy to work a job fair because it shows people we are serious about who we hire. Nobody grows up wanting to sell foodservice equipment. Why would you? But when you think about it, there's a lot of opportunity."
"We are viewed as an edgy, Millennial-friendly company. There is a fluidity to who we are," adds Leaman, who is fast approaching his second anniversary. Leaman came to Clark Associates from the healthcare industry, where he worked in an administrative role. With his company going through some consolidation, the time was right for Leaman to make a change.
Understanding how someone's personality impacts their role really helps Clark Associates function as a dynamic and cohesive team. "It really comes down to a strategy about how to work with people. The dominant person understands that the analytical person might need some reassurance from time to time," Weaver says. "Our associates have to work smart and know how to work together. It is important that we are comfortable with each other because we will work better together."
Given the unique nature of the construction world the 11400 crew features more task-oriented types. "We are not a bunch of salesmen," Stephens says. "When reps meet us and try to treat us like salesmen by chatting us up, they find we don't respond well and they get shut down. But to have a successful company you need all personality types."
In addition, the company's IT department has developed a proprietary hiring system that allows managers to view all the open positions within the company. "Let's say someone submits an application for a purchasing position but they might be better suited to work in one of the stores. I can send that application over to Steve for consideration," Weaver adds. "We are all team players and it is important to understand what the other does." Touring the building that houses the WebstaurantStore, IT department and other business services is unlike visiting any other dealership in the U.S. There's a gym where associates and their spouses can exercise, ping pong and billiards tables, a popcorn machine, a soda fountain and more. Even the decorations are unique, with everything from graphics that mimic video games or other famous drawings to an 1800s-era American flag to bamboo plants.
In addition to serving as a training venue, the test kitchen also helps build community within Clark Associates. For example, once a month the company hosts a birthday lunch. Associates who share the same birthday month come to the test kitchen and work together to prepare lunch for everyone else in the building. Not only does it help build community, these associates get to interact with others from various departments and learn more about the foodservice equipment and supplies the company sells.
"Having these resources really helps when [we] talk to a potential new hire and eventually bring someone on board. We expect a lot from our people but they should also feel the company acknowledges what they have accomplished," Groff says. "As we get bigger it's harder to know everyone. Having the ping pong table is a way to get to know each other and build community."
Don't, however, confuse this environment with being soft on performance. "The tech and marketing worlds are performance based. We know if we are getting something done and have performance metrics for every single department. You see them when you walk through the building," Garber says. "We know how many photos each employee took and how many descriptions each writer wrote. We know every ticket a programmer handled. They have thresholds they have to hit. We put a lot of trust into our employees in every one of our
divisions. You can goof off and that will show or you can work incredibly hard and get a lot done and that will show."
"It is an adult work environment. We don't micromanage and when you make people feel good and trusted they will do better," Weaver adds.
Managing Growth
Over the past eight years, Clark Associates opened six warehouses and one cash-and-carry store, while remodeling two other retail locations. In other words, there's no time for complacency. "Fred has always had very high expectations. He's a very fair person but you can't say Fred's complacent," Garber says.
"We do it better every time. Because of our growth the way we did things yesterday is not the way we will do it tomorrow," Weaver says. "That's our biggest challenge because we have a lot of new people trying to learn our business model and we have to react to our growth at the same time.
Indeed, data plays a key role when Clark Associates evaluates new opportunities and tries to measure the performance of the business in general. The company will test some of the ideas out and then let the data determine its fate. "It becomes cut and dry as to whether it works," Garber adds. "We are a very data-driven company. And with the data we have available to us, why wouldn't you be? You would be wasting a lot of opportunity if you did not maximize the data available to you."
Of course in the fast-paced world of e-commerce, managing customer expectations, specifically when things don't go according to plan, can make or break an organization. And Clark Associates is no exception. Garber sees all of the complaints that come in about the sites for The WebstaurantStore and The Restaurant Store. Site-related complaints are sent to a developer or a designer to fix the issue and work with a customer service agent to reach out to any clients the issue may have affected.
"I love complaints more than compliments because you can learn more from them," Garber adds. "We will roll out something similar to Amazon where customers can review how we did with their shipment. And we will be able to track the review of a package all the way down to the employee that packed it."
This will enable the Clark team to know how the customer feels about every aspect of their purchase and provide the employee with metrics by which to measure their performance. "One of the hardest things to do when making a website is to look at it from a customer's perspective and that's what we do here," Garber says. "We look at some sites and wonder if anyone has ever gone through it. I shop online and some of things sites will do are mind boggling. And I shop on our site as do some of our people. And when you have highly entrepreneurial, motivated people looking at your site they see things that can be improved."
Another aspect that keeps Clark Associates nimble is its lack of corporate bureaucracy. This helps the company maintain its customer focus and facilitates speed to market. "When I make a decision to open a new store, our team makes a plan, submits it to accounting and that gets the ball rolling," Leaman points out. "We are forever changing and adapting to the climate of the business world. It's not like turning an aircraft carrier."
And Fred Clark gives his managers room to roam. "It is important to empower your managers and Fred trusts his managers. You have to be able to trust your managers and that they are able to take it to the next level," Weaver says.
Being open to change is part of the company DNA at Clark Associates and it starts at the top. "Fred's philosophy is "I would rather be pulling you back than pushing you forward," Garber says. "If I get too cautious, you can tell he's not too happy."
But by all accounts, it would seem that there's lots to be happy about.