While other segments of the restaurant industry remain in take-share mode, fine dining continues to enjoy a period of growth. Here we explore the impetus behind the success of two fine-dining concepts:

BLT Steak
New York City and Tokyo
A flexible concept, Burtons Grill tailors its operations to suit different markets.With three locations in Hong Kong as well as restaurants in Taiwan and in Seoul, Korea, the logical next step for BLT Steak was to expand into Japan's capital, the most populous metropolis in the world: Tokyo.
BLT's parent company ESquared Hospitality partnered with Tokyo's Jinterii Co. Ltd. to open the site last September at Roppongi-itchome Izumi Garden.
"There were a lot of variables that were positive for us to open a location in this city," says Keith Treyball, ESquared Hospitality's president. "The government recently eased restrictions on American beef coming into the country; the Olympics will be held in Tokyo in 2020; and we found a high caliber of people to partner with."
ESquared Hospitality opened the first BLT Steak in New York City in 2004. The group now includes more than 10 brands and 28 restaurants internationally. These include BLT Prime, BLT Fish Shack, BLT Bar & Grill, GO Burger, The Wayfarer NYC, Casa Nonna (an Italian concept) and Horchata (a Mexican restaurant).
The company posted sales close to $65 million in 2013, an increase from $63 million the year prior, according to Chicago-based market research firm Technomic.
In a departure from the traditional, club-like steakhouse decor, BLT Steak's front of house uses lighter colors, including beige, browns and caramel colors. "We are a brand and want to protect that," Treyball says. "We have various relationships, including license agreements and management deals, depending on the restaurant location."
The goal was to reconceptualize the traditional fine-dining steakhouse paradigm from a masculine model with a limited menu to a more modern version that incorporates lighter fare, a wider variety of food options and an updated front-of-house design. This has resulted in a greater percentage of women diners at BLT Steak than is typical at conventional steakhouses.
The Tokyo opportunity arose from the popularity of ESquared Hospitality's BLT Steak location in Hawaii, which was frequented by Japanese tourists.
Although converting a former Italian restaurant into a fine-dining establishment would not seem challenging in the United States, a different thought process was needed in terms of space allocation for the Tokyo site.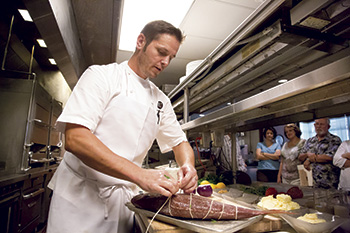 Because consistency is the goal, the equipment and production process are identical at BLT Steak's restaurants."Rents are very high in Japan and Asia, no matter if we're in Tokyo, Hong Kong or Taiwan," Treyball says. "Kitchen footprints are smaller, but, like in the U.S., it's important to utilize as much space as possible to generate revenue." In Japan, it's often necessary to cut kitchen sizes in half due to the high cost per square foot.
But while the size of the BLT Steak kitchen in Tokyo was decreased, this was not the case for the dining room. The Tokyo site seats 185 people, just about double the size of the 95-seat New York City location. "It's ironic that a kitchen under 1,000 square feet in Tokyo serves twice as many patrons as our New York City site, which has a larger back of house," Treyball says.
Despite the size disparities, when comparing the New York City BLT Steak to its Tokyo counterpart, there are more similarities than differences. For example, both restaurants conform to brand standards in terms of foodservice equipment. "We try not to vary off of that, since it's a question of maintaining product quality and consistency," Treyball says. "In most of our installations, we're utilizing the same equipment for 10 years or more."
After purchasing the Italian restaurant space in Tokyo, the company assessed the kitchen equipment to determine which items it could reuse.
BLT Steak's Tokyo menu is essentially the same as its New York City location, with the exception of a couple of local dishes.Like most higher-end steakhouses, BLT Steak's back of house revolves around its broilers. With this equipment, along with fryers and grills, consistency and temperature recovery are paramount. Although there had been equipment availability issues with other overseas sites, this wasn't the case
in Tokyo.
"We provided consultants with the specs we needed for double broilers and were able to get exactly what was required," Treyball says. "The only place we ran into code issues was in how the ovens fired up. But the consultant was able to match these up for us using a different equipment supplier than the one we typically work with in the region."
All BLT Steak menus center on both steak and sides, including BLT's signature Gruyère cheese popovers, which serve as a bread course prior to the meal. In addition to the requisite steaks, including rib eye, porterhouse and filet mignon, other top sellers include tuna tartare, Dover sole and chopped salad. BLT also is known for its crepe soufflé and peanut butter chocolate mousse desserts.
As a departure from the traditional club-like decor, BLT Steak's front of house uses lighter colors, including beige, browns and caramel colors with walnut flooring in most locations. Macassar ebony tables forego tablecloths, and walls are adorned with sepia-colored photography. Most locations, including Tokyo's, feature a large blackboard that lists menu items and specials.
With business booming, the company is considering
adding new locations and expanding sites in both Asia and the U.S. "Fine dining is a pretty safe segment," Treyball
says. "We are seeing less of an impact on our steakhouses compared with our lower-end concepts, because people
with more disposable income are still spending and expense accounts are still alive."
Fine-Dining Facts
While midscale and casual-dining traffic have been on the decline over the past four years, fine-dining/upscale hotel traffic rose 5 percent in both 2012 and 2013 and 3 percent last year.*
Fine-dining operators' outlook for sales in 2014 was optimistic, with 52 percent predicting the same sales as 2013, 38 percent anticipating stronger sales and only 10 percent expecting decreased sales during this period.
The profitability outlook for fine-dining operators in 2014 compared with the year prior was about the same as the sales outlook, with 32 percent expecting better profitability, 51 percent anticipating profitability to be about the same and 17 percent predicting a decrease in profits.
Between 2012 and 2013, 51 percent of fine-dining operators reported that repeat customers remained steady as a proportion of total sales, while 46 percent said these customers made up a larger portion of total sales. Only 3 percent reported that repeat customers made up a smaller amount of sales during this period.
Fine-dining operators reported that attracting new customers has been the biggest challenge over the

last couple of years but retaining customers has not been an issue.

Only 37 percent of fine-dining

operators planned to expand off-premises options, such as delivery and takeout, in 2014, compared with 52 percent of casual-dining operators and 49 percent of family-dining operators.

While only 3 percent of fine-dining operators report that they currently offer off-peak dining at reduced prices, 62 percent say this will become more widespread in the segment in the future.
Source: National Restaurant Association, Washington, D.C.
*Source: The NPD Group, Port Washington, N.Y.