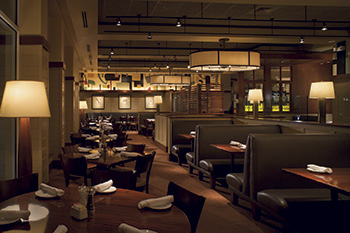 Adjusting to changing trends in both the front and back of house has helped Burtons Grill remain successful in the competitive fine-dining segment.When 30-year restaurant veteran Kevin Harron sought to develop a new upscale-casual concept with partners Kevin Rowell and Pat Gordon, the goal was to target Baby Boomers seeking an alternative to casual-dining chains.
The plan was this: offer fine dining at a more moderate price point, but still deliver the service level of a pricier restaurant. "We decided to model our restaurants operationally off of the Houston's Restaurant chain, since we had a lot of respect for that organization," Harron says. "We refer to ourselves as a back-to-front operation, since we believe the food draws customers here and everything else supports the menu."
When it comes to the food, it's flexibility and customization that help set Burtons Grill apart from competitors in the fine-dining arena.
This formula has resulted in a total of 10 sites in as many years. Along with five restaurants in Massachusetts, there are two Burtons Grills in Virginia and one location each in Connecticut, New Hampshire and South Carolina. Also, within the last year, the partners opened a more casual concept, Red Heat Tavern, in Wilmington, Mass. Company sales totaled $44 million in 2013, an increase from $33 million the year prior, according to Chicago-based Technomic.
FE&S spoke with Harron about what makes Burtons Grill unique and how the chain has remained successful in today's challenging fine-dining segment.
FE&S: Burtons Grill is celebrating a decade in business. How has the concept evolved over the years?
KH: We've altered the design since our inception, opening up the kitchens, incorporating different variations of equipment, such as a wood-burning oven, and updating the front of house. As part of a crowded restaurant industry, it's necessary to look at each market competitively to see where the opportunities lie and what needs can be met. For example, if we entered a market that lacked wood-burning ovens, we may skew our menu to include flatbread or if we felt an area supported a raw bar, we'd incorporate one into that location. To be successful in the future, restaurants need to be more nimble rather than static. The world changes so much faster now, and there are different needs today compared with just 10 years ago. Evolution will continue to be a part of our concept.
FE&S: In fine dining, the menu can sometimes become stale in terms of the variety of selections, especially these days with the high cost of ingredients. How do you keep your menu fresh?
KH: We try to maintain menu flexibility at the local level, although, for the most part, our core entrées and sides remain consistent. We have significant menu changes twice a year and also include a fair amount of monthly and weekly specials from our recipe archives. Chefs at each of our locations can create their own recipes, which we approve, as well. Everything at Burtons is made fresh from scratch. Our offerings include rib eye, strip and filet mignon steak, fresh seafood, a half dozen salads and a couple different pasta dishes. This core menu evolves seasonally with other items that offer a broad-based contemporary American approach. Although we still sell a fair amount of steaks and our burgers are popular, we don't sell as much beef as we used to.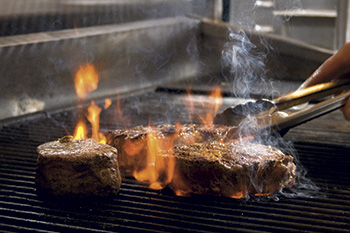 Three 5-foot grills are the centerpieces in Burtons Grill's kitchens.FE&S: With a diverse menu, it seems back-of-house versatility would be essential. Describe the kitchen design and setup.
KH: Our prototype locations are about 6,200 square feet total, not including an outdoor patio. The open kitchens are about a third of that space, or between 1,800 and 2,000 square feet. The cookline is lineal and includes three fryers, three 5-foot grills, a fry top and sauté range. The benefit of our cookline is the use of raised rail refrigeration above and undercounter cold storage below. The prep area incorporates a range, while the pantry or cold station is a traditional setup with 10 feet of rail and countertop. A wood-burning oven, an upright freezer and a 24- to 26-foot walk-in also support the menu. We recently incorporated a combi oven into the mix to see if we can improve on our production process. We're also looking into integrating steamers and charcoal cooking equipment in the future to further expand our menu.
FE&S: Burtons Grill makes significant equipment investments. What do you look for when purchasing these units?
KH: We replace our kitchen equipment before it depreciates. We'd rather invest in a new unit after five to seven years of use than sink money into pricey repairs. Still, durability is the most important aspect, since our restaurants experience such high volume. It's important that we get good value for the money. Quality also is key, and we've found that we get what we pay for. In addition, space is a concern. We were looking to get into wok cooking, since there are certain flavors that can only be accomplished using high heat, but to do so takes up too much real estate on the cookline.
FE&S: Burtons Grill has expanded at a steady pace, opening 10 restaurants in its first eight years in business. Will you continue this momentum?
KH: We have the resources to open three restaurants a year, and we're always looking in numerous markets for new locations. Fortunately, the Burtons Grill brand can be tailored to different areas. Right now, we're planning a major remodel of our second restaurant. This will cost between $300,00 and $400,000, since structural work also will be completed. The redesign will incorporate new colors, wood flooring and a furniture overhaul. We're also planning cosmetic renovations at our other locations over the next few years.
FE&S: It's no secret that the fine-dining segment faces its share of operational challenges, such as rising food costs. How can operators weather the current environment, with consumers still watching their spending and food prices continuing to skyrocket?
KH: Looking at the numbers for full-service dining, the figures have continued to decline since the recession. Operators need to watch the trends, find the opportunities and get these concepts in front of the public more quickly. The industry needs to adapt faster, rather than continue building cookie-cutter concepts. In the years ahead, I see flexibility becoming a bigger part of what we do, and this will be a necessary strategy for restaurants to be successful moving forward. With the advent of Mediterranean cuisine and Brazilian steakhouses, there is more fine-dining competition than there has been in the past. Today's diners are seeking imagination and industry innovations, not just good, quality food. The popularity of chef-driven restaurants is due to more people willing to experiment. It's up to us to provide the unique dining experiences they seek.