By being patient and executing diverse menus, grocery stores continue to take market share from the restaurant industry.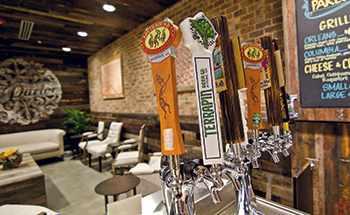 Image courtesy of Whole FoodsThroughout the lean years of the recession, fast-casual operators emerged as the darlings of the restaurant industry — and with good reason. While casual-dining restaurants struggled to come to grips with such challenges as overcapacity and stale menus, value-conscious consumers were drawn to fast-casual concepts promising customization, perceived better-for-you menu items and even lower check averages. Consumer traffic levels and disposable income may have been on the decline, but none of that mattered to the fast-casuals who were hungrily taking market share from casual-dining and quick-service restaurants alike by adding units.
And all the while, another operator segment emerged and started beating the fast-casuals at their own game. But unlike the upstart fast-casual operators who had to build locations and awareness among consumers, these new competitors entered the restaurant arena with sound infrastructure and very high consumer awareness. That's because these operators were already there, hiding in plain sight, just waiting for the right time to make their move.
We're talking, of course, about grocery stores, which began allocating space inside their four walls for restaurants and enhanced fresh prepared food programs.
And when grocery stores entered the restaurant space, the popularity of these new foodservice outlets surged. From 2006 to 2014, the restaurant industry posted annual growth rates of roughly 2 percent, according to "The Sophistication of Supermarket Fresh Prepared Foods," a study commissioned by FMI and Technomic. During that same time, sales of supermarket fresh prepared foods grew at a rate of 10.4 percent, the study shows.
"The recession hit, and consumers stopped going out. In order to get them to go out, there had to be a point of difference," says Penny Anderson, director in NPD Group's foodservice business unit. "One advantage grocery stores had was the fact that consumers were already there pantry loading. So they added food with a freshness component and at a higher quality compared to the QSR."
The economy may not have been growing, but the number of places where consumers could purchase freshly prepared food was. Indeed, as consumers started cashing in on the convenience that restaurants offered, some started shifting a larger portion of their food dollar away from grocery stores. At the same time, competition for grocery stores became more intense, particularly in the area known as the center of the store, where they house their traditional items. So in order to remain relevant in the eyes of the customer and to take some pressure off their bottom lines, adding restaurants and prepared food programs emerged as a natural solution. This created a battle for market share that redefined the foodservice industry's competitive landscape. "Until recently, the restaurant industry did not view the supermarkets as competitors. But the supermarkets have long viewed the restaurants as competitors," says Mark Corbitt, group sales manager, The Wasserstrom Company. Corbitt has spent 21 years with the Columbus, Ohio-based foodservice equipment and supplies dealership, working with grocery stores and other multiunit concepts.
As is the case with any battle, there have to be winners and losers. "If you are a QSR, your competition is no longer other QSRs. It's the fast-casuals and the grocery stores down the street. Retail and fast-casual are the two segments that have gained at the expense of traditional QSRs," Anderson says. "Full-service restaurants are about 20 percent of the total industry, and they took the brunt of the beating when the recession hit."
The momentum these so-called groceraunts built during the recession shows no signs of slowing down, according to Anderson. "Grocery foodservice visits are up about 7 percent since 2008, and they are expected to grow 10 percent over the next 10 years, compared to overall restaurant industry growth of 4 percent during that same time," Anderson adds. "Price, healthy, food variety and quality: Grocery and fast-casual are drawing in the same type of consumer."
Fresh Appeal
One reason consumers continue to flock to grocery store restaurants is the perception of freshness. Because many of the ingredients that go into making specific menu items line the shelves and refrigerated display cases in the center of the store, customers perceive the food they purchase from grocery store restaurants as freshly made for them.
So do groceraunts actually use what's on the store shelves? Some do. Some don't. It doesn't matter. What does matter is a consistent appearance that signifies freshness, quality and customization. And it's within these three areas where successful grocery store–based restaurants excel. "People are trading down from full service and up from fast food because they can feel good about what they are eating," Anderson says.
Menu variety represents another differentiating point for grocery store-based restaurants. When grocery stores first began their prepared food programs, these culinary efforts generally consisted of a rotisserie chicken and some premade salads. Today customers can choose from a variety of ethnic cuisines such as sushi and can even purchase full meals. "It is about the offerings. Millennials are very diverse, and these grocery stores are appealing to their more diverse palates," Anderson says.
The next frontier for grocery store-based restaurants? Full-service, including beer and wine sales. "That's the direction they should be going to have the full service of meals, even though it is not a full-service restaurant," Anderson says. "The variety is endless. And they are providing the experience the restaurants have always provided."
In addition to menus, one area where groceraunts continue to evolve is presentation. It starts with the positioning of the restaurants within the grocery store and includes the way these operators present their menu items. "We have all seen it evolve; the center aisle of the store is no longer the focus of the supermarket, it's now to the left or right of an area to that may look and feel like a farmer's market," Corbitt says. "A store may have eight different restaurants or kiosks inside. It's driving impulse sales and becoming a prepared foods destination. There are more curves to the aisles in the store so you have more of an experience, more time to wander, meaning more opportunities to loiter. As an example, we are building more bars in grocery stores than ever before. Visiting the grocery store is becoming more of a destination rather than a chore."
While grocery stores have long operated in a no-frills, commodity-oriented business, they now strive to provide customers with more of an experience. For example, Corbitt points to one chain that has a $5 night. "On Friday for $5.00 you get a wine glass and you're allowed to wander the store in search of five different foodie stations, where you can get both a sample of wine and a food item that pairs with it. The stores even provide you with the recipes," he says. "That's the evolution of convenience and experience for today's consumer."
As the experience gets better, so does the way grocery store-based restaurants display food items. It's gone from a very deli-oriented concept to something more sophisticated and visually appealing. Grocery stores used to use 5- and 10-quart bowls to display premade items such as coleslaw and potato salad, which, not so coincidentally, arrived prepackaged in those amounts. Making more items from scratch, however, means more operators continue to look for new and innovative ways to display their products. This includes display cases, serving vessels, holding equipment and more.
Like any other foodservice operation, success comes down to execution, and grocery store-based restaurants are no exception. One of the keys to proper execution is being able to differentiate an operation from the competition and stay relevant to consumer needs, Anderson says. For example, many operations have a hot-food bar with grab-and-go options. In those instances "packaging is important and so is having the right equipment that will keep the food hot and not have it turn dry and crusty," she says.
Coffee/breakfast represents an area with plenty of potential, according to Anderson. "This is the only daypart that has continually grown. It's a cheaper option, but it's consistent. Once you get consumers in the routine of visiting your operation, getting them to break that habit is very difficult."
"Convenience is always going to be a big driver," Anderson adds. "If you make it convenient, deliver the right quality food and provide an experience, you will differentiate yourself."
Equipment Specification
As the groceraunt segment matures, operators continue to take a more sophisticated approach to foodservice. "For grocery stores, adding a foodservice department is not that difficult. They will go outside their organization and bring in experts to help make the change," Corbitt says. "Grocery stores seem to have more corporate chefs coming in who have an idea of what they want and need to create their menu. Before, it was not as much about consistency, menu and preparation as it is today. There's a lot more time going into it."
That becomes a necessity when an operation transitions from cooking for one and a half hours to six or more hours per day. "Stores are looking at it as if they are a multiunit chain restaurant and it was not that way before," Corbitt adds. "We have seen a big change within the last 18 months. Supermarkets have realized there is a bigger system out there and they have a better understanding as to how the system operates."
In terms of foodservice equipment, the rotisserie remains a mainstay for most grocery stories. "Every grocery has to have that rotisserie chicken. It's a staple item for grocery stores," Corbitt adds. "Consumers see that hot, heated display near the cash register and that chicken translates to an impulse purchase."
Another key challenge grocery stores face is keeping that food fresh and consistent menu execution. "Restaurants do a good job of holding consistency through use of technology and equipment, many Supermarkets still struggle with holding and presentation. Many just aren't ready to make the investment." Corbitt adds.
Labor and shrink are probably the two biggest challenges grocers operating restaurants "Labor is taking care of itself because they are hiring chefs that understand food, shelf life, presentation and so forth," Corbitt says. "If you have people in place who can produce the food more efficiently, while gaining a better understanding of when the customers are shopping, supermarkets can schedule their production times accordingly. In the past, shrink was out of control. Stores did not have the right people, equipment or displays in place. As a result, that got a lot of them to exit the foodservice sector of the business. The good ones who were patient stayed in the mix and have been very successful."
It would seem that grocery store-based restaurants will remain part of the foodservice landscape for years to come. Perceived fresh food at reasonable prices may have drawn consumers to grocery store-based restaurants, but it's the experience that will keep them coming back.
This article has been updated to reflect changes and is different than the print edition.