Concordia may be a small school, but its dining services department makes a big impact, both in the quality of the program and in the way it lays the groundwork for professional success and leadership development of its 300-plus student employees.Paul Dosch, associate director of dining services at Concordia College in Moorhead, Minn., has learned during his tenure that having an unusually large number of student employees is an innovative idea. It's good for the bottom line and for generating warm camaraderie with student "customers" being served. It's also a hugely unique obligation that Dosch and Director Janet Paul take very seriously.
In fact, with a campus-wide enrollment of only 2,400 at the private liberal arts college, dining services employs almost 15 percent of the student body, a percentage Dosch says he's never come across elsewhere. Of the roughly 300 student employees, 40 serve as student managers, all of whom have been promoted through the student employee ranks. While other areas of the country report high unemployment, it's an employee's job market in and around Concordia, with innumerable opportunities just across the river in Fargo, N.D. However, Concordia dining services continues to attract and retain students in part by paying above-average wages that start at $9 per hour (the Minnesota minimum wage is $8) and $9.85 per hour for student managers.
But the department's attraction for student employees has to do with more than its pay scale. In part because there are so many of them, the dining services team feels an obligation to provide growth and education that goes well beyond foodservice. On its website, the department notes: "The valuable skills student employees and dietetic interns gain in Dining Services provide the groundwork for professional success through unique opportunities, leadership development and real-world employment experience."
Examples abound: A staff member serves as a mentor to an accounts payable student employee; two marketing/business students assist a full-time marketing person with design and social media projects. Meanwhile, two human resource office assistants help with the job application process, handling scheduling as well as the filing of confidential materials. "For example, perhaps a student employee is looking to transfer to a different position or is having a school/work load crisis and needs to have time off from work — this should be confidential; again, our student employees are building their resumes by having that kind of specialized experience in our department," Dosch points out.
At some point in time, each of the 40 student managers gets to run a venue. "They manage some of our retail operations, which include a coffee shop, c-store, the short order restaurant, etc.," Dosch says. They're entrusted with cash, keys, college vehicles, the whole nine yards; some venues open at 6:30 a.m., some close at midnight and a manager has to be there. Occasionally, a student manager may be in charge of the dining center, supervising a crew of up to 15 employees. They handle disciplinary issues as well as front-line customer issues, including dealing with the occasional dissatisfied customer. On balance, the college takes pride in its dining services: "Since it's an integral part of the college recruitment process, our employees — including student employees —serve as ambassadors for recruitment," he points out.
Appraising Appraisals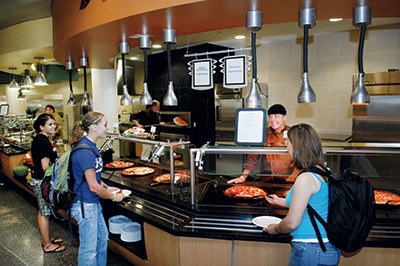 At some point in time, each of the 40 student managers gets to run a venue. They're entrusted with cash, keys, college vehicles, and may even be in charge of the dining center, supervising a crew of up to 15 employees.Most college students, even by the time they graduate, have never received a written performance appraisal. Even fewer have been required to write one. But at Concordia, student managers in dining services are expected to prepare written performance appraisals on all students who work on their shifts.
"This gives student managers the opportunity to have that experience — a pretty valuable experience on their resume if, for example, they're going to be a teacher," Dosch says. "No other department on campus does written performance appraisals."
Appraisals also provide good feedback for students to learn about some areas in which they need to improve. In fact, some longtime student employees will have received up to eight performance appraisals by the time they graduate. "Sometimes it's tough for them to hear, especially if they're rated only 'average'," Dosch says. "I'd rather have them have that experience here than [after] they leave here," noting that it's a strong learning experience for the students.
Aware that some students have never had a job before, Dosch tries to have more patience with them than if this was a traditional commercial restaurant. He also aims to provide them with a basic understanding of employee/employer communication and even teaches them how to resign. "We require two weeks notice with a letter of resignation before they leave our employment," he says.
Equipment Responsibilities
As any foodservice employee knows, interactions may well be with equipment and at Concordia, all get plenty of hands-on experience. Many student managers have the opportunity to work in catering, both on-site and off-site, which accounts for almost 10 percent of the department's revenue. From understanding the operation and care of beverage dispensers, portable warmers and coolers to driving catering trucks, their job responsibilities cover the spectrum.
Student managers also learn to start up, operate and shut down all equipment used in the short-order restaurant and in the main dining center. They have hands-on responsibility for everything from fryers, grills and walk-ins to $100,000 flight-type dish machines.
For some Concordia students, a career in dining services upon graduation, perhaps in a healthcare environment, is their goal. "The college has a Dietetics/Human Nutrition program and students are required to do an internship before they can take the Registered Dietitian exam," Dosch points out. Each year, his department typically hosts five dietetic interns with degrees in nutrition already earned. "We provide a plethora of experiences, from manager on duty to working with special diets," he says. "We teach them about operations, staffing issues, budgeting, etc. Plus, they sit on our management team while they're here as interns."
Some students even parlay their experiences as employees into full-time positions with Concordia Dining Services. Dosch notes that four or five former student managers have returned to join the department after graduation. "One fellow is now a full-time supervisor in our Dining Center — he actually met his wife when they were both student managers here. About three years ago, they got married in our Dining Center. We catered the event, of course!"
Snapshot
No. of students: 2,400
Meal plan participants: 1,750
Operation: Self-operated
Locations: 4 (dining hall, c-store, deli/takeout, coffee shop)
Revenue: $8.5 million
Annual purchases: $2.5 million
Employees: 3 directors, 5 managers, 8 supervisors, 50 full-time/9-month employees, 300 students
Key Players
Director of Dining Services: Janet Paul
Vice President for Finance/Treasurer: Linda Brown
Director of Human Resources: Peggy Torrance
Associate Director of Dining Services: Paul Dosch
Assistant Director of Dining Services: Cindy Hogenson