Published on Thursday, 31 March 2011
Written by Amelia Levin, Contributing Editor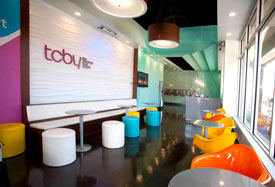 As part of its rebranding campaign,
TCBY
has updated its logo and overall graphic identity and is now showcasing these changes in its new unit prototype. Bright purple, sea-green, blue, yellow and orange makeup the new color palette. The units are peppered with fruit shapes to signal the new, healthier topping offerings now available to customers. The new logo also serves as the inspiration for the bubble-shaped, multicolored tables and chairs throughout the new stores, creating a playful, youthful feel in an attempt to target the chain's largest growing customer segment: Millennials. TCBY's overhaul also comes just in time, as the frozen yogurt trend continues to gain ground nationwide as a healthy, customizable and, in many cases, self-serve operation crossing multiple day parts, from lunches and snacks to light dinners or dessert. In fact, self-serve foodservice operations are expected to grow from $3.2 billion to $5.8 billion by 2013, according to VDR Research. To capitalize on that emerging trend, TCBY introduced a self-serve station with 10 to 16 yogurt flavors and an extensive toppings bar in addition to its existing counter service. TCBY partnered with Salt Lake City-based StruckAxiom to develop its new image.