Customer's in every segment now seek convenience and speed.
There's a blurry line these days between restaurants and retail, as consumers have become used to different ways of procuring their food. They can have it delivered; they can order it in advance and pick it up; they can dine in; and they can grab their food and go.
Many foodservice operations embrace all of these options concurrently. But if they want to capture time-starved customers, a grab-and-go area becomes a must, and each industry segment approaches this form of service in its own unique way. "You are seeing grab-and-go strategically placed, and a lot of the corporate campuses offer it as an amenity," says Jeremy Kittelson, director, Ricca Design Studios in Denver. "It can be used to bring attention to an area, like on a college campus, especially if there are areas they want to drive people to."
These areas continue to become much more sophisticated. "There's been a real evolution in the equipment," Kittelson says. Examples include hot-food holding equipment that uses vapor to hold hot menu items at the proper temperature, "which is super important when you're holding a breakfast sandwich," he adds.
Kittelson thinks the sophistication of the equipment supporting grab-and-go will only continue to increase. Examples of equipment that support grab-and-go foodservice include automated coffee machines, hot wells that hold oats in the morning and soup at lunchtime — especially in hospital settings — and high-speed ovens, which allow grab-and-go areas to offer options like hot sandwiches. "This equipment is ventless, electric, programmable and very easy to use," he describes. He adds that manufacturers have improved the appearance of these types of equipment and now offer these items in different colors, so they can fit in with a station's branding.
Bistrot Trudeau at the airport in Montreal
Expertise by Way of an Airport Operator
One can argue that grab-and-go is more important in airports than anywhere else. That's because every customer patronizing airport foodservice is on the go and often tight on time.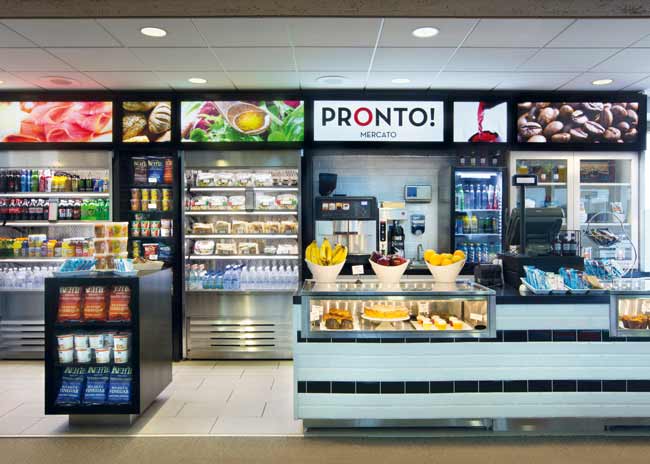 HMSHost uses eye-catching signage to draw in airport customers.HMSHost is no stranger to this trend. The Bethesda, Md.-based company operates restaurants in airports around the world and works with hundreds of brands. The airport concessionaire is using more grab-and-go areas than ever, says Lynn Fleming, director of retail marketing for HMSHost, both within restaurants and as stand-alone spaces. Some of these spaces feature coolers with RFID technology, which works well for quieter times like late evening, she says. This technology allows customers to swipe their card, remove products from the cooler, and be on their way. RFID technology can also keep HMSHost apprised of real-time sales, stock levels, expiring products and cooler temperatures, says Fleming. The company also uses self-checkout kiosk technology for customers to purchase items without using barcodes or a scale. Customers place their items on a pad, and cameras take 3D photos. The technology rings up the item or items quickly so customers can pay and go.
During busier times, HMSHost also has an employee working at these grab-and-go locations to split the lines. "We don't like the visual of seeing a line because people get anxious about catching their flights, so we're very focused on speed," Fleming says. These locations are doing extremely well and highlight the importance of pace for the traveler, she adds.
HMSHost also operates attended grab-and-go areas, which are typically branded to a specific concept. These areas usually have one employee, and each is distinct. "We don't want to just throw a cooler into a corner," Fleming says, adding that the goal is to "create a unique food and beverage experience."
HMSHost uses planograms to ensure the right mix of product is in the right place. The mix includes cold items and an increasing amount of shelf-stable products, which are handy for travelers facing long flights.
The company is also in the early stages of building a hot grab-and-go program "with an emphasis on our busiest daypart — breakfast," Fleming explains. "We are currently exploring the best equipment for an upright warming unit that aligns with our open-air cold merchandiser to ensure the equipment appears cohesive."
Typically grab-and-go checkout counters sit at the end of the customer's journey. "The majority of our spaces are small and shallow, [but in] larger spaces, the POS is placed where we can balance queue lines and have enough open space to allow customers to walk freely," Fleming says. A small station featuring condiments, napkins and utensils is located after the POS.
The biggest challenge with grab-and-go areas in airports, Fleming says, is space: Footprints tend to be 50 to 100 square feet, so HMSHost aims to use more vertical merchandising. "We look for any nook and cranny," Fleming adds.
Storing product is also difficult, Fleming admits. In larger airports, HMSHost tends to have a commissary, but if it doesn't, the company stores products wherever it can. If the grab-and-go space connects to a restaurant, there's usually a "teeny space off the kitchen," she says. If it's more of a bank of refrigerators, there's sometimes storage space behind them.
Space is always at a premium at airport grab-and-go operations.Grab-and-go areas that are part of an airport restaurant tend to be close to the entrance, Fleming says, to draw impulse purchases. That also makes them easier to stock. Typically, there are also more grab-and-go impulse items by the cash register.
Operators need to give some thought to grab-and-go spaces before creating them, Fleming explains, because 6-foot coolers require a lot of electricity. And coolers need either a drain underneath (which the company uses if it's building out a space from scratch) or a condensate evaporator, which allows for flexibility if it's an add-on piece of equipment.
To draw customers into these grab-and-go areas, HMSHost uses eye-catching signage either above the area, on the storefront, or sometimes near the POS. The company is also testing digital signage via strips on coolers or above doors. HMSHost uses the digital signage to promote limited-time offers or items available on specific days. Digital signage is great for the consumer and the operator, Fleming points out, as it's easy to change out — it can be done directly from HMSHost headquarters — and it can be a focal point to connect with travelers in a hurry.
A B&I's Grab-and-Go Approach
BlueCross BlueShield of South Carolina operates four micromarkets and has plans to open more. The creation of the micromarkets was "to capture more business outside a bag of chips," says Lawrence Wright, foodservices manager. This is of particular interest to the employees who work late hours. "We can offer an actual meal they take and heat, and that was the driving force," he says.
BlueCross BlueShield's micro-markets feature open-air merchandisers and glass door coolers. The flow of these facilities goes from refrigerated food to shelf-stable products to impulse purchases to the POS to the condiment station. The merchandisers normally sit along a back wall, as a focal point when customers walk in through the door. Usually, the open-air merchandisers hold food and glass door coolers hold beverages.
The coolers feature a 3-foot-by-4-foot hanging Market to Go sign above them, in the foodservice department's font and colors. And for food within the coolers, the foodservice department worked with the on-site graphics department for branded labels to put on each package. It's important that they fit in with BlueCross BlueShield's foodservice design. "They very much look intentional and not like a vending area," Wright points out.
The merchandising approach calls for the food to face out toward customers — with smaller items like yogurts and parfaits on the top shelf; cut fruit and vegetables with dressings on the second shelf; salads and sandwiches on the third and fourth shelves; and then desserts. Lower down, at knee height, are bottled beverages.
The grab-and-go merchandisers fit into custom cabinetry in some cases, so the fronts are flush and blend in with the operation. There was an issue with the refrigerators generating a lot of heat, so the cabinets were adjusted to let heat out of the top.
A centralized station just beyond the cashiers holds condiments, napkins and silverware, making these items convenient for eat-in and grab-and-go customers.
A K-12 School Grab-and-Go Setup
Charleston County School District in South Carolina has found grab-and-go food a must, especially at middle and high schools, when there's usually a drop-off in participation in foodservice programs.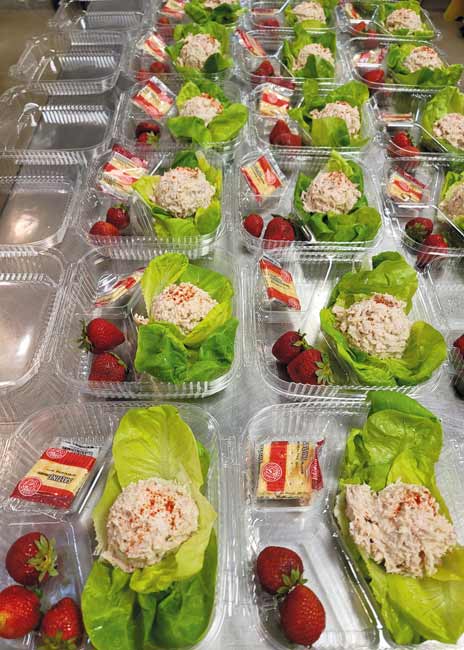 Even K-12 kids are in a rush; Charleston County School District is moving to more grab-and-go options.The district is changing its lines away from food served by employees to offer prepackaged, from-scratch items kids could grab. "They are in a hurry and know what they want, and now our lines move extremely fast," says Walter Campbell, executive director of nutrition services.
The foodservice department has raised the food shield on the serving line so kids can reach in. Hot food is displayed, packaged in foil, under heat lamps, and within glass containers. It's also available, packaged, from hot wells.
Cold foods are displayed in sheet pans in cold wells. "We're trying to make it feel a little more upscale," says Campbell. He's considering buying lifts to place underneath the sheet pans to angle the food — hot and cold — toward the students to make it look even more appealing.
Room-temperature foods, mostly breakfast items, sit on black display racks that reside on counters. Campbell's testing this approach in around 10 schools. There are also displays for a la carte items with planograms for each school to follow.
It's not enough to simply put the food out there, says Campbell; it needs to have professional signage, ideally with photos. "We want to get away from handwritten signs," he says, so the foodservice employees prepare the food, and then they photograph it to look like the manufacturers' pictures.
The grab-and-go portion of the operation includes all kinds of signage, Campbell says. This ranges from signs to stick-on plexiglass, to market new menu items, to video boards, though the former is the most effective.
At the end of the serving line sits a condiment station, where containers dispense napkins and utensils one at a time. They cost more, but the containers prevent students from taking too many, Campbell says.
As for challenges with the grab-and-go system, he says the biggest is keeping the cold food at the correct temperature. "You've got to make sure you don't stack it too high, so it doesn't get into the temperature danger zone, and to keep it at the best quality," Campbell adds.
One University's Approach
"Grab-and-go options are a key part of the foodservice operation," says Terry Baker, executive director of dining services, University of Richmond in Richmond, Va.
The university has stand-alone, grab-and-go areas in its dining halls and retail operations, coffee shops and remote locations. In the campus' convenience stores, the grab-and-go areas sit at the back of the stores to draw guests through the aisles, she says. These units provide quick access for replenishing because they're near the back of the house.
"There are many options available in the grab-to-go, self-serve coolers and hot wells that can be tailored to almost any area or dining concept," says Baker, adding that the grab-and-go unit "is one of the most versatile pieces of equipment." What's important, she says, is that grab-and-go stations are easily accessible for customers. They should be near a register and also simple for service staff to restock and clean.
Ideally, Baker explains, you want the coolers to be clearly visible to draw customers in, with visual appeal, too, which means they should be well stocked at all times.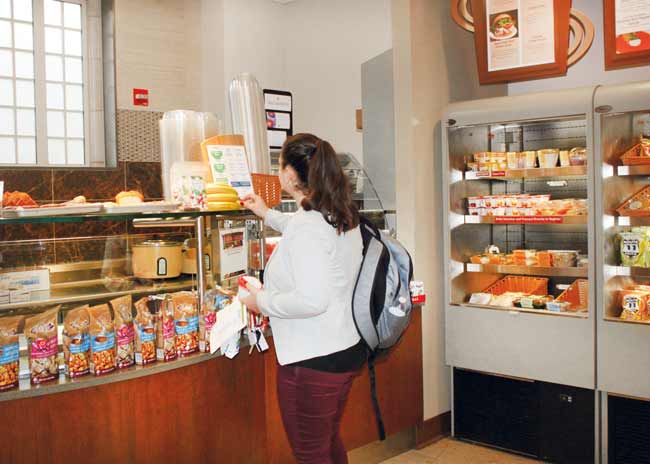 Grab-and-go units at the University of Richmond are designed to be very accessible.
To display food at its best, the university uses open-air merchandisers, single- or double-door glass door refrigerators and freezers, self-serve display cases, and hot-holding equipment. Baker often merchandises ambient food — and even gifts — next to the coolers to encourage add-on sales.
Before selecting equipment for grab-and-go displays, Baker analyzes what the piece of equipment needs to operate successfully. "You need to consider whether you want ventilation toward the back or the front of the cooler and is the cooler next to a wall or in the center of a line," she says. "Other considerations include whether you want a front-loading cooler or a cooler with doors in the back so you can stock the product from behind. Also, do you want lights on each of the shelves and mirrors on the inside of the case to showcase the product?"
Lights and mirrors inside cases help merchandise the product well, Baker says, and black interior shelves and black unit backs enhance the color of the food.
A Senior Living Facility's Take on Grab-and-Go
Grab-and-go food is even blooming in senior living residences. At Tel Hai Retirement Community, a senior living residence in Honey Brook, Pa., which comprises independent living, personal care and skilled care for around 1,000 residents. And it's not just the residents looking for grab-and-go options, but many of the 500-plus employees.
While the campus features grab-and-go options in its many cafes, the busiest by far is the Daily Brew coffee shop.
The Daily Brew has robust grab-and-go offerings. The store is run by foodservice contractor Cura, and the grab-and-go options greet customers as soon as they enter, with a bank of refrigerators, as well as the coffee station. Next up are open-air merchandisers holding desserts, fruit cups and yogurts.
The Daily Brew at Tel Hai is popular with senior living residents and employees.
Customers then pass by the ambient impulse buys like chips and cookies, as well as house-made baked goods merchandised in baskets and black crates that coordinate with the coffee shop to not look like an afterthought.
The Daily Brew is equally popular with residents and employees, says Dot Perry, dining services manager. "They're in and out in a minute or two."
The shop requires one and a half employees at most times, and they're responsible for the POS and keeping the space tidy and cases stocked. The food is all cooked in the independent living cafe, two floors above. "It's all day, nonstop making and filling and bringing food down," Perry says.
The store is branded with Cura's signature blue. It was important, says Perry, that all refrigeration and merchandising units be built in to feel integral to the coffeeshop.