Based on a strong response from customers, Steve Williamson knew it was time for his 30-year old company, Ruby Reds BBQ, to expand.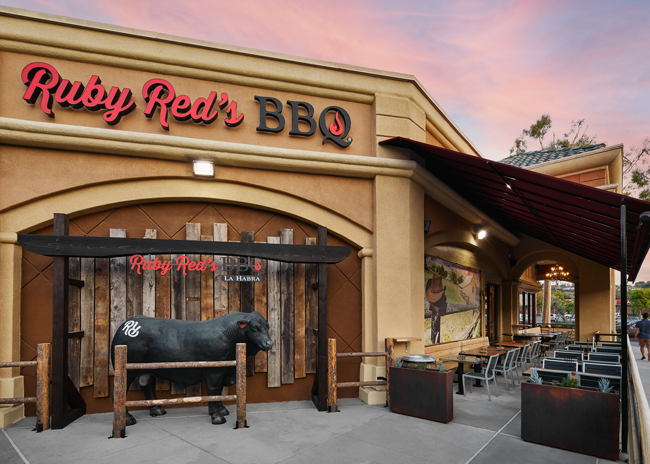 Photos by Josh Bustos PhotographyIn doing so, he sought to create a unique dining experience that captured the vibe of Texas barbeque and family gatherings but also embraced his philanthropic initiatives. In came Oculus Inc., a full-service architecture and interior design firm based in St. Louis, to bring the fast-casual restaurant to life in Los Angeles.
Tasked with Williamson's goals of creating an elevated dining experience, the designers transformed an existing 2,200-square-foot, in-line retail space into a fast-casual restaurant that marries counter-service, online ordering, carryout and an in-house bakery operation with a rustic-chic dining room featuring chairs and cowboy hats donated by guests. Together these design elements help create a more comfortable atmosphere for patrons who dine on-premises.
Here both the operator and designer weigh in on the transition: Williamson, who in addition to owning Ruby Reds BBQ serves as CEO and president of both Majestic Retail Group and Williamson General Contracting, and Katie Ferkel, interior designer for Oculus Inc.
FES: What was the biggest challenge of the kitchen design?
SW: The new Ruby Red's BBQ concept is unique to the typical smokehouse experience. The first location in La Habra, Calif., was the beta test for this authentic, Texas BBQ-style restaurant that provides a high-end dining experience to the guests. It was selected in part due to the existing store layout and utility connection points. With initial startup costs in mind, the biggest challenge was to properly locate equipment using existing utility locations while still maintaining a proper flow in the kitchen.
FES: What did you have to do to transform it from retail to restaurant?
KF: Although the original, first build space was previously a pizza restaurant, it wasn't a high-visibility location. With the site sitting back from the main street, we needed to create a stand-alone restaurant atmosphere from a standard inline retail store. This was accomplished by working with the city and the landlord to transform all the exterior finishes and add branded identifiers, signage and even a full-sized Angus Bull Statue and corral.
SW: For the expansion space, we had to submit a request for a required planning and zoning change of use review, converting the existing tenant space from mercantile to assembly/restaurant use, which took six months and caused major delays in the opening of the expanded dining and kitchen areas. The new addition is now projected to open in late 2022.
FES: How is the kitchen laid out?
SW: We followed the kitchen work triangle concept in the design for the first side of the restaurant, where the smoking, kitchen, cleaning and storage areas were situated in very close proximity to each other and conforming to the existing back-room layout. With the addition of the second side of the restaurant, the combined back rooms will be laid out into stations. The smoking pit masters station will now occupy all of the original restaurant's back-room cooking area/smoking area. The new side will include a sides station, baking station, desserts/pastry station and a catering station.
KF: With Steve's extensive experience in kitchens and franchising restaurants, he laid the kitchen out himself; we then reviewed it from a code perspective to make sure all clearances and MEP requirements were met.
FES: What equipment did you include?
SW: Our equipment plan includes a classic six-burner gas range with a convection oven, an extra double convection oven, hot holding cabinets, food and toppings warmer, basics like stainless-steel worktables and reach-in refrigerators, as well as baking equipment like mixers, proofers and ovens.
FES: What's the hood/ventilation like given this is BBQ?
SW: The existing restaurant side has three smoking units that utilize two standard type I hoods. The new restaurant side will include an additional type I hood system for the production of the made-from-scratch sides and desserts. The city does not allow for a smoker outside unless the building is stand-alone. They also had very specific, additional fire rating requirements for the hood ductwork routing, but we were able to collaborate with our engineers to come up with a sufficient solution.
FES: Is there any live cooking?
SW: The Ruby Red's BBQ concept includes a 16-hour, on-site smoking process for all of our fresh, never frozen meats. All the sides and desserts are made from scratch, on-site, throughout the day and night. This is not a made-to-order venue. With the extended, authentic smoking method, our meats are served for lunch and dinner directly from the smokers and the warming cabinets at our front line so that our customers get the chance to watch their meats carved to order.
FES: Do you segregate the in-house dining with the carryout/pickup areas?
SW: The restaurant has a luxury, detail-oriented, western smokehouse dining area and patio for in-house dining. Currently, carryout orders, call-ahead and third-party deliveries orders go directly to our second register area where customers pay for and collect their orders. With the addition of our new restaurant side, there will be a dedicated pickup bar for non-dining guests. This new side will resemble an 1880s saloon down to the smallest detail. This side will add additional seating locations for our dine-in guests as well.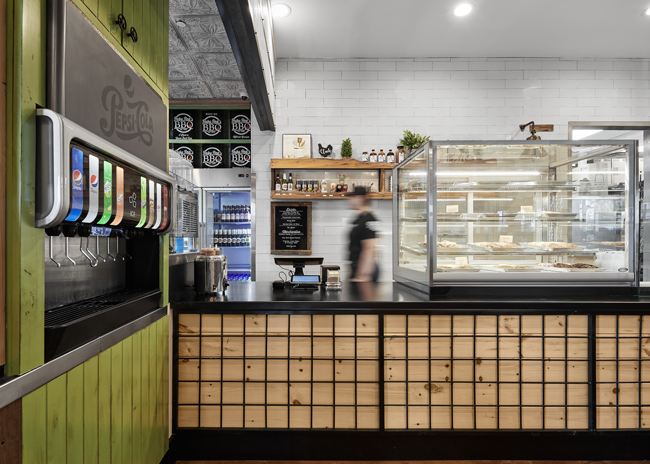 FES: What's the pickup area like?
SW: The new pickup area will make you feel like you're walking up to an authentic, old western saloon with all 1800s antique decorations and elements.
FES: How is the bakery portion laid out and what equipment does this operation include?
SW: The bakery/pastry station will be a semi-isolated area with its own tables, mixers, storage, and ingredient holding units.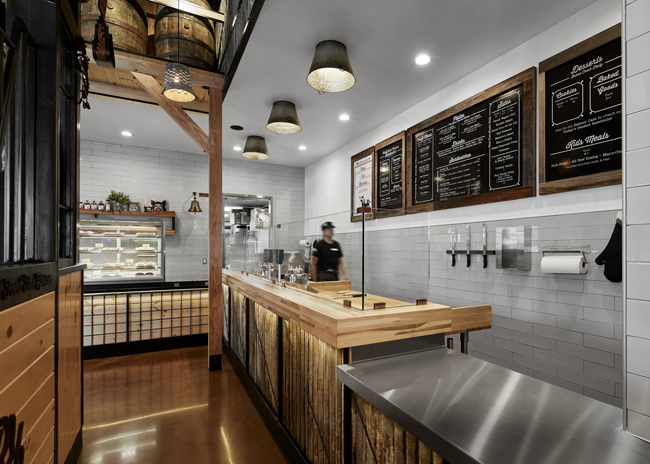 FES: Any other unique details about the kitchen part?
SW: Along with the other station and regular menu offering creations, the catering area will also serve as our specialty retail packaging station for our craft BBQ sauces, cowboy candy, rubs and sausages. Both sides of our kitchen will be viewable by the customers through the front room doorways to show the cleanliness of our operations. Consequently, we offer back-stage passes to schools, churches, and other groups as well as other business groups and families to tour our back of house to see how the "sausage is made," so to speak.
FES: What were the efficiency considerations?
KF: Since the first space we had to work with was so tight, we kept it divided between front line versus back of house. As soon as the food is ready to serve, it goes to the front line. The space is laid out there is not a lot of walking back and forth between kitchen staff. This allows for better utilization of the front line and adds to the customer experience where they get to follow their food down the line.
SW: The second side expansion became necessary after the first month of business. It was obvious that we needed to expand the back room to meet future demands. We are currently very proficient with the smaller space and are excited for the new space which will quadruple our production capabilities.