"I'm from Virginia. We define barbecue as pork."
"Well, I'm from Kansas City. We like beef, lamb, chicken, turkey — and pork."
The type of meat on a barbecue restaurant menu is unquestionably regional, depending on how it is seasoned and how it is cooked. Operators choose one category of barbecue preparation when they start. They plan their menus and focus on that style for years to come. For some operators who dedicate their businesses to a particular traditional preparation of barbecue, it is close to being a religion.
Hot smoking is what is used by the majority of barbecue restaurants. The smoke is a high enough temperature to cook the meat over a time period that can last up to 12 or 18 hours.
The barbecue pit at Big Bob Gibson Bar-B-Q.
Customer Expectations Create a Challenge
Barbecue operators may dedicate themselves to their chosen category, but by the same token, diners remain just as laser focused on the type of barbecue they expect when they go to a particular barbecue restaurant. This customer expectation means operators don't have much leeway in their menus the way seafood or Indian restaurants would.
Barbecue restaurants are one of the smaller segments of the foodservice industry, accounting for 1.6% of the industry's total locations, according to Mike Kostyo of Datassential, a Chicago-based foodservice research and insights firm. He reports there are 12,078 barbecue restaurants in the U.S.
The 1.6% includes only restaurants whose main product is barbecue. Restaurants that have barbecue with other menu items are not included. By comparison, pizza restaurants make up 9.2% of the market.
As of March 2022, about 19% of barbecue restaurants had closed permanently during the pandemic, Kostyo adds. "It's a high number compared to many other segments, primarily because so many barbecue restaurants are casual, independent operations that weren't set up with drive-thrus or delivery capabilities."
Because barbecue customers tend to stick with their preferred style, the lack of flexibility can prove limiting for operators looking to build repeat business, says Kostyo. "Barbecue restaurants often have a built-in fan base that expects an operator's particular style or specialty. Menus tend to be smaller, and many dishes are just one main ingredient — meat — so there isn't room for a lot of substitutions or swap-outs."
This constraint on menu flexibility poses one of the recent challenges for barbecue operators since meat has become much more expensive to source. The price of beef has continued to rise since last year and shows no chance of slowing down in the near future. In fact, almost everything, wood used to smoke meats and supplies included, has increased in price.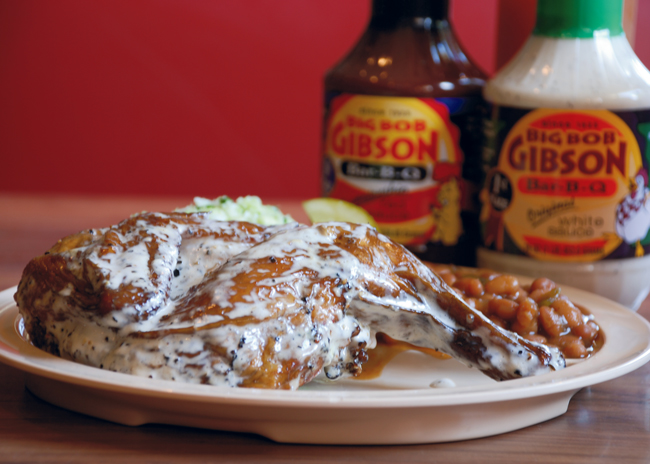 White sauce chicken and pork baked potato are popular menu items at Big Bob Gibson Bar-B-Q. Menu prices have seen an increase across many restaurants, including this one.
"Commodity prices are absolutely the biggest pain point for barbecue operators right now," Kostyo says. "When you look at which categories have been hit hardest by inflation, meat takes up eight of the top ten categories that have risen the most over the past year. Coupled with the fact that nearly half of consumers say they plan to cut back on restaurant spending due to inflation, more than any other category, it's clear that barbecue operators are in a tough place right now."
Paul Collins, general manager of Big Bob Gibson Bar-B-Q in Decatur, Ala., agrees. "We don't have a lot of control." While he regrets doing it, he says he is having to get ready to put in a menu price increase.
Collins explains that there is also a sourcing problem. He used to order from three large meat vendors but has had to add four smaller ones. He hopes to get the product he needs from one of the vendors when most are out. But this extra research takes time. "It's more work," he says.
Another challenge is predicting volume. Barbecue restaurants have completely different issues to deal with than, say, a burger restaurant. Operators have to predict the next day's volume accurately. This guides how much beef or pork they put in the smoker for the 12 to 18 hours it takes to cook. If they don't predict correctly, they will run out, resulting in unhappy customers and lost revenues. If they run out, they can't go to the refrigerator or freezer and get more, like a burger restaurant can. If they have product left over, it is a waste, since barbecue can't really be used the next day.
As with all restaurants, the lack of labor continues to affect the barbecue segment. Collins says that even when he is able to hire staff, they may just decide to take a few days off in the middle of their schedule.
The pork baked potato is a popular menu item at Big Bob Gibson Bar-B-Q
The barriers to entry into the barbecue segment are fairly low after the purchase of a smoker, the main piece of equipment operators require. "You are making a commitment when you buy a smoker. They are big, and they are pricey. But a good one will last for years," says Dan Bendall, principal at FoodStrategy Inc., a foodservice consulting firm located in Rockville, Md. Smokers range from the traditional pit smokers to newer versions of commercial smokers that use charcoal, gas, electricity and wood pellets.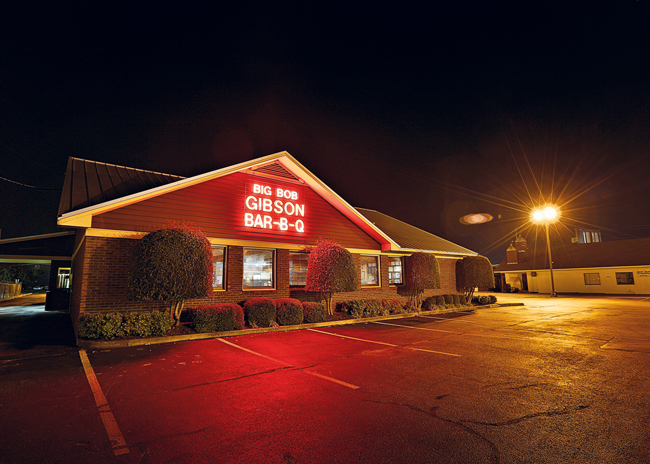 Big Bob Gibson Bar-B-Q in Decatur, Ala.The sides that a barbecue restaurant offers are not quite as important as the meat — but almost. These can include barbecue enhancers like baked beans, coleslaw, potato salad, green beans, collard or turnip greens and macaroni and cheese. Sides served with the meat require the usual restaurant equipment: ovens, stove tops, deep fryers, prep areas and sinks. Walk-in coolers are necessary for storage.
Sides have the added advantage of being flexible in their preparation. Unlike the hours needed to smoke the main menu items, they can be prepared in much shorter time periods. Some, like slaw, can be whipped up in minutes.
The barbecue segment is known for its attention to craftsmanship for house-made sauces, long smoking times and the cuts of meat they feature. As Bendall says, making good barbecue is an art. "It takes years of experience to perfect the timing, temperature, seasonings and the right cuts," he says. "Each operator's history makes a good story."
Kostyo also suggests that operators market options like house-made sauces and long smoking times. And he thinks adding specials, like chicken wings and pig "wings" made from a pig's shank, can help counter product shortages.
Chefs can do an "experimental series" for a limited time that allows them to try other flavors or cuts, Kostyo says. Even though customers expect the traditional menu items, some diners will be open to new options — as long as these items are done right and customers still get some of the delicious barbecue they have come to the restaurant expecting.