A trio of accomplished foodservice designers dish on everything from the latest trends to the future of robotics and more.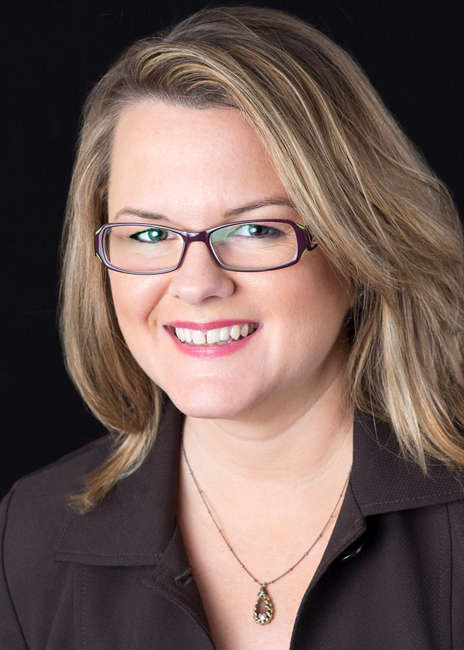 Laura Lentz, FCSI
Design principal and owner
Ellicott City, Md.
Laura Lentz graduated from Cornell University with a degree from the School of Hotel Administration and embarked on a career that started in foodservice and hospitality management. The daughter of architects, Lentz soon found her own interest in design. She is an active professional member of the Foodservice Consultants Society International and has completed more than 100 projects as lead designer. Her project typology ranges from hospitality to education, healthcare and workplace dining.
---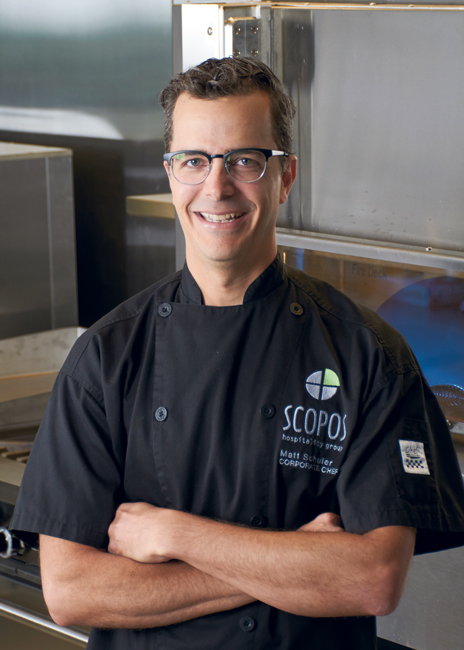 Matt Schuler
Chef
Director of culinary development
Ephrata, Pa.
A Johnson and Wales University graduate, chef Matt Schuler's experience includes positions as a private chef, a catering chef and a banquet chef for several upscale restaurants in central Pennsylvania and Charleston, S.C. Schuler was also the executive chef/designer for Ella's American Bistro in Wayne, Pa. He spent four years with Clark Associates Inc. and Webstaurantstore.com as the corporate executive chef/product expert with a focus on training for equipment and smallwares from various manufacturers in the foodservice industry. He joined SCOPOS in 2014.
---
Kristin Sedej, FCSI
Principal/owner
Chicago
Sedej earned a degree in hospitality management from Roosevelt University and is a professional member of the Foodservice Consultants Society International. Sedej began her career in foodservice management and eventually joined Cini•Little International. She helped launch consulting firm Schildkraut, Schroeder, Sedej & Associates in 2003.
After that firm dissolved in 2008, Sedej helped form S2O Consultants. Her projects span a variety of industry segments, including stadiums. Sedej works pro bono for the Ronald McDonald House in Chicago and the Salvation Army recreation center in Chicago.
---
Editor's note: Not every designer was asked each question. Some of the answers were edited ever so slightly for clarity and style purposes.
---
What's one design trend that excites you at the moment?
Laura Lentz: What design trend does not excite me at the moment? Foodservice is changing so rapidly that it's hard not to get excited by all of it. The biggest unknown is the technology component. It will change the way we, as designers, work and how we design spaces and think about foodservice. Technology has been able to live side by side with foodservice for a long time, but now they are interconnected and rely on each other.
From a physical infrastructure perspective, plug and play is another trend. It's a term we use frequently. Some people use this in describing flexible stations or the ability to handle multiple functions from one station. The thinking about how we design spaces so we can do multiple things continues to develop. One example is how combi ovens are flexible, but I am now seeing it going in so many other directions and across so many different equipment types. That will be a huge success in helping operators deal with so many constraints that have come about due to COVID.
Matt Schuler: This one has always excited me, and COVID has made it more exciting: I am talking about transparency. And I use the term broadly. It does not just mean open kitchen. It includes who is making the food, how the food is being made and where the ingredients came from. As consumers, we got a lot smarter over the past year, and as operators we must figure out how to embrace transparency across all segments. Transparency is here to stay.
Kristin Sedej: People being open to the integration of technology and foodservice order and delivery. What COVID has done is made people change. It's forced us out of our comfort zones and made us open to new possibilities. From a foodservice perspective, one shift includes switching to more of a self-service environment, which includes placing and retrieving your order — people have talked about that for years. It's exciting to see this explode. Some operators are interested in implementing these self-service options but can't afford to do so at the moment. We try to design their facilities to allow for this in the future, ushering in a new aspect of flexible design. This is in sports venues, restaurants and other segments.
From how an operation gets its food to how it holds it to what it looks like — this change to self-service impacts everything. And if you are designing a restaurant with a waiting area, it will be different than it was pre-COVID. It has to be. COVID has made carryout move upstream, and it's sexier than before. But at the end of the day, our job is to get food to people. It does not matter if it's a restaurant or a stadium concession stand — we have to get food to people.
Image courtesy of Fuel
There's been lots of conversation about automation and robotics in commercial operations. How is this playing out with your projects? What does the future hold?
KS: It depends on the market segment. In a corporate setting or a factory where there's different shifts and where there's a need for good food without people to make it, this will work well. Automation works best with minimal variables. In a sports venue, though, it's tougher. I don't think you will see it replace traditional back-of-the-house design — too many variables. For some of the solutions out there, you have to be either super high volume or super low volume due to the costs. Take the salad-making robot, for example, it would work well in addition to existing services or for off hours where you don't have foodservice staff present. You have to be very linear for automation to make sense. And that will narrow where it works best. The volume, repetition and ROI has to be there for this to work. We are constantly talking about the ability to be flexible in good design. Automation seems to contradict that.
LL: We as a company have seen this as a "right place at the right time" sort of thing, and that's been the case during COVID too. There's a lot of interest in it because it's robotics, but that does not necessarily translate into traction among operators. In higher education and in a few other instances, robotics has helped solve a lot of problems. But in other market segments I have not seen the same traction. We did put in a salad vending machine for a small foodservice operation, and it's doing a great job. It has to be the right solution for the right customer.
While there's been lots of digital advancement in the front of the house, the same cannot be said in the back of the house. What will drive more digital integration in the back of the house?
MS: Operators are looking for one platform. There are too many platforms out there. So how can we get the heat tracing, step mapping, the ordering and even the inventory all in one place? Most restaurant owners, chefs and operators are not IT people. So, simplifying that is crucial. And how can they collect and use that data more effectively will be key. You have all these platforms doing all these different things, and we need them to do all of it together. The ability for the chef to monitor things when they are not in the facility will be helpful too. If they can look at an app to make sure a cook and hold or combi oven is cooking and holding an overnight roast properly it will really help with quality of life.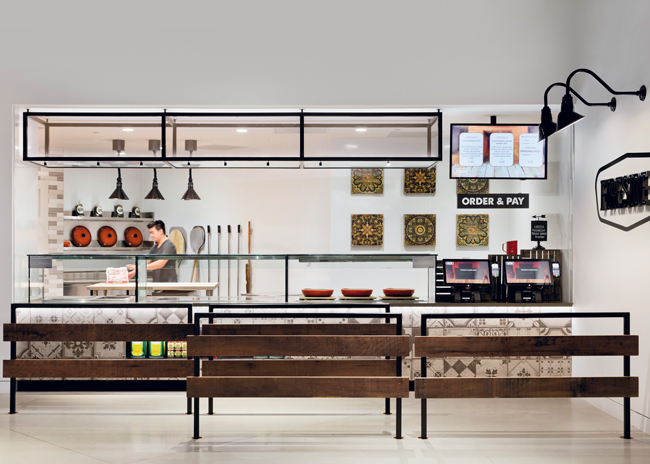 The use of technology does not mean operators can compromise on transparency. In this Culinary Advisors project, customers order via the kiosks on the right and see food preparation on the left.
Some institutions are going to a more spread-out, diverse approach to feeding. For example, we're seeing kiosk and app ordering becoming more prevalent in corporate environments. K-12 schools are spreading out their operations more. What impact will this have on back-of-the-house design and equipment specification moving forward?
KS: Design comes down to three things: What are you serving to how many people in what amount of time? You have to be cognizant of people's expectations for pickup times. You need to ask these questions at the beginning: What are you serving? How much space do you have? How many people will take advantage of this service? You start fleshing out the process, and that's how you can understand how this will affect the design and the equipment selection. You have to understand the process before you come up with the solution. A lot of this comes down to common sense conversations. There's no one right answer out there.
LL: There are two ideas emerging. One is something along the lines of ghost kitchen or a commissary kitchen. Some operations will be large enough to have that type of facility in-house. The flip side is, as you decentralize foodservice, what does the back of the house look like? Does it start to take on the look and feel of concessions, where the back-of-house kitchen is more about storage with all of the prep taking place out front? When I go into a kitchen that is 30 years old and in desperate need of a renovation, what typically happens is we shrink the back of the house. I think this will shrink more and more as a result of COVID. Decentralizing foodservice will spread things out, and it will take more labor if we don't get creative about labor solutions. It's about making the most effective use of labor at the point of service.
MS: We've had to rely on combi ovens or cook and hold ovens to cook with no supervision overnight, allowing us to use the same pieces the next day for service times. Using more of that technology increases efficiency, reduces staffing and provides consistent food quality. The operator can press a button and get the same food or flavor profile no matter who cooks it or where. This includes rapid-cook ovens. And we will look to leverage those types of features and functionality moving forward. Smaller pod production areas will be utilized more as the technology for how we order evolves. That means being able to produce a variety of menu items from a smaller, more efficient footprint.
On larger campuses, the ability to cook in bulk, blast chill or shock freeze will become more important. The same goes for the use of sous vide to cook and safely retherm products. So, the back of the house is now starting to catch up with front-of-the-house technology.
The speed and efficiency in the back of the house has to match that of the front of the house. How can you take a 9-to-11-minute ticket time on a steak and reduce that to 2.5 minutes while providing the same quality?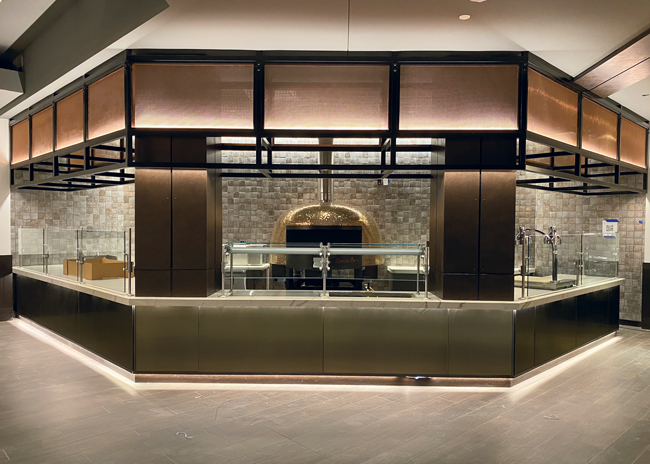 Stadium foodservice operations, like this station designed by S2O Consultants, feature plenty of hard surfaces making sanitation easier. The equipment package allows for menu flexibility too.
What excites you most about the future of the industry?
LL: Everything has changed in both small and big ways. Sizing models that I have used for 15 years have been turned upside down. This is a very exciting time to be in foodservice. We are all benchmarking constantly. We are going to have growth in foodservice technology consulting. I could see this being a whole new market that emerges. Consulting could become MAS [management advisory services], design and technology. As designers we are going to be teaming up more than we ever have before. It will help us remain a consulting practice. Foodservice consultants have been challenged by dealer-designers and others that have impacted our businesses. We have been forced into it, but I am excited about what will
come out of it.
KS: I am excited the focus on food safety and sanitation has increased. It raises the bar for all of us, and it's an important part of what we do in the hospitality industry. And I hope people will appreciate what it means to go to a restaurant or a bar more than we did before. Hopefully that will lift up the industry, including better jobs and wages. We do provide value.
MS: We are resilient. We will bounce back from what we've faced the past year or more. We will innovate because we came through a period where innovation was needed. Since the consumer got smarter, owners and operators will have to become more transparent, and that will drive more innovation. We innovate because we have a problem. When chefs come into our culinary innovation center and see how combi oven technology can be paired with blast chilling/shock freezing, that excites me. More owner/operators will be more open to the advancements.
The use of ventless technologies can allow operators to bring cooking closer to customers, as is the case with this SCOPOS Hospitality Group project.
Want to listen in as these consultants share and expand on this conversation?
You're in luck. During the FE&S 2021 Consultants' Roundtable webcast on June 22, these three designers will participate in a live give-and-take about a variety of topics and answer your questions.
Register at FESmag.com/consultants2021