Today's casual dining brands face growing competition from fast-casual concepts, food halls, chef-driven, fine-dining restaurants and nontraditional operators. It's an increasingly crowded, diverse industry. To stand out, many operators continue to rethink and enhance branding, strategy, design and operations. One such restaurant chain is Beef 'O' Brady's, a Florida-based, family sports-centric restaurant with an Irish pub theme and a menu of burgers, steaks and other beef-based items, along with chicken wings, comfort food and lighter, grilled items.
In anticipation of its 35th anniversary in 2020, the chain launched a new prototype and plans to complete 20 remodels a year. Currently, it has remodeled or is in the process of remodeling 50 locations, including its 22 corporate locations. It plans to continue to roll out remodels to its franchise locations (the chain has 150 total locations).
The chain then plans to roll out the design to franchisees in the next couple of years. As an incentive to get franchisees to adopt the new design package, which can cost between $200,000 and $350,000 for a full remodel, Beef 'O' Brady's will offer marketing and other support.
Beef 'O' Brady's
"We should have done this years ago," says Jamie Cecil, vice president of development for the chain, when asked about the biggest lesson learned in the process. "It's easy for brands to get set in their ways, but with so much competition these days, we needed to do a complete overhaul in order to stay current. If we kept with the same old, tired Beef's, there wouldn't be a reason for new customers to come in."
The biggest challenge with a remodel of this nature, Cecil says, is being able to implement new equipment and changes within five to seven days, as well as be prepared to take on an increase in customers and business. The company worked closely with its equipment dealer, TriMark Gill Group, and manufacturers' rep to train cook staff on the new equipment and operations.
In addition to a fresh coat of paint, new floors, some new furniture, a resurfaced bar and upgraded AV package, here are the other key design/operational changes Beef 'O' Brady's implemented with the greatest impact on operations.
Adding Tablets
The biggest design change at the front of the house was the implementation of a new POS system with handheld solutions that servers can use to take orders and payment at the tables. Orders now go directly to the kitchen as well as the bar, cutting out the extra step of having to re-enter orders into a kiosk.
"On a Friday night between 6 p.m. and 7 p.m. in the past, our ticket times would be running about 18 minutes; now, they are 13 minutes," says Cecil. "Labor is huge concern for all operators these days, so if we make it difficult for employees to do their job, they're going to go somewhere else where they can do the same thing," Cecil says.
The tablets have not only helped ticket times in the kitchen but have actually improved employee morale, he adds.
"We have also already seen about a 20 percent lift on sales among corporate stores," says Cecil.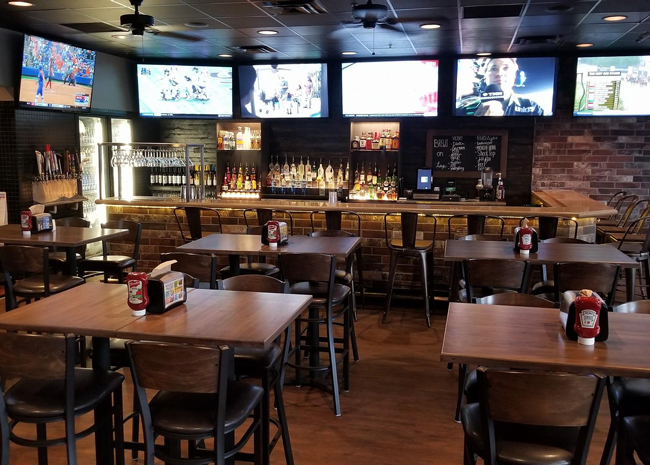 Beef 'O' Brady's
Kitchen Display Monitors and Outside Expo
The POS system change also included the implementation of new kitchen display monitors that cook staff can use to see and track orders. An expediter still makes sure all the plates go out properly, but a new, refrigerated prep table facing the outside of the kitchen holds dressings, salsa and other condiments that servers can now simply grab instead of having to ask cook staff.
"An outside expo station doesn't sound like a big deal, but when the expeditor and the cooks are working hard and they have to stop to give someone extra ranch dressing, it's a huge irritant, not to mention an extra drag on ticket times."
New Fryers and Hot-Holding Equipment
Given the amount and range of fried items at Beef 'O' Brady's, the design team implemented four new, high-efficiency fryers, each with three baskets, in order to cook different foods like chicken, fish and french fries. The fryers also have automated, self-filtering capability. In the past, filtering the oil was a huge burden on staff, not to mention a nasty and hazardous task, and with the automated filter, management can ensure oil and food stay fresh, Cecil says.
Next to the fryers, the chain added what Cecil describes as a "dump station," a long, horizonal tub of sorts with heat lamps overhead and underneath where fry cooks can briefly hold wings and more to stay on top of fried food orders during peak times.
With the National Restaurant Association reporting that 67 percent of casual dining operators believe that competition will remain as fierce as it has been this year, it's likely that more brands like Beef 'O' Brady's will get into the remodel game.
Related: Beef 'O' Brady's CEO Chris Elliot talks about the chain's new design.