Reactivating the Norris University Center seemed appropriate when Compass Group joined the Northwestern University campus in Evanston, Ill., in July 2018. "We're offering an eclectic menu that meets the unique needs of the students, faculty and staff in an engaging and inviting atmosphere that helps connect the Northwestern community at the Norris Center," says Jennifer Byrdsong, vice president of operations with Chartwells Higher Education, a subsidiary of Compass Group, the foodservice provider at Northwestern.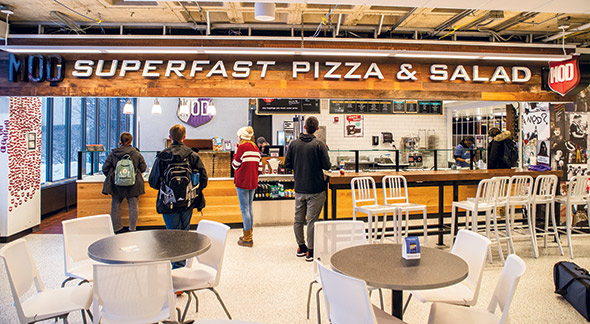 MOD Pizza is part of the new lineup of food concepts in Northwestern University's Norris University Center.
In order to improve the guest experience, designers opened up the existing Norris University Center dining space to ease congestion and provide better access to themed concepts. They also converted the operation from a central pay system to a retail system in which guests order and pay at each concept.
The center's themed concepts were reconfigured and rebranded. Now each area complements its respective food theme, while a cohesive design palette of warm wood tones and neutral, light colors provides a backdrop for bursts of the Northwestern purple throughout the space. Food variety and menu offerings include a combination of national brands and an expanded market that provides fresh grab-and-go alternatives. Culinary staff finish menu items in their stations while guests watch.
Fresh salad ingredients beckon guests to Roots & Seeds.
"The renovation of the seating areas made it possible to implement a new design that creates an environment that promotes community and collaboration," says Jeremy Schenk, executive director, Norris University Center. Thanks to exhibition seating throughout the space, guests can enjoy views of the culinary staff cooking, preparing and assembling menu items. Seating areas offer many options, including custom collaboration booths for guests to sync up their laptops to monitors with larger screens for joint study sessions. Seating varieties include high-top tables, soft seating, counter seating and traditional tables and chairs. In addition, communal tables in the Strikes and Spares area feature converted wood from Northwestern University-themed bowling alley flooring.
Food Production
Food deliveries arrive at a sheltered back dock. Staff bring menu ingredients through an air curtain bay door down a hall to the kitchen, which was not renovated as part of the project. Staff check menu items to ensure there was no temperature-related damage during delivery and that all items arrive at safe temperatures before delivering them to either the central kitchen or to the retail locations within Norris. Staff arrange items in walk-in coolers to segregate meats, dairy, produce and seafood, as well as ready-to-eat and raw foods. Storage also includes a walk-in freezer and dry storage area.
Patty2 specializes in burgers that the university sources from a local family farm.
Staff prepare cold and hot food in the back-of-the-house kitchen before transporting it to the front-of-the-house stations. They place cold food in refrigerators.
Staff also prepare menu items for catered events in the kitchen. Staff wrap, date and label food by location and catering event. Each station contains refrigerators that hold cold food until staff take it out for preparation. Staff deliver cold food to its locations in insulated boxes and hot food in thermostatically controlled warming boxes.
Northwestern University and Chartwells executives selected the Norris Center's themed concepts based on input from focus groups and feedback about trends from students, faculty and other key stakeholders. Their input resulted in local, sustainable offerings, with concepts including Amy Morton's Patty2 (pronounced "squared"), Chicago's Budlong Hot Chicken, Asiana Foodville, MOD Pizza and Wildcat Deli. The center also features Market, which contains Roots & Seeds. An expanded salad bar, Roots & Seeds offers freshly made grab-and-go sandwiches, salads, wraps, sushi, assorted beverages and two daily soup specials, as well as a salad and entree bar. All concepts contain refrigeration.
Wildcat Deli features customizable sandwiches. The equipment package here consists of two refrigerated rails along with beverage cases and two high-speed ovens staff use to toast sandwiches.
Concept Breakdown
Patty2 equipment includes a chargrill for cooking beef and turkey burgers sourced from a Chicago-area family farm, a fryer for cooking hand-cut fries and a refrigerated rail for holding salad and wrap ingredients that staff prep fresh daily.
The Budlong Hot Chicken features Nashville-style hot chicken and sides such as mac and cheese, Southern-style biscuits, collard greens and red potato salad. Staff use three two-basket fryers, a steamer and a hot holding steam table to prepare the potato salad.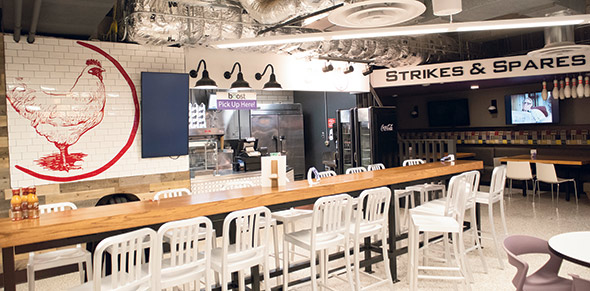 The Budlong Hot Chicken features Nashville-style hot chicken and side dishes. Seen here to the right.
Asiana Foodville features poke bowls and a variety of Asian-inspired cuisine, including noodles and satays. Equipment supporting this concept includes hot and cold wells, a two-basket fryer and a chargrill. This station also features a hand-rolled sushi bar and custom bento boxes.
MOD Pizza features a hearth oven in which staff prepare customizable, individually sized artisan pizzas. Diners can choose from more than 30 toppings. Salad ingredients sit in a refrigerated rail so staff can assemble customizable salads in three varieties and three sizes: Deluxe with greens, chicken, salami, green bell peppers, tomatoes, olives and parmesan cheeses; Caesar with romaine lettuce, parmesan cheese, asiago cheese, diced tomatoes and croutons; and Simple with greens, roasted red peppers and asiago cheese. The menu also features three kinds of breadsticks (garlic, cheesy and cinnamon) and a signature chocolate dessert.
Wildcat Deli contains two refrigerated rails along with two high-speed ovens to toast sandwiches. The station features signature sandwiches such as chicken salad on a croissant, roast beef with smoked gouda on a brioche and grilled vegetables with mozzarella on whole grain bread. Guests can also build their own sandwiches by selecting from different breads, vegetables, cheeses and toppings. Hot wells hold two soups daily. The menu also features fresh fruit, salads and house-made potato chips.
Strikes and Spare offers a communal seating area.
Guests can place and pay for orders on-site at designated kiosks located within the main retail area. A mobile ordering app also enables guests to place their orders from any location on campus and skip the lines when they arrive to pick up their orders during the designated time. Digital menu boards display menu items at each concept. Guests can also stream their favorite music through an app that allows students to interact with the facility's playlist. Students can create playlists, vote on popular choices and effectively become the DJ. A new sound system, installed as part of the remodel, plays the music.
Customers order from kiosks so they don't have to stand in lines at the concepts.
The Market features a hot meal bar with menu items including chicken with Caribbean jerk barbecue sauce, Caribbean beans and rice, sweet-and-sour beets and broccoli tofu stir-fry. Beverage cases hold packaged beverages from the more customary soda, water and juice to on-trend beverages such as infused tea and cold brew coffee. Refrigerated cases also contain grab-and-go essentials such as yogurt parfaits, salads, sandwiches and wraps. Other menu items include freshly rolled sushi and Vietnamese-inspired cuisine.
The warewashing area contains an automatic conveyor dishmachine that cleans all plates and platters. Staff organize and return washed items to a separate clean service equipment storage room.
A separate pot washing area contains a three-compartment sink with automatic measuring dispensers for soap and sanitizer to wash, rinse and sanitize cookware.
Norris Community Center contributes to Northwestern Dining's mission to emphasize sustainability by focusing on waste management. Examples include water conservation via aerators on all sinks along with other water-saving devices through the kitchens and using Energy Star-rated equipment when available.
Though the Norris University Center culinary team does not have existing data to compare results from last year to this year, Byrdsong says, "We receive positive feedback with regards to the enhancement of the space and the added retail partners offering the local, on-trend cuisine right on campus."
Market contains beverage and grab-and-go display units, packaged goods and Roots & Seeds.
Key Players
Owner: Northwestern University
Executive director, Norris University Center at Northwestern University: Jeremy Schenk
Vice president of operations, Chartwells Higher Education, a subsidiary of Compass Group: Jennifer Byrdsong
Campus chef, Chartwells Higher Education: Mark Angeles, CEC, CCA
Director of operations, Chartwells Higher Education: Mitch Phelps
Assistant director of retail for Norris University Center, Chartwells Higher Education: Juan Aguayo
Architect: Nvironment, Columbus, Ohio
Interior design: Nvironment, Columbus, Ohio
Consultants: Nvironment team
Equipment dealer: Johnson-Lancaster and Associates Inc., Clearwater, Fla.
Construction: Sachse Construction, Detroit
Facts of Note
Opened: January 2019
Scope of project: Front-of-the-house retail servery and market
Size: 17,500 sq. ft. for servery; 3,500 sq. ft. for back-of-the-house prep (does not include the main back-of-the-house kitchen, which was not renovated)
Seats: 400
Average check: $6.20
Total annual sales, projected: $2.7 million
Daily transactions/covers: 3,000
Hours:
● Patty2 10:30 a.m. to 7:30 p.m., Mon. – Thurs.; 10:30 a.m. to 3 p.m., Fri.
● Budlong Hot Chicken10:30 a.m. to 7:30 p.m., Mon. – Thurs.; 11 a.m. to 3 p.m., Fri.
● Asiana Foodville 10:30 a.m. to 7:30 p.m., daily
● MOD Pizza 10:30 a.m. to 11 p.m., Mon. – Fri.; 11 a.m. to 9 p.m., Sat.; 11 a.m. to 11 p.m., Sun.
● Wildcat Deli 10:30 a.m. to 3 p.m., Mon. – Fri.
● Market 8 a.m. to 11 p.m., Mon. – Thurs.; 8 a.m. to 11:45 p.m., Fri.; 9 a.m. to 11:45 p.m., Sat.; 11 a.m. to 11 p.m., Sun.
Menu Specialties: stuffed burgers, Nashville-style hot chicken and pan-Asian cuisine
Staff: 54
Website: dining.northwestern.edu