Built in 1971, the original trayline at Atlantic Health System's Morristown Medical Center was in need of an overhaul. "We had an aging facility and patient meal and delivery system," says Emma Atanasio, RD, director of Food and Nutrition Services, Morristown Medical Center (MMC) in Morristown, N.J. She arrived at the facility in 2017 and identified patient meal service as one of the most important issues to tackle. "We wanted to improve the patient experience and take service to a new level of excellence. We're moving into an age in which hospitality and healthcare are merging, and patients expect more than they ever have."
This overhaul was no small undertaking given the size of the medical center. MMC contains 735 licensed beds. Food and Nutrition Services provides nearly 10,000 patient meals a week in addition to 5,000 catered meals, 6,000 meal equivalents in floor stock (sandwiches, crackers, milk and juice for patient use when the kitchen is closed) and 12,000 retail checks.
Photo courtesy of Morristown Medical Center; photo by Buckl Architects
After touring several hospital foodservice operations in the Northeast, Atanasio and her MMC team worked with foodservice designers at Culinary Depot in Lakeside, N.J., and manufacturer rep group Pecinka Ferri Associates, Fairfield, N.J. "This was an incredibly quick project," says Joe Ferri, DMR, CFSP, chief operating officer of Pecinka Ferri Associates. "We had three months. Everyone at the hospital was enthusiastic about doing the project and we all needed to move quickly to get it done. We put in two double combi ovens on the back line to give the staff the ability to be flexible and keep cooking going through the renovation."
The renovation included food production for room service as well as retail foodservices and catering. "We renovated without disrupting patient meal production or delivery," Atanasio says.
Part of the renovation involved taking down walls and redoing the floors. "Columns couldn't be moved and that restricted where we could put some of the equipment," says Joe Louis (aka Joe Jr.) Ferri, vice president of project sales, Pecinka Ferri Associates. "Most of the at least 20-year-old equipment was replaced, with the exception of the hood."
Room Service
Shelving allows employees to pass menu items easily and efficiently.Patients review a printed restaurant-style menu. Room service features a highly enhanced menu. Patients phone in orders to a call center. "Patients who are unable to use our call center are visited by a member of our staff so they can still experience room service," Atanasio says. "One excellent feature is nursing staff is alerted when diabetic patients place their orders so they can administer the right amount of insulin to the patients before they eat. This is one good example of how it takes a village for this service to be successful."
Staff members at the call center use specialized room service software to ensure all patients receive meals that adhere to documented diet orders and allergy guidelines. Once patients place their orders, the call center electronically sends the individual selections to the kitchen, where the food requests print out. Tickets with hot items go to the cook's line; tickets for cold sandwiches or salads route to cold production. The tray assembler receives a combination ticket and pulls all hot and cold items together along with dessert and beverages to complete the patient's order. Once complete, a tray assembler places the tray in a cart and then a tray passer delivers it to the patient's bedside.
Patients can receive room service from 7 a.m. until 8:30 p.m. every day. Most of the breakfast tray delivery, though, happens between 7:30 a.m. and 9:00 a.m., lunch from 11:30 a.m. to 1:00 p.m., dinner between 5 p.m. and 6:30 p.m., and night owl service between 6:30 p.m. and 8:30 p.m.
Employees can easily reach and prepare beverages for patient trays.Food deliveries for patient service, retail and catering arrive at a loading dock one level below the kitchen. "Our storekeepers are trained in HACCP, ensuring all deliveries reach our facility under the correct conditions, ensuring food safety standards are maintained," Atanasio says. Staff take deliveries to the main storeroom, a level below the main kitchen, which contains dry storage, a large walk-in cooler and a freezer. Receiving staff transport food from the main storeroom to the food production, patient services, retail and catering areas in the main kitchen.
The kitchen currently contains four walk-in coolers. Two new walk-in coolers, one for dairy and produce and another for meat, will soon replace three of those. A walk-in freezer will replace the fourth and will hold ice cream and a limited supply of frozen produce.
Another major change took place upon removal of the old trayline. "Salad production was moved into this space, allowing paper product storage to be brought up into our kitchen level," Atanasio says.
With cold production, cooks use two slicers and a mixer to prepare fresh fruit plates, fruit cups, signature salads and sandwiches. Staff store these menu items in large roll-in refrigerators then use that stock to replenish items in four air-screen refrigerators in the room service assembly area.
Room Service Pods
The linear cookline enables cooks to move easily and efficiently.Two teams of three staff members work on each pod to produce 250 meals per meal period. Each team is responsible for three zones, which serve specific patient rooms.
An expediter receives the tray order ticket and calls the hot food order to the cooks working the hot line. Hot production for room service, retail and catering in the back of the house contains a trio of 60-gallon kettles and a single 80-gallon kettle for making soups, a tilting skillet for menu items such as beef stew and pasta, and a double-basket fryer used for catering events and retail fried food is no longer on the patient menu. "All patient fries and chicken tenders are baked, making them accessible to most patient diet orders within the hospital," Atanasio says.
Two side-by-side hot cooklines contain a double-stacked combi oven that staff use to make eggs, stews, roast turkey, fries and chicken tenders. Each side of the line also holds a pasta cooker to make pasta and flash-cook vegetables, an eight-burner range for preparing omelets, plus a hot food holding cabinet. In the middle of the cookline, staff use a flattop griddle to cook pancakes and breakfast sandwiches. They also use a charbroiler to prepare burgers, steaks, fajitas and fish.
Mirrored counters sit parallel to the cookline and perpendicular to the tray assembly lines. Each side contains a heated plate dispenser, a high-speed oven, and a hot food table with heat lamps overhead and wells of hot menu items and sides. A refrigerated prep table sits in between.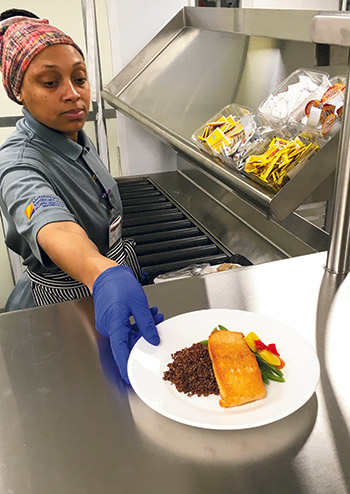 An employee plates pan-seared salmon with a red curry coconut broth.An assembler puts together the tray with cold menu items and hot food that sits on a pellet-warmed plate. Trays move on a conveyor. Cold and hot beverage dispensers sit at the end of each assembly line. "An ice cream freezer was strategically placed at the end of trayline production to minimize the time frozen products are exposed to room temperature before reaching patients," Atanasio says.
A team member standing at the end of the lines checks the tickets to ensure all items are on the trays and places up to 12 trays into a cart. Trays never sit in the cart longer than 10 minutes before another team member — a runner — delivers carts to patient floors. "We're aiming for a 60-minute turnaround from the time a patient calls in the order to delivery," Atanasio says. "Right now, 70 percent of trays arrive in an hour or less."
Once trays reach the patient floors, runners deliver them. They later place dirty trays in designated carts and return them to the kitchen to be cleaned. "Keeping tray delivery and retrieval isolated from one another has further heightened infection control measures here at MMC," Atanasio says.
Dirty trays, dishes and serviceware are cleaned in a dishroom. The dishmachine will be replaced soon. "The design team put in a potwash room where a closet once stood, allowing more space for conveyors," says Ferri Jr. Half the kitchen floor was replaced during the renovation, and the other half will be completed by early fall.
Since the new room service program began, Atanasio reports that customer satisfaction scores have improved greatly. "Although it is still too early to determine the true impact that room service has had, our mean Press Ganey scores have increased by nearly five points since its launch back in March," she says. This puts MMC well on its way to merging hospitality and hospital care.
Key Players
Owners: Atlantic Health System
MMC administration team: Colleen McManus, chief operating officer; Carol Jones, chief nursing officer; Brandee Fetherman, senior nursing director; Joe D'Auria, chief financial officer
Director of Food and Nutrition Services: Emma Atanasio, RD
Executive chef: C.J. Chambers
Patient services manager: Jessica Micek
Clinical manager: Lori Fournier
Engineering: Karen Martinez, construction project manager; Sam Di Biasse, project manager
Support: MMC nursing and patient liaison teams; nutrition departments at Overlook, Chilton and Newton Medical Centers
Equipment dealer: Culinary Depot, Lakewood, N.J.: Eli Goldring,
sales executive
Manufacturer rep group: Pecinka Ferri Associates, Fairfield, N.J.: Joe Ferri, DMR, CFSP, chief operating officer, and Joe Louis Ferri, vice president of Project Sales
About the Project
Morristown Medical Center: A designated Level I Regional Trauma Center, the nonprofit hospital has 735 licensed beds and employs nearly 6,200 people
Scope of project: A kitchen redesign including a room service pod system
Room service hours: 7 a.m. to 8:30 p.m.
Menus: Breakfast selections include omelets, breads, pancakes and cereal; lunch and dinner selections include entree salads; deli station and grill selections such as chicken tenders, quesadillas and flatbread pizza
Staff: 140, including 116 full-time equivalents
Total project cost: $1.8 million
Equipment investment: Approximately $900,000
Opened/room service began: March 26, 2019
Total annual food budget: $3.9 million, inclusive of patient services, catering and retail
Daily room service meals: 1,500
Website: atlantichealth.org