Guests and students of The Culinary Institute of America (CIA) in San Antonio welcomed Savor and CIA Bakery Café, a pop-up cafe, to campus in January. The newest members of the CIA Restaurant Group, the restaurant and pop-up cafe sit near the San Antonio River Walk in an area called Pearl. The 22-acre mixed-use space includes retail, dining, a farmers market, an amphitheater, a hotel, residential apartments and the CIA campus. Savor and CIA Bakery Café share the same space for instruction and service.
The CIA Bakery Café opens for a limited time from the middle of January through the middle of April. The student-run pop-up offers breakfast and lunch and features sweet and savory bakery goods, coffee, wine and signature aguas frescas. Prior to the opening of Savor, the cafe operated out of a different campus location for eight years.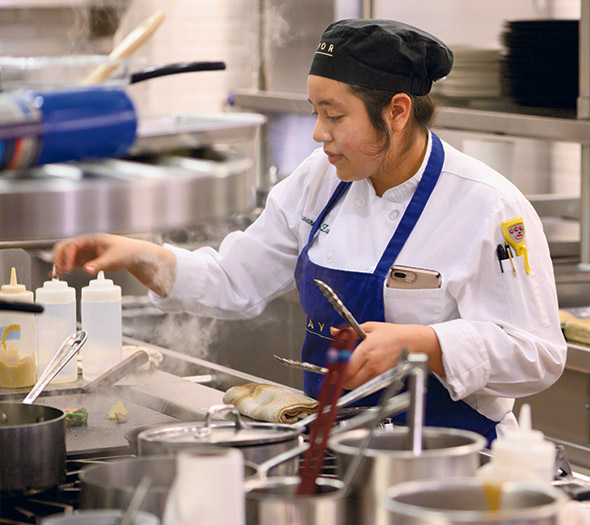 At Savor, advanced CIA students work under the guidance of professional faculty to create and present a seasonal modern-American-themed menu based on the CIA curriculum. Guests can order a three- or four-course meal and optional wine pairings. The bar and lounge feature small plates, classic cocktails like Manhattans and dirty martinis, New World and Old World wines, and local craft brews.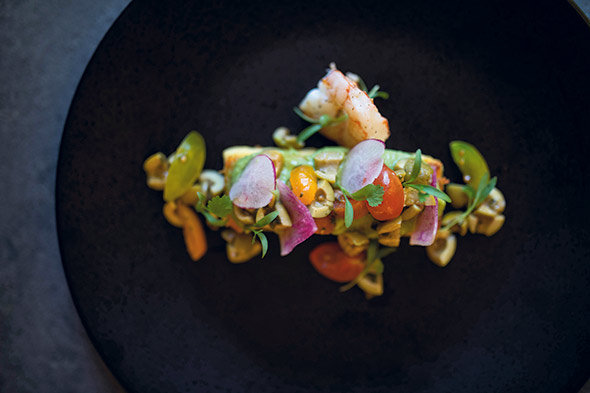 The new restaurant and bakery occupy a space formerly operated by Sandbar Fish House & Market, which closed in 2016. Prior to the birth of Savor, students received instruction at Nao, a Latin gastro bar and restaurant that the CIA opened in 2008 in conjunction with the opening of its CIA San Antonio campus. "The new space for Savor and the Bakery Café restaurants is smaller than Nao and is better for the academics because instructors can see everything and move more easily between stations to support students," says Jose Frade, associate dean of degree programs for the San Antonio campus.
Glass doors welcome guests to Savor.
When guests arrive at the new dining structure, they see a striking interior design with a brass and steel canopy. The open display kitchen becomes immediately visible. "Guests become part of the kitchen right away," Frade says. "Every seat offers an experience as if being at a chef's table. Guests get to hear the hustle and bustle of the kitchen chefs communicating. They become part of the student experience."
A striking interior design features a brass and steel canopy. The open display kitchen is immediately visible.
Paintings by Austin-based artist Kelti Smith and vintage cooking tools on loan from the CIA's Chuck Williams Culinary Arts Museum contribute to the intriguing environment. Chuck Williams was the founder of Williams-Sonoma and a cookbook author.
Menu Production
Food deliveries arrive at the main campus building, where staff check the orders and place items in a walk-in cooler, walk-in freezer and dry storage. Savor and CIA Bakery Café instructors and students must walk across the street from the restaurant space to reach the main campus and gather ingredients for each day's production. They transport the ingredients from the main campus to the on-site kitchen's walk-in cooler, reach-in freezer and pantry for dry storage.
Pham teaches students the art of flambeing.
In the cold production area, students prepare mise en place using a food processor, slicers and mixers. The students use a machine to micropuree fresh and frozen foods for some dishes. The hot food prep area contains two combi ovens that the culinary team uses primarily to roast chickens, handle general prep and finish off ribeye steaks to the customer's desired temperature; staff sear steaks first in a cast-iron pan on the range. The team also smokes ingredients in the oven's smoke box accessory. A pressurized braiser supports sauce and stock production for the restaurant and allows staff to braise specialties such as brisket, carnitas and pork butt. A blast chiller quickly brings down the temperature of proteins and pastries.
The braiser also prepares proteins for tacos served at CIA's Live Fire Kitchen, a student-run operation located in the middle of the Pearl district. Live Fire Kitchen operates on weekends in conjunction with the farmers market and also during special events happening at Pearl.
Students and instructors use convection ovens to bake bread and pastries including savory gougeres as well as for general prep. Two conventional ovens sit at either end of the full cooking suite, which serves as a showpiece. "I've been in the industry since 2003, and I've only had exposure to a suite once," Frade says. "It makes a big difference in what and how students learn. The suite offers students a great opportunity to understand the entire production system because they are facing each other and can see everything that is done at all the stations. There's more communication among the instructors and students visually and verbally."
Students learn to communicate verbally and visually at the cooking suite.
The suite contains one fryer, which the culinary team uses to make Berkshire pork schnitzel, herb fries and garnishes. In addition to scallops for risotto, they prepare fish and vegetables on a plancha and burgers and ribeye on the chargrill.
The oven setup includes a combi oven on top, a deck oven in the middle and a proofer box at the bottom, which is primarily used to prepare bread for dinner service. The team prepares sauces and menu items such as mussels, sauteed spinach and fat rice on a pair of six-burner ranges that sit on different sides of the suite. Induction ranges maintain soups and sauces at temperature for service.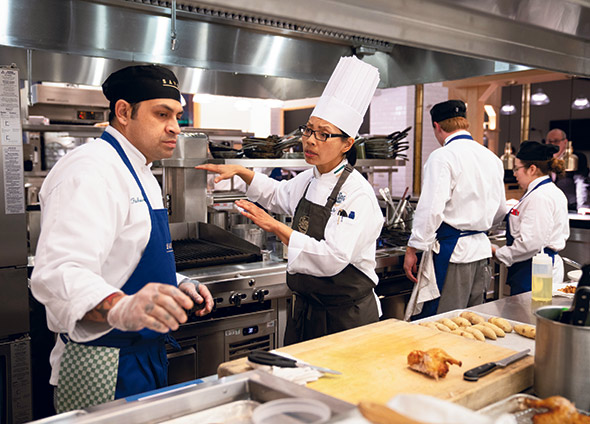 Raul Mendoza and other students learn intricacies of grilling.
The bar contains three reach-in refrigerators for wine storage, an undershelf refrigerator for all types of beverages and an espresso machine that uses refined capsules, plus a coffee brewer, tea brewer, coffee grinder and nitro coffee machine.
As students learn how to use this equipment, they delight guests with food flavors and textures that expand their culinary palate. Customers get a taste of what tomorrow's star chefs are capable of creating.
Facts of Note
Opened: January 2019
Size: 2,500 sq. ft.
Seats: 62; Savor and CIA Bakery Café share seating space
Average check: Savor, $57; CIA Bakery Café, $14.14
Daily transactions/covers: Savor, 70; CIA Bakery Café, 90+
Hours: Savor, 5:30 to 8 p.m. Tuesday through Saturday; CIA Bakery Café, 8 a.m. to 2 p.m., Monday through Friday
Menu specialties: Young chicken roasted with honey chili with fat rice and kumquats; saffron risotto; and ribeye with red wine butter. The bar and lounge area offers a menu of smaller and shareable plates such as roasted cauliflower and Brussels sprouts with toum (a Middle Eastern garlic dip).
Staff: 2 instructors, a bartender and generally 25 students
Website: savorcia.com and ciarestaurantgroup.com
Key Players
Owner: Culinary Institute of America
Culinary program dean: Brendan Walsh
Senior director of food/beverage for CIA: Waldy Malouf
Associate dean of degree programs for Texas Campus of CIA: Jose Frade
CIA faculty: Uyen Pham, chef instructor; Samantha Fletcher, hospitality instructor; Alain Dubernard, chef instructor; Will Packwood, chef instructor; Amandy Carranza, hospitality instructor; Sofia Sada, chef instructor
Architect: Clayton and Little Architects, Austin, Texas
Equipment dealer: RSI, Houston