As upscale retirement communities become more appealing to seniors, Acts Retirement-Life Communities wanted to stand out in Charlotte, N.C., and its suburbs, as well as in the industry. The answer: The Club House at Plantation Estates.
"We are looking at new ways to redefine senior living," says Stephen Eggles, the company's vice president, Mid-South region.
Plantation Estates has been in Matthews, a suburb of Charlotte, for 30 years. "Our goal is to attract a younger, more active resident who is looking for more from their retirement community," says Patrick Picciocchi, Plantation Estates' associate executive director. "The latest addition to our campus is another way for us to continue to meet the needs of the aging population and add another level of dining for our residents."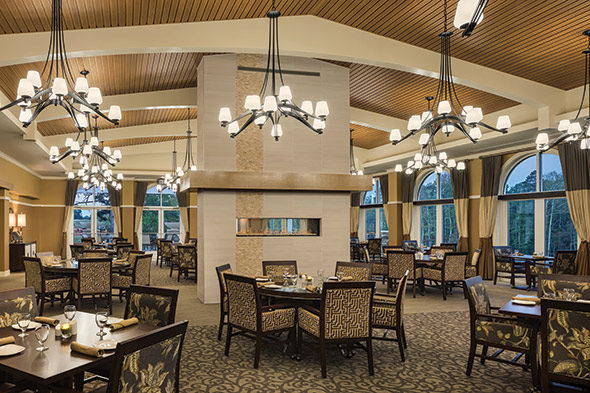 The clubhouse contains 2 restaurants and a pub for residents living in the 126 apartments and 20 villas on the 46-acre property. Dining options include upscale specialty restaurant The Chop House, the more casual Vintage Deli and The Pub, which doubles as a coffeehouse in the morning hours. An open kitchen supports all three food offerings. In addition to dining facilities, the clubhouse also contains a multipurpose room with a stage, exercise rooms, a pool and locker rooms.
A heat management system controls the environmental temperature throughout the building, which helps with energy efficiency. The facility also uses LED lighting.
Efficient Workflow
After food deliveries arrive at a loading dock, staff place them in a walk-in cooler, walk-in freezer and dry storage. The small back-of-the-house prep area contains two vertical cutter mixers, a slicer, a floor mixer, a combi oven and an induction range to prepare mise en place such as vegetables, salads, meats and cheeses. The back-of-the-house kitchen also contains a blast chiller to quickly cool several menu items.
In addition, the BOH kitchen contains a small dishwashing area with an upright, door-type warewasher, a disposer and a pot washing sink. "By this positioning of the dishwashing area, we've maximized our staff members' effectiveness and ensured that service staff is always present on the dining floor," says Steve Messer, campus executive director. "Placing the dishwasher close to the dining room allows for easy drop-off of plates, a convenient handwashing station and easy entry back onto the floor."
The back-of-the-house equipment lineup includes a combi oven, a slicer and a floor mixer.
The overall design works to ensure that cooks remain in close proximity to each other in the show kitchen, which helps with efficiencies versus having them at enclosed, self-contained stations, Messer says. "We also work on a cost per meal basis and offset higher-costing meals by cross-utilizing products brought into the kitchen as well as minimizing waste in preparation."
The Open Kitchen and Dining Options
Much of the kitchen remains visible to customers as they dine at The Chop House and Vintage Deli. "The open kitchen concept gives a nice appearance to the dining areas and also encourages communication among staff and residents," says Theresa Bova, foodservice director.
The open kitchen prep areas feature refrigerated rails and a freezer to hold ingredients close to the cookline so culinary staff can reach the food items easily and quickly. Guests watch culinary staff prepare cold meat dishes and desserts. The hot line contains a flattop griddle that staff use to sear meats and fish, which they finish off in two combi ovens. The line also contains a six-burner range, a hot plate, a salamander broiler and a double fryer.
The Chop House, which operates for dinner only, features eight menu items that change weekly, as well as daily specials. "The concept is to give our residents a fine uptown restaurant feel in the comfort of their home," Eggles says. Examples of the eight standard and two special entrees include French-cut chicken with mushroom demiglace, tricolor fingerling potatoes and broccoli florets; Durham Ranch elk meatloaf with a sweet potato black bean medley, roasted red peppers, peas, onions and sage sawmill gravy; North Carolina trout Rockefeller with spinach, bacon, pearl couscous primavera and Champagne beurre blanc; grilled bistro tender steak with parsnip potato mash, roasted Brussels sprouts and chipotle crema; and 16-ounce bone-in saltimbocca. Printed menus suggest a wine pairing for each dish.
The flow of the operation generally follows that of a traditional restaurant. For example, the servers only go into the kitchen to deliver dirty plates to the dish station. "This keeps our servers on the floor and with our residents for the entire meal," Bova says. "Servers pick up appetizers and desserts from one area and entrees from a separate area. We strive to have staff be very much in tune to ensure the food is presented all at the same time."
Staff gather all nonalcoholic beverages at a station that contains a milk dispenser, coffeemaker, iced tea brewer, cold beverage dispenser and ice dispenser. Servers order alcoholic beverages from a POS in The Chop House or Vintage Deli. The Pub staff receive a printout of the orders and prepare the drinks. A bar runner brings all beverages to residents and their guests.
Guests watch the culinary staff while they dine and overlook a beautiful pond through floor-to-ceiling windows. The warm, inviting interior space features a 25-foot-high acoustical ceiling, hanging chandeliers and a centralized fireplace that provides gentle heat while acting as a natural room divider.
Vintage Deli operates during lunch and dinner, offering guests a more casual menu than The Chop House. The menu features up to 10 daily items plus a special of the day. Homestyle entrees include grilled chicken Parmesan, build-your-own omelets and a quesadilla with salsa and sour cream. Italian and roast beef melt sandwiches, as well as European flatbreads, enhance the menu. Staff use a conveyor oven to cook pizzas, chicken pot pies and other hot entrees. Side item options include beans, coleslaw, cilantro lime rice, soup and vegetables.
The Pub opens for breakfast, offering residents house-made pastries, espresso and coffee drinks, and smoothies. The Pub also encourages residents to gather here before dinner or enjoy a glass of wine or beer on tap with friends.
The Pub offers wine, beer, coffee drinks and other beverages, as well as food prepared in the open kitchen. Photo by Sarah Mechling
"The Club House allows Plantation Estates to break the mold of a traditional retirement community and offer a more contemporary feel to an industry exploding with change as the next generation of residents are looking how to spend their golden years," Picciocchi says. "The Baby Boomers are going to continue to redefine what a retirement community looks and feels like."
Key Players
Owner: Plantation Estates in Matthews, N.C., owned by Acts Retirement-Life Communities and headquartered in West Point, Pa.
Vice President, Mid-South Region: Stephen Eggles
Campus Executive Director: Steve Messer
Associate Executive Director: Patrick Picciocchi
Foodservice Director: Theresa Bova
Executive Chef: Ryan Jones
Architect of Record: RPA Design, Charlotte, N.C.
Architect: Blue Water Design Build, Seattle: Bob Romano, Charlotte, N.C., design-build project manager
Interior Design: Perkins Eastman, Charlotte, N.C.
Foodservice Design Consultants: Camacho Associates Inc., Charlotte, N.C.: James Camacho, principal; the late Reggie Daniel, principal; and Jennifer Murphy, project manager
Mechanical, Electrical and Plumbing Engineering: Optima Engineering, Charlotte, N.C.
Equipment Dealer: Thompson & Little, Fayetteville, N.C.
Construction: Lanier/Van Sickle Construction Services, Pineville, N.C.
Facts of Note
Acts Retirement-Life Communities: Owns and operates 23 retirement communities in 9 states; 9,700 residents; 7,000 team members
Plantation Estates: A not-for-profit continuing care retirement community for people 62 years old and above. It combines apartment homes with a range of long-term care services, including assisted living and skilled care residences located within the on-site health center. Residential breakdown: 482 independent living apartments, 20 villas, 60 assisted living suites, 80 skilled care rooms. Plantation Estates houses approximately 790 residents and employs approximately 385 people.
Plantation Estates Club House Opened: September 2017
Scope of Project: A new clubhouse with a kitchen and three food concepts: The Chop House, Vintage Deli and The Pub
Size: Kitchen, 1,274 sq. ft.; The Chop House, 3,002 sq. ft.; Vintage Deli, 1,253 sq. ft.; The Pub, 709 sq. ft.
Seats: 175, including 100 at The Chop House, 50 at Vintage Deli, 25 at The Pub; plus a terrace area with another 60 seats
Average Check: Residents are on a meal program. The Chop House guests pay $16.50 for adults and $8.25 for children; Vintage Deli lunch guests pay $7.75 for adults and $3.88 for children, and dinner guests pay $13.75 for adults and $6.88 for children; The Pub's smoothies and coffee range from $2 to $4.
Transactions: Approximately 220 meals daily
Hours: The Chop House, dinner, 5 p.m to 8 p.m. and Sunday brunch, 11 a.m. to 2 p.m.; Vintage Deli, lunch, 11 a.m. to 2 p.m. and dinner, 4 p.m. to 8 p.m.; The Pub, breakfast, 8 a.m. to 10:30 a.m., lunch, 11 a.m. to 2 p.m., and dinner, 4 p.m. to 8 p.m.
Menu Specialties: Contemporary cuisine, including French-cut chicken with mushroom demiglace, tricolor fingerling potatoes and broccoli florets; Durham Ranch elk meatloaf with a sweet potato black bean medley, roasted red peppers, peas, onions and sage sawmill gravy; and North Carolina trout Rockefeller with spinach, bacon and pearl couscous primavera. Sandwiches and salads.
Staff: 10 culinary staff: a chef manager, 2 sous chefs and 7 cooks; a culinary service manager; 2 culinary service supervisors and 25 servers
Total Project Cost: Approximately $50 million
Website: actsretirement.org