As part of its effort to build a national network of service technicians, Smart Care Equipment Solutions has acquired Mid-South Maintenance, a provider of commercial kitchen equipment repair and maintenance services to the commercial foodservice industry. Terms of the transaction were not disclosed.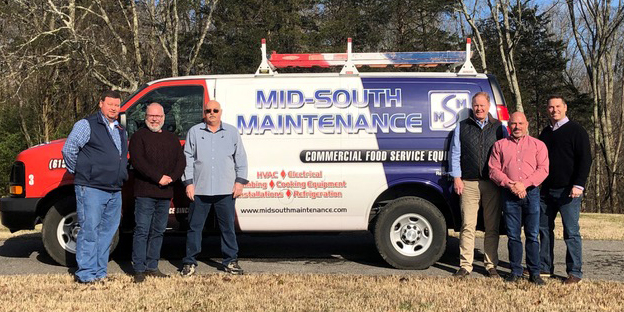 From left: Mid-South Maintenance's Gary Garrett, general manager; Dave Massingill, sales manager; and Andy Winslow, operations manager, with Smart Care Equipment Solutions' Bill Emory, CEO; and Winston Templet, founder of Mid-South Maintenance; and with Brandan Helzer, VP of business development for Smart Care Equipment Solutions.
Located in Goodlettsville, Tenn., Mid-South's scope of services includes commercial kitchen equipment repair services and HVAC repair, as well as plumbing, electrical, and facility maintenance in the greater Nashville area. "Mid-South will continue to run as an independent division of Smart Care and I believe that with our ability to tap into Smart Care's training, technical support and access to parts, Mid-South will be a better company for our customers and employees," said Gary Garrett, general manager, Mid-South Maintenance.
Mid-South Maintenance was founded in 1992 by Winston Templet, the company's sole owner, who started as a technician and built the business from a single service van. Winston's decision to sell Mid-South was driven by his desire to devote more time to his real estate business, per a release announcing the deal. Mid-South's proven history of strong service delivery is a great addition to the Smart Care portfolio of companies, including REMCO and Alpro.
This marks Smart Care's third acquisition of a service company in the last 12 months. In June 2018, Smart Care acquired Remco, an Alabama-based service agent. And in July 2018, Smart Care bought Alpro, a New York-based company. The company now has more than 600 technicians nationwide, per a release announcing this transaction.