Brew pub operators' creativity has not only kept the segment thriving but brought it to the forefront on the culinary scene. Case in point is Chicago's Band of Bohemia, a Michelin-starred brew pub that infuses culinary flavors into its beer in an effort to create the perfect pairing with its food-focused menu.
"We make beer first, then taste it in the kitchen and pick out flavor components from the beer's nuances to create dishes," says Michael Carroll, the restaurant's owner and chef. "It's reverse engineering when it comes to pairings, which allows us to create something different."
Just as its beer and food pairings are unconventional, so is Band of Bohemia's large kitchen. Not only is the size more expansive compared with the majority of today's back-of-the-house setups, so is the makeup.
Situated adjacent to the brewery, the open kitchen puts it all out on display. This includes its showpiece — a circular wood-fired grill named Gertrude.
"This custom-made round grill is a showpiece and positioned toward the dining room," says Carroll. "The idea behind it is we're able to cook all the way around it. It's like a plancha or griddle, except there also are grill grates and flattops."
Borrowing an idea from another Michelin-starred Chicago restaurant, Alinea, Band of Bohemia does all its plating on an L-shaped stainless steel tabletop.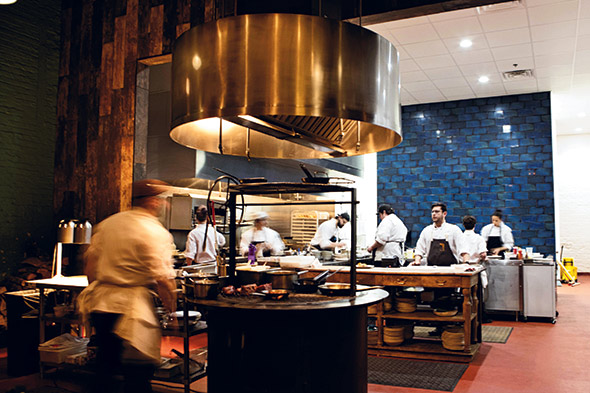 Meet Gertrude, the name of Band of Bohemia's circular wood-fired grill.
"We don't have a traditional kitchen path," says Carroll. "Instead, this creates a wide open space to play with and work on, so we can move around and be creative."
Cooking stations also are more fluid with transportable induction burners.
"The kitchen has eliminated barriers and is fluid, which helps encourage chef creativity and thinking outside the box," explains Carroll.
Band of Bohemia is just one example of how today's brew pubs are not just following trends, but establishing them.
"With the explosion in the number of breweries, it's harder to nail down trends than ever before," says Bart Watson, chief economist at the Boulder, Colo.-based Brewers Association. "If I were to underline a trend in brew pubs, it's an explosion in the diversity. They have certainly moved beyond just the pub model."
Segment Innovation
Diverse is a good way to describe today's beer market. Consumers can choose from more than 100 styles of craft beer, not including sub styles, according to Matt Simpson, a consultant with The Beer Sommelier LLC in Atlanta. "Experimentation has always been big and some trends become popular, with other brew pubs getting on board and picking up that style," he says.
Simpson cites sustainability as one growing trend, with brew pubs attempting to follow the green trends initiated by larger production brewers. This includes incorporating rain water into the process as well as the use of concrete fermenters and reusing spent grain for animal feed in exchange for food ingredients from local farms. Unlike larger interstate brewers, however, local laws restrict brew pubs in some areas.
Another recent development brings the ingredient creativity that comes with menu development into craft beer production. For example, Chicago's Forbidden Root Restaurant & Brewery crafts its botanical brews using natural ingredients, including bark, stems, flowers, herbs, spices, leaves and roots.
"We are a flavor and experience brewer, brewing our beer around the flavor we're trying to present rather than in the Germanic tradition of perfecting a certain style of beer," says Robert Finkel, Forbidden Root's founder and rootmaster.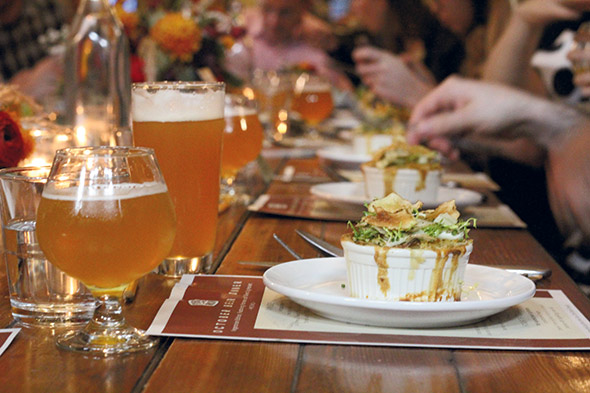 Forbidden Root founder Robert Finkel and his partner Randy Moser have concentrated on elevating pub fare without being pretentious.
Finkel and his business partner Randy Moser, a craft brewing expert who has written five beer-related books, have sought to elevate pub fare without being pretentious, while also keeping the focus on what makes Forbidden Root unique. Forbidden Root will open a second location later this year in Columbus, Ohio.
"We spent a lot of money on the installation of a state-of-the-art draft system," Finkel says. "We have 16 lines in our Chicago venue, and the care with which we handle our beer has to be worthy of the beer; hence, we clean the lines twice a week."
Equipment Updates
Brew pubs benefit from new technology and equipment innovations not seen in every foodservice segment.
"If we start with the alcohol, there is more automated equipment to reduce labor," says Darren Tristano, CEO and founder of Foodservice Results, a Chicago-based research, insights and consulting firm. "Today, there are [self-serve] growler fill stations and taps working off of wristbands and credit cards."
Add to that the fact that beer taps now serve as more than a functional element, in fact, in many instances they become a design element. "Traditional bars had a small number of taps relative to domestic offerings but with today's equipment, there is a lot more tap availability," says Tristano. "The equipment and the taps are becoming more of a showcase, where it used to be it was more about proximity and easy access. There's also more variety with the design and tap handles, which are becoming more interesting and sophisticated."
Forbidden Root's design centers around metal gravity-fed rails that suspend its beer lines, which feed into floating tap systems. "Customers can literally track the beer from the brewery to the restaurant, and the environment is much more open because of this," says Finkel. "Our Columbus location will have serving tanks, which can be accomplished in copper for show, but for us it's more about function and the overall experience. The beer has to stand on its own."
At the Chicago site, Forbidden Root has 16 taps on each side, for a total of 32 taps that are fed by 16 lines.
In terms of its back of house, Forbidden Root's hot line is 12 feet long, with one side of the coolers adjacent to a working/assembly station. On the opposite side from left to right are six burners with a salamander above, a 24-inch flattop grill and a ٢٤-inch broiler. Two bay fryers are at the end of the line. The expo side is ١٠ feet long with prep tables and plateware. There's also a cold side with one small cooler and a 5-foot prep table for salads. In addition, there is a small, 6-foot-by-6-foot prep storage with dry storage and a slicer prep table.
Another small prep area resides downstairs with a slicer and 5-foot prep table. The brewery also utilizes a slicer; stuffer; grinder; dehydrator; mixer; food processor; smoker; countertop burners; and soup kettles.
Unlike Forbidden Root, Edmund's Oast uses a fairly straightforward draft system. The Charleston, S.C., brew pub has a walk-in cooler that serves as a back wall behind the bar and the beer faucets run directly from there. With this design, the bar area does not include any kind of equipment display.
"This allows us to have what is known as a short-draw draft system," says Brandon Plyler, beer director at Edmund's Oast. "All of the lines the beer travels through are in the cooler and not very long. As a result, we have a simpler system with [fewer] question marks and hopefully less of a chance that we will have issues pouring beer." Staff clean the lines every 14 days.
Operators in the craft beer segment have increased their emphasis on the importance of clean tap lines. "In fact, many places that have this equipment educate their patrons on the importance of clean tap lines and how this improves their beverages," says Tristano.
The brew pub demographic plays a part in this emphasis. "It was always important; yet, the sophistication of the craft beer consumer base is now more literate about the type of care a venue takes when pouring beer," says Finkel. "Many times, a restaurant that has 100 lines doesn't take the time to clean them as frequently, as their beer has very different depletion rates, and a very slow moving beer's line may not need to be cleaned as regularly."
At Edmund's Oast, its tank and equipment have maxed out the facility's available space. This includes four 10 BBL [barrel] fermenting tanks and one 10 BBL bright tank, all fed by a two-vessel brewing system and a tank for heating brewing water.
According to Tristano, the amount of space on-site beer brewing equipment requires has resulted in more brew pubs emerging in neighborhoods where space isn't at a premium. "We're starting to see locations in warehouse districts and other areas that are off the beaten path but becoming trendy," he says. "The rents are lower so these operators can afford to brew in-house."
Cary Ale House took advantage of affordable rents in the bedroom community of Cary, Ill., a Chicago suburb. The 66-seat restaurant has a 12-tap draft system and, in 2017, literally broke through a 16-inch cinder block wall to add an on-site craft brewery in the space next door. At press time, the Ale House had a temporary wall up with plans to build a glass wall to separate the restaurant and brewery. Plans to design an open-air concept brewing area were dashed due to low ceilings and ventilation issues.
"We inherited a cooler, [so space is currently maxed out], but we want to expand to add six to eight more drafts," says owner Chris Panagakis. "This will allow us to have a sizable number of guest drafts, while increasing our in-house offerings."
In this five-barrel brewery, beer stays on tap for about six weeks, which allows for seasonal offerings and popular brews to return. The operation touts more than 600 different draft beers being offered since its opening in April 2015. "We were one of the first brew pubs to keep taps rotating in our area," says Panagakis, who hires out his tap line cleaning every other week as required by the state.
Container Conundrums
Cans or bottles? Growlers or Crowlers? Container preferences in the brew pub segment continue to evolve. "Half the size of growlers, the 32-ounce cans called crowlers have been around forever," says Simpson.
These containers also are more portable than growlers, as the sealed cans can be used to transport the brews more easily and off the premises. Cary Ale House, located by the town's commuter train station, has plans to incorporate crowlers into its operation for riders.
"We're hoping to incorporate a crowler machine, as many would prefer this method over a 64-ounce growler," says Panagakis. "We don't have growlers with our name, but we do fill these. If someone brings in a clean growler, they can purchase 64 ounces of the house draft."
Forbidden Root started out offering both glass and metal growlers and added crowlers to its offering last summer. "Most growlers aren't filled quickly using the expensive counter-pressure filler that we have, which is Austrian technology," says Finkel. "For us, a slight majority of our consumers seem to prefer crowlers."
Due to the easier transport, many contend the industry is moving from bottles back to cans. Since Forbidden Root switched from bottling to canning its brews, there has been a bump in revenue.
"The costs were negligible, and this is where the market is now," says Finkel. "The oxygenation levels are tighter and better in cans. We made the migration from bottles to cans, and that's the clear direction that most of craft beer is going. It is clearly the preferred choice by most craft beer drinkers who like the portability. Both formats allow for high-quality fills, but cans are perceived as higher quality by Millennials and these containers also provide an opportunity to express our brand visually."
Edmund's Oast offers growlers and crowlers in its adjacent retail store, rather than the restaurant. "In the brew pub/restaurant, we have a guest tap list that accompanies our house-brewed taps, but we don't have a ton of room for guest bottles or cans," says Plyler. "We have a three-door cooler that sits underneath the beer taps and drip trays that houses a modest-size bottle selection."
By volume and due to space limitations, Cary Ale House has more bottles stocked than cans, but both sell well. "We feel the quality is the same, but our draft sales are highest," says Panagakis. "We try to keep a sour available at all times and lighter offerings, like pilsners, along with dark beer, IPAs and higher alcohol content beer."
Roll Out the Barrels?
Though large stainless steel tanks often provide a visual representation craft beer, brewers and brew pub industries have recently latched onto a storing method long used by vintners and distillers — barrel aging.
Fortunately, this segment is not contending with the same restrictions as spirits. For example, whiskey designated as "straight bourbon" must be aged for a minimum of two years in new American white oak barrels, according to U.S. law. Because these barrels can only be used once, this is a big expense for a bourbon distillery.
Generally, it's the beers with higher alcohol content that age best in barrels. The amount of time depends on the brew. For bourbon and wood notes, the recommended aging time is one to two months, while floral and deep vanilla notes require six to 12 months of barrel aging.
Like with wine and spirits, the wood influences the beer's flavor and aroma. Almost any type of wood can be used, including oak, cedar, chestnut, cypress, pine and ash. "There has been more barrel-aged beer at brew pubs, but mainly with larger brewers due to the space required," says Simpson.
Still, it appears this beer-storing method is not yet widespread amongst brew pubs.
Edmund's Oast has barrels on the bar, but one holds whiskey and the other houses a digestif; both are for sale. Rather than beer aging barrels, Forbidden Root may add draft wine lines in the near future.
"Part of our ethos is trying to figure out how to be kinder to the environment," says Finkel. "While a draft wine system is an upfront additional cost, we would save lots on packaging costs and minimize waste. In parallel, part of what allows us to be philanthropic is making a fair profit, as well. Over time, all that waste adds up, and we believe it will be a good long-term investment."