The most recent update from the Food Service Technology Center's Cookline Project finds faster returns on equipment investments.
UCSF Benioff Children's Hospital has a distinguished track record when it comes to successful sustainability-related initiatives.The UCSF Benioff Children's Hospital (UCSF stands for University of California San Francisco) has a long and distinguished track record when it comes to successful sustainability-related initiatives. So this member of the UCSF Health system is a natural candidate to participate in Frontier Energy's Cookline Project.
The Cookline Project is an ongoing effort by Frontier Energy Food Service Technology Center (FSTC) to showcase the savings operators of all shapes and sizes can reap by swapping their equipment for more efficient items.
The UCSF Children's Hospital on the Parnassus Campus is a 15-story building that accommodates inpatient and outpatient services as well as research and educational facilities. The second floor houses Moffitt Café, which serves as the hospital's main dining facility. Open daily from 7 a.m. until 7 p.m., the cafeteria serves breakfast, lunch, and dinner for dining room patrons.
The cafe features a buffet-style serving area with an adjacent kitchen. The kitchen also serves patients via its room service platform. The main cookline has two double-stack convection ovens, a six-burner range, two (3-foot and 5-foot) non-thermostatic griddles, and two 18-inch fryers.
This project brought with it a series of unique challenges in the form of California's more stringent hospital regulations pertaining to seismic activity (i.e., earthquakes) and fire safety, according to Denis Livchak, an engineer with Frontier Energy.
All equipment, for example, needs to be bolted to the ground because of the seismic requirements. In addition, the Cookline Project was prohibited from installing demand-controlled ventilation because of requirements around air pressure and contamination prevention. "We are trying to convince the state that if installed properly, demand-controlled ventilation will not change pressure from one building site to another because these systems are designed to evenly change supplier and exhaust air," says Livchak. "Hospitals are actually great candidates for ventilation savings because they often have large kitchens, but unfortunately, current regulations prohibit them."
Special Review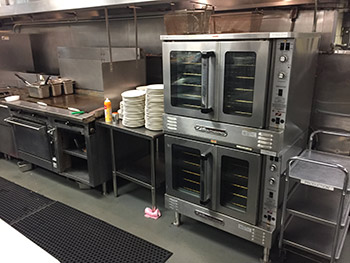 New, energy-efficient double stacked convection ovens mean more uniformity in cooking, in addition to energy savings.Everything proposed by the FSTC had to go through a special review board. As a result, the FSTC was only able to replace the convection ovens, but the situation became a real study in the potential for major energy savings. Historically, energy efficiency experts have thought only a little energy and cost savings can result from convection oven upgrades, but as energy efficient models have improved over the years, operators are finding faster returns on investment when turning to these more advanced pieces.
In the case of UCSF Benioff, the two double convection ovens were decades old, with worn sealing around the doors. Staff used these ovens to bake a variety of menu items, including roasts, casseroles and pizzas — all baked at 450 degrees F. Because of the age and condition of those ovens, equipment-replacement savings showed up fairly quickly. "The hospital was able to cut their energy use for the ovens in half, leading to a savings of about $3,000 a year," says Livchak.
Prior to the change-out, on average, the left oven stack operated for 14 hours per day and consumed 7 therms per day, while the right oven operated for 16 hours per day and consumed 8.5 therms per day. After the replacement with energy-efficient models, the left oven stack was found to use just 3.3 therms per day while operating for 14.3 hours per day. The right oven used 3.7 therms per day, on average, when operating for 14.8 hours per day.
The new, energy-efficient convection ovens also led to many operator improvements. "We talked to the operators and they really liked the cooking uniformity offered by the new units," Livchak says. "Now, they can bake more foods in the same ovens, like cookies, that won't have burned edges so they have less product loss overall."
Like many older convection oven models, the previous double stack ones at the hospital had standing pilots, which meant the burners were running 24/7. Modern ovens turn on and off based on temperature settings or have lower energy use during idle times, but recover and can get up to full temps faster with much higher horsepower. "Newer models are not only more efficient, they are able to get the same or better throughput as older models," according to Livchak.
Newer, more efficient convection ovens can also be more accurate; many have digital thermostats versus older dial knobs, which helps maintain consistent temperatures.
"UCSF Health has expanded with many LEED-certified buildings and other energy-efficient upgrades, but these ovens were bulky and hard to replace so the Cookline Project helped push them toward getting the last of their energy-draining appliances replaced," Livchak adds.
It was not possible to sub meter the range or the griddles for gas consumption because they were hard-piped in a series. Each convection oven and fryer on the main line was successfully sub metered and a daily gas energy consumption profile was determined for each appliance. The broiler in the buffet kitchen was similarly sub metered for a very short period of time; however, it was a poor candidate for replacement due to its custom cabinet configuration and low input rate. The fryers were rarely used so they also were not replaced.
All of the UC campuses are committed to best practices for energy efficiency to help reach the university's 2025 Carbon Neutral goals. UCSF Children's Hospital represents an institutional foodservice facility and a market segment willing to adopt successful new energy-efficient solutions as demonstrated in this project. The UCSF demonstration will be particularly useful to catalyzing the adaption of energy-efficient technologies in the California university/medical foodservice operations.