For the past six years, Steven Sturm has served as corporate executive chef for the 41-unit, polished-casual Firebirds Wood Fired Grill chain. Most recently, Sturm was awarded the 2016 Produce Excellence in Foodservice Award for Casual and Family Dining Restaurants by United Fresh. Here he discusses Firebirds' approach to using live fuel grills, how the menu has evolved and more.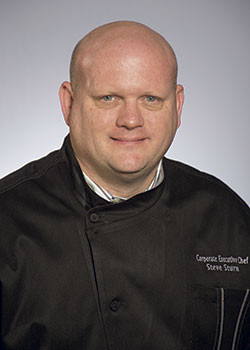 FE&S: What is the Firebird concept?
SS: We center our whole concept around wood-fired grills, focusing on steaks cut in-house and on fresh seafood. We think of it as American food with a Southwest twist — and an open, high-energy kitchen. We've been opening between about five to seven restaurants per year with steady growth; we want to make sure to maintain our standards and quality.
FE&S: How does the wood-fired grilling work at Firebirds?
SS: We use two types of 100 percent live fuel grills, and select different wood based on where that restaurant unit is located. We use a lot of hickory and oak in the Southeast, apple and cherry in the North and pecan wood out West. Pretty much every protein we serve we cook on the grills: steaks, burgers, chicken, ribs, and a lot of seafood. But we've been cooking more produce on the grills. We'll roast and grill peppers for a sandwich, and we'll grill off some onions, garlic and peppers that go into our black bean soup. We use the grills to add that great smoky flavor to our dishes.
FE&S: What's the training like for the grills? How much wood do you go through?
SS: It's definitely a different skill set to operate the wood fired grills. On a wood grill, not only are you cooking, but you also have to maintain a specific temperature by constantly loading the grill. As far as what we burn, an average restaurant goes through about 1 to 2 cords (4 by 4 by 8 ft. log) every four weeks, per restaurant. All the wood is sourced locally. We don't want to transport it to any great length because that costs a lot of money. Instead, we have great partnerships with different wood vendors around the country who provide us wood based on our specifications according to the local health departments. Some have specific requirements, such as they want them to be kiln-dried for a certain time to prevent bug infestation.
FE&S: You recently won an award for your use of fresh produce. What are some ways you showcase fresh produce, other than cooking it on the wood-fired grills?
SS: Over the last couple of years, we have focused more on the seasonality of produce and included produce as a center point for most of our innovation. Each season we'll showcase four or five new dishes. This summer, we added a turkey burger with fire-roasted red peppers, fresh spinach, pickled red onions and a sriracha sauce, and we also served a watermelon and heirloom tomato salad with fresh mozzarella, honey and peppercorn vinaigrette. We have also offered a filet steak with an orzo salad packed with radishes, grape tomatoes, cucumbers, grilled corn and a lemon vinaigrette. We're able to work with our various vendors to get what's in season in each region of the country, provided the produce meets our standards for quality and food safety.
FE&S: You handle butchery in-house. Do you have a separate space for that?
SS: We have a dedicated table and cooler that we use in all the restaurants, as well as chefs who are also certified butchers and who can track all of our yields and ensure the best quality possible. We hand-cut tenderloins, ribeye, strip and sirloin steaks, as well as fish like salmon, trout, mahimahi and tuna. Anytime you butcher in-house you keep your costs down, otherwise you pay a pretty big premium for certain cuts. Most recently we've been using the chain side of the tenderloin, which is byproduct of our tenderloin cut and use that for making homemade au jus. The chain meat is very tough but it has great flavor. We sear it and cook it with onions and herbs for the au jus.
FE&S: How do you maintain consistency?
SS: We have a great group of managers and great systems. We start with great people, hiring talented staff who are self-actualized and understand quality and then put them through rigorous training. But every 28 days, we collaborate with regional managers to go over our processes and determine what we can do better. We're constantly improving.
FE&S: As the corporate chef, how do you oversee everything that's going on?
SS: I wear multiple hats with my job. First and foremost is food innovation; that makes up my primary role. And from a
The wood fireplace instantly drives home the point that everything cooks with wood at Firebirds. Photo courtesy of Firebirds Wood Fired Grill Conceptkitchen operations standpoint, I have a hand in all of our systems. I travel regularly to restaurants to go to openings and ensure proper training and the quality of food. I also work closely with our VP of purchasing to make sure quality is where it needs to be as well as consistency of our purchases and produce. In addition, I help with kitchen design, working with our design and equipment partners.
FE&S: Has Firebirds made any changes to its equipment lineup or design recently?
SS: We went through a major change a year and a half ago, shrinking the kitchen slightly to improve efficiencies through design and cut costs. For example, we eliminated a cooler to pick up space in the appetizer area. Little tweaks like that added up to a lot of space and cost savings. We also tweaked our design, focusing on a larger bar that could be a destination for happy hour cocktails with friends or a light meal, rather than just a place to wait for a table.
FE&S: How do you cater to different types of customers?
SS: We consider everyone a potential customer because we fall somewhere between casual and upscale dining. We tend to be considered an upgrade from an Outback, but are slightly more casual and affordable than a Del Frisco's or Ruth's Chris. We also have a large group of younger diners and families. We have partnered with the National Restaurant Association's Kids LiveWell program, which requires a certain number of healthy, nutritious meals for our kid's menu. They have to be under a specific calorie and fat amount and also low in sodium and not processed.
FE&S: Firebirds does a lot for kids; tell me about the restaurant's involvement in Alex's Lemonade Stand Foundation for Childhood Cancer?
SS: We have donated over half a million dollars to Alex's Lemonade Stand — in fact, the lemonade on our menu is one of our most popular beverages. We donate a portion of every lemonade we sell to the organization. Consistent community involvement and partnerships with organizations like that one is a huge part of our company culture.
FE&S: How else do you build a strong company culture?
SS: Giving back to the community is important, but so is taking care of our vendors, the environment, and of course our team members. We have several recognition programs for doing great work. We also take our team to other places where we see a fun working environment happening, such as Pike Place Market in Seattle.
Save