From farmland to an epicenter for sustainable education, Chatham University's year-old Eden Hall Campus in the North Hills of Pittsburgh serves as the LEED Platinum-certified, sustainable setting for the Falk School of Sustainability that continues to recruit the next generation of change-seekers and policy makers.
Peter Walker, dean of the Falk School of SustainabilitySpanning 388 acres, Eden Hall Campus has room for 1,500 students. Now in its fifth year, the Falk School of Sustainability continues to grow. This coming academic year, the school expects to welcome 150 students studying in three disciplines: a Masters in Sustainability that can be combined with an MBA; a Masters in Food Studies, which includes agricultural and food processing education; and a Bachelor of Arts program that combines its curriculum with required courses taken at the main Chatham University campus.
"What the school really does is reflect a change from people just thinking about the environment from a biology standpoint to a more holistic approach for the future that combines economics, sociology, politics and other facets of sustainability," says Peter Walker, dean of the Falk School of Sustainability. "We know that oil and even soil are precious resources that have evolved over thousands of years but that can be destroyed in far less time. The question is, how do we make the most efficient use of our resources and look for substitutes if we know we're going to run out?"
The fact that undergraduates continue to show interest speaks volumes about the program. "It shows there is a demand for sustainability education and that it's no longer being seen as a bearded granola type of environmentalism," says Walker. Driving home his point, the Falk School incorporates teachings about economics, public policy, business management, and community planning and design, among other topics for a more well-rounded degree that students can easily apply to all types of segments and disciplines.
Graduates from the program have gone on to become sustainability officers, officially and unofficially for various public and private organizations; one graduate has become such for the local township, while another works with the local health authority to examine environmental data and address those problems. Two graduates came together to start up a farm-to-table salad delivery business, while others have gone into supply chain and restaurant management to work on ways to better utilize local, smaller farms.
The variety of jobs in sustainability now has grown tremendously, according to Walker. "In the past, maybe five or seven years ago, companies may have had a sustainability officer, but it was often done with an eye toward publicity," he says. "Things are really changing now. More companies know that they must understand sustainability at a higher level because they know our resources are running out and costs are escalating."
Case in point: The local gas company's CEO once told Walker that the 30-year plan was to not even sell gas anymore but to potentially convert those thousands of miles of pipe into a type of geothermal system.
The Curriculum
Eden's main dining campus is open to the public and can feed up to 250 people.The Falk School of Sustainability examines key areas of study: energy, water, food and agricultural systems to understand our role in helping preserve resources for the future while using the campus itself as an experiential learning platform.
Food Studies students complete practical courses in agroecology by experimenting with harvesting different crops on the campus farm, and they team up with local businesses to learn not only entrepreneurship but also community planning with an eye toward sustainability.
Sustainability program students conduct experiments and analysis of the surrounding campus woodlands to better understand changing ecological systems. And they work in one of the more economically challenged areas of Pittsburgh to brainstorm ways to help improve the local economy. Students also spend time with the mayor's office of sustainability to understand and align with the city's goals. Students also learn the ins and outs of energy, water and waste management, including renewable energy and other sustainable technologies and innovations.
The Campus
The campus itself serves as a hands-on, living-learning setting where students can learn about energy efficiency, sustainable design, organic farming and more firsthand.
Chatham University first acquired the 388 acres of farmland in 2008 and started constructing the campus in 2012 with what is now LEED Platinum-certified buildings. Though the sustainability school is officially five years old, last year was its first year fully running at the new campus.
Solar panels and three micro wind turbines generate 100 percent of the campus' electricity while geothermal systems generate all the heating and cooling needs by storing heat underground in the summers and recovering it in the winter.
The zero-carbon-footprint campus even has its own water system — complete with marshes and natural vegetation — to collect and treat storm water and wastewater for reuse as greywater and irrigation water. Health codes won't allow the campus to use the water for drinking purposes, but it's clean enough to run back into the ground to promote further growth.
The Dining Commons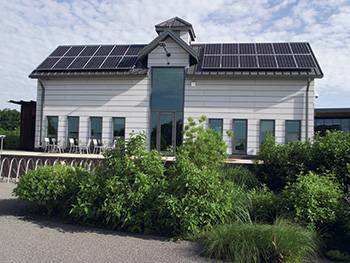 The campus grows crops such as lettuce year-round in its solar-powered hoop house.Eden's main dining commons has the capacity to feed 250 people. Open to the public, the dining commons features an open-kitchen concept where students and customers can engage with chefs and enjoy meals cooked using produce harvested on-site from the campus' farm. All cooking stations come equipped with cameras for teaching purposes.
The kitchen exclusively uses induction cooking technology, hood systems with infrared technology and demand-controlled ventilation, and a building-wide heat recovery system used to power hot water. Combined, this has saved thousands of dollars on energy bills. Years ago, Chatham University ditched its tray service to save on water, and the campus works with an outside vendor to compost disposables as well as all food waste, including animal product waste, which must be composted at high temperatures to be safe for use as a soil enhancer.
A campus-wide energy management system further tracks energy use via a dashboard system that can be accessed from anywhere.
The Farm
At the moment, 25 of the 120 acres of available farmland are being used to produce crops for consumption in the dining commons. "We try and choose crops with multiple uses and longer shelf life to maximize our space," says Walker. This includes beans, which can be sold fresh or dried and preserved, as well as staple crops like peppers, tomatoes and eggplant.The campus can even grow crops year-round thanks to solar-powered hoop houses, where many lettuces and salad veggies are grown. In addition, a closed-loop aquaponics system includes 1,500 gallons worth of tanks holding 600 rainbow trout and tilapia that create nutrient-rich wastewater for hydroponic crops. That water, when consumed by the crops, becomes purified enough to go back into the system for the fish. At the end of this year, Walker says the school plans to harvest the fish for consumption in the dining hall and start over with new fish the following year.
"If we look at where our economy needs to go, I see no alternative other than to use real-time data to help make our systems more efficient and effective," Walker says when asked about the importance of sustainability education. "While consumerism might have dominated the years following the Second World War, I view sustainability as the thing people will be most focused on in the next 50 years. This is what every business and organization in the country is having to look at right now."