College and university foodservice rises to the challenge of feeding diverse student populations with very discerning palates.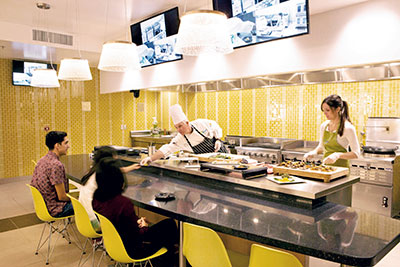 Photo courtesy of Webb Foodservice DesignCollege and university (C&U) foodservice is having its moment. Viewed as recently as 20 years ago as dowdy, bland and institutional, the segment shines today as one of the most innovative and responsive in the industry. Prospective students now carefully consider the quality of campus dining along with academic offerings, and savvy schools are wise to the fact that food — and the culture and community they can create around it — has become a powerful recruiting tool.
Except for the fact that these operators still face the challenge of feeding thousands of repeat customers multiple times every day, almost every aspect of college and university dining has been transformed. Crack a joke about the segment's notorious mystery meat casseroles today, and the 20-year-olds in line in front of you might give you a quizzical look. That's just not part of their experience.
Today, their experience consists of a variety of vibrant, healthful foods presented in design-forward, eco-friendly restaurant- and market-style retail facilities. Students dine on globally influenced menus planned and prepared by trained culinarians, certified master chefs and cadres of visiting celebrity chefs. It's fresh, organic, local produce; cage-free eggs; grass-fed meats; and sustainable seafood cooked to order and customized to individual tastes and dietary restrictions. It's pop-up restaurants, app-based ordering, food halls, Uber-style delivery and food trucks. It's dining on demand, 24-7.
Those leading the segment's evolution, which they characterize as being driven by a generation of students whose habits, tastes and expectations have changed faster and more dramatically than any in history, say it has impacted everything from product sourcing, equipment specifications and staffing to dining hall design.
Zeroed In on Z
The Mongolian Grill station is a focal point in Liberty University's newly remodeled Reber- Thomas Dining Hall. It's used for everything from stir-fry to French toast. Photo courtesy of Liberty University/SodexoMillennials may have been getting the lion's share of marketing attention the past several years, but for college and university foodservice operators, that paradigm-changing group has already moved through to make way for the new class of Gen Z students. "Campus foodservice professionals are on the cutting edge of new trends, and they have a unique understanding of what's on the minds of next-generation consumers because they serve these young adults every day and they get new customers every year," notes Sharon Olson, executive director of Y-Pulse, a Chicago-based research and consulting firm.
In a survey of C&U foodservice operators conducted last summer, Y-Pulse found that the biggest change seen in student expectations over the prior year was an increased desire for healthful and fresh items. Operators were also asked to identify the biggest up-and-coming menu items on campus. The following rose to the top:
Breakfast comfort foods reflecting a wide range of cultures, available all day
More authentic and varied international offerings, especially Mediterranean, Southeast Asian, Korean and Middle Eastern
Fresh, local and farm-to-table offerings
Sustainable seafood
Hot, spicy and more adventurous flavors
Healthier grab-and-go and late-night options
Plant-based menus
"We've been doing quite a bit of research regarding Generation Z, looking at what drives them, how they like to be communicated with, what their palate is, how they think, etc., to stay ahead of the curve," says Dawn Aubrey, associate director of housing and dining services at the University of Illinois at Champaign-Urbana and current president of the National Association of College & University Foodservice. "Of course, any time you try to define a generation, the real definition typically occurs much later, so it's a work in progress. And it also requires taking a look at what is occurring in hospitality in general, taking into consideration what is happening in K-12 and what the experiences are of these students who are coming to us."
So what specific characteristics do those college and university dining programs working hard to stay ahead of the curve share? Here are several attributes that together help to define the new paradigm in college and university foodservice.
Community Focused, Life Enriching
Modern campus foodservice does so much more than simply feed hungry students. The
Ohio University transformed its old Boyd Dining Hall into the dynamic new West Green Market District, which opened last fall. It features five micro restaurants, iPad ordering stations, a variety of seating options and the Boyd Market retail area. Photo courtesy of Ricca Design Studiosfundamental role that dining plays has evolved to be as much about building community and providing experiences as about offering nourishment.
Foodservice operators and designers alike are increasingly focused on creating the "third-place experience," taking a cue from commercial operators such as Panera and Starbucks, says
Costel Coca, design principal at Anaheim, Calif.-based Webb Foodservice Design. "There's school or work and there's home, but how do you create this kind of third-place getaway? That's what companies like Starbucks have done so effectively, and that's where much of college and university dining is headed," he says. "When we start thinking about kitchens and foodservice, we're now starting with the experience and the story we want to tell in the facility before getting to its functional aspects. It's about a couple of key factors. One is a desire to create a neighborhood vibe, and that's being done, in part, via micro restaurants. We're designing restaurants more than we are food stations, and there's a heightened focus on the aesthetic value of the facility."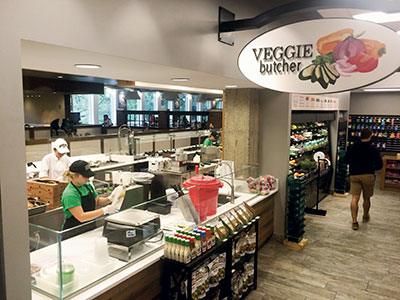 Ohio University's new Boyd Marketplace includes Veggie Butcher, a retail concept at which students can have fresh fruits and vegetables washed, cut and packaged to their specifications. Photo courtesy of Mark Brunton/Ohio UniversityThe second big component, Coca says, is a desire to build a community culture through foodservice. "What does this third place do to the actual culture of the school? How can we engage students and promote interaction within the facility?" he asks. "It doesn't necessarily have to be about the food, but it's a neutral place where there's engagement with the community, a shared sense of well-being and inspiring food experiences."
In conjunction with a major renovation last year of its main dining facility, Reber-Thomas Dining Hall, Liberty University in Lynchburg, Va., transitioned to an all-you-care-to-eat, marche-style dining platform that helped it land the No. 1 ranking on BestColleges.com's 2015 Best Dining Halls list. In addition to offering a diverse array of on-trend cooking stations and allergen-free options, the new hall succeeds in serving as that type of third place.
"With the new design and the new freedom dining plan, students will come in, grab a cup of coffee and just hang out with friends," says Anthony Delligatti, district manager for Sodexo, Liberty's contract management partner. "We had a Cram Jam event toward the end of the semester, and a group of kids came in with a Monopoly board. They'd already eaten dinner and had probably gotten coffee or dessert, but then they sat down to play a game and relax. So we see students now coming in just to have a comfortable place for social interaction in a food-focused facility. That's what we've built."
Aubrey agrees that the need to provide spaces where students can collaborate around food is growing. "I see more and more students working together on projects or assignments over a meal," she says. "I think that's due in part to teaching methods that are shifting from the traditional test we would all take individually to more collaborative, group-based projects."
Taking front-of-house action cooking stations to the next level, themed micro restaurants and modern retail markets are feeding students' strong interest in fresh and healthy foods, food production systems and cooking. Tarah Schroeder, LEED AP, principal and director of sustainability at Ricca Design Studios in Denver, Colo., says dining departments are eager to incorporate platforms that provide students with food-related life skills. "We're seeing more schools wanting to incorporate teaching kitchens, inviting more chefs in not just to cook for but also to educate students. Schools are creating opportunities for students to get involved in understanding more about food production and seasonality," she says. "There's a lot of momentum building in life skill training."
Ohio University's newly renovated Boyd Market, which won a NACUFS 2016 Loyal E. Horton Dining Award in the Retail Sales — Multiple Concepts/Marketplace category, is a case in point. Among the concepts included there is Veggie Butcher, a dedicated retail area where students can shop for fresh fruits and vegetables that a staff member then washes, trims and chops for them free of charge — often for recipes students learned in cooking classes. "It might not seem like a big deal, but it is," Schroeder notes. "It goes hand in hand with learning how to shop for and cook with healthy foods. Those are important life skills."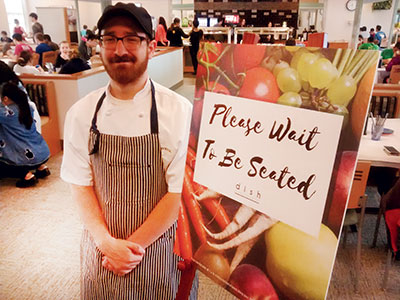 Last year, the University of Illinois at Champaign-Urbana unveiled a new specialty restaurant concept called Dish. Billed as a food collective, it features ethnic and regional specialties served up dim-sum style for tasting and sharing among groups of students. Photo courtesy of University of IllinoisCooking classes are a big hit at the University of Illinois, too. "We're finding that Gen Z kids really do like food to be an experience," Aubrey says. "And it's something that's become quite social. They love a cooking class — being able to prepare a meal and then enjoy it together. We'll get groups of students together with our chefs and teach them how to roll sushi or make tamales."
Diverse, Globally Influenced
When asked to name students' biggest complaint about campus dining programs, directors say it's historically been lack of variety. At many schools, that gripe has now gone the way of the steamtable pan.
The transition to marche-style dining facilities with multiple themed, live-action cooking stations and, more recently, to commercial-style micro restaurants, food halls and Whole Foods-inspired markets, effectively removes any vestige of monotony. So, too, has the need for operators to provide a growing population of students who have special dietary issues with appropriate and varied food options.
Roots Café at the University of Massachusetts Amherst's new Honors Residential Complex features fresh, from-scratch items such as artisan pizza, mac and cheese, and house-roasted meats. Photos courtesy of UMass AmherstKen Toong, associate director of dining at the University of Massachusetts Amhurst, leads the country's largest — and one of the most award winning — dining program based on revenue. His team focuses on avoiding monotony by creating craveable, memorable food experiences. "You can put out a salad bar with lots of items on it. It looks like great variety. But if it's always the same format and the same assortment, it gets boring pretty fast," he says. "Traditional salad bars aren't as popular anymore for that reason. Instead, we moved to create memorable experiences by preparing the salads in front of students. We make it exciting. Our Greenfield's concept is one of our most popular. The students like to see the chefs and interact with them. They want to see the ingredients. The freshness impression is important to them. We don't serve food anymore; we serve experiences."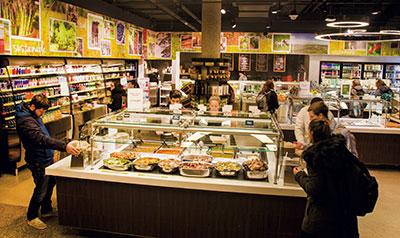 Whole Foods-style retail markets, featuring hot and cold fresh food bars, are replacing all traditional convenience stores on the University of Massachusetts Amherst campus. At UMass and elsewhere, such experiences include a growing array of the type of globally influenced cuisines that Generation Z has grown up with. Whether international students or American kids for whom ethnic cuisines have become mainstream favorites, this is a generation that craves global flavors.
"Most students don't grow up eating home-cooked meals anymore. Mom and Dad both work, and if they're all going to eat together, it's usually with someone calling and saying, 'Hey, what do you want me to pick up tonight?'" says Joie Schoonover, management consultant at Rippe Associates and former director of dining and culinary services at the University of Wisconsin-Madison. "They grow up eating Thai, Mexican, Indian — and from authentic ethnic restaurants, not Taco John's or Taco Bell. They have much higher expectations, which means we have to kick things up a bit."
Meeting those expectations has seen college and university operators incorporating a world of new equipment options, adds Terry Pellegrino, principal at Rippe Associates. Stone hearth pizza ovens, rotisseries and charbroilers are now joined by Mongolian grills, tandoori ovens, sushi rollers, display cooking woks, smokers and teppanyaki grills. "It's not just flat-top grills anymore," she says. "We're using a wide variety of things to be able to accommodate every ethnic cuisine we can imagine and produce it as authentically as possible."
One of the first things students see when visiting Liberty's Reber-Thomas Dining Hall is the Mongolian grill station. It's a focal point in the room and, while initially intended for customized stir-fry preparations, it's an example of a specialized piece of equipment that can serve many purposes. "We also use it to prepare everything from Philly cheesesteak and Indian specialties to pancakes and French toast," Delligatti notes.
Sonoma State University's new Student Center dining experience, called The Kitchens, features multiple micro restaurants — including Passport for international specialties — and a variety of seating options.Toong says the hottest cuisines on his campus today are Asian, Southeast Asian in particular. Wok and fresh noodle stations serving up bowls with students' choice of broth and/or toppings remain especially popular. The same applies to Indian specialties, complete with naan baked fresh in the tandoori oven. At breakfast, a popular new addition available alongside oatmeal is congee, an Asian-style rice porridge. And sushi is a campus darling. "We serve about 4,000 sushi rolls every night," he says. "It's all made by hand, but we're now hoping to get a machine so that we can make more and sell it at retail and concessions as well."
Transparent, authentic and high design describe many of the newest campus foodservice venues. Sonoma State University's new Student Center features multiple micro restaurants including Slice for hearth-baked pizza and pasta. Photos courtesy of Webb Foodservice DesignSecond to Asian, Toong adds, is Mediterranean cuisine. "These students really believe in healthy eating — it's not just lip service anymore," he says. "They like the Mediterranean diet, which focuses on olive oil, small amounts of animal protein, beans, and lots of fresh fruit and vegetables."
Asian cuisines top the list of popular ethnic cuisines at the University of Illinois, too. According to Aubrey, the school has the largest number of international students of any public university in the United States, the majority of whom are Asians. "They're coming to us from very different experiences," she says. "We've tailored our menus to include items that both our international and domestic students like. Interestingly, there's no longer much separation between the two."
Popular recent additions to University of Illinois menus include customizable bibimbap and fresh sushi rolled on a machine sourced from Japan that enables the program to meet high-volume demand. A popular new specialty restaurant on campus called Dish plays to both the demand for authentic ethnic cuisines and what Aubrey says is a strong inclination among Gen Z diners for social eating experiences.
University of Delaware's Rodney Dining Fresh Food Company features 13 points of service, including a Mongolian station, a gluten-free station, a vegan station, a kosher station, a full-service bakery and two produce markets. Photo courtesy of Ricca Design Studio"Because of their busy schedules, students will usually have a meal or two by themselves, but they also share meals as a group, which led us to create Dish," Aubrey says. "We call it a dinner collective, and we theme each night's menu around a different type of cuisine. It might be Mediterranean, Southeast Asian or Middle Eastern. We recently did a combination of Turkish, Lebanese and Persian. The menus feature small tapas or dim sum-style servings. The students place their orders, and then we bring the dishes out on trays or platters for family-style service. It's been hugely popular."
From a facilities design standpoint, Pellegrino says the trend toward more authentic ethnic cuisines goes hand-in-hand with the trend toward creating more specific destination dining options on campus. It's all part of providing the variety and authenticity students want.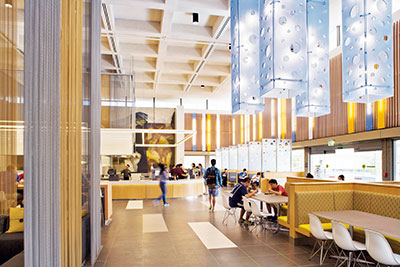 Campus dining today is about much more than nourishment. State-of-the-art facilities make engagement, entertainment and education integral design features, such as the demo kitchen within UC-San Diego's new 64 Degrees restaurant. Photo courtesy of Webb Foodservice DesignCoca agrees, noting that schools embrace a heightened focus on retail-style dining. "We do a lot of work on residential dining hall facilities, and in the recent past, that's been about trying to create diverse experiences and a more restaurant-type setting, but it was still pretty generic. They still had the traditional dining hall and all-you-care-to-eat format. Now, we're seeing a lot of universities going away from that model and toward more retail-style environments. It gives us an opportunity to create destinations and be very intentional about the food offerings that can be provided."
He adds that flexibility in dining-venue design is also now paramount. "Fifteen years ago, we were looking to design facilities to last 30 years. Those days are completely over," he says. "We have to be much more flexible and stay on top of trends. We've also had to change the way we think about equipment specs. In many cases, we know that the return on investment for heavy-duty pieces isn't there anymore."
Healthy, Fresh, Transparent
As last year's Y-Pulse survey confirmed, demand for fresh and healthy foods on campus remains a leading trend. Exhibition cooking done to order using fresh ingredients displayed at stations or in micro restaurant open kitchens has become standard. Fresh juice, aguas frescas and smoothie bars continue to replace traditional soda machines (except where contracts with soft-drink companies still influence selections). And retail markets stocked with fresh food bars for self-serve, weigh-and-pay convenience, espresso bars, cold-pressed juices and other functional beverages are replacing traditional c-store formats.
Stanford University's Florence Moore Hall, renovated in 2013, exemplifies modern campus dining's focus on sustainability. That includes purchasing from local farmers and maintaining on-site produce gardens, featuring fair-trade coffees and cage-free eggs, going trayless and composting food waste, among other initiatives. Photo courtesy of Ricca Design StudiosMore menus feature smaller animal protein portions — often more an optional complement to a plant-based dish or a side item versus the center of the plate. And the move to more plant-based entrées and lower-sugar desserts and beverages keeps gaining momentum, thanks in part to guidelines issued by the Menus of Change initiative.
"The largest burger we serve now is three ounces," Toong says. "Last year, we reduced it to four ounces and this year to three, and we saw no resistance. The students don't eat three square meals a day anymore. They graze throughout the day, so the portion sizes and preparations have to change accordingly. And we now have to always make sure that we have healthy options available to them, even when they want to indulge. Late at night when they want pizza, they now want thinner crusts and fresher, healthier toppings."
Toong says an overall focus on transparency represents a critical component of the shift toward more healthful menus, whether by meeting increasing student needs for allergen-free foods or communicating messages about nutritional content, ingredient origin or sustainability. With an infinite amount of information available instantly at their fingertips, and with greater interest in health, nutrition and environmental issues than any generation before them, Generation Z fuels the need for transparency.
"Everything is now out in front of the customer, so it has to look nice and be easy to clean," Toong says of how equipment plays in to these trends. "We need more equipment that can display the food and help us create a wow factor. It needs to become more versatile, mobile, sexy and appealing from a presentation standpoint. Everything has to be transparent. They want to see how we clean and prepare the food and how we finish it off."
College and university operators increasingly want display cooking equipment that's designed to help them tell the story of the foods being prepared, Toong adds. "It would be great if it was easier for us to be able to incorporate signage to tell a story, where we could write directly on it or insert signs that tell where the kale in the dish was raised, what time it was harvested, how many miles it traveled from the farm to campus."
Fast, Mobile
While Gen Z students demand food that's fresh, authentic, transparent and prepared to order, they also want it where they want it, when they want it and without a wait. C&U operators and designers use technology to help meet the need for speed and convenience.
"We're designing for Gen Z now, and ease of ordering and speed of service are very important," Schroeder says. "Apps, kiosks, mobile ordering and venues designed to accommodate express pickup and grab-and-go are becoming part of the conversation for every project. Even at schools that aren't quite ready to implement app-based ordering and express pickup stations, we're being asked to ensure that spaces we're designing have the flexibility to add that easily later without having to reconfigure the kitchen."
At UMass, Toong's department is leveraging new technologies in a number of ways and finding innovative solutions to get information, access and food to students faster. "We created our own social media apps to be able to show students our menus and which dining commons are busy or not," he says. "We have express lines in all of our retail locations. Our mission is to have no more than a five-minute wait, and we want to do it even faster. We're testing a new order-ahead service similar to what Panera is doing, where you can just come in and pick it up. But we do almost $15 million in one retail location, serving almost 10,000 customers over eight concepts, so we want to be sure we're going to be able to handle it."
UMass also offers limited delivery on campus — currently items like wings, sushi and pizza delivered from 5 p.m. to 3 a.m. — but is looking to expand that service to daytime delivery as well. "We've talked to a couple of delivery companies about providing their services for us, but we're concerned about the fact that they also deliver for off-campus restaurants," Toong says. "We want to protect our brand, but mobility and portability are important to us. I can envision the day when we'll offer Uber-style delivery — pretty much just like room service. We're not far off from that."
Sustainability Matters
Tarah Schroeder, LEED AP, principal and director of sustainability at Ricca Design Studios, says college and university foodservice operators have long been focused on sustainability, in part because of the high volume of food and waste they produce. Here, she weighs in on key topics driving the sustainable campus dining conversation today.
Local: Everyone wants to bring in more local foods, but there's a challenge with that. They might want to feature local tomatoes, for instance, but can they even get enough for every meal on campus that includes tomatoes? It's just not possible. Most have to pick and choose. Maybe a particular platform can highlight more seasonal, local produce along with organic, healthy and allergen-free dishes while others don't.
Food Waste: It's the No. 1 conversation we're having around sustainability, maybe because it's a little more visible and students understand it and can participate. A lot of schools have made tremendous reductions in waste with just-in-time preparation and with initiatives like going trayless. But beyond that, there are big challenges. It starts with understanding your local options. Who can you partner with to take your food waste and use it for composting? Is there a wastewater treatment plant in your community that has an anaerobic digester? Can you deal with it yourself if you're just trying to reduce waste to landfill? It's a lot to ask dining services to try to compost on site. A lot of manufacturers have rushed to embrace the focus on food waste, offering their own alternatives for digesters, dehydrators, etc., but those are expensive, and each has its challenges. Some use huge amounts of water, some create effluent that doesn't pass local codes, etc.
Farm-to-Table: It's still growing, and it means we need more back-of-the-house space for produce washing and prep and more solutions to help operators accommodate local and seasonal items. To that end, we may see a resurgence in commissary facilities that enable minimal processing and preserving of seasonal produce items for use throughout the year.
Greenwashing: So many of the strategies being touted as sustainable are really now just part of good design. The market that we're in is such that doing some level of sustainability, like using Energy Star equipment, is just baseline. You need to step up your game to be able to say you're pushing the envelope on sustainability today.