A number of operators are reinventing the steakhouse segment with updated menus, sustainable meats and modern decor in an effort to attract a wider demographic.
Swift & Sons' decor draws inspiration from the office of meatpacking revolutionary Gustavus Swift.Over the last decade the steakhouse paradigm has shifted from the traditional, masculine format with a limited menu of huge steaks, creamed spinach and whiskey to an updated model geared more toward women, families and Millennials. And this trend has gained even more momentum over the past two to three years.
In the U.S., there are approximately 3,400 steak and seafood restaurants, all of which are classified as independent or having less than 10 units, according to Chicago-based research firm CHD Expert. Thirty-eight percent of the operations classified as family steak/chophouses generate annual revenues between $2.5 and $5 million. Another 34 percent of restaurants fitting this classification report yearly sales between $1 million and $2.5 million, and 20 percent record sales between $50,000 and $1 million, according to CHD Expert's March 2016 data. Success appears to be the hallmark of these operations, as 63 percent have been in business five or more years.
"Many old-line steakhouses, like Smith & Wollensky's and Del Frisco's Double Eagle, have introduced smaller, more casual prototypes, such as Wollensky's Grill and Del Frisco's Grille, aimed at catching younger diners with taproom/grill ambience and more reasonable prices," says Dean Small, founder and CEO of Synergy Restaurant Consultants, located in Newport Beach, Calif. "There also are players like STK and Edge Steak & Bar that sought to define the new steakhouse model from the get-go."
The new steakhouse format is more casual than formal, with menus offering shareable items, unique appetizers and smaller, more affordable steaks and chops, as well as lighter items, such as seafood and salads. Atypical steak cuts, like sirloin tip, along with beef-based comfort foods, such as burgers and meatloaf, have become more commonplace in these operations. Instead of heavy, calorie-laden sauces, flavor is more apt to come from rubs, smoking and sides.
In developing these menus, today's newer steakhouses continue to follow overall food trends. This includes sourcing more beef from local purveyors and using more high-end grass-fed, natural, organic and dry-aged varieties.
Steakhouse decor now tends to be more open and typically includes an exhibition kitchen that showcases signature cooking techniques using salt brick, planking, sous vide and sear roasting. These operators also place a greater emphasis on craft beer and cocktails, in addition to the customary wine offerings.
With beef prices rising, steakhouse operators have had no choice but to adjust. "Smaller portion sizes and lesser premium cuts, such as bistro steak accompanied by side dishes on the plate, offer greater value and lower food costs, while premium cuts and other types of higher-end beef justify premium prices," says Small.
Along with more diverse menus, today's steakhouses have combined both high- and low-tech production in an effort to showcase meat quality. "Exhibition kitchens have put the focus more squarely on attractive theatrical cooking equipment, such as state-of-the-art grills, planchas, infrared broilers, high-BTU charbroilers, wood-fired grills, smokers and other high-temperature platforms," says Small. "Temperature- and humidity-controlled butchering facilities are sometimes on display as well."
As the steakhouse segment continues to evolve, operators will continue to differentiate their menus and the production process. "We will see more open kitchens with unique theatrical cooking platforms," says Small.
Paying Homage to History
Swift & Sons' menu offers seven to eight cuts of mainly grain-fed (rather than grass-fed) beef which accounts for a rich, buttery flavor.When business partners Chris Pandel, Rob Katz and Kevin Boehm decided to add a Chicago steakhouse concept to their Boka Restaurant Group roster, the goal was to pay tribute to the city's long history of stockyards and meatpacking. The trio went so far as to name the restaurant after Gustavus Swift, founder of the famous Swift meat emporium, with the dining room an eclectic take on his office design.
"We took a lot from that history and let that influence Swift & Sons from both a menu and design standpoint," says Pandel, who serves as executive chef for Swift & Sons.
Opened in the fall of 2015, the concept was in the works for almost three years. The partners settled on space in a 100-year-old cold storage building that also houses Google's Chicago location. Since the facility's 10 stories had previously served as refrigeration and freezer storage for processed meat, the team's first order of business was to defrost the entire building, a time-consuming ordeal.
Eventually, the first-floor corner space was transformed into a restaurant that seats 100 in the tavern and 80 each in two separate dining rooms. A private dining area seats up to 70, and a 60-seat oyster bar, aptly named Cold Storage, sits in the front of the building.
Creating the menu took almost three years. "The first thing we did was source our beef, which took us two and a half years to do properly," says Pandel. "There are a ton of beef purveyors in Chicago, but we went through the process of tasting copious amounts of meat."
In addition to meat flavor, the feeding process was a key consideration. As a result, the team ended up choosing small purveyors. "We looked at who was doing it correctly and wanted a connection to the folks raising the animals," says Pandel. "We buy prime beef, which is not the cheapest thing to do but is part of the business model. We balance this out by running a lower labor cost."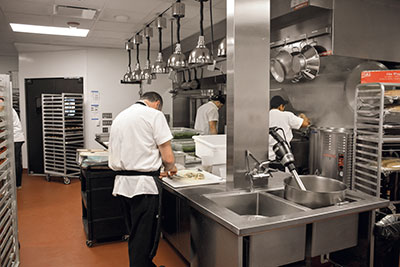 The Swift & Sons kitchen only comprises about 15 percent of the restaurant's space.Swift & Sons' menu offers seven to eight cuts of mainly grain-fed, rather than grass-fed, beef, which accounts for a rich, buttery flavor. These include porterhouse, rib eye, filets, bone-in filets and Kansas City cuts. In terms of sides, the ubiquitous classics are offered, such as creamed spinach, Caesar salad and lobster bisque. The menu also features seasonal and more unique offerings, including a chopped salad with locally sourced vegetables and house-made pasta. The restaurant's pastry program is known for its Boston cream pie.
"With steakhouses, people's expectations come into play, since 90 percent of our guests know what they want to eat when they walk in the door," says Pandel. "Still, we take chances with diners [when it comes to the menu] so they can have a unique steakhouse experience."
The back of house only comprises about 15 percent of the restaurant's space. This doesn't include the oyster bar's 10-foot-long hot line, which consists of a Spanish plancha, French flattop, single fryer, small steamer and charcoal grill, which also serves as an oven. This area also includes a small cold section.
The main kitchen includes a steam-jacketed kettle, tilt braiser, two sets of double convection ovens, six-burner stove, cook-and-hold oven and 5 10-foot-by-10-foot walk-in coolers. Pastry production shares cold storage with the main kitchen. The 20-foot-long main line has two fryers and four ranges with French flattops — one with a cheese melter above and the other with double shelving to store pots and pans. This line also includes a wood-burning grill and double broiler, the engines of the kitchen.
"We are a high-volume restaurant, and the broiler is a mainstay and the only station manned by two people," says Pandel. "More than 50 percent of our menu is steaks, and all bone-in meats are cooked on the wood-burning grill."
In the months ahead, Swift & Sons plans to utilize half cows from smaller ranchers, with an eye on the type of feed used, and incorporate lighter menu items to complement its steak offerings. "With this concept, our goal was not to reinvent the wheel, but to make it a good wheel," says Pandel.
Sourcing Sustainably and Seasonally
The open kitchen at Miller's Guild is in full view of the dining room's 82 seats, which enables customers to interact with the cooks during the production process.Located a nine-iron shot away from Amazon's headquarters in Seattle, Miller's Guild evokes the spirit of a boutique steakhouse that is both familiar and refined. Opened in December 2013, the restaurant's site at the base of Hotel Max represents a departure from this historic building constructed in 1926.
"We wanted the restaurant to have an urban feel, and many say it would fit in New York City's Soho neighborhood," says Jason Wilson, chef at Miller's Guild.
There is still no mistaking that this is a steakhouse, as the front-and-center, 36-inch wood grill not only lends to the atmosphere but also provides a unique flavor to the dry-aged sustainable beef sourced from local ranchers and producers. Miller's Guild is also known for its extended 120-day dry aging process for its bone-in steaks.
Staff prepare seasonal and wild sides, such as roots and greens, on the grill. Signature items include beef fat brussels sprouts and grilled cauliflower steak dipped in olive oil, seasoned with curry, and served with olive salsa.
Being located in the Pacific Northwest, the fresh fish also occupies a prominent place on the menu. Seasonal offerings include albacore tuna in the summer and salmon and halibut in the spring.
Customers sitting in the 82-seat dining room have full view of the open kitchen, which enables them to interact with the cooks during the production process. "Customers can sit at a 22-foot-wide butcher block counter and they can throw logs on the grill fire," says Wilson. "It's an interactive experience."
Miller's Guild customers can sit at a 22-foot-wide butcher block counter and throw logs on the grill fire.The back-of-house lineup includes a 36-inch flattop designated for root vegetables and a pair of six-burner ranges with convection ovens underneath for preparing vegetables and fish. This area also houses two fryers, one with canola oil for vegetables and the other utilizing rendered beef fat to fry brussels sprouts, fries and potato chips.
The majority of butchery and prep occurs at an 8-foot-by-6-foot butcher block center piece counter, located behind the wood-fired grill and hot line. This area provides the space needed to prepare whole lambs and pigs or large fish. Staff also use this space to make sausages from scratch.
Wilson decided to forgo sous vide cooking, which was the main method used at his first restaurant, Crush, and instead implemented a cook-and-hold process at Miller's Guild. "The cook-and-hold cabinet, where we can rest our steaks, has been a crucial tool for us," he says. "Instead of grilling and then resting the steak in a warm area, we are able to hold it at an exact temperature with moisture, then heat the meat on the grill before serving. This has helped improve consistency."
Using immersion circulators to prep eggs prior to frying them increases consistency and efficiency too. "After sticking eggs in the immersion circulators, we use the flattop for frying," says Wilson. "The cooks are really enjoying the ease of use this precooking provides."
The kitchen also includes a small bakery for preparing pastries, quiches, muffins, cookies, bread, buns and ice cream. Equipment includes two convection ovens with steam injection and two standup double-door freezers, one for storing savory products and the other for sweet items.
Plans for the year ahead include expanding the butcher's counter into a 10-seat chef's table and incorporating a 6-course tasting menu, which was undergoing testing at press time. "We are approaching this like theater, scheduling many rehearsals before the official rollout," says Wilson.
New Take on Tradition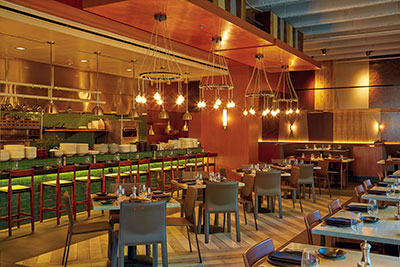 Knife's 73 seats, along with 10 counter seats, face the open kitchen.When chef John Tesar was asked by a Dallas investment firm to transform a nine-year-old restaurant in the city's Kimpton Hotel into a steakhouse, he was flattered but hesitant to enter such a clichéd and competitive segment.
"I tend to be unique with my concepts and was currently operating Spoon, an innovative seafood restaurant, at the time," he says.
After deciding he was up for the challenge, Tesar visited as many steakhouses across the country as possible, determined that mediocre meat, terrible sides and overpriced checks would be absent from the new restaurant, Knife.
The first objective was to partner with small ranchers in order to monitor the feed program from beginning to end. "Working with these farm partners makes a difference," says Tesar. "We don't have consistency issues, and the feed program reveals itself in the dry box. I also do my own grading with each piece of meat and have become what I call a meat sommelier."
Tesar then met with famed chef Mario Batali, who hooked him up with partner/restaurateur Joe Bastianich to learn how to dry age meat. This involved implementing a custom meat locker that holds different ages of beef up to 240 days.
Knife employs a custom meat locker that holds different ages of beef up to 240 days.Dry-aged steaks are cut 5 to 7 ounces larger and served with the bone in. Knife's steak offerings steer customers toward different flavor profiles, while the menu classifies cuts and the aging process as New School, Old School and Exotic. This is how the concept provides value, along with more affordable pricing than is typical for this segment.
"We run a good 37 percent to 38 percent margin on food costs, and we work on a formula of 50 percent on steaks," says Tesar. "We provide an enhanced, quality steak experience with lower check averages, which helps keep hotel guests on the property." Knife's 73 seats, along with 10 counter seats in front of the open kitchen, are typically filled on a nightly basis with a mix of tourists and locals.
Despite the unique procurement method and aging process, culinary staff use traditional methods to prepare steaks under a broiler that goes up to 800,000 BTU. The exception is alternative cuts, which are cooked by sous vide and then finished over a live fire. "Texans love unique flavor, so I came up with the idea to sous vide alternative beef cuts, like sirloin flat and tri tip at 135 degrees F for 45 minutes," says Tesar. "This cooked the meats perfectly to medium rare, prior to finishing over a red oak fire."
Culinary staff use a cast-iron pan over a fire to prepare lean meats, including filet mignon. Burgers are cooked on a plancha, and seafood is prepared in steel pans over French flattops. A convection oven roasts chickens and bakes bacon tastings. "This is a sleek, efficient line where everything has a purpose," says Tesar. "All items have a classic foundation of French or modern cooking."
Signature sides range from rich mac and cheese made with béchamel, sharp cheddar and Vermont white cheddar served in cast iron pans to salsa verde french fries. Dry-roasted okra with tomato and bacon is popular, as are the heirloom tomatoes served with sea salt and olive oil. Tempura onion rings are prepared using a method that ensures the breading stays intact. Knife also has a full charcuterie program that includes dry-aged foie gras.
While Tesar was initially hesitant to enter the steakhouse segment, now he is looking to expand to other states. "We hope to take the Knife brand outside of Dallas and are currently working on a site in Memphis," he says.