A welcome change in interior design and kitchen facilities brings a vital boost to this center that serves people in need.
The gymnasium functions as a multipurpose space for dining, meetings, activities and sports. Photography courtesy of Aria Group Architects, Inc.; photography by Laura Lencioni, marketing coordinator, Aria Group Architects, Inc.When entering the Young Men's Educational Network (YMEN) in Chicago's North Lawndale neighborhood, one sees a brightly decorated facility with an inviting ambiance. On weekdays, up to 300 people may enjoy a meal or activity in the gymnasium. On Saturdays up to 300 people sit at round tables, converse and eat family-style lunches assembled and prepared in a renovated kitchen. The history of this vibrant environment is nothing less than a touching and remarkable story of dedication and commitment to supporting people in need and changing the course of history.
In November 1996 Michael Trout opened the Young Men's Educational Network (YMEN) in North Lawndale, about three miles from downtown Chicago. YMEN serves as an educational and mentoring resource for boys and young men of this neighborhood. The organization provides resources and holistic youth programming, including academic support, leadership development activities and community service opportunities. In 2012, YMEN initiated a small program for girls and women called PEARL. Today, the funding to support half of the $600,000 budget comes from private family foundations and the other half from individual donors. The program doesn't receive government support.
Trout's intimate familiarity with the community explains YMEN's existence and continued development. A graduate of Wheaton College, Trout moved into the North Lawndale community with his wife in August 1992. "We heard of great work being done at local churches in this community, which over two decades had become a community of poverty. Many people said there was no way of getting out of this. The Chicago Tribune called this area the home of the 'permanent underclass' and basically saying there is no hope."
Graphics feature young men who are successful in their lives and a quotation from the Bible. Photography courtesy of Aria Group Architects, Inc.; photography by Laura Lencioni, marketing coordinator, Aria Group Architects, Inc.In response to their faith, which Trout says is "to love God and love our neighbor always and not just when it is convenient," he and his wife became involved in the field of education. His wife became a science teacher, while Trout grew concerned about the lack of male leadership and positive male role models. They adopted three African-American kids from the neighborhood, which, he says, "made it personal because now we were concerned about not only these kids but their peers and the whole neighborhood." The Trouts are now in their 25th year of living in North Lawndale with their 5 children.
Twenty years ago, the couple started an after-school tutoring and mentoring program for 12 boys and young men in their apartment. "Lo and behold, people started hearing about our work, and the organization strategically and slowly began to grow," Trout says.
After serving four years with the Lawndale Christian Development Corporation, Trout took on the executive director position for YMEN at its inception. Since the opening, Trout has received a certificate in nonprofit management from the University of Illinois at Chicago, completed financial training through the Nonprofit Financial Center, completed a 15-month training program with the DeVos Urban Leadership Initiative and received numerous awards for his work in youth leadership development.
YMEN's website details the need for the organization and others like it: "Even with the recent growth and revitalization in the North Lawndale community, we face serious challenges in the areas of community safety and academic underachievement, particularly among our African-American young men. In the past 4 years, more than 10,000 North Lawndale boys were arrested and placed into the juvenile court system. According to Congressman Danny K. Davis, 70 percent of all adult men in North Lawndale ages 18 to 45 are ex-offenders. Homicide is the leading cause of death among African-American men between the ages of 15 to 24 years old. In Illinois, there are more than 10,000 more African-American males in prison or on parole than are enrolled in college. In North Lawndale, less than 35 percent of African-American young men graduate from high school, and less than 5 percent earn a bachelor's degree. If African-American young men are essential assets of a healthy community, more must be done. Reaching African-American youth is a life or death proposition."
The multipurpose communal space welcomes nearly 300 people a day and 300 on weekends. Photography courtesy of Aria Group Architects, Inc.; photography by Laura Lencioni, marketing coordinator, Aria Group Architects, Inc.Despite the statistics and challenges, Trout says he sees "Lawndale as a community of opportunity. The architecture dates back to the time when the Bohemian Jewish people built beautiful brownstones, and buildings here offer such beauty. The kids are amazing and resilient young people who, with a little encouragement, support and guidance, are poised to bloom and defy expectations. We have a lot of adults in the community who have weathered tremendous obstacles and are survivors."
"So we see the community through a completely different lens," he continues, "which is that these are beautiful people who have amazing opportunities. It's a problem of just involvement and investment that has created this kind of disparity. There is no reason that this neighborhood, which is just three miles from downtown Chicago, should have such a disparity in infant mortality, graduation rates and housing conditions, and unemployment. There's no need for this in our city, but racism and an unjust system create more obstacles than entrance ramps to these opportunities."
YMEN Grows and Moves
YMEN's first big growth spurt began in 2006, when the organization was invited to occupy an 80-year-old school that had become inactive. "We moved from our rented 800-square-foot apartment beneath our home apartment to a 9,000-square-foot space with a gymnasium, a kitchen, office space and parking. The building gave us a footprint for expanding services, including a Saturday, community-based, communal hot lunch program," Trout says.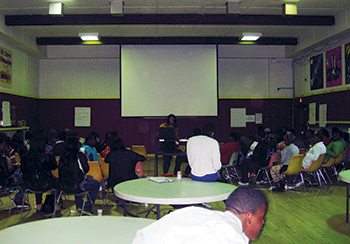 Before the renovation, the space was functional but basic and had a somewhat institutional feel. Photography courtesy of Aria Group Architects, Inc.; photography by Laura Lencioni, marketing coordinator, Aria Group Architects, Inc.Before this program, YMEN operated a food depository program in which people entered the front door, received a bag of groceries, and walked out the back door. "We were missing an opportunity to create relationships," Trout says. "We think that anything long-term in the community is only going to come in the context of building relationships." As a result of the communal lunch program, YMEN serves up to 300 kids and their families on Saturdays in addition to 75 kids served daily through Kids Café, which prepares food and delivers it daily to YMEN, where staff heat, portion and serve nutritionally balanced meals to kids after school hours.
Each Saturday, staff and volunteers set up tables and chairs in the gymnasium. Guests receive food presented in family-style service containers. With a YMEN supervisor on hand, volunteers from businesses, churches and other groups take charge of the Saturday meals. They commit themselves to bringing food and nearly 15 volunteers to YMEN to organize and serve meals, interact with guests and clean up. The volunteers pay for food, serviceware, napkins and supplies.
"This is a beautiful way to break down some of the barriers between class and race, so people can see that people are people," Trout says.
A Chicago restaurateur who volunteered at the Saturday community meals through his church and wanted to do something more, spearheaded the remodeling of the kitchen. The volunteer, who has chosen to remain anonymous, approached his suppliers and vendor, Aria Group Architects Inc. and TriMark Marlinn, respectively, which volunteered to renovate the gymnasium and kitchen, respectively.
A 12-burner range added much more reliable firepower to YMEN's kitchen. Photograph courtesy of by Michael TroutGymnasium renovations include walls painted in YMEN's signature color — royal blue — as well as new furnishings, millwork and artwork. "Because YMEN, in addition to being a resourceful community organization for the youth, also open their doors to the whole community to provide a hot meal to those in need on the weekends, we knew that this organization means a lot to the neighboring community," says Shannon Sterne, AIA, LEED AP BD+C, project design architect at Aria Group Architects. "The space needed an update that made a big impact visually and functionally to give back to the community."
With limited resources that relied heavily on donations, Aria Group designers' strategy was to give the entire space a new coat of a paint that would look fresh and feel motivating. "We decided to use the YMEN logo colors as an accent throughout the space," Sterne says. "An undulating line painted on the wall travels though the space to create a sense of movement and energy that is fun and invigorating."
Large-sized custom artwork designed by Aria Group was digitally printed and added into the space to reflect the key people the organization has helped as well as positive messages that the group lives by. New chairs and tables were also included in the renovation to help update the space and provide better functionality for its various uses.
"The renovation says to every child, homeless person and community resident who enters our doors that they are special and important to us," Trout says.
Upright refrigeration contains much more cold storage capacity than the previous equipment. Photograph courtesy of Michael TroutRenovating the kitchen was essential because it provides much needed and appreciated support for YMEN activities and services. It allows staff to heat and serve food delivered from Kids' Café Monday through Thursdays. On weekends, volunteer groups bring in food and either cook it entirely or heat it for service. The kitchen also supports foodservice for various group gatherings, memorials, community meetings, showers and birthday parties.
In the kitchen renovation, efficiency and sanitation code compliance were top priorities. "We took a falling-apart, residential-style kitchen and converted it to a full commercial kitchen," says Jeff Carlin of TriMark Marlinn. Carlin and the TriMark Marlinn team replaced laminate counters with heavy-duty stainless steel counters to enhance sanitation compliance and provide limited maintenance.
"Cooking equipment provides greater and better capacity," Carlin says. "The most noticeable improvements are with commercial refrigeration and cooking equipment."
The foodservice seems to be making a difference in the physical well-being of community members. "We notice a difference though we haven't measured," Trout says. "Diabetes in our community is off the charts, and we fight an uphill battle. It's expensive to get nutritious food in this community. We receive food from Kids Café, which ensures the food we serve Monday through Friday is nutritious. They help prepare and deliver it on a daily basis, and we heat and portion it.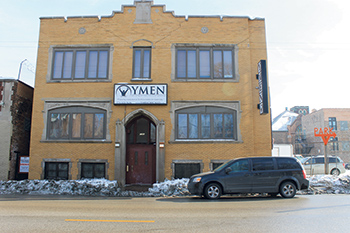 YMEN is housed in an 80-year-old building that once served as a school. Photography courtesy of Aria Group Architects, Inc.; photography by Laura Lencioni, marketing coordinator, Aria Group Architects, Inc."Our vision and goal is community that thrives through
relationships with one another," Trout adds. "Food gives the brain and heart health, as well as emotional health. We want food, safety, care and compassion together. Though this may sound cheesy, we want people to feel loved when they come in the door. In this community, love and food go hand and hand."
Key Players
Founder and Executive Director: Michael Trout
Program Manager: Willie Chatman
Chief of Staff: Juan Flores
Director of Brother's Kitchen (the Saturday program): Chris Langkamp
Director of PEARL (the women of YMEN): Sharona Drake
Program Coordinator: Antonio Gross
Program Assistant: Jason Henderson
Food Sanitation Coordinator: Constance Roberts
Architect and Interior Design: Aria Group, Chicago; Shannon Sterne, AIA, LEED AP BD+C, project design architect; Joe Vajda, AIA, LEED AP BD+C LL, principal; Alexandra Fuente-Navarro, architectural designer; Kristina Michelsen, designer
Foodservice Designers and Consultants: TriMark Marlinn, Bedford Park, Ill.; Jeff Carlin, equipment sales;
Ray Benedetti, design specialist
Equipment Dealer: TriMark Marlinn, Bedford Park, Ill.
Facts of Note
Renovated Facility Opened: November 2014
Scope of Project: Interior design of gymnasium;
renovation of kitchen
Size: Gymnasium, 2,500 sq. ft.; kitchen, 250 sq. ft.
Seats: Up to 300
Annual Budget: $600,000 funded through private family foundations and private donations
Average Check: Meals are free
Individuals Served: 300 youth and their families; 200 to 300 at Saturday communal lunches
Staff: 4 full-time; 5 part-time; 120 volunteers
Total Project Cost: $60,000
Equipment Investment: $45,000 net value
Website: www.ymenchicago.com