Elevating pizza to a new level of popularity at Rex Healthcare took a lot of work, but the end result continues to exceed expectations.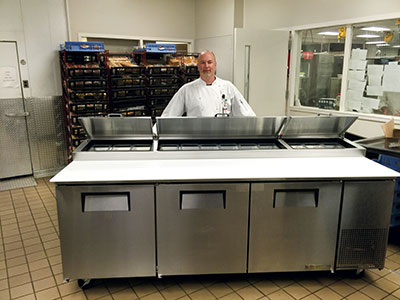 Pexton's design of the small space and equipment selection makes possible the production of 50 pizzas daily and up to 80 pizzas per meal period in the future. Photograph by Paul Berens, UNC HealthFor one month in the summer of 2014, a hospital-wide computer transformation project resulted in an additional 1,500 employees who joined the 5,200 employees who normally use Rex Healthcare's retail dining facilities on a daily basis. To meet the increased demand, the dining services team had to speed up service at every level. "In response to the need, we made the difficult decision to outsource our pizza served in Korner Café to Randy's Pizza, whose New York-style pizza is arguably the best pizza in town," says James McGrody, director of food and nutrition for Rex Healthcare.
Korner Café sits on the second floor of the hospital near the patient tower entrance. Featured stations include Stevie Ray's Pizza with the tagline "NY inspired, Carolina-made"; Mezza Luna with fresh, made to order salads; Caprese's Deli serving gourmet sandwiches, salads and desserts; and Larry's Beans, a gourmet coffee bar.
No doubt, customers very much enjoyed the culinary treat. "When we compared this local pizza to the pizza we had been serving before, our product didn't seem good enough," says Steve Pexton, chef manager, Culinary & Nutritional Services. With this realization, Pexton and his team decided to raise the bar and elevate the quality of the pies to equal or surpass the local version.
"In the hospital kitchen, I get a tremendous amount of joy out of seeing somebody from our culinary team rise to a challenge," says McGrody. "It happens often, but his is one of the more memorable examples."
In order to create a pizza that would bring pride to the culinary team and make customers happy, Pexton says his team worked on a shoestring budget and "just made it happen" by adding the correct equipment. "We had a painful transition in the beginning," he says.
One of the first steps was eliminating the pre-formed, par-baked crust. "It's a staple in the foodservice world, but far from creating a memorable experience when you eat it," Pexton says. "It was thick and chewy, the sauce was canned and cheese was a pre-shredded mozzarella."
Each day, Pexton and the staff now make pizza dough from scratch using a 60-quart mixer. We had a workhorse mixer from the '60s that wasn't being used to its fullest potential. We certainly can't say that now," Pexton says. After weighing out ingredients, they are put into the mixer, which kneads and develops the dough. A staff member then lets the dough rest before forming it into balls that get proofed overnight in nine dough boxes.
The next day, staff hand-stretch the dough into circles that measure 18 inches in diameter. This gets the dough to the appropriate thickness and ready for saucing. "We consulted with our executive chef Ryan Conklin's long-time friend Jason O'Toole, chef-owner of Pizza Barbone in Hyannis, Massachusetts, who shared his expertise on the sauce," McGrody says. The sauce consists of San Marzano tomatoes that are half hand-crushed and half blended in a blender, as well as basil and kosher salt. Before baking, staff top the pies with vegetables, proteins and hand-shredded cheese.
Saucing, Topping and Baking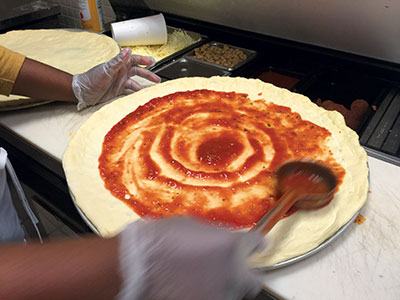 Staff distribute sauce onto a thin crust to create popular New York-style pizzas. Photograph by Paul Berens, UNC HealthFor prep, Pexton says a 93-inch, 3-door pizza prep unit with a 20-inch cutting board that can hold 36 one-sixth pans replaces the former 42-inch, 2-door sandwich unit with a 12-inch cutting board that can hold 10 one-sixth pans.
Pizzas bake in two 4-deck countertop ovens. "We needed a reliable electric oven because our kitchens are not equipped with natural gas," Pexton says. "We purchased a new oven with a slate hearth that can cook an 18-inch pizza in less than 9 minutes at 450 degrees F. Within 6 months, we had to buy another oven to keep up with the increased volume. Now we can bake eight pizzas every nine minutes. We selected our ovens based on factors of reliability, size, ease of use, even heating and price."
The small kitchen area — 1500 square feet — can't hold a stand-alone deck oven that fits under the hood system. In contrast, the compact countertop models can cook the same number of pizzas in a short amount of time, Pexton adds.
The 1,500-square-foot area features a refrigerated prep area and two countertop ovens, as well as storage racks for boxes. Photograph by Paul Berens, UNC HealthTraffic at Stevie Ray's continues to surpass expectations. Pexton reports that the old pizza program sold 6 pizzas per day at $.99 per slice and $6.99 per pie. The new program sells 35 to 50 pizzas per day at $2.99 to $3.99 per slice and $15.99 per pie. The operation sells up to 15 varieties of regular and signature pies. The average check for the old program was $2.57 and the new check is $7.97. Soon, a delivery program within the hospital and to two satellite operations will double the volume up to 80 pizzas sold per meal period. "We are also going to implement curbside delivery to local residents because the café is located right at our main entrance," Pexton adds.
Two employees staff the operation, one making the dough and another assembling pizzas. Training is crucial to the operation's success. Pexton trained the staff and, to insure continuity, developed a training manual that details procedures for making fresh dough — scaling, mixing, cutting, weighing, balling and fermenting — as well as pizza sauce, grating cheese and pizza assembly and baking.
Facts of Note
Daily meals served: 4,500 in Korner Café, located on the second floor of the hospital near the patient tower entrance and Courtyard Café, the main dining room located on the first floor of the hospital
Daily transactions at Stevie Ray's Pizza: 50 pies and 300 other transactions
Average check/all retail: $4.29
Average check/Stevie Ray's: $7.97
Hours, Korner Café: 6 a.m. to 3 p.m. and 8 p.m. to 1 a.m Monday through Friday
FTEs in all foodservice: 114
FTEs in Stevie Ray's: 2
Website: www.rexhealth.com/food-services
Innovators
James McGrody, director, Culinary & Nutrition Services
Steven Pexton, chef manager, Culinary & Nutritional Services