In the foodservice industry, even a concept that seems simple can make a big impact.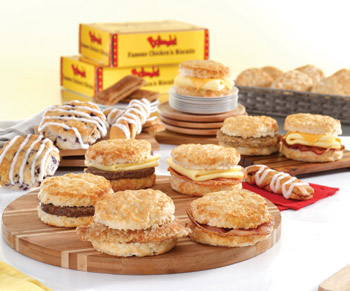 Bojangles' biscuit breakfast sandwiches have been the primary reason for the chain's success in the morning daypart.Since its first location opened 37 years ago as a walkup eatery in Charlotte, N.C., Bojangles' Restaurants has become one of the fastest-growing chicken chains in the U.S. Ranked in the top five of regional QSRs in the nation, Bojangles' opens up a new restaurant every six days. In 2013, its average unit volume for full-size drive-thru locations totaled more than $1.7 million.
"A testament to our success is that we continued to experience sales increases during the recession," says Eric Newman, Bojangles' executive vice present, general counsel and secretary. "This is because we have one of the most diverse quick-service [and made-from-scratch] menus in the industry."
It was when the chain's founders Jack Fulk and Richard Thomas added the chain's now legendary biscuits to the chicken menu in the first months of operation that sales skyrocketed 60 percent. "Our biscuits are a primary reason Bojangles' has become a phenomenon," Newman says.
Judging from its unit growth, the momentum continues. At press time, Bojangles' had 582 locations, with plans to open 20 more stores in the second quarter and an additional 20 in the third, Newman reports. The chain expects to hit $1 billion in annual sales by this September.
This is especially impressive, considering that its locations are limited to a 10-state area. "We're very concentrated in the Carolinas, but our highest growth regions are Tennessee, Virginia, Georgia and Alabama," Newman says. "Those states are becoming our core, although we have 112 restaurants in [the Charlotte region]."
Approximately 90 percent of new Bojangles' sites are 3,800-square-foot free-standing drive-thru units with about 80 seats. The chain also continues to add inline locations and has a few express units and drive-thru-only sites.
Bojangles' remains deliberate in seeking nontraditional locales, such as universities, bus stations, travel plazas, grocery stores and military bases. The chain also has cobranded convenience store sites, in addition to smaller Bojangles' installations in both Hartsfield-Jackson Atlanta International Airport and North Carolina's Charlotte Douglas International Airport. Earlier this spring, Bojangles' opened a restaurant at the Naval Station Norfolk in Virginia.
"We have some very high-volume restaurants in airports and bus stations where we squeeze a full menu into limited square footage," Newman says. Bojangles' accomplishes this by utilizing different menu modules and various equipment configurations. "We like having full or near-full menus and utilizing alternative [kitchen] configurations to support them."
One 650-square-foot Bojangles' site averages $2 million annually, while airport locations may exceed $3 million each year.
The diverse, on-trend menu is the draw.
Although positioned as a chicken chain, Bojangles' all-day breakfast program, built around the biscuits, remains a key part of its success. With restaurants opening at 5:30 a.m., it's no surprise that 40 percent of its business is breakfast.
"There are very few quick-service chains in the country that offer a breakfast program like ours, because it's difficult to implement," Newman says. "A common trap for those trying to succeed with breakfast is adding just a few novelty products [as opposed to a full offering]. Customers also are looking for a value proposition, but value reflects quality as well as price."
Bojangles' was one of the first chains to capitalize on the popularity of biscuit sandwiches, which initially became popular in the Southern states. Culinary staff make biscuits from scratch every 20 minutes throughout the day. Customers can choose from more than 100 possible biscuit sandwich combinations.
The scratch production process extends to the chain's chicken, which arrives fresh rather than frozen. Staff marinate the chicken for 12 hours before dipping and battering it by hand. "At one point, we tried to mechanize the chicken preparation process, but hand breading produces a better product," Newman says.
Other menu staples include homemade dirty rice (made with seasonings and ground sausage), seasoned fries, Cajun pinto beans and freshly brewed and steeped old-fashioned Southern sweet tea.
Because of the menu's from-scratch production process, the three dayparts it serves and its diverse offerings, Bojangles' equipment tends to be more extensive than that of most quick-service operations. As a result, the kitchen consumes approximately 55 percent of each unit's square footage.
The back of house typically includes a bank of four custom ovens, a bank of five fryers and prep tables. Because most items are fresh rather than frozen, there is more walk-in cooler space than freezer storage.
Bojangles' expansion continues. The chain is opening its first restaurant in Kentucky since 1999. Discussions about expanding its territory to include more Southern states are ongoing, although the chain's primary growth is focused on increasing market share in the regions where it currently operates.