Offering patients food selections similar to the ones that appear on retail menus continues to gain popularity at hospitals across the country. Patients at the 550-bed University of California, San Francisco (UCSF) Medical Center now have the opportunity to choose from menu items that are also available at the various restaurant-style concepts in the center's retail cafes.
Innovator: Dan Henroid, director of nutrition and food services and sustainability officer at UCSF Medical Center
Dishes from Meze, a restaurant concept featuring Mediterranean-inspired and influenced cuisine, is now available as part of UCSF Medical Center's room service program."We are admittedly borrowing and adapting the concept for our room service program from Angelo Mojica at University of North Carolina (UNC) Hospitals," says Dan Henroid, director of nutrition and food services and sustainability officer at UCSF Medical Center. "We have our own uniforms, but we'll be doing more of our own restaurant concept branding and marketing based on what Angelo and his team have been doing so successfully."
Two years ago, Mojica, director of nutrition and food services (UNC) Healthcare in Chapel Hill, N.C., rolled out Restaurant Delivery, which allows patients to order from among 13 retail foodservice outlets on the hospital's campus. Mojica and members of the UNC team continue to collaborate with Henroid and the UCSF Medical Center team. They have seen each other's operations and keep in touch by phone.
In addition to increasing the variety of the food available to patients, UCSF Medical Center's new program expanded its reach to all 1,200 patients — an increase of 50 percent.
With the new rollout, patients receiving on-demand room service get a 16-page menu that includes several food choices from 10 UCSF Medical Center restaurants. When UCSF Medical Center opens another restaurant, the patient menus will include a one-page insert with the new offerings.
UCSF Medical Center introduced its restaurant concepts in a pop-up style during the past year. "We run a concept for about four months," Henroid says. "After that we retire it or bring it back. This replaced our four-week menu cycle for special menus."
Concepts include Sunrise Café, which offers breakfast all day; Bowls and Rice; Salsarea for Mexican menu items; and Meze, which features Mediterranean cuisine.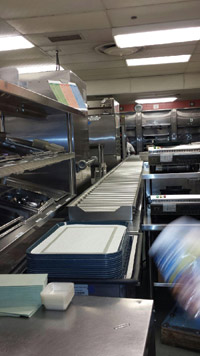 In order to bring the new restaurant menus into operation, a minor kitchen renovation included the addition of a deli table and rollers to transform an older trayline into a conveyor-type line.Despite the fact that the food items originally appear on restaurant menus, all patient orders come into the main kitchen where staff plate and transport them to the requesting party. This system leverages the labor, purchasing and storage already in place.
Also part of UCSF's room service program, guest trays bring in welcome revenue. "We charge $7 for each guest meal," Henroid says. "In order to avoid complicated payment systems, foodservice aides carry a hand-held device connected to Wi-Fi and take payment from credit cards. We don't take cash or allow people to call in credit cards in order to avoid any difficulties.
"Our unpublished research shows that patients who dine with another person consume more food than those who dine alone." Henroid says. "This is particularly important for cancer patients and others who are very sick."
For all of our Healthcare Foodservice Innovators, click here.