Competing for the best and brightest employees in the technology universe, Microsoft continuously builds and remodels cafés to drive participation, introduce meaningful technology into the customer experience, drive guest satisfaction and enhance customer convenience through improvements such as reducing queue times.
Different types of seating encourage customers to come into Caf?© 9 in small groups or alone. Dining is high on the list of priorities at Microsoft. The software company's Redmond, Wash., campus and contiguous West Campus house 53,000 members of Microsoft's 104,000-member global workforce. During the past 9 years, Microsoft has added 15 caf?©s to these campuses to feed its burgeoning employee population. In addition, Microsoft continues to upgrade its dining operations as part of a consistent renovation process.
"Caf?© Lifecycle remodels 'Äî about three each year 'Äî on the Microsoft campus are part of our strategy to continuously improve and enhance the Microsoft customer experience," says Mark Freeman, senior manager of global dining services at Microsoft. Freeman oversees a worldwide operation, with sites in 24 countries including China and nations in Europe and North and South America, and deals with multiple contract foodservice providers.
The main campus contains a network of more than 37 caf?©s that each provide a distinct mix of station concepts, some from contract feeder Compass Group and others as part of Freeman's local restaurant brands initiative. "By focusing on bringing culinary advancement, technology enhancements, innovative brands and improved ambiance, we drive overall customer satisfaction and employee participation," Freeman says. "And we support Microsoft in its mission to attract, develop and keep the industry's best, brightest, most sought-after talent."
Base and Anchor Concepts at Caf?© 9 and Caf?© H
Charbroiling brings customers to Flame, which features chicken breasts, marinated tofu, New York strip steak, salmon and sides.At 13 and 15 years old respectively, both Caf?© 9 and Caf?© H were selected for remodeling in 2013 due to their age and declining performance metrics. The goals were to drive participation and satisfaction, insert meaningful technology into the customer experience, and enhance customer convenience through improvements including reduced queue times.
Data collected from customer surveys and focus groups served as the basis for a variety of decisions that would shape the customer experience, including food concepts, brands, design, lighting and seating. Caf?© 9 closed on July 26, 2013, and reopened on November 11, 2013. Caf?© H closed July 12, 2013, for construction and reopened on October 27, 2013.
Though some of the base concepts at these two caf?©s and others on Microsoft's campus are similar and feature exhibition cooking suites integrated into seating areas, each has unique anchor concepts. The caf?©s also may have unique food concepts that feature cuisine from a local restaurant. "Customers will go out of their way and travel long distances to come to a caf?© for its unique anchor and local restaurant concept and experience," Freeman says.
Architects at each caf?© wove anchor themes into the finishes, art, seating and decor, while the Compass Group @ Microsoft team created compelling menus and station setups to highlight food quality, variety and exhibition cooking.
"Transparency of the culinary process is crucial to the success of our food program," says Craig Tarrant, executive chef, Compass Group. "In order to have transparency and high quality of food and service, we must recruit chefs who want to work in this type of environment. We train internally for not only production but also management of concept stations, including the flow of product from beginning to end."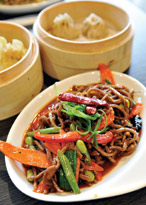 Dim sum and stir-fry are popular selections at Pacific Rim Kitchen in Caf?© 9.Caf?© 9's design theme shouts East meets West. The anchor station, Pacific Rim Kitchen, features a double-sided Asian cooking suite. On one side staff produce handmade noodle bowls and other Asian dishes, and on the other side they create house-made dim sum featuring dumplings and sauces.
Since the renovation, Caf?© 9 conducts 1,585 transactions daily and has a $4.50 check average. This translates into participation and sales increases of 32.5 percent and 31.5 percent, respectively. In addition, check averages jumped 16 percent, and customer satisfaction is up 8.5 percent.
Caf?© H reflects an Italian market design theme. The anchor station, Mangia Italia, contains an Italian cooking suite where staff produce handmade pasta dishes.
Caf?© H, with 1,864 daily transactions and a $4.93 check average, reports a 24.9 percent growth in participation and a 5.4 percent increase in the check average.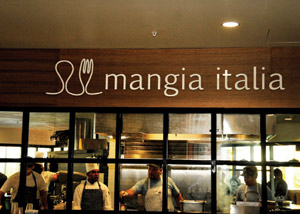 Mangia Italia is another anchor concept in Caf?© H.The technology at Caf?© 9 and Caf?© H makes a 100 percent cashless and cashierless caf?© possible. Customers use touch screen devices, which run on a Microsoft platform, to make their selections and pay for their food. Upon completion of a transaction, the customer receives an order number which appears on a status monitor screen. The number changes to yellow while staff members prepare the food, and it eventually changes to green when it's time for the customer to pick up the order. Microsoft also employs this technology paired with a barcode scanning system in the 24/7 Market, a convenience store within Caf?© 9 and Caf?© H. The soda machines offer myriad choices and run on a Windows-embedded platform as well.
Food and supply deliveries for each operation on the Microsoft campus come directly to the caf?©s. Staff put them in refrigerators, freezers and dry storage so they are ready for culinary staff to pick up as needed. "We didn't want to have a centralized distribution system," Freeman says.
A significant contributor to customer satisfaction is the element of surprise. Diners at the caf?©s always find choices they have come to expect 'Äî but there is always a menu item they don't expect, as well. Keeping up with the high-tech world is challenging, but as Freeman and Tarrant emphasize, "There are always challenges, but we think of them as opportunities." In today's world, that attitude proves extremely successful.
In addition to a variety of food stations, the caf?©s' design integrates reused and restored materials, such as wood and woks. Each caf?© features an updated lighting and sound system and stations for landfill-, recycle- and compost-bound waste with bus tubs for china and serviceware. Customer ambassadors at each station assist with ordering and customer questions. All employees wear uniquely branded uniforms featuring the caf?© logo.
Below is an overview of the food stations the caf?©s share and a quick look at the ones unique to each venue.
Stations Caf?© 9 and Caf?© H Share
A hot oven bakes flatbread and pizza at Napoli in Caf?© 9.Napoli: To make the authentic hand-tossed Neapolitan pizza, staff here use the following equipment package: maple-top table, undercounter refrigerator, holding cabinet, dough cart, dough stretch casework, five-foot ticket rail, narrow drop-in cold pan, stone hearth oven, pizza accessory rack and ingredient bins.
Burger 8: Customers who visit this station can order handcrafted gourmet burgers, hand-cut fries and shakes. The equipment package includes a 3-spindle shake mixer, ice cream bunkers with dipper well, 5-foot ticket rail, 60-inch refrigerated make line, reach-in freezer and refrigerator, back counter, dump station, charbroiler, drop-in hot/cold well, griddle, 3 fryers and a dump station.
A carving station heightens customer service at Market Fresh.Wellness Salad Bar and Soups: The menu here consists of fresh greens, scratch-made dressings and soups and hot salad toppers. The equipment package here includes induction burners, an undercounter refrigerator, lowboy refrigerators, drop-in iced cold pan, heated shelf and a bread display rack with guard.
Global Kitchen: This station features a rotating selection of global cuisine. The equipment includes induction burners, frost top, holding cabinets, undercounter refrigerators and a carving station.
Flame: This menu features custom-grilled seasonal proteins and gourmet sides. The equipment package includes a 5-foot ticket rail, broiler, 60-inch refrigerated make line, back counter, 4-burner range top, drop-in hot/cold wells and 3-well inserts.
Sub Shoppe: Staff at this station produce specialty subs featuring fresh-baked bread and house-roasted meats. The equipment package includes a 5-foot ticket rail, 84-foot refrigerated make line, holding cabinet, oven/proofer, 2 quick-bake ovens and an undercounter refrigerator.
Local Restaurants: This station plays host to a rotating roster of local restaurants that execute certain parts of their menus for specified periods of time. Standard equipment here includes a refrigerated make line, stainless steel worktable, undercounter refrigerator, induction cooktop, frost top, five-foot ticket rail, back counter, holding cabinet, bus cart and bus tote.
Chef's Table allows chefs to display their favorite dishes.Chef's Table: Exhibition-style cooking is the name of the game at this station, where the equipment package includes a holding cabinet, 60-inch refrigerated make line, 5-foot ticket rail, 6-burner range with oven, drop-in hot/cold well, rice cooker, back counter, hand sink, bus cart, bus tote, waffle baker and undercounter refrigerators.
Market Fresh: Tossed-to-order specialty salads are the name of the game at this station. The equipment package includes a drop-in cold pan, 8-well and 6-well inserts, 5-foot ticket rail, carving station, reach-in refrigerator and stainless steel cabinet with wood top and induction units.
Coffee and Tea: Caf?© 9 uses coffee from local roaster Infuse, while Caf?© H brews Arrosto d'Italia. This station also features coffee drinks, tea and pastries. The equipment here includes an undercounter refrigerator, espresso machine, dipper well faucet and bowl, hand sink, faucet, drop-in ice bin, dishwasher, blender, frap blender, dump sink, coffee brewer, hot water brewer and quick-speed oven.
Beverages: This program is free to employees and features a soda machine that dispenses myriad flavors. Other options include infused waters, canned beverages and milks.
Markets: Here customers can choose from a variety of grab-and-go items stored in a glass-door freezer and two glass-door coolers. Customers can use a microwave to warm menu items.
Unique Station at Caf?© 9
Pacific Rim Kitchen: As the name implies, this station offers an Asian-inspired menu, featuring handmade noodle bowls and dim sum. The equipment package includes a griddle, fryers and dump station, dim sum steamer/wok, pasta rinse, pasta cooker, 3-burner wok range, 8-burner range top, 6-burner range top, refrigerated make lines and a pasta sheeter.
Unique Station at Caf?© H
Mangia Italia: Here customers can choose from a variety of hand-made Italian pasta dishes. The equipment package includes a butcher-block table, pasta cooker, 6-burner range with casters, refrigerated make line, undercounter refrigerator, extruder, drop-in cold pan, pasta sheeter, 60-quart mixer, roll-in refrigerator, ravioli cutter and 2 holding cabinets.
Facts of Note
Ownership: Microsoft
Overall Population: 2,160 at Caf?© 9 in Building 9; 2,230 at Caf?© H in Building Studio H
Reopened: Caf?© 9, November 11, 2013; Caf?© H, October 27, 2013
Size of Foodservice: Caf?© 9, 17,303 square feet; Caf?© H, 21,761 square feet
Seats: Caf?© 9, 408; Caf?© H, 553
Average Check: Caf?© 9, $4.50; Caf?© H, $4.93
Participation Lift: Caf?© 9, 15.7 percent; Caf?© H, 24.9 percent
Total Annual Sales: N/A
Daily Transactions: Caf?© 9, 1,585; Caf?© H, 1,864
Hours/Caf?© 9: Breakfast, 7 a.m. to 10 a.m.; lunch, 11 a.m. to 2 p.m.; Sub Shoppe, 11 a.m. to 4:30 p.m.; Espresso, 7 a.m. to 4:30 p.m.
Hours/Caf?© H: Breakfast, 7:30 a.m. to 9:30 a.m.; lunch, 11 a.m. to 2 p.m.; Espresso, 7 a.m. to 5 p.m.
Staff: Caf?© 9, 43; Caf?© H, 47
Total Project Cost: N/A
Equipment Investment: N/A
Key Players
Senior Manager of Global Dining Services, Microsoft: Mark Freeman
Regional Vice President, Compass Group: Ted Nissle
Executive Chef, Compass Group: Craig Tarrant
Senior Director Marketing/Business Advancement, Compass Group: Jodi Smith Westwater
Architect: Caf?© 9, Mesher Shing McNutt, Seattle; Caf?© H, Gensler, Seattle
Interior Designer: Caf?© 9, Mesher Shing McNutt, Seattle; Caf?© H, Gensler, Seattle
Foodservice Consultant and Designer: Compass Group worked with Microsoft as a consultant; the design was done by the architects listed above.
Equipment Dealer: TriMark Gill Group