Trial and error is nothing new in the foodservice industry. That's why it can be fairly common for a number of restaurants to rotate through a given space over the years before one finally takes root. Take, for example, Atlanta-based Publik Draft House.
Publik Draft House's lower level provides high-top tables with leather seating and an expansive bar.After the site adjacent to Atlanta's historic Fox Theater had housed an Italian restaurant, nightclub and bakery at different times, Publik Draft House struck pay dirt in this space shortly after opening its first location in 2009. While the gastropub was successful, there were changes to come.
In addition to offering innovative craft beer and food pairings, the operation provides live entertainment and private dining for parties and events. "Since we're right next door to the theater, we've also received notoriety from celebrities, those filming in
Atlanta and theater groups," says Eddie Johnson, Publik Draft House partner and COO.
The 2,500-square-foot, 200-seat restaurant promotes an industrial atmosphere thanks to a front-of-the-house design that includes wood and iron accents. The downstairs area features high-top tables with leather seating and an expansive bar.
Fast, casual food, unique cocktails and microbrews serve as the cornerstone of the concept's menu. Though it has no in-house brewery, Publik Draft House offers a wide selection of craft beer from local producers. At press time, plans were being made to find a partner to produce a namesake beer.
Despite its name and beer menu, the Publik Draft House experience is about more than beer. This gastropub emphasizes healthy meal options, including vegetarian selections, natural ingredients, gluten-free meals and menu items for diabetics and those with food allergies. Publik Draft House sources its beef from local farms, and shrimp from the shores of Savannah, and the restaurant avoids serving chemically preserved food items.
Pairing high-quality food and a comprehensive adult beverage package with a casual dining price point helps Publik Draft House create a unique value proposition. "People that don't want to spend a lot of money at high-end restaurants come here for the same type of food," Johnson says. "Many people are looking for local beers, and every gastropub can offer these, but we also focus on meals that complement the beers."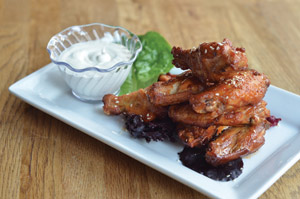 Publik Draft House's offerings include eclectic items like kimchi wings, which pair well with its microbrew selections.The menu and servers provide appropriate beer suggestions. This may include a savory beer to go with a steak dinner or an acidic cider to cut through meat's rich flavor. The culinary staff uses microbrews during the cooking process in much the same way.
The eclectic menu includes such items as kimchi wings, which staff marinate in fish sauce, aromatics and lime juice before baking off the chicken and tossing it with red pepper paste. Other menu items of note include sweet potato wontons, a vegetarian dish that includes coconut milk and coriander blended with baked sweet potatoes, which staff wrap in wonton wrappers before frying and serving them with sweet chili sauce. Lunch items include a spicy lamb burger, shrimp with grits and a selection of salads. Snacks, salads, burgers, sandwiches and desserts are offered on a late-night menu.
Publik Draft House produces this diverse menu in a kitchen that takes up just 300 square feet. Back-of-the-house equipment includes a flattop grill, six-burner stove, mixer, food processor and flame torch. "We don't need a lot of space, just the right tools, like a sharp knife and good spoon," Johnson says. "I love new gadgets as much as anyone, but a chef doesn't need much more than the basics."
The restaurant does employ sous vide cooking, which includes utilizing an immersion circulator. "This is an old technique that has been revamped," Johnson says. "It helps control temperatures, hold in moisture and infuse flavors, like herbs. We've also benefitted from advances in cooler technology, which provides more consistent temperatures for cold storage."
Publik Draft House's training focuses on cleaning and maintaining equipment. "Knowing how equipment works also is key, because we don't want staff trying to make a unit do what it's not supposed to," Johnson says. "We always designated two to three staff members to keep an eye on the equipment. It's important to teach our staff how to properly clean and maintain the units, since something always needs attention in a busy operation like ours."
Along with training its staff, the restaurant educates customers with monthly cooking classes. Its most recent seminar discussed pairing bacon and beer. Held for the last 2 years, the classes typically attract between 15 and 30 people. "These are run by our chefs and head mixologist," Johnson says. "We present the information in layman's terms for our audience to ensure people can replicate the dishes at home and source the ingredients."
In addition to looking for a brewery partner, the brew pub continues to focus on franchising in Atlanta and states in the Southeast. "Atlanta is growing fast in terms of brew pubs, which are popping up all over town," Johnson says. "The quality of microbrews is improving dramatically, and these varieties are giving European beers a run for their money."