Tighter budgets and more expansive government mandates are forcing high school foodservice operators to sharpen their pencils as they search for creative solutions to meet students' desire to eat food that mimics offerings in the commercial restaurant industry.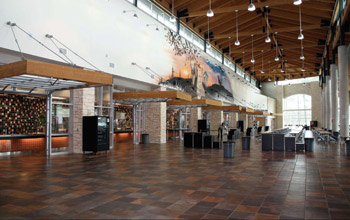 Houston's Dekaney High School revamped its serving lines into themes.Today, high school students and healthful eating go hand in hand.
In July 2012, new nutrition standards for school meals went into effect, increasing the healthfulness of school breakfast and lunch programs. Under the USDA's New Meal Pattern for Schools program, larger portions of fruits and vegetables must be served; students must take at least one fruit or vegetable serving per meal; and schools must offer dark green vegetables, orange/red vegetables and legumes at least once a week.
Schools are also required to transition to whole grains. At least half of all grains must be whole grain rich; and by the start of the 2014-15 school year, all grains served must be whole grain rich. In addition, milk must be 1 percent or nonfat, and flavored milk must be nonfat. No more than 10 percent of calories can come from saturated fat. Added trans fats must be eliminated. Sodium limits will be phased in over the next 10 years, with the first limitation going into effect next fall.
"Today, more schools are looking for ways to reduce calories, fat and sodium," says Diane Pratt-Heavner, director of media relations for the School Nutrition Association, based in National Harbor, Md. "There are larger serving lines in some cases to accommodate more food in the lunch line."
A retail sales equivalent of $18.2 billion for primary/secondary schools was projected for 2013, according to an August 2013 report by Chicago-based Technomic. This represents a nominal retail sales increase of 1.4 percent. In 2012, primary/secondary school retail sales totaled $18 billion, an increase of 2 percent from 2011.
Many school districts report that current kitchen equipment and infrastructure limit their ability to meet updated federal nutrition lunch standards, according to a survey by the Kids' Safe and Healthful Foods Project. Those with inadequate equipment will make do with less efficient processes, such as manual slicing. "On the supply side, when the amount of produce servings increases, there is more of a need for small kitchen supplies to chop and prep these extra foods," Pratt-Heavner says. The new regulations also create a need for more refrigeration capacity, in addition to steamers and combi ovens that provide healthier preparation methods. With the increase in whole grains, smaller school districts report their mixers are having issues preparing the denser dough.
"The school foodservice industry has done a great job finding solutions for these types of problems," Pratt-Heavner says. "Directors are seeking equipment to accommodate their needs."
Another trend in high school foodservice is the increase in breakfast program participation. According to the USDA, in the last year, average daily breakfast participation in U.S. schools increased from 12.8 million students to 13.1 million. More than a quarter of the schools surveyed by the School Nutrition Association planned to expand breakfast programs for the 2013-14 school year. In addition, 69 percent of these schools plan to increase grab-and-go options.
Vending and a la carte standards go into effect this year, with similar requirements as meals. This includes limiting calories, sodium, portion sizes and fat. "More schools are looking at vending options as a solution for overcrowded cafeterias," Pratt-Heavner says.