Everything about the Biggby Coffee chain's concept looks to eliminate the intimidation factor when ordering specialty coffee.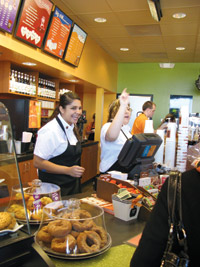 Through its use of unique, Americana-inspired beverage names, Biggby Coffee strives to stand out from other coffee-based chains by making the purchasing process less intimidating than with other players in the segment.Biggby stands out in the crowded coffee segment through its use of nontraditional, bright décor and unique beverage names rooted in Americana rather than Italian. Collectively these individual elements create a more universal market appeal for Biggby and make the concept seem more approachable when compared to other more ubiquitous coffeehouses.
"We offer a different service style and a systems-based approach to beverage production that's similar to a short-order diner," says Jeremy DeRuiter, Biggby's director of training and development. "Ours is intended to be a nonintimidating coffee concept."
Over the last two years, Biggby reworked its back- and front-of-the-house footprints to increase the efficiency behind the counter for multiple employees. "In the past, we built out the front line to suit the store space, but it's been redesigned as a rectangle shape that better accommodates any size site," DeRuiter says. "The setup behind the counter remains the same, but the new model increases efficiency and speed of service."
This change also significantly reduces the investment cost for franchisees. Prior to the redesign, build-outs averaged more than $300,000, but the new footprint reduces this to an average cost ranging from $208,000 to $238,000.
Bob Fish and Mary Roszel founded the East Lansing, Mich.-based company in 1995, during a period when the public was less educated about the intricacies of gourmet coffee. At that time, it wasn't difficult to attract customers by creating drinks with unique names, such as Caramel Marvel, Butter Bear, Nutty Buddy, White Lightning and Blueberry Bliss alongside traditional coffee, espresso and latte.
"Ours is a fun environment that includes bright décor, energetic music and an overall inviting atmosphere," says Nicole Vilminot, director of marketing. "We try to tie this vibe into everything we do from a marketing standpoint in an effort to engage customers and make them feel comfortable."
Biggby began franchising in 1999, and the chain now has more than 160 stores, all of which are franchise locations. Although the bulk of its locations are in Michigan, there also are stores in Ohio, Indiana, Wisconsin, Illinois, Kentucky, Texas and South Carolina. At press time, the chain was preparing to open stores in Florida and Kentucky. Biggby's impressive growth continues to draw accolades from a variety of sources. CNBC named it the fastest-growing coffee chain in America in 2011, and the company was designated a top 500 franchise by Entrepreneur magazine and a top 50 food and beverage franchise by Franchise Business Review.
Unlike some coffeehouses, flavored latte drinks, mainly the sweet and creamy variety, represent the majority of Biggby's sales. Other top sellers include smoothies with and without fresh fruit, in addition to a variety of tea offerings, such as iced tea and tea latte. The chain offers a traditional coffee menu that includes caffè Americano, cappuccino and espresso.
Food takes a backseat to the extensive beverage offerings and consists of items that complement coffee, such as bagels, muffins, scones and donut holes sourced from outside vendors. "We used to offer sandwiches, soups and salads, but transitioned away from meals to pare down the menu," Vilminot says. A trio of breakfast bagel sandwiches represents an exception to this rule. "We don't offer a large food board."
Store sizes average between 1,200 and 1,600 square feet but can be as large as 3,000 square feet. Biggby is not a cookie-cutter operation. Its sites can include kiosks and stand-alone units as well as strip mall and indoor mall locations. The system includes one- and two-story coffeehouses, some of which offer meeting space.
"The back of house comprises about 20 percent of the footprint," DeRuiter says. "But the main production line, where the baristas prepare drinks, is in the front of house."
The kitchen area includes such equipment as upright refrigerators and freezers, which replaced the walk-ins formerly used for meal ingredients. An ice machine straddles the front and back of house.
The majority of the action takes place at the coffee assembly line out front, which consists of one or two cash registers, depending on the unit's size and volume; an espresso machine; a conveyor toaster on the back counter; two coffee brewers; and two grinders. Three undercounter reach-in coolers store milk, whipped cream and food items. "Our shops are run by two- to four-person teams, depending on time of day and type of store," DeRuiter says.
With the new footprint design, franchisees can scale up equipment as needed, adding an additional blender as sales grow and expanding refrigeration to two units. "We feel that the amount of money invested in equipment is related to our profitability," DeRuiter says.
Biggby has modified its beverage menu to accommodate today's trends. With the growing popularity of cold and frozen drinks in the last couple of years, the chain's menu clarifies that all drinks can be produced hot, iced or frozen. "Offering iced and frozen beverages lands well with all segments, but opens up our growth to a younger demographic," DeRuiter says.
Also, with the emphasis on healthier eating, the chain now promotes low-calorie options. Customers can cut calories, sometimes more than 50 percent, by requesting skim milk, sugar-free flavors or no whipped cream. "We can provide a 16-ounce flavored latte for under 200 calories, and offer some drinks that are under 100 calories," says Vilminot. This past winter, the chain promoted its low-calorie offerings on menu boards and with in-store flyers.
Although many would consider the coffee segment saturated, Biggby's management welcomes the competition. "If there's a Starbucks in our market, this plants a flag for coffee drinkers to seek us out," DeRuiter says. "We love competition."