No fewer than three of the country's most forward-thinking c-store chains, all offering made-to-order food ordered by kiosk, are based in the Keystone State of Pennsylvania.
The two 800-pound gorillas in this scenario are Wawa (800 locations) and Sheetz (roughly 500 locations). The third, Rutter's, is smaller, with just 72 stores. Rutter's, though, has growth plans to hit 100 locations by 2021. This will prove a significant year in the company's history as it coincides with the 100th anniversary of Rutter's Dairy, which produces and distributes dairy products in Pennsylvania and nearby states. Rutter's c-stores started in 1968 and, naturally, continue to carry Rutter's Dairy products.
Rutter's bills itself as "the oldest vertically integrated food company in the country." Over the years, the farm evolved into a dairy business, a convenience store operation and even a real estate holding company. And like those other businesses, the c-store operation has continued to grow and develop.
One of the most notable differences is the size of Rutter's c-store locations. While the square footage of each store varies based on the market and the plot of land, the company describes its most recent locations as superstores, often measuring several thousand square feet.
Also notable, Rutter's stores conform to the surrounding community, which means the chain does not use one exact type of store. Some locations have fewer gas pumps and target consumers on their lunch break. Others are large travel-center-style operations featuring scores of gas pumps and more than 10,000 square feet of interior space for truckers and people taking a break on road trips.
Whether the store measures 10,000 square feet or a fraction of that, about 60 of Rutter's 72 locations house a full foodservice operation.
Defining the Open Kitchen
Common features in newer Rutter's stores include an open interior space with high ceilings and clear sight lines to destination points.
"When you walk into the store, if you're a foodservice customer, it doesn't take you long to realize where [the foodservice section] is. We have an all-open kitchen," says Ryan Krebs, director of foodservice for Rutter's. "There's a short sneeze guard between the people that are making the food and the consumers. There are no walls. There's no guessing where things are at."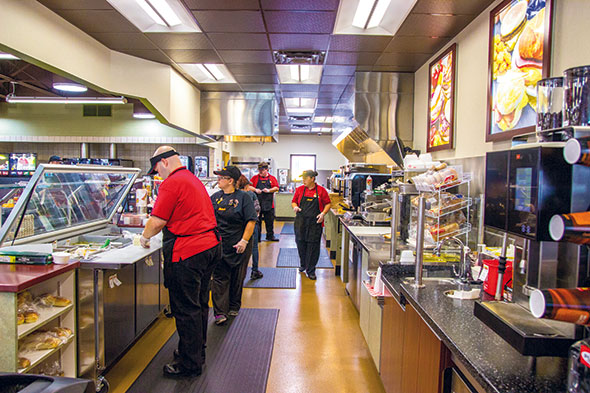 The equipment lineup at Rutter's must support both the chain's high volume and its fully customizable menu.
This clearly defined foodservice area includes the chain's dining section. The space, Krebs says, differs from what many consumers would imagine given that c-stores frequently shove a few chairs and tables into a corner and call that a dining area. Instead, Rutter's carves out a dining space near the open kitchen, letting guests know they have a place to relax and enjoy their food.
In earlier Rutter's locations, pony walls defined the dining section. Newer stores don't have these walls. For one, says Krebs, the chain prefers a more open store design. What's more, no walls makes it easier for customers to access the non-foodservice areas of the store stocked with standard c-store items. "We felt that as we started adding beer coolers behind that area that making it more open and welcoming makes things flow more for the customer," he says. "We started to open up the dining rooms more than we did in the past."
The furnishings in the dining area include sturdy laminate tables with wood trim accompanied by upholstered chairs, inviting guests to relax. Tables range from two-tops to six-tops. In some locations, solo diners have the option to sit at a bar-height counter along a wall.
To encourage foodservice sales, the company has created a comfortable seating area with upholstered chairs.
Another newer option in some Rutter's restaurants is outdoor seating, designed for truck drivers who may want to enjoy some fresh air before getting back behind the wheel. Not every new location will include a patio, notes Krebs. "We buy big properties, but it's a matter of whether it's advantageous for that store," he explains. "If it's more of a smaller, local market, we may not put something out there [for a patio]. But if it's a larger truck stop, we feel it's advantageous to have that."
Full Custom Menu, Niche Kitchen
One quality that Krebs believes distinguishes Rutter's from the competition is its commitment "to being on trend, not just with what convenience is doing but with what's being offered within the restaurant footprint as well."
While not a traditional restaurant, Krebs considers the foodservice component at Rutter's a restaurant. This restaurant has an extremely broad menu. Offerings include everything from breakfast sandwiches and burgers to stir-fries, short ribs and tiramisu, all served 24-7.
Touch-screen kiosks handle all foodservice orders at Rutter's. The fully open kitchen encourages guests to watch their orders being made.
"In our market, with the manufacturing plants and things like that, we have a lot of people working third shift," says Krebs. "They're eating breakfast at 10 p.m. and burgers at 6 a.m. We're satisfying the needs of a consumer that, for instance, an Asian restaurant that's only open from 4 p.m. to 10 p.m. and only serves one style of food doesn't."
The job of designing a kitchen that can produce such varied fare has fallen to Tilghman Grandstaff with Lancaster, Pa.-based Clark Retail Solutions, who works closely with Krebs and other Rutter's staff to develop the chain's equipment package.
Rutter's volume and variety means its equipment must be versatile and support high throughput, says Grandstaff. As a result, he says, "the equipment in a Rutter's is a lot more unique than if you go into a restaurant, even though the menu at Rutter's might actually be bigger." Rutters is unusual among c-stores, for instance, for its use of induction woks, a four-chamber quick-cooking oven setup, and even its use of a dedicated, back-of-the-house prep area.
Rutter's guests order through kiosks, which allow for fully customized meals. For instance, guests can turn a Philly cheesesteak into a pizza topping, a Reuben can become a taco, and fried clams can become a quesadilla ingredient. This approach, says Krebs, allows the chain to turn a single item into 25 different guest experiences — some more creative than others.
With so much customization taking place in a Rutter's kitchen, the expo station becomes the center of the operation. The team member at this spot, usually a manager during peak hours, ensures that each dish matches the customer's order and meets Rutter's quality expectations.
The expo station sits at the center of the production line, with the expo worker facing customers. Food flows to the expo station from the left, the right and behind, where a second line of cooking and storage equipment sits.
From the expo staffer's point of view, a refrigerated make table sits to the immediate left. This table has increased in size in recent builds, says Krebs, to enable staff to meet customer demand. In one of its newest superstores, in Duncannon, Pa., the table measures 72 inches. Here, staff assemble every sandwich and sandwich-esque offering, including subs, wraps, burgers and tacos. These tables have see-through lids, notes Grandstaff, allowing customers to see the quality of the meat and produce. Next to the make table comes a pass-thru heated grab-and go unit, where guests can snag prepared burgers, hot sandwiches and other items without having to wait.
To the immediate right of the expo station sits the wok station, where staff prepare Asian stir-fries, breakfast bowls and other items — and where guests get a bit of theater, adds Krebs. The wok station actually has three distinct pieces: The woks themselves are the in the middle of the station. These units rely on induction heating and have a built-in hood system. To the right of the woks, immediately next to the expo station, is a hot table holding proteins, rice and noodles. To the left of the woks is a cold table, which holds wok-bound veggies.
Notably, this cold table also holds items destined for the roller grill, the last piece of equipment on the line. While most convenience stores offer roller grill items as a self-serve component, at Rutter's, the grill sits behind the bio shield, allowing staffers to assemble orders. These orders are usually easy to put together, though, leading to the grill's placement at the far end of the line. "It's the easiest to prepare, and it takes the least amount of time to make. You have a little extra time to take a couple of extra steps, so we decided to put the roller grill farthest away," Krebs says.
While the roller grill marks the end of the customer-facing production line, there's plenty going on a 180-degree turn away on the line sitting against the back wall of the front of the house. From the perspective of a team member working this line, it starts on the far left with a reach-in refrigerator holding backups of cold items.
Next comes a worktable with a storage shelf below, followed by a double stack of fast-cooking ovens with two chambers each. Here, team members heat precooked proteins like burger patties, chicken breasts and other items. The chain recently tweaked these ovens, going to two units with two smaller cooking chambers each. According to Krebs, this has doubled the number of cooking chambers in roughly the same amount of vertical space.
After the ovens comes a bank of two to four fryers, depending on the store's needs. These aren't conventional fryers. They're ventless, closed-top units, where team members don't even see hot oil. Instead, employees just drop food items in a bin, where they're deposited into the oil when the lid is closed. When the items finish cooking, the fryers dispense them into a basket.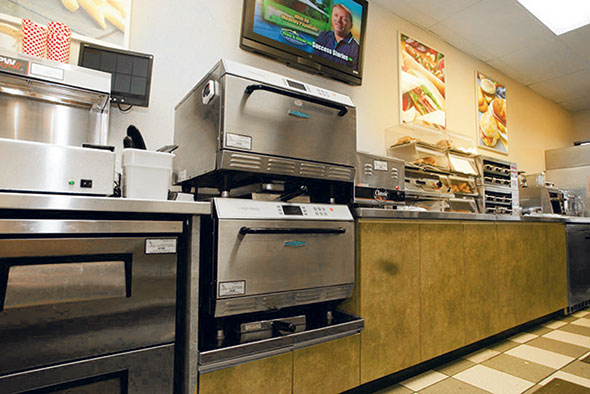 Rutter's has recently upgraded its fast-cooking ovens to have four cooking chambers in a compact vertical space.
While ventless fryers don't produce the volume of traditional units, they're a good fit for the single-serve/small batch frying of a c-store, says Grandstaff. What's more, this setup is safer for employees and yields a more consistent product. In combination with a built-in hood system — not legally required but recommended by Grandstaff — it also keeps the building from smelling like fried food.
A beverage station comes next, with preprogrammed equipment capable of making everything from cappuccinos to smoothies.
New Prep, New Growth
Rutter's newest store also has a new back-of-the-house area: a prep station. The area smooths out operations in the front of the house, where prep was previously performed. This station includes a new second oven setup for baking cookies, muffins and other goods, plus a worktable and refrigeration that holds staged ingredients.
"To be able to portion all those items, then just have them brought up and heated simplifies things. [Team members] are not opening cans or bags up there in the service area. They load that fridge and freezer with whatever volumes they're going to need," says Krebs.
While this prep kitchen has only been built in just one store so far, it will be the standard for new locations going forward, says Krebs. Given Rutter's plans to grow its store count by nearly 40 percent over the next four years, there will be many more units with this setup.
These new stores, says Krebs, will be built in the company's existing markets of Pennsylvania and West Virginia. Rutter's also plans to expand operations to Maryland as part of its growth push.
That equals plenty of opportunity for the chain to figure out how to get the most out of the space — to continue to innovate with equipment and menus in order to offer guests an experience not typically found in a c-store.
"Really, the quality that we provide is, in my opinion, bar none, anywhere in the convenience store industry," says Krebs. "A lot of that is based on the equipment we use that allows us the capability to serve those kinds of items."
Facts of Note
Chain Headquarters: York, Pa.
Year Founded: Rutter's Family Farm & Business, 1747; Rutter's Dairy, 1921; Rutter's Convenience Stores, 1968
Signature Menu Items: Route 30 Burger (single, double or triple beef burger with up to six slices of cheese, nine slices of bacon and two grilled cheese sandwiches for the bun), Funnel Cake Fries and Fried Pork Belly. Over 85 local items highlighted on the menu.
Number of Units: 72
FOH/BOH Split: BOH is approximately 10-15% of total store
Seats per Unit: 30 interior seats; 18 exterior seats (depending on location)
Unit Growth Projections: Projected goal of 100-plus locations by the end of 2021
Key Players
CEO and President: Scott Hartman
VP of Operations: Jere Matthews
VP of Technology: Bernie Frazier
VP of Marketing: Robert Perkins
Director of Foodservice: Ryan Krebs
Director of Fuels and Forecourt: Chris Hartman
Director of Maintenance: Adam Bisker
Interior and Kitchen Designer: Internal Rutter's construction/design team
Equipment Dealer: Clark Retail Solutions, Lancaster, Pa.